Politicians are given 'talking points' for a reason. They're designed to keep them 'on message' and focused on 'the issue/s of the day' that the various party strategists and spin doctors decide will cut through to a cynical media and public.
But with the 24-hour news cycle these days, there's never really enough talking points to fill in all the gaps. And so, occasionally, politicians have to wing it.
The ironically titled 'Opposition spokesman on Communications' Jason Clare did just that this week, during an appearance on community station Bendigo IPTv.
Discussion had turned to the rank unpopularity of Bill Shorten as Leader of the Opposition, and Clare was asked, "What's going to happen, because you can't go to an election with the popularity of your leader so low?" (the 'relevant' part of the video starts at 5 minutes above).
Over to Clare, who, it's worth acknowledging, doesn't actually look stoned, but must be, because that's the only possible explanation for this analogy:
"Over Christmas, I watched The Wizard Of Oz, one of those classic, classic movies. I remember watching it as a kid, it was one of those movies that was on almost every year.
"Watching it as an adult, I was thinking about Australian politics, and the similarities between that movie and what we're seeing in Australia now.
"Dorothy's house lands on the Wicked Witch of the East, and everybody in Munchkinland is celebrating. And that's a little bit like everybody celebrating that Tony Abbott's gone.
IF YOU ENJOYED READING THIS STORY, PLEASE CONSIDER THROWING A FEW BUCKS TO NEW MATILDA'S LATEST FUNDRAISER CAMPAIGN BY CLICKING HERE.
"People were just sick of Tony Abbott, happy that he's gone. Malcolm Turnbull is the beneficiary of that because he's compared to Tony Abbott, and people are just relieved that they don't have Tony Abbott as Prime Minister any more.
"Then Dorothy and everybody, they all go off on the Yellow Brick Road to find the Wizard of Oz. And Malcolm Turnbull's a little bit like the Wizard of Oz – everybody thinks this person's fantastic, magical powers, they can solve all the problems of the world.
"And then Toto pulls the curtain away and you find out that the Wizard of Oz is just a middle aged man with a big microphone and a few tricks.
"That's Malcolm Turnbull and I think the people of Australia will finally, slowly work this out…."
Which is all well and good – Malcolm Turnbull probably is a little bit like the Wizard of Oz, even in looks.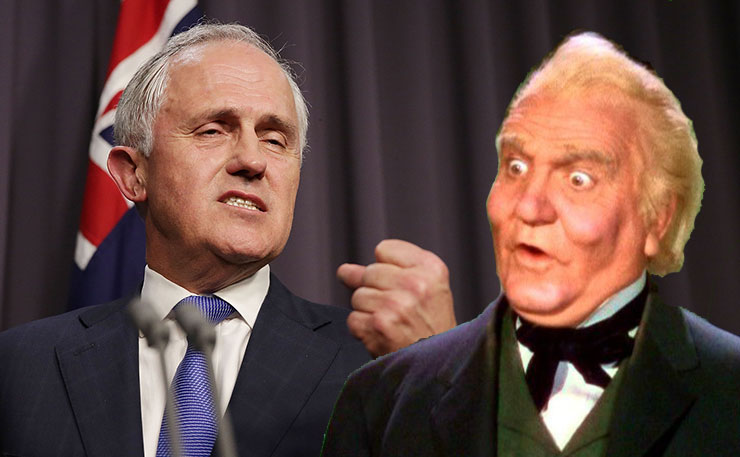 But the problem with Clare's analogy – apart from the fact it went on for almost a full two minutes – is that the part of Dorothy in Clare's epic film must obviously be played by Bill Shorten. And as fans of the Wizard of Oz will know, in the end, Dorothy wakes up to find that her entire adventure was all just a dream.
Even more importantly, the question remains: Who on the Opposition front bench does Jason Clare think is represented by the Lion, the Tin Man and the Scarecrow?
Reader suggestions, as always, welcome below. And you can also leave your thoughts on our Twitter feed here, and our Facebook page here.
NEW MATILDA IS A SMALL, INDEPENDENT MEDIA OUTLET. MOST OF OUR STAFF AND WRITERS ARE UNPAID. IF YOU WANT TO HELP SUPPORT INDEPENDENT MEDIA, YOU CAN DONATE A COUPLE OF DOLLARS TO OUR POZIBLE CAMPAIGN HERE OR SUBSCRIBE TO NEW MATILDA HERE. 

Donate To New Matilda
New Matilda is a small, independent media outlet. We survive through reader contributions, and never losing a lawsuit. If you got something from this article, giving something back helps us to continue speaking truth to power. Every little bit counts.