Just when you think humanity couldn't get anymore offensive… a newly released app on the Apple iTunes stores – rated for children aged 12 years and up – allows players to beat to death an 'Aborigine' during their quest to survive on the Australian continent. And a WARNING TO READERS: This story contains virtual imagery which may be extremely upsetting, in particular to Aboriginal people.
Called Survival Island 3 – Australia Story 3D – the app, by developer Kristina Fedenkova, was released last month, and retails for $4.49.
The theme of the game is to survive in Australia, by hunting and building a home. The developer explains, "Your goal is to survive. Beware of angry animals, especially if you don't have any weapon. At nights, there is really dangerous, (sic) try to hide somewhere…. Hunt animals or grow plants – you have to eat something. You also have to fight with aboriginals (sic) – you invaded their home!"
One of the screencaps promoting the game on the Apple iTunes store includes a screamer across the page which reads, 'Beware of Aborigines!'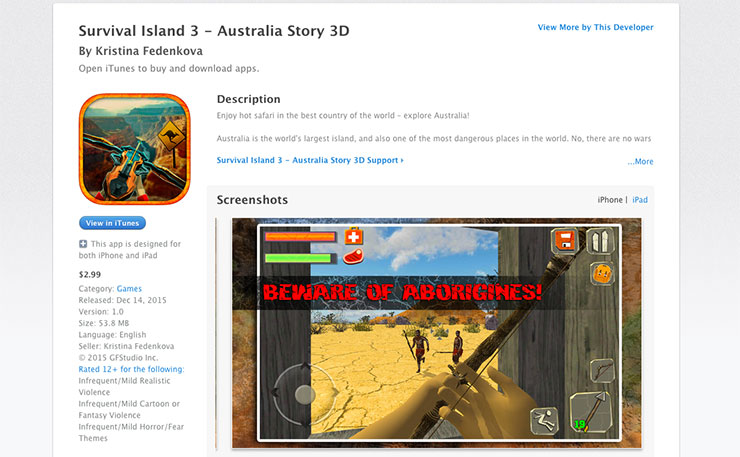 Most remarkably, Apple has rated the game PG, for kids aged 12+. The bludgeoning to death of a 'virtual Aborigine' earns itself a warning of "Infrequent/Mild Realistic violence".
ADVERTISEMENT: PLEASE CONSIDER SUPPORTING INDEPENDENT MEDIA BY SUBSCRIBING TO NM TODAY. CLICK HERE.
Helpfully, a Youtube player calling himself 'R2 Darksaber' has already dived in and provided an online review of the game – a series of five videos which give a walkthrough of how to play.
In the fourth video in the series, 'R2 Darksaber' notes he's "searching for the natives" before beating to death an Aboriginal man with a stone axe.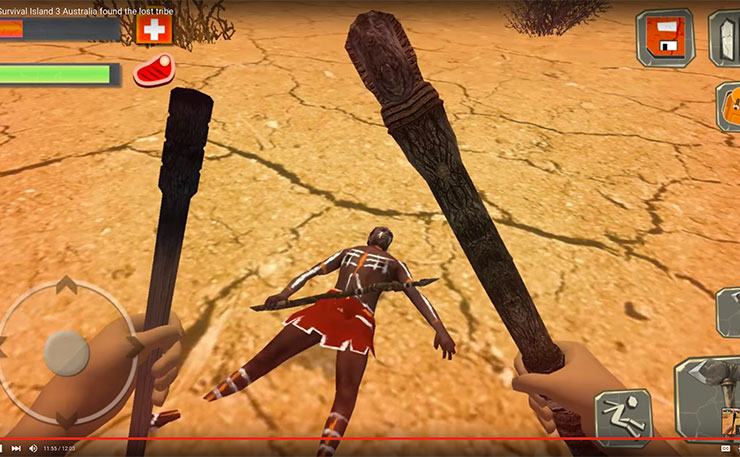 He then asks "OK, what do we get?" when a screen pops up to reveal the loot he wins as a result of the killing.
In the fifth video, 'R2Darksaber' remarks: "This lost tribe have forgiven me for killing one of their members. They said that they were going to kill him anyway. He was a bit of a dopey ass causing trouble all the time and they said that their place was a bit overcrowded anyway. They said I can actually join them and build a little home.."
At a scene where Aboriginal men are running everywhere, R2Darksaber adds: "This place is just crawl… holy crap, well anyway, they said they're gonna teach me how to throw boomerangs and stuff and how to hunt."
New Matilda is seeking comment from Apple and the developer overnight.
While we await a response, here's a screengrab (thanks to reader JPJ) of Apple's terms for application developers… with the relevant part highlighted.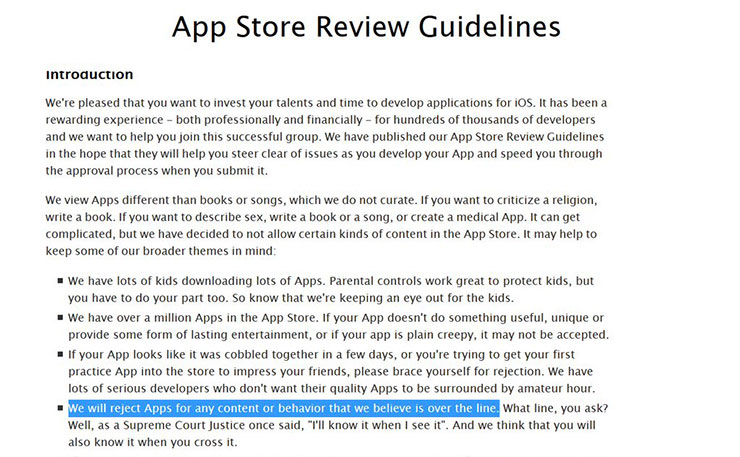 A petition on Change.org was launched a short time ago, calling for the game to be pulled down off Apple's iTunes store. You can view it here.
New Matilda is an independent Australian media outlet. We rely almost entirely on reader subscriptions for our survival. From anywhere in the world, you can help support this sort of independent journalism by subscribing here. Subs start at just $6 per month.

Donate To New Matilda
New Matilda is a small, independent media outlet. We survive through reader contributions, and never losing a lawsuit. If you got something from this article, giving something back helps us to continue speaking truth to power. Every little bit counts.