Most Australians are surprised to learn that around 75 per cent of the Aboriginal population doesn't live in a remote community.
Indeed, the largest population of Aboriginal people in the nation is in and around Blacktown, in western Sydney.
But that's never stopped successive Prime Ministers from trying to score political capital by 'going to visit the real Aborigines'… who all, apparently, live out bush.
John Howard made his first visit to an 'Aboriginal community' in 1998, when he accepted an invitation from the then head of ATSIC, Mr Djerrkura, to travel to remote Arnhem Land.
Unsurprisingly, it didn't go that well for Howard – insiders tell the story of how Howard was deeply embarrassed (and angered) by comments from Mr Djerrkura that under Aboriginal law, Howard was still considered a child (because of his age).
A few years later, Howard abolished ATSIC… and then launched the racist NT intervention.
Kevin Rudd's first official visit to an Aboriginal community is a matter of some dispute. Shortly after delivering the National Apology, Rudd leaked to media that an invitation to then Opposition Leader Brendan Nelson to visit Walgett with him (in the NSW north west) had been rejected.
Rudd's leak – despite vowing Aboriginal affairs would always be bi-partisan – was probably fair enough given that Nelson embarrassed himself and a nation with his speech in reply to the National Apology.
But alas, Walgett – a genuinely lovely community, in its defence – is technically not an Aboriginal community. Its population is just over 50 per cent non-Aboriginal. So Rudd's first actual official visit to an Aboriginal community was a few months later (in mid-2008) to… you guessed it, Arnhem Land.
Enter Julia Gillard, who, most Australians are also surprised to learn, served a stint in Opposition as Spokesperson on Indigenous Affairs (the surprise is due in no small part to the reality that Gillard did precisely nothing in the shadow portfolio, before being moved in a reshuffle after six months).
As Prime Minister, Gillard went on a whirlwind three-day tour of the Northern Territory in mid-2011, beginning in Alice Springs… which is also not an Aboriginal community, but has a significant Aboriginal population, many of whom live in staggering poverty.
Gillard stopped by a few Tangentyere Council-run Town Camps… and neatly managed to avoid visiting any that hadn't had government money poured into them… ie. Gillard visited the only two town camps (of 14) that had any real recent government investment in them.
And then, a day later, Gillard trod the Prime Ministerial path so well-worn before her*… by going to, you guessed it, Arnhem Land. Her first official Aboriginal community as PM.
This is six months after Gillard used her first Prime Ministerial report card on progress in Aboriginal affairs to blame Aboriginal people for their own poverty.
Tony Abbott, of course, was the Prime Minister for Aboriginal affairs. So his first trip to an Aboriginal community was eagerly awaited (perhaps not by Aboriginal people, but certainly by a less-than-informed mainstream media).
Abbott chose… sigh… Arnhem Land, and took with him his cabinet, plus a huge contingent of media. Notably, his second 'Aboriginal tour' was to Cape York… to which he also took a large media contingent.
And so what about Malcolm Turnbull, Australia's newest PM? Where, you might ask, was his first visit to an Aboriginal community?
Well, Turnbull has bucked the trend – he spent this afternoon at the La Perouse Aboriginal community.
And where is that?
In eastern Sydney, and coordinated by the La Perouse Local Aboriginal Land Council (LPLALC).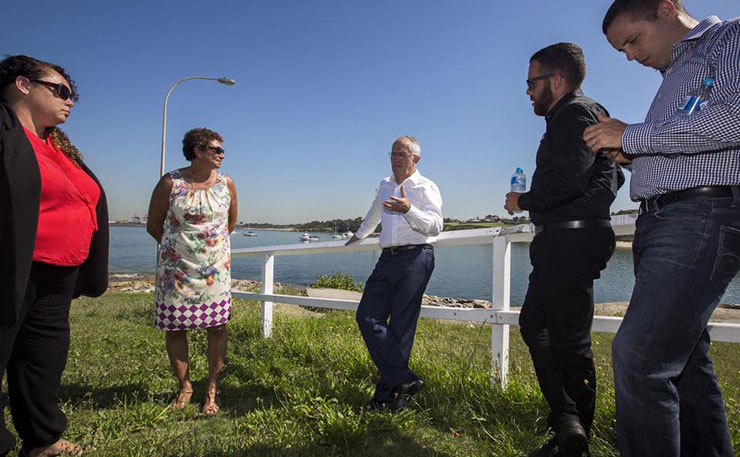 Turnbull met with Aboriginal leaders including LPLALC chair Marcia Ella-Duncan (of Australian netball team fame, and many other impressive feats) and the young CEO of the LPLALC, Chris Ingrey. 
So credit where it's due: While Turnbull already has a great deal to apologise for as Prime Minister – eg. climate change failure, the jailing of asylum seekers, plus Peter Dutton and Mal Brough – he also appears to be the first Prime Minister, possibly in Australian history, to make his first official visit to an Aboriginal community an urban one.
That's not to take anything away from the poverty of remote Aboriginal Australia – it's third world in many parts of Australia.
But there's also entrenched poverty in non-remote Aboriginal Australia as well… where, it's worth repeating, more than 75 percent of the Aboriginal population actually lives.
So a New Matilda tip of our hat to Turnbull for the important symbolism. And a tip to readers… don't go wading into the comments section under Turnbull's Facebook post… no seriously, don't.
* A note from a reader: "Just read your article on pm visits to aboriginal communities, the arnhemland path is actually a little worse than u have written about as arnhemland consists of numerous cultural and language groups each of those pm's howard to abbott actually only visited the yolngu of north east arnhemland and no-one else. those other groups in arnhemland feel the same as urban aust, the previous pm's have sent a loud message to everyone that they believe the yolngu are the true aboriginal people."

Donate To New Matilda
New Matilda is a small, independent media outlet. We survive through reader contributions, and never losing a lawsuit. If you got something from this article, giving something back helps us to continue speaking truth to power. Every little bit counts.