The centre says it has consulted with the transgender and gender diverse community despite being heavily criticised for the decision by one of Australia's most prominent advocates. Max Chalmers reports.
It's a bit like debating whether fair-skinned Aboriginal people are really Aboriginal or not. Or asking why all Muslims are terrorists. It might work in an Andrew Bolt column, but pretty much everybody else would accept that the offensive insinuations – even dressed-up as a civilised discussion – are unilluminating and unnecessary.
That's the reason The Ethics Centre (formerly the St James Ethics Centre), host of the IQ2 debates, has found itself under heavy fire this week over the topic choice for an upcoming event.
The series takes controversial questions and invites speakers to argue either side of the case, with animal welfare, responsibility for public debt, and the privacy rights of children all to be examined early next year.
But it's this topic that has seen the Centre start taking serious flak: 'Debate: A Trans Wo/man Can Never Be Fe/male'. That's the title of the Centre's March 3 discussion, which has unleashed a wave of criticism on the Facebook page promoting the event, and angered transgender advocacy and support groups.
The debate comes in the wake of comments from Australian academic and feminist writer Germaine Greer suggesting people who seek surgery to enable a transition from male to female are still "not women".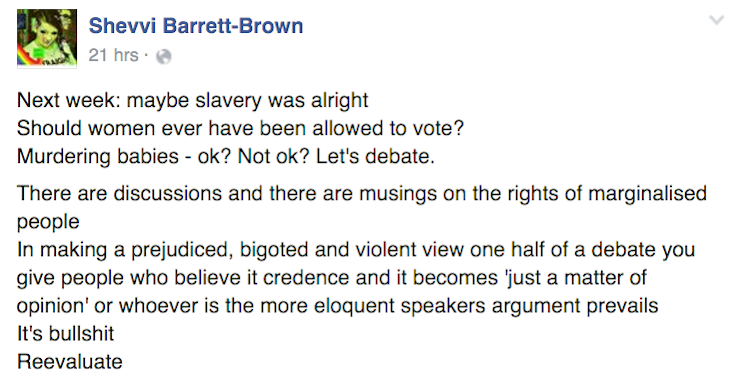 Comments on the IQ2 event Facebook page were almost universally negative, and hit out at the organisers for belittling peoples' identities and providing a platform for transphobic arguments.
"I've got an idea for a more accurate title for your deeply unethical event: are trans people really people? Because that's basically what you're asking," one person wrote.
"The existence of trans people is not a 'viewpoint' to be debated. Our lives are not something you get a say in," another said.
On the event's Facebook page The Ethics Centre sought to defend its decision. In an ominous post, the Centre said it would be deleting "comments that call for violence" from the page.
"This event is being produced in consultation with trans people, advocates, support organisations, community groups and medical professionals working with trans, gender questioning and gender diverse people," a statement from the Centre said. "Their knowledge, advice and support for this discussion is absolutely crucial. We have sought much consultation on the title too. It represents an attitude that has been the source of recent controversy."
That consultation doesn't seem to have run very deep, however.
Sally Goldner, Executive Director of Transgender Victoria, a winner at last year's Human Rights Awards, and one of the country's most prominent advocates in the area, told New Matilda the way the event had been advertised was "insulting" and described the topic as "ludicrous".
"It's not a new debate, we don't have to be debating this anymore," she said.
Goldner pointed to violent hate-crimes targeting transgender and gender diverse people and said that in such a context the debate was "not on". She suggested that if the Ethics Centre refused to cancel the talk it should at least be "revamped" into a discussion involving transgender and gender diverse people.
Earlier this week a Sydney man was sentenced to 150 hours of community service after attacking transgender musician Stephanie McCarthy in a Newtown pub in June.
Speakers for the IQ2 debate have not yet been announced.
It's not the first time this year the Ethics Centre has been criticised for its own ethical approach.
In September, influential speakers at the Festival of Dangerous Ideas – co-curated by the Ethics Centre – hit out at the organisation over its links to Operation Sovereign Borders.
On the IQ2 debate page, one person had their own suggestion for a topic to replace the Centre's controversial choice, setting up the following poll.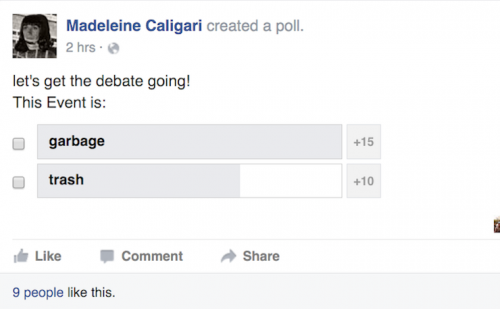 The Ethics Centre has been contacted for comment.
Donate To New Matilda
New Matilda is a small, independent media outlet. We survive through reader contributions, and never losing a lawsuit. If you got something from this article, giving something back helps us to continue speaking truth to power. Every little bit counts.