The Greens might be right that environmental protections in the TPP are as 'weak as water'. Thom Mitchell reports.
Cabinet Secretary Arthur Sinodinos has refused to guarantee that the Australian government won't be sued if it regulates on climate change, coal seam gas, or renewable energy when asked about controversial provisions allowing companies to sue states under the Trans-Pacific Partnership.
The trade deal, hailed as the largest in history and agreed between 12 'Pacific Rim' countries in October, includes 'Investor State Dispute Settlement' clauses which environmental groups fear will be used to hamstring government attempts to introduce policies to protect the natural environment.
This afternoon, Greens Trade spokesperson Peter Whish-Wilson took their concerns up in the Senate with Sinodinos, who was representing the Minister for Trade and Investment, Andrew Robb.
"Given experts are stating ISDS safeguards in the TPP are as weak as water, can the government provide a guarantee to the Australian people that we won't be sued by foreign corporations for tougher climate change regulation into the future, for example by legislating a new carbon reduction program, or increasing [our]renewable energy target; by putting moratoriums on coal seam gas, or by closing dirty coal mines," Whish-Wilson asked.
Sinodinos ultimately responded that he is "happy to give a guarantee that under the TPP Australia will be a richer and more prosperous country in the decades ahead and [that]the ISD provisions will work to our advantage".
But he offered no guarantees around the specific questions Whish-Wilson had asked.
Earlier in the exchange, the Greens Senator had referenced an article that appeared in Guardian Australia yesterday, in which an internationally renowned legal mind took the Australian government to task on the Trade Minister's assertion that critics of the ISDS clauses were "jumping at shadows".
According to the reporting from Guardian Australia: 
"George Kahale III is not one of the usual suspects. As chairman of the world's leading legal arbitration firm – Curtis, Mallet-Prevost, Colt & Mosle LLP – his core business is to defend governments being sued by foreign investors under ISDS.
"Some of his clients are included in the TPP, and he says the Trade Minister's critics are right: 'There are significant improvements in this treaty, but they do not immunise Australia from any of these claims. If the trade minister is saying, 'We're not at risk for regulating environmental matters', then the trade minister is wrong.'"
In defence of the government's efforts in negotiating the final form of the Trans Pacific Partnership, Sinodinos said that "you'll probably find, depending on which barrow is being pushed by which particular group, you'll have all sorts of interpretations put upon that chapter.
"But the interpretation that we have taken based on the best legal advice and the efforts of the Trade Minister is to ensure that under Investor State Dispute Settlement provisions we protect our capacity to legislate in the public interest in sensitive policy areas which include health, which include the environment," Sinodinos said.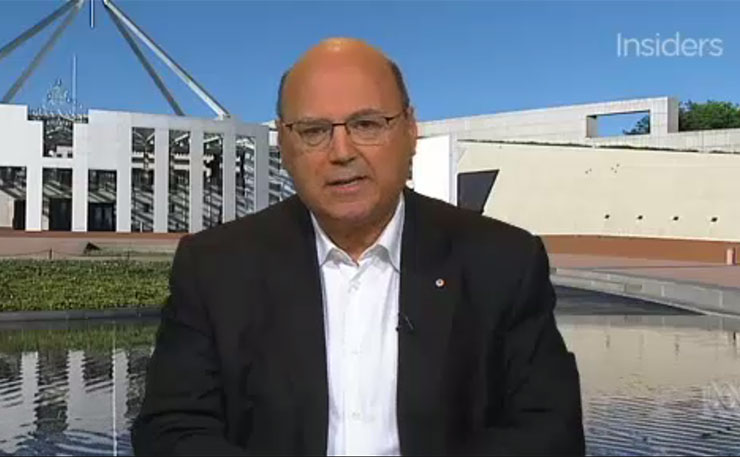 That's not the view taken by George Kahale, though, who said that one key 'safeguard' governments have said will allow them to regulate to protect the environment is essentially worthless.
Section 9.15 of the ISDS chapter of the TPP states that "nothing in this chapter shall be construed to prevent a party from adopting, maintaining or enforcing any measure otherwise consistent with this chapter that it considers appropriate to ensure that investment activity in its territory is undertaken in a manner sensitive to environmental, health or other regulatory objectives."
Kahale said the entire provision is negated by the five words in the middle, "unless otherwise consistent with this chapter". "At the end of the day," Kahale said, "this provision, which really held out a lot of promise of being very protective, is actually much ado about nothing."
"Mr Kahale also said most 'favoured nation' status provisions within the TPP investment chapter provide big corporations with a loophole which enables them to go treaty shopping and using ISDS clauses with impunity within existing agreements that most suit their claims," Senator Whish-Wilson said.
"Given the high level of public concern over the inclusion of ISDS in the TPP, why did our government agree and sign up to such dangerous provisions?"
While Sinodinos offered to arrange a briefing for Whish-Wilson with government lawyers, the reality is that the legal affect of the claimed 'safeguards' in the Trans-Pacific Partnership will be tested in international tribunals which sit outside of any given countries' judicial system.
In July 2014, High Court Chief Justice Robert French expressed his concerns about how this might upset the usual balance around legislating in the public interest.
"So far as I am aware the judiciary, as the third branch of government in Australia, has not had any significant collective input into the formulation of ISDS clauses in relation to their possible effects upon the authority and finality of decisions of Australian domestic courts," CJ French wrote.
"This is an issue which presently is of small compass [but]it has the potential to become larger and it is desirable that it be addressed earlier rather than later."
If the TPP is fully ratified, the potential problem will become much larger, but the parliament could still frustrate the mammoth trade deal by blocking enabling domestic legislation needed to give it affect.

Donate To New Matilda
New Matilda is a small, independent media outlet. We survive through reader contributions, and never losing a lawsuit. If you got something from this article, giving something back helps us to continue speaking truth to power. Every little bit counts.