Tensions continue to grow in the South China Sea between the United States and China. But there's tensions closer to home as well. On the Aboriginal-owned Tiwi Islands, Traditional Owners are increasingly concerned plans are afoot to bring the full might of the United States military into their pristine backyard. A massive port recently constructed on the island – without any environmental approval – is at the centre of the angst. Thom Mitchell continues his ongoing investigation into the Tiwi Islands port.
Scandal has lapped the shores of the Tiwi Islands since it was discovered earlier this year that a major port had been built without environmental assessment or approval, but the controversy will turn a deeper shade of blue if suggestions the Aboriginal-owned islands are being eyed as a potential military base by the United States turn out to be true.
The Tiwi Islands hit the headlines in May, when the ABC revealed that construction of a $130 million development known as Port Melville had flown under the radar, and was about to begin servicing the Top End's offshore oil and gas industry without any conditions in place to protect the internationally significant local ecosystem.
This extraordinary lack of oversight, and the Federal government's repeated failures to act on tip offs from the Northern Territory Environmental Protection Agency, have invited scrutiny and turned up traces of America's strategic interests in the region.
A senior union official has told New Matilda the company behind the port had anticipated a base for up to 80,000 US Marines as early as 2012, and the politician who represents the islands in the Northern Territory parliament expects a base to be built to "protect Australia from war in the future".
By the time media began scrutinising Port Melville, though, it was virtually built.
The expansion of an existing wharf used to service the islands' small forestry industry had occurred under the Federal Department of Environment's nose, and by May the development included a 30 million litre 'fuel farm' and accommodation for 150 offshore oil and gas workers.
As New Matilda reported last month, a series of documents obtained under freedom of information legislation reveal that as they scrambled to explain their blunders, Federal bureaucrats became suspicious they may have been provided 'false and misleading' information about the expansion of the port by the Tiwi Land Council, and the port's new Singaporean owners.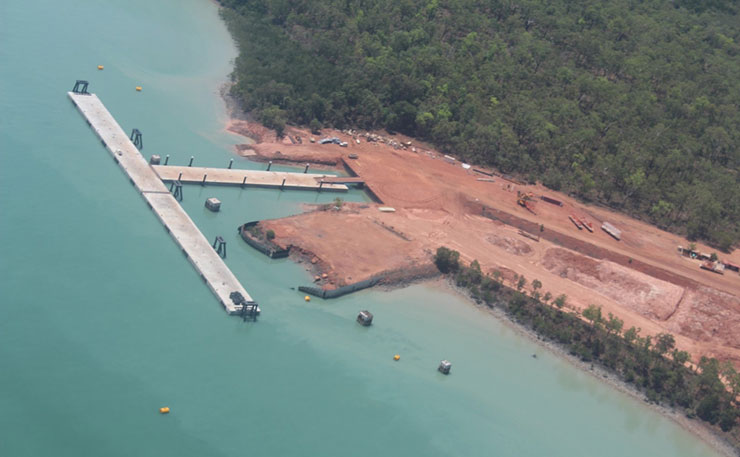 As that story gathered pace, Port Melville became the subject of intense speculation about its financiers, its purpose, and how and why the port expansion escaped normal development and environmental processes.
Many of these questions remain unresolved, but more are emerging, and the phrase 'United States military' keeps coming up.
Earlier this year, the Tiwi Land Council (TLC) conceded it has been "briefed in part" about the potential for the US Department of Defence to use Port Melville. Now, New Matilda can reveal that a major military base has been on the port developers' minds for at least three years.
In 2012 Captain Larry Johnson, a former senior officer in the US Coast Guard, met with an Australian union official and told him a US military base was part of the logic of establishing Port Melville in the first place.
At the time, Capt Johnson was a board member of Ezion Holdings Limited, the company developing the port, and was spearheading the Singaporean firm's expansion into Australia.
On 31 May, he met with the Maritime Union of Australia's Northern Territory Branch Secretary, Thomas Mayor, to discuss a looming marine skills shortage in the region.
"We were there to discuss… [an]enterprise agreement covering offshore oil and gas, and Larry Johnson came in via video link to talk to [the union]about potential ways to tackle skills shortages in the industry at the time," Mayor told New Matilda.
"He said there was potential for 80,000 US Marines to be stationed… [at a]base to be built on the Tiwis, and that Ezion were a top-tier company with contracts in moving cargo for the US.
"He spoke from a point of view of, 'This is something that might happen and we might position ourselves to be in the right place at the right time'.
"It was shocking, you know, to think of 80,000 US marines [in the Tiwi Islands]. It was a bit wild.
"I'd only just met the guy so I didn't really give it a whole lot of credibility, but then things started to fall into place, you know, [Ezion] started setting up on the island and they got the lease, did the deal.
"And so it all started to fall into place."
Mayor made brief hand-written notes of the meeting with Johnson, copies of which have been seen by New Matilda, and his recount what Capt Johnson said at the meeting is strengthened by another conversation which took place more recently.
Last month, Francis Xavier Kurrupuwu – the Country Liberal Party member representing Tiwi Islanders in the Northern Territory parliament – told at least one Traditional Owner that meetings about a US military base were ongoing.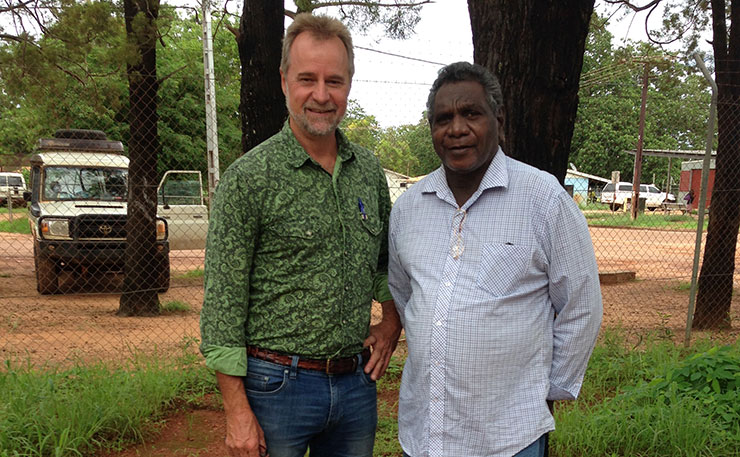 Kurrupuwu denies the conversation took place, or that he's aware of plans for any military build up, but the Tiwi Islander interviewed by New Matilda is adamant the politician told them rumours of a military base were well-founded, and left them with the impression it was "a done deal".
New Matilda has agreed not to name the Tiwi Islander, who was travelling for a work trip which Kurrupuwu was also involved in when the subject was broached.
"I just said to him, 'I heard there was going to be a US base built near Pickertaramoor, on south Melville Island', and I'm like, 'Is that true, or is it gammon?'" the Tiwi Islander said.
"He just paused for a little bit and he was like, 'Yeah, there's going to be one built near there now'.
"It had something to do with the Tiwi council talking about it, because we were talking about the meeting minutes. Then he was like, 'Yes they've already been having meetings about it'".
"I [said], 'But what for?' You know, 'how come?'. And then he said, 'It's to protect Australia from war in the future'.
"He said something along the lines like [The Tiwi Land Council] met up with some people to talk about it. That's all I remember, that they had been talking about it.
"[It seemed] like it's definitely a done deal sort of thing."
It's also apparent that Captain Johnson has told more than just union officials about a military future for the Tiwi Islands.
In March 2014, Capt Johnson told The Australian newspaper that he had met "with the US Marine Corps at the Pentagon" to discuss their interest in Port Melville, as America canvassed what services it might require in the region.
"Now there are some US Navy guys in town talking to the Australian Defence Force," Capt Johnson said at the time.
The Captain goes quiet
Capt Johnson, however, no longer appears to be talking. Through his office, he ignored repeated requests for an interview with New Matilda, or to provide comment for this story.
The Captain cut his teeth with the US Coast Guard, one of the five armed forces of the United States and the only military organisation within the Department of Homeland Security. Today, he maintains close contact with his port development partners at the Tiwi Land Council, who were called to appear before federal parliament in late May this year shortly after news broke that Port Melville was nearing completion.
During a Senate Estimates hearing, federal Labor Senator for the Northern Territory, Nova Peris asked whether the land council was aware of any planned military uses for Port Melville.
In a fleeting exchange, Executive Member of the TLC, Andrew Tipungwuti said the land council had been "briefed in part", but not before Nigel Scullion – the Country Liberal Senator for the Northern Territory – intervened, and tried to block the question.
PERIS: Has the Tiwi Land Council been briefed on all potential for the facilities to be used by US Marines or any other US military organisation?
SCULLION: Mr Chairman, I wonder if you could rule on the question. They are asking the Land Council whether or not they have been briefed about the use of land that has already been leased out and subleased in some cases. I am quite happy for them to provide the information, but, again, we are talking about whether or not a particular piece of land may be used by the US Marines and whether you have been briefed by that. I am not sure why it would be the case that they have been or have not been briefed. Again, the questions are coming from a position as if the Land Council would still be in some sort control of the land or there would be some sort of obligation—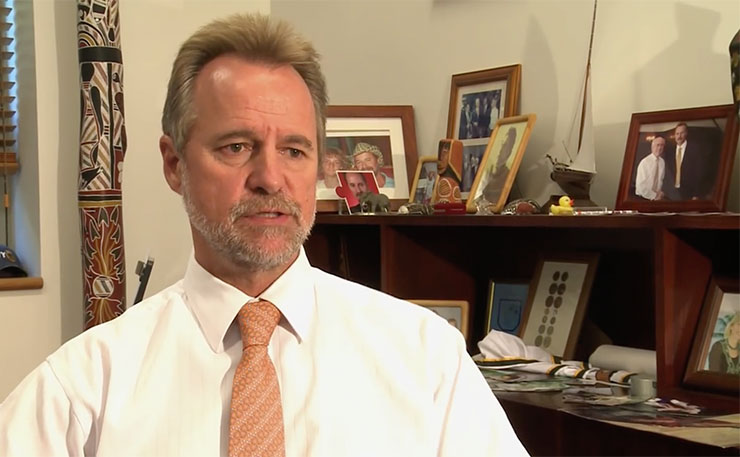 CHAIR (Senator Cory Bernardi): Minister, I take your point. It is one you have made repeatedly. I do have to agree that, ultimately, if a piece of land is under a lease or a sublease, questions about usage and things should be directed to the leaseholder. I would remind you of that, Senator Peris.
Greens Senator Rachel Siewert jumped in to back Peris.
SIEWERT: All Senator Peris asked — I would have thought it was a fair question to ask — was: have you been briefed? It is a pretty important issue and the council has a pretty central role in the life of the Tiwi Islands. I would have thought it is a fair question to ask: have you been briefed?
CHAIR: The question has been asked and, indeed, it may be a fair question. I have just reminded Senator Peris that questions should be directed to the Tiwi Land Council about their business rather than the business of third-party entities, on what they are doing on land or what they are doing with lease agreements and things of that nature. It may be that Mr Clancy is in a position to answer that question. It may be that he is not and he wants to take it on notice. It is entirely up to him.
Andrew Tinpungwuti decided to answer the question, with a fairly explosive revelation.
Mr Tipungwuti: Senator, we might take that on notice because we have been briefed on that in part, not to the full extent. We want to be sure exactly.
CHAIR: You have answered the question: you have had a partial briefing on it. That is sufficient, thank you.
The question was, in the end, taken on notice. The written response from the Tiwi Land Council distanced itself from the verbal advice provided by the TLC official.
"The TLC has not been briefed on the potential for the facilities to be used by the US Marines or any other US military organisation," the land council said.
But, it added, an Aboriginal company set up by the Tiwi Land Council had met with the port developers, who "mentioned a broad range of opportunities that could possibly be explored for Port Melville, including use by US Marines".
In a written statement to New Matilda, the Australian Defence Force ignored questions over whether the United States was planning to capitalise on the Tiwi Islands' new port, but noted that the Australian military "does not have any plans for a base on the Tiwi Islands".
New Matilda also asked the NT Government whether it knew of any plans by the US military to use the new port, or establish a base on the island.
"It is the Northern Territory government's understanding that the Department of Defence — in conjunction with the US Force Posture initiative — has no current plans for a military base to be established on the Tiwi Islands, nor for the deployment of US Marines to the islands".
Northern Territory Chief Minister Adam Giles did not respond to subsequent inquiries over whether or not he'd met with US officials, the Tiwi Land Council, or Port Melville's developers, to discuss military uses for the facility.
The US 'Pivot To Asia'
Of course, there is already one US military base in Australia's north – at Darwin. It's scaling up towards a permanent presence of 2,500 Marines by 2017, and recent reports suggest Darwin could also soon be hosting a contingent of American warships.
The arrangement is part of the broader US 'pivot to Asia' strategy, a reaction to growing Chinese assertiveness in the South China Sea.
In an interesting exploration of the growing tensions between the US and China, The Monthly's Hugh White recently observed that "startling aerial photos of new military bases being created out of dredge sand convey more concretely than anything else, the image of China's power on the march".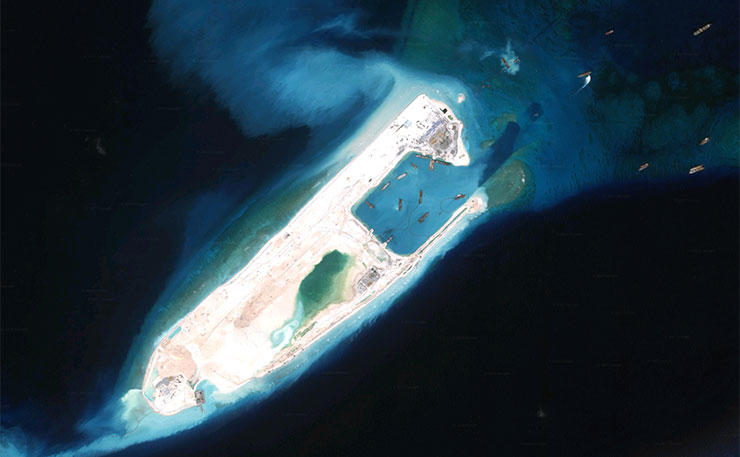 The standoff came into focus earlier this month, when Foreign Minister Julie Bishop and Defence Minister Marise Payne held talks with US Secretary of State John Kerry.
Although not expected to join a reported US operation geared at directly challenging China's growing dominance in the Asia Pacific, Payne said Australia will undertake "additional combined training exercises" with the American navy.
It won't be the first. Earlier this year a joint training exercise saw 30,000 military personnel play war games in the Top End — a bit of muscle flexing which, whatever the intended strategic signal, will not have escaped China's attention.
The question closer to home, though, is whether or not the chatter about militarising the Tiwi Islands has any connection to the serial bungles that riddled Port Melville's development, and excused it from environmental assessment.
Documents obtained by New Matilda under freedom of information reveal the Department of Environment had been receiving warnings about the port development underway on Melville Island for a number of years, and repeatedly failed to act.
The Assistant Secretary of the department's Compliance and Enforcement Branch, Shane Gaddes blamed the botched process on overworked staff.
Meanwhile, other areas of the federal government had been more proactive in their approval of the development. In April 2014, the Commonwealth Department of Infrastructure and Regional Development issued a notice that declared Port Melville a "security regulated port".
"The Federal government has signed off on giving it security classification so it can be used for defence purposes," NT Labor's infrastructure spokeswoman Natasha Fynks observed in May.
The Aboriginal perspective
There are serious questions around whether a military use of the port has the approval of Traditional Owners, though. Under the Aboriginal Land Rights Act from which it derives its authority, the Tiwi Land Council is required to ensure Traditional Owners give their informed consent for development activities on their land.
It's a legal safeguard that could throw up difficulties if the United States does decide to militarise the island in some way. As the Tiwi Island who spoke to New Matilda on the condition of anonymity put it, "Tiwi people haven't been asked if they want to be in the firing line to be possibly bombed".
But the probity of the land council's governance has been consistently questioned, most notably over a 2007 land deal driven by the then Minister for Indigenous Affairs, Mal Brough. Ironically, it was Brough who was behind the Northern Territory Intervention, which required the suspension of usual legal protections afforded by the Racial Discrimination Act, and ironically enough involved a military intervention of its own.
After a controversial 99-year lease was approved for an individual over communally-owned land, Traditional Owner Adam Kerinaiua sought an injunction amidst allegations that signatures had been forged, and meeting minutes doctored in order to fabricate the illusion of consent.
The injunction was not granted, but a petition the year before carrying almost 500 signatures — out of a few thousand Tiwi Traditional Owners— revealed deep dissatisfaction with the Tiwi Land Council, which had been working with Brough to open up Tiwi lands to private ownership.
The petition, which Brough refused to accept, called for an investigation into the practices of the TLC, and the resignation of the land council's then Executive Secretary, John Hicks.
The current Chair of the Tiwi Land Council, Gibson Farmer Illortaminni, has admitted in correspondence with Environment Minister Greg Hunt that the Traditional Owners' own modest use of the port — as an export facility for the island's small woodchip industry — would not be financially viable without finance from a third party.
Illortamini and The Tiwi Land Council declined to be interviewed or provide comment for this story, but the anonymous Traditional Owner insists that dissatisfaction with the TLC remains rife.
"They've been really sly about this stuff. I don't even know if they'll include it in any minutes, you know, it's just real hush hush," the Traditional Owner said.
"There's only certain people that work in the [Tiwi Island] offices that have picked up what is happening.
"The locals who just live their day to day lives, they just don't have any idea, you know, because they're not told anything by the council.
"So they just go on living their lives and whatever happens, they just have to take it on when it happens, because they didn't get a say or decision in it."
While he stressed he does not know how any plan for a military base has proceeded since his 2012 conversation with Captain Johnson, union official Thomas Mayor said he holds similar reservations.
"My concern is that the Traditional Owners have done a deal, have negotiated something about the use of that land without all the information," he said.
"[I'm concerned] that they've done a deal for one thing, but it's going to be used for another thing."
Donate To New Matilda
New Matilda is a small, independent media outlet. We survive through reader contributions, and never losing a lawsuit. If you got something from this article, giving something back helps us to continue speaking truth to power. Every little bit counts.