In a two part series, Michael Brull explains Hamas' role in the recent escalation in violence in Palestine and Israel, which is centred around a series of knife attacks.
Hamas has a limited presence in the West Bank since the attempted coup by Fatah in Gaza in 2007, which was also backed by Egypt, Jordan, the US and Israel.
Fatah faced brutal repression in Gaza, and Hamas was brutally suppressed in the West Bank. Faced with the combined repression of Fatah and the Israeli military, Hamas has mostly kept a low profile in the West Bank since then.
Though Israel still effectively controls Gaza's borders, its administration has mostly fallen to Hamas.
Israel recently alleged that a five-man Hamas cell was responsible for the murder of two Israeli settlers in the West Bank at the start of October, an attack that narrowly pre-dated the wave of stabbings. Israel alleges that they all confessed their crimes.
To understand the manner in which such claims might be taken, 99.74 percent of cases brought against the Palestinians in military courts in the West Bank result in convictions. As Israeli human rights organisation B'Tselem observed, a Palestinian "charged in a military court is as good as convicted".
Israeli allegations of guilt should be taken with a grain of salt.
Rockets have been fired from Gaza, but even Israel has not claimed that Hamas is responsible for actually firing the rockets. On October 5, Israel bombed Gaza in response to two rocket attacks. One rocket landed in Gaza, whilst the other "hit an open area in Eshkol Regional Council, near the border, causing no damage. Sirens were not sounded because the projectile did not pose a threat to communities".
Earlier, a rocket was fired on September 30 by a Gazan group affiliated with Daesh. Israel also bombed Gaza on 11 October, killing a pregnant woman and her 3-year-old daughter.
Ha'aretz journalist Amos Harel reported in September that "Rocket fire by Salafist groups has occurred once every few weeks since the 2014 conflict, and is usually perpetrated as a defiant act against Hamas as part of the internal struggle between the group and the smaller Palestinian factions."
He observed that "Israeli military intelligence believe that Hamas' Gaza leadership is still interested in maintaining the calm, and is working to reign in smaller terrorists organisations, fearing an additional conflict with Israel." He observed that Israel held Hamas responsible for all fire from Gaza, but also observed that "Tensions in Gaza have also been spurred by a string of power outages that have left the majority of Gazans without electricity for almost 15 hours a day."
Similarly, Israel said it holds Hamas responsible for rockets fired on October 4. Since then stray rockets have continued, though as far as I can tell none have harmed Israelis.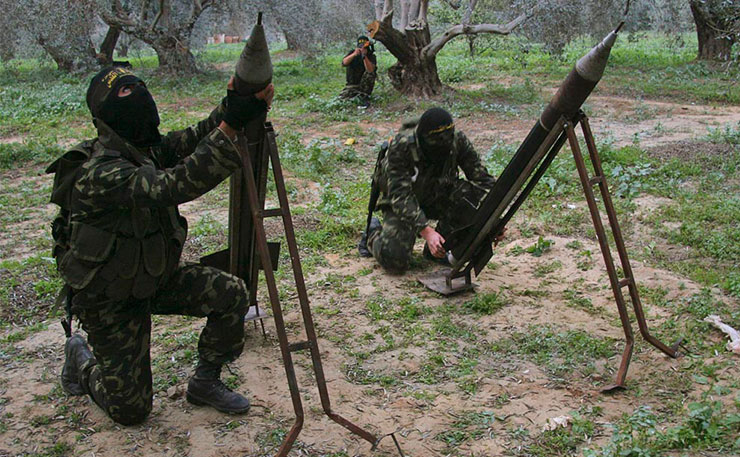 Israeli military officials warned that the murder of six Palestinian protesters in Gaza "might prompt rocket fire into Israel". The Israeli army says that, "Hamas security officials were at the scene [of the protest], watching on and not preventing the Palestinians' advancement towards the fence."
Though Hamas doesn't call it "security coordination", as Fatah does, it is in a similar situation to Fatah. In exchange for preventing attacks on Israel, Israel abstains from attacking Gaza. Hamas presents itself as radically different to Fatah, in that it practices military resistance, but for the most part it pursues a similar policy. In exchange for protecting Israel from attacks, it can strengthen its hold on Gaza and further establish its pseudo-government.
Whilst many Israelis regard Hamas as a mindless terrorist organisation singularly devoted to the murder of Jews and destruction of Israel, Israel's security establishment has a closer understanding of the facts.
For example, Major-General (Res.) Giora Eiland wrote for YNet, one of Israel's most-read tabloids that, "It should be stressed that at this stage Hamas is not launching rockets into Israel, but it's determination to prevent others from doing so appears to be weakening."
Eiland explained that Hamas's "two leading interests" are "One, getting international legitimacy for its rule in Gaza; two, rebuilding Gaza and bringing about an improvement in its economic situation. These two things will reinforce its position against its rivals, including the Islamic State's supporters in the Strip." These "don't contradict the Israeli interest", and it should "be possible to reach understandings which would lead to a long-term calm." This "must be based not only on deterrence, but also on intensive activity to economically rebuild the Gaza Strip – an activity which is not taking place, unfortunately".
Eiland called for "the reconstruction of the houses destroyed in Gaza, [and]also the construction of energy, water and communication infrastructures, etc."
He commented that
"As long as there is no electricity in Gaza most hours of the day, as long as the sources of water are reduced and as long as the unemployment rate reaches more than 40 percent, the situation in Gaza won't be stabilized. The frustration is helping organizations which are more radical than Hamas to flourish, alongside the willingness to fire at Israel."
Eiland stated "the Israeli interest is a stable Hamas government, as any other alternative won't be as good for us."
It should be noted – Eiland is no bleeding heart leftist. In the event of war on Lebanon, he favoured inflicting "destruction of the national infrastructure and intense suffering among the population". Even he favours a "stable Hamas government".
Efraim Halevy, the former Mossad head, wrote along similar lines in YNet. He identified Hamas as a "frenemy", and criticised Israeli bragging that it had achieved calm in Gaza "even without giving the Palestinians in Gaza a seaport and an airport." Without offering any concessions to the Palestinians in response for calm, Israel "guarantees another round of fighting."
Abeer Ayyoub, writing for +972, observed the cautiousness of Hamas's reaction to the stabbings. She commented that Hamas didn't immediately react to the stabbings in Jerusalem. It "no longer stops people from marching to the wall and throwing stones. For Hamas, serious confrontation means firing rockets into Israel, nothing less. For now, however, the Islamist group has decided to maintain the relative quiet."
She reported that "senior Hamas leader Musa Abu Marzouq defended his party on his Facebook account, saying that the decision not to fire rockets was intentional, so that attention would not be drawn from the West Bank and Jerusalem to Gaza." He explained that firing rockets "might make us lose both the rocket battle and the intifada, and would present us as attackers and the Israelis as innocent".
On October 9, Gazans held a protest in which they marched towards the fence around Israel. Israel responded by shooting 7 Gazans dead, and injuring dozens.
The UN reports that on 9 and 10 October, Israel shot dead nine Palestinians and injured 237. This occurred "despite reported attempts by the local [Palestinian] police to prevent or contain them".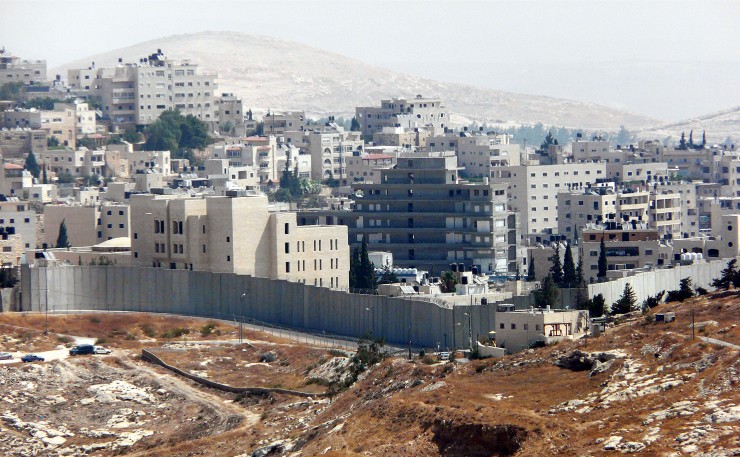 As Adnan Abu Amer observed, it was only on October 9 that Hamas political leader Ismail Haniyeh finally addressed the Jerusalem uprising, speaking in support of it. A Hamas spokesperson has praised the "heroic operations in Jerusalem". There have also been sporadic breaches of the Gazan-Israeli border by Palestinians. Several who have done so have been injured by Israeli fire or arrested.
Hamas has shown little interest in direct involvement in the uprising. Amira Hass wrote that "Hamas, which is a semi-underground movement in the West Bank, also can't and perhaps wouldn't dare" do so. Nevertheless, its rhetorical support for the stabbing of random civilians, besides its moral repugnance, is likely to alienate potential international sympathisers, and will solidify its reputation as a terrorist organisation, regardless of its lack of involvement in the stabbings.
The Palestinian Centre for Human Rights reports that Hamas has just sentenced to death two alleged collaborators with Israel. 164 Palestinians have been sentenced to death since the Palestinian Authority was established in 1994, 77 of which have been under Hamas pseudo-rule in Gaza.
Insofar as Hamas can be said to have a strategy, it is incoherent at best. Hamas is currently abstaining from firing rockets, and preventing others from doing so too, in exchange for Israel not bombing Gaza. Yet Israel is killing dozens of Palestinians in East Jerusalem and the West Bank, which have effectively been excluded from Hamas's deal, thus limiting its purview to representing Gaza, and Gaza only.
Hamas has essentially decided to give up armed struggle, it abstains from non-violent struggle seemingly on principle, and now simply waits for Israel to voluntarily relent and deliver improvements in living conditions in Gaza.
Even if this does occur, there appears to be no strategy for ending the occupation.
The Palestinian Liberation Organisation, for all its faults, purported to represent the Palestinians. Now the Palestinian Authority rules the West Bank, and disregards the interests of Gazans.
Hamas rules Gaza, and ignores the interests of the West Bank.
The refugees are ignored, Palestinians inside Israel have their own representatives, and Palestinians in East Jerusalem, who don't vote for the Knesset, don't have representatives.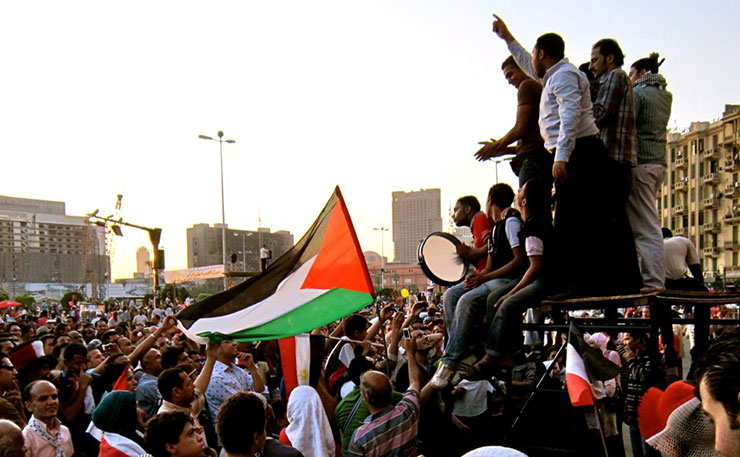 The five groups are all subject to different conditions, and those under Israeli rule are treated differently by the Israeli government and military, such that they have by now become effectively divided and ruled.
Those who purport to represent a segment increasingly view their segment's interests in isolation from the others.
UN data shows that the truckloads entering and leaving Gaza (that is, imports and exports) have increased since 2014. Whilst Hamas has apparently been rewarded for its use of force, it hasn't similarly been rewarded for maintaining this calm, or indeed previous ones.
As Eiland explained, Gaza hasn't been able to reconstruct basic infrastructure. Given the complete devastation of Gaza, the status quo in and of itself is a form of violence against the Palestinians. How can it expect to achieve any gains for the Palestinians, when it exchanges "calm for calm", and has no involvement in any other form of struggle?
Hamas uses different rhetoric, but is essentially involved in the same game as Fatah: ensuring Israeli security, in exchange for bolstering its own rule in a fraction of historic Palestine. It calls itself the Islamic Resistance Movement, but Israel has responded with more violence against non-violent demonstrators, than against the Hamas government it blames for rockets fired by other groups. This is because such activists pose a strategic threat, which Hamas does not.
At the present time, Hamas protects Israel. In the event of future conflicts, other than its improved military performance, it is a favoured adversary. It has an anti-Semitic (if outdated) charter, a bloody history of well-known atrocities, it continues to praise the murder of civilians, and its operational arsenal in times of war continue to include weapons (rockets) that human rights groups unanimously condemn as indiscriminate.
Nathan Thrall, from the International Crisis Group, suggests that the odds are "stacked overwhelmingly" against the violence becoming a "sustained uprising". Hamas's limited rhetorical support seems to be based on this assumption.
The effect is abandoning solidarity with Palestinians outside Gaza, whilst trying not to erode too much international legitimacy by supporting attacks on civilians.
In pursuit of international legitimacy, Hamas wound down its use of suicide bombings, abandoning their use altogether in 2007. Even the New York Times reported on Hamas's shift from firing rockets to "cultural initiatives and public relations" in 2009.
Norman Finkelstein has suggested that the stabbings are an "indication" of Palestinian "despair".
He argues that knifings came at the end of the First Intifada, as Palestinians ran out of hope that they could achieve change.
He grimly notes that that is how this latest uprising has begun.
Hamas's tepid response – offending everyone, achieving nothing – seems to not quite be based on despair, but more a calculated acquiescence to the status quo.
This feature is one of a two part series. You can read the other explainer – on Fatah's role in the uprising – here.

Donate To New Matilda
New Matilda is a small, independent media outlet. We survive through reader contributions, and never losing a lawsuit. If you got something from this article, giving something back helps us to continue speaking truth to power. Every little bit counts.