An Iranian woman on Nauru says her husband has been left in "very bad mental health" as he is forced to wait for medical scans unavailable on the tiny Pacific island.
Katereh Gafouri and her husband Danoush Doshkargar arrived on Christmas Island in August 2013 and were transferred to Nauru, where they were found to be refugees nine months later.
Now living in the Nauruan community, Danoush began suffering abdominal and stomach pains, and had a lesion in his liver discovered by an ultrasound at the Republic of Nauru hospital.
With a history of thyroid cancer, Danoush was told by a visiting gastroenterologist he needed a triple phase CT or MRI scan to rule out a return of the cancer.
"It is important to know the exact pathology and to rule out malignancy," the gastroenterologist recommended, in a note seen by New Matilda. "He should be send [sic]to a centre which can perform a triple phase CT or MRI and this should be done as soon as possible."
But with the technology unavailable on Nauru, Danoush is now waiting indefinitely, as he and his wife grow slowly more anxious about his health.
Danoush has been seeing a psychologist, but Katereh says he recently attempted suicide, but was prevented when friends interceded.
Dr Barri Phatarfod, co-founder of Doctors for Refugee, has been in touch with Danoush and Katereh, and is providing assistance to a range of refugees in the community on Nauru.
She describes the care they're receiving as "abysmal".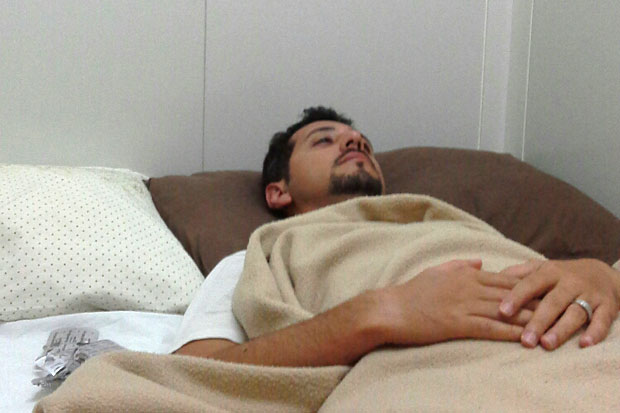 "It's bad because it's third world care and those who need anything more complex or serious and are living in the community already go offshore for their treatment," Dr Phatarfod said.
"The local Nauruan community are perfectly aware that there are not facilities in Nauru to get treatment. They'll get sent offshore. They'll often come to Australia or New Zealand or Fiji or surrounding countries for treatment. So why that can't happen to refugees in the community I don't know."
While still held in detention on Nauru, asylum seekers are transferred to Australia for serious medical attention, or to give birth. But once accessed as refugees and released into the community, responsibility for their health is shifted between the Nauruan government and International Health and Medical Services (IHMS), a private contractor which runs a clinic in the community.
Katereh says she's been told by the hospital other countries won't accept them as patients because they're refugees. She's spoken with visiting Australian specialists as well as IHMS, but to no avail.
"I have been crying most of the time and we are very desperate of this situation we are in without any helpers," she says.
"We have asked for help from all, but no-one cares, even we asked for help from a new specialist team from Australia but they ignored him."
"Danoush is not getting adequate medical treatment at all on Nauru."
New Matilda understands IHMS are familiar with her husband's case, and say they are working with the Nauruan government to resolve it.
Dr Phatarfod said it was unlikely Danoush's cancer had returned, but that the fact he was in pain and generally symptomatic meant it should be dealt with quickly.
She said that in Australia the scans would generally be expected to be done within a couple of weeks.
It's now been 24 days since Danoush's referral was made.
Earlier in the month an 11-year-old refugee was told by the Republic of Nauru Hospital he did not need surgery on his arm, a decision that was overturned after Doctors for Refugees obtained the scans and consulted with specialists in Australia, who unanimously advised the surgery was essential.
After the case was made public in the media, Australia agreed to send a team of surgeons to assist the boy.
Donate To New Matilda
New Matilda is a small, independent media outlet. We survive through reader contributions, and never losing a lawsuit. If you got something from this article, giving something back helps us to continue speaking truth to power. Every little bit counts.