Only 25 per cent of Aboriginal and Torres Strait Islander people support the "grassroots" Recognise group, and a majority would vote no in a referendum if it delivered only symbolic recognition, according to a new poll that pours cold water on the Recognise's claim that nine out of ten blackfellas support their campaign.
In May, the government-funded Recognise group released research suggesting nine in ten Aboriginal and Torres Strait Islander people supported constitutional recognition.
The polling was conducted by Polity Research, which surveyed 750 Aboriginal and Torres Strait Islander people, and 2700 non-Indigenous voters, according to Recognise.
Recognise said the "research confirms continuing support for recognition from the vast majority of Aboriginal and Torres Strait Islander people".
The group released its media statement without detail of the question that was posed to interviewees, or where it had retrieved its sample of Aboriginal and Torres Strait Islander voters.
But the claim of overwhelming Indigenous support is one that was controversial among many who believe the issue is being met with a much more diverse sample of opinions in Aboriginal communities.
While conservative opposition to constitutional reform has been highly publicised, the concerns from Aboriginal and Torres Strait Islander people has been largely overshadowed by the Recognise campaign's claims of almost unanimous support.
In February, the National Congress of Australia's First Peoples acknowledged that there was a growing opposition to constitutional reform from Aboriginal and Torres Strait Islander communities, with co-chair Les Malezer saying "we are already receiving messages from our people that they are determined to vote against any referendum".
This opposition is confirmed by an online survey conducted by Luke Pearson at IndigenousX, a social media platform across Twitter and Facebook, who released the results last night.
The survey drew responses from 827 Aboriginal and Torres Strait Islander people across the country, with the majority of responses coming from New South Wales, Queensland and Victoria.
The poll, conducted on Survey Monkey, was widely shared across Twitter and Facebook, the latter of which has high rates of Aboriginal and Torres Strait Islander users.
The survey acknowledges that, like the Recognise polling, the sample size was "still quite small".
"Questions regarding the distribution of data collected by Recognise should be similarly asked and caution must always be exercised when claiming that a survey is 'representative'," the group says.
But the IndigenousX poll produces radically different results to those promoted by the Recognise campaign.
It found that rather than Recognise's stated 87 per cent Indigenous support, only 25 per cent of IndigenousX respondents supported the group. 58 per cent were in opposition, while a further 17 per cent were still unsure.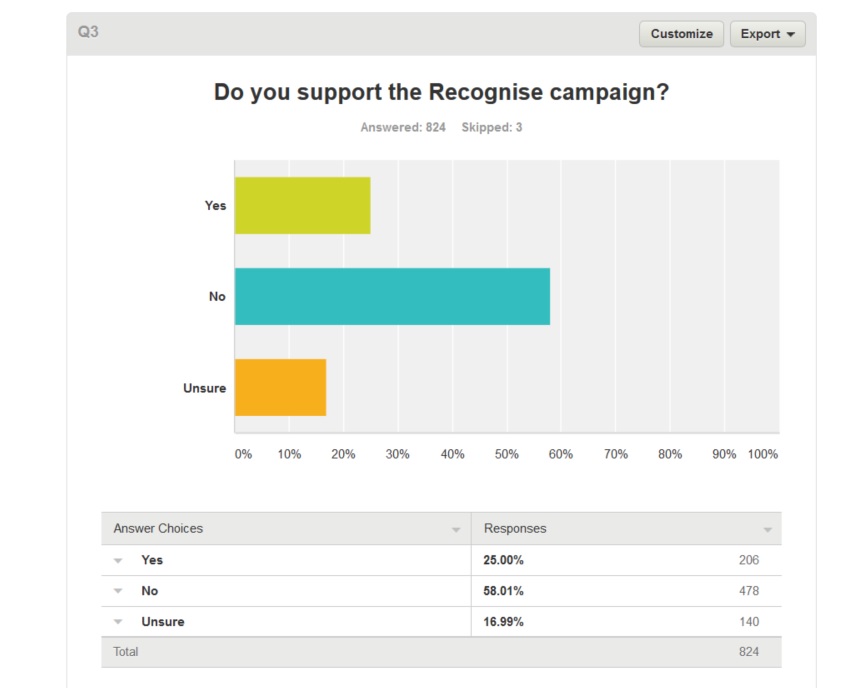 In the absence of any proposed model agreed to by government, Recognise has largely been calling on respondents to answer whether they supported "constitutional recognition", with no detail on what that would entail and whether it would be restricted to symbolic recognition.
About 75 per cent of IndigenousX respondents said they would vote no if the referendum only proposed symbolic change to the constitution, for instance by adding a preamble. 10 per cent were unsure, while 14 per cent would still vote yes.
About 68 per cent of respondents said they would not support a referendum if it did not include provisions to remove the racially discriminatory elements of the constitution, like the race power. Nearly 20 per cent were unsure.
There was similar uncertainty as to whether they would support a referendum that included all the recommendations of the expert panel, with 20 per cent unsure. 47 per cent of respondents said they still wouldn't support it, while 32 per cent said they would support it.
IndigenousX says the opposition to the recommendations of the expert panel, which includes proposals to remove the discriminatory powers, could be due to the "rejection of constitutional recognition in the first place".
"Whether this is because people reject the constitution because they are black nationalists, feel that a treaty needs to come first and are weary of the noted issues around current Australian climate for recognising Indigenous sovereignty, or that they simply think recognition will not improve our situation is information we cannot ascertain from this data".
The survey also noted that a large percentage did not believe constitutional reform would lead to any improvements.
62 per cent of respondents felt they would not be better off if Aboriginal and Torres Strait Islanders were recognised in the constitution.
The only question where respondents were in majority support was for Cape York lawyer Noel Pearson's proposal to include the idea of an Indigenous parliamentary body in the constitution. It attracted a 54 per cent support rate.
The survey included 153 non-Indigenous respondents. While a small sample size, it found that a majority of non-Indigenous voters supported Recognise (56 per cent), a greater number would vote yes if the expert panel's recommendations were included (63 per cent) and they 43 per cent of respondents believed Indigenous people would be better off following constitutional recognition.
Member of the expert panel and prominent Aboriginal lawyer Megan Davis told IndigenousX the survey showed Aboriginal and Torres Strait Islander people wanted practical outcomes, and would "eschew symbolic recognition".
"They seek concrete reform to achieve practical outcomes. The benefits of symbolism are indeterminate. This poll confirms the community seeks protection from racial discrimination parliamentary role in decision-making that affects their lives," Ms Davis said.
Arrernte-Alyawarra elder Rosalie Kunoth Monks said constitutional reform did not correlate with aspirations for sovereignty.
"Those that support Recognise need to have a look at the history first and realise that you cannot trust a foreign people to put us into their constitution. Our constitution is here. It's not a written one, but through the ceremonies it is strong," Ms Kunoth-Monks told IndigenousX
"It is time we reclaim that and reassert ourselves as the sovereign people of this country. The young people now reasserting and reclaiming need to call upon our brothers and sisters for a truth and justice journey and a new direction – which we lead."
Donate To New Matilda
New Matilda is a small, independent media outlet. We survive through reader contributions, and never losing a lawsuit. If you got something from this article, giving something back helps us to continue speaking truth to power. Every little bit counts.