In his September 25, 2014 video message to asylum seekers detained on Manus Island and Nauru, Scott Morrison plays the tough guy.
A deadpan Minister for Immigration speaks directly into the camera: "If you are currently in Papua New Guinea or Nauru, you will not be transferred to Australia… you will remain there until you either choose to return, or you are resettled somewhere else other than in Australia.
"Now is the time to think about your future, for you and your family."
The video was designed to bludgeon detainees into returning to the countries from which they fled.
It backfired, spectacularly.
Contrary to Morrison's message, there was no influx of 'illegals' on Nauru asking the Department of Immigration and Border Protection to send them home.
Instead, there was widespread anger, and protests. And as the anger grew, so did the numbers protesting, and so did the intensity.
Over the course of a week, both adults and children began to self-harm, with detainees drinking shampoo and mosquito repellent, others attempting suicide by hanging, and some detainees as young as 15 sewing their lips together.
The disturbing details are contained within a string of interviews with Philip Moss, the former Integrity Commissioner charged by the Abbott Government with investigating allegations that asylum seekers on Nauru were raped, and that government contracted workers were involved in assisting detainees in the protests, including coaching them to self-harm in order to generate public sympathy for their plight.
Leaked transcripts of some of those interviews have been obtained by New Matilda. They contain deeply disturbing testimony of asylum seekers about their treatment on Nauru.
They also contain some stunning insights into the inner workings of the Department of Immigration.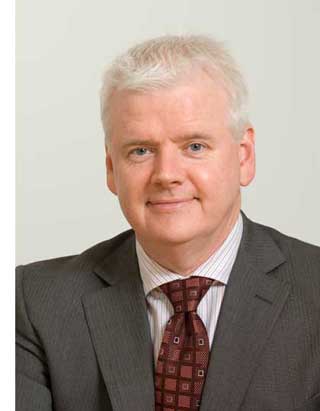 One of the nation's highest ranking public servants – Mark Cormack (pictured right), a former Deputy Secretary, Immigration Status Resolution Group in the Department of Immigration – is interviewed by Moss.
Cormack is directly responsible for the handling of asylum seekers, once they've been detained by Australian authorities.
Cormack's interview was held on December 10 last year, just a few days before he left the department. It is remarkably candid.
Cormack reveals that as the protests over Morrison's video gathered momentum, Morrison became "shit worried" he would have another Manus Island on his hands, a reference to days of violent protests inside and outside the Papua New Guinea-based Australian detention centre, protests which ultimately saw an Iranian asylum seeker, Reza Berati, beaten to death by the very government workers paid to protect him.
Some of Cormack's more startling testimony reveals that:
1. Morrison's "looseness" was to blame for the fact media were mislead over the death of Berati, despite the Minister later blaming the error on flawed departmental advice.
2. In the days immediately after the release of his video, Morrison became "shit worried" about the situation on Nauru, with Cormack fearing it could escalate to "a scale much worse than Manus".
3. Cormack promised the Minister "a list of the names" of Save The Children workers who were suspected of agitating with asylum seekers and possibly coaching them to self-harm. They would then be removed from Nauru. Morrison "heartily agreed" with the plan, and then was "continually on [Cormack's] back" until the staff left the island.
4. The 10 Save The Children workers who were subsequently ordered off Nauru by the department may not have been "the right 10 people".
5. Cormack appeared to criticise the fact the Moss review is investigating both rape allegations and claims of staff misconduct, and tells Moss during his testimony that "we're going to have to be very careful about what we say, what the Minister did…."
6. Morrison believed that asylum seekers might have been "put up" to allege rape in order to bring the Australian immigration detention process into disrepute.
New Matilda will be reporting details of other transcripts in the coming days. In the meantime, here are some of Cormack's insights into Australia's system of immigration detention.
1. Scott Morrison's "looseness"
IN THE days following the February 2014 murder of asylum seeker Reza Berati on Manus Island – violence which saw an additional 77 detainees injured, 13 seriously and one critically – Morrison initially tried to pin the blame on detainees because, in his words, they had broken out of the safe confines of the immigration compound.
Morrison's claim was contradicted by media reporting at the time, including by former New Matilda editor Marni Cordell, which revealed police "went in shooting" after several days of internal protests, and that Barati had been beaten to death inside the confines of the detention centre.
Within hours, Morrison began backing away from the story, but he waited five full days before finally abandoning it altogether. In finally correcting the reports, Morrison laid the blame for his initial error on information he had been provided at the time.
"When I first reported on this matter in Darwin in the early hours of that morning, just hours after the incident, the initial reports were that events had taken place outside the centre. It was important to brief on the issue as early as possible on Tuesday morning as there had been a tragic death. Information is rarely perfect soon after the event. Any early reports are always qualified along these lines, as my report on that morning was," Morrison told media.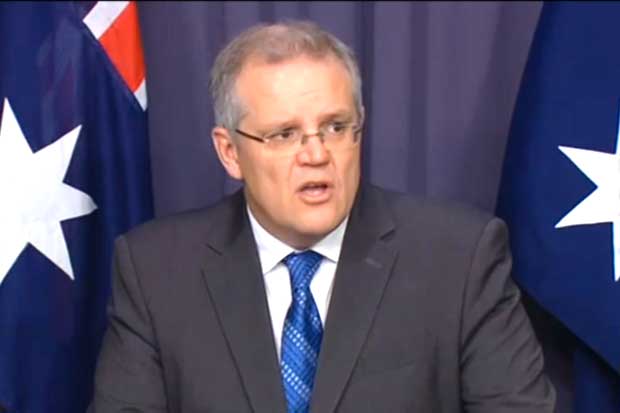 But according to his testimony to Philip Moss, Mark Cormack has a different recollection of events.
"A person died, many people were injured, the public lost faith in the government's policy, the Minister suffered a major credibility hit because of some looseness in public communication on his part immediately after the event, which subsequently had to be corrected, and then we had to go through this process of reparation and restoration to the point where we've kind of recovered from that," Cormack told Moss.
"But many people will never forget that, same as people don't forget the Villawood riots and other riots, people don't forget that sort of stuff."
2. Morrison became "shit worried"
FOLLOWING the release of Morrison's video to asylum seekers on Nauru on September 25, 2014, Cormack acknowledges that tensions escalated quickly among detainees, and was sustained and organised.
Children and adults were self-harming, and some of the incidents were being filmed and leaked out to media.
Cormack describes the situation on Nauru as "five or six days of large scale disruption", which, "if not stopped could lead to a dramatic meltdown of a scale much worse than Manus, because there were kids involved, there were women involved, there are families involved, there are unaccompanied minors involved, and there weren't any [proper]fences really… although we've put some up since then. But really there isn't a lot to contain people there, other than the physical environment…. I mean if people want to get out of there, they can, and they do."
The major concern Cormack conveyed to Moss was his fear that some staff from Save The Children – a non government organisation contracted by the department to provide social services for detainees – had become too close to detainees, and were involved in assisting them in the escalating protests, and coaching them to self-harm.
Cormack's concerns were backed up by an intelligence report from other contractors on the island, Transfield and Wilson Security, dated September 30 (five days after the release of the Morrison video) which warns the government of a sequence of likely events, all of which appeared to be coming true.
"Suddenly, we saw [happening on the island]what the intel report had said would happen, which is that you would see people take more detailed information reports that could be discoverable in an FOI context, and you would see people… participating in more organised self-harm involving children," Cormack says.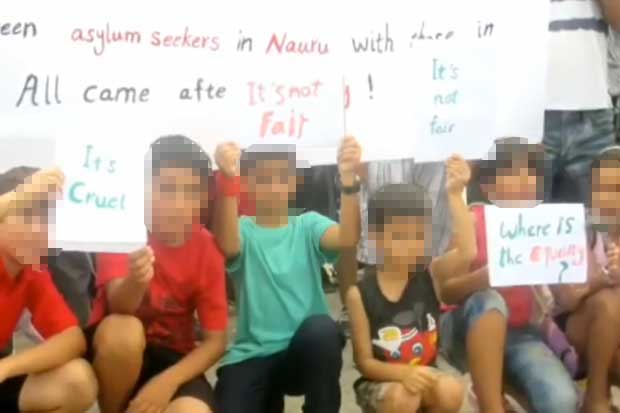 "So you get this report at the same time as you are seeing … five to six days of growing kind of peaceful protests… and you think, hmmmm, I think there might be something to this intel report. And by the way, I lived through Manus and other things and there's a certain sense of foreboding happening here, and… this is off the back of a month-by-month buildup of concerns about [the actions of]Save The Children [staff]."
Cormack then describes the actions taken by him and Angus Campbell, the former head of the defence force and the man leading 'Operation Sovereign Borders', the government's crackdown on boat arrivals.
"… this would have been towards the end of September, I think the 30th of September is the date of the intel report, so it was probably a couple of days after that.
"Angus [Campbell] and I meet twice a week with the Minister on all matters Operation Sovereign Borders, and obviously my bit's the Offshore Processing Centres, Angus does the boats, and all that sort of stuff as well.
"The Minister was shit worried about how things were going in Nauru, and we shared with him this intelligence [report]… Basically [we]said, "Have a look at this."
Cormack adds: "What I put to the Minister was we're very concerned about what [the intelligence report]says."
The veracity of some of the claims in the intelligence report have since come under close scrutiny – in a Lateline report aired earlier this week, and by Philip Moss himself, who during the course of his interviews repeatedly challenges the author of the intelligence report, Lee Mitchell, a senior intelligence analyst with Wilson Security, about the claims of self-harm coaching.
While the truth of that allegation in particular remains unclear – the Moss review has still not been released – what is apparent from the interview with Cormack is that Morrison was kept informed of a subsequent plan to sack Save The Children staff.
And in the end, that's what the Department of Immigration did. At Cormack's behest, 10 Save The Children workers were identified, then removed from the island.
3. Morrison 'heartily agrees' with plan to get rid of 10 Save The Children workers
CORMACK'S interview reveals some remarkable admissions about the Minister's knowledge of the fate of the 'Nauru 10' – the Save the Children staff who were summarily removed from Nauru, amid accusations of misconduct.
"I said to the Minister, 'Minister what I'm going to do is I'm going to get a list of the names of the people who were identified as orchestrating or participating in this kind of behavior. I will get a list put to me, and I will exercise a right under our contract to have those people removed'," Cormack tells Moss.
"That's what I said to [Morrison]. And he heartily agreed."
Within a day or so, a list emerged. On it were the names of 10 Save The Children staff.
Cormack continues: "So I took a judgment call, Philip… to request that those people be removed from any ongoing participation in the Regional Processsing Centre activities.
"[The Department] simply executed what I considered to be a lawful order from myself, which I had socialised with the Minister, but he had not ordered me to do, but was clearly on my back from the time I uttered it to the time those people were seen to be either off the island or never coming back to the island. [Morrison said] 'Have you dealt with those people? Have you dealt with those people?'"
Cormack tells Moss that within days of the 10 workers being removed, "it all subsided".
Other evidence in the Moss transcripts conflicts with that claim – protests apparently continued for weeks. But Cormack's remaining testimony also raises some important questions.
4. We might not have "the right 10 people"
THE removal of the 10 workers was a major news story at the time, with the Daily Telegraph splashing the story after being leaked the intelligence report.
It broke the morning Morrison announced the Moss review, although, notably, an ongoing federal police investigation does not appear to have identified the source of the leak.
In one interview conducted by Moss, Department of Immigration official Kylie Burnett agreed with a proposition put to her that identifying the 10 sacked Save The Children workers was "the proper thing to do".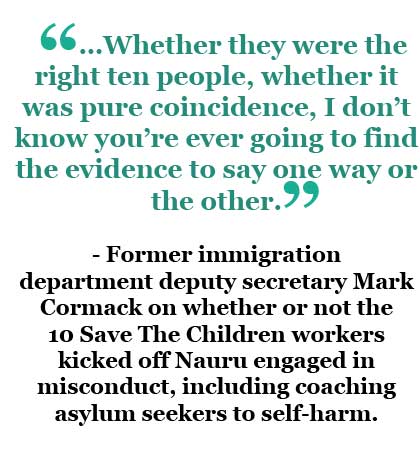 And a Save The Children manager based on Nauru also agreed that some of the workers sent home had likely been engaged in misconduct. But she expressed surprise at the departure of at least one staff member, stating, "None. None, there is zero," when asked if she could think of any reason why that particular staff member was removed.
That same manager alleged some instances of misconduct on the part of removed staff, however it appears to be limited predominantly to issues related to data security.
But the man at the top – Mark Cormack – appears far less certain. After devising the strategy to remove the Save The Children workers, his testimony to Moss contains an extraordinary admission.
"… Whether they were the right ten people, whether it was pure coincidence, I don't know you're ever going to find the evidence to say one way or the other," Cormack said.
"But to me, what I'm comfortable about is that I lawfully executed a provision under our contract (to have the workers removed).
"I did so off the background of very severe disorder…. And I don't regret a single thing that I've done, Philip, in relation to this. If I have over-managed it, if somebody can prove a cause and effect or disprove a cause and effect they're welcome to do that.
"But to be perfectly honest, I take my responsibilities very seriously to manage the order of these places, and the people that I have to trust are our contracted service providers and also the government of Nauru, who also have expressed a growing… dissatisfaction and discomfort with the Save The Children people."
The 10 workers removed from Nauru have begun legal proceedings against the Commonwealth.
5. "We're going to have to be very careful"
ANOTHER exchange between Cormack and Moss leaves open a tantalising question.
Cormack expresses concern that the Moss review has blended "two bits of unrelated activity" – an apparent criticism that the review is charged with investigating both allegations of sexual assault against asylum seekers, but also the alleged misconduct of staff.
Cormack appears to see them as two entirely separate issues.
"… I think what happened – and I'll come to what the Minister did, and we're going to have to be very careful about what we say, what the Minister did…"
Moss interrupts: "Sure."
When Cormack continues, he trails off on a different tangent, and never discloses what Morrison did.

6. Morrison thinks rape allegations a "put up" to damage Australian detention process
THE transcript also contains a comment from Cormack about what he perceives as Morrison's response to the allegations asylum seekers had been raped.
"[Angus Campbell and I] expressed concerns, obviously, about what the intel was saying, which in [Morrison's] mind suggested a very close link between allegations of sexual assault and people potentially being put up to make allegations that would bring the whole system into disrepute."
It's also clear in Morrison's public statements that he has doubts about the authenticity of rape claims.
In his press conference announcing the Moss Review, Morrison tells media: "Serious allegations have been made regarding sexual misconduct and abuse at Nauru, and such allegations should never be taken lightly, should never be made lightly.
"On receipt of those allegations, and in addition to seeking further information, those matters were referred to my department for assessment, and advice on what further action should be taken.
"In addition to that, and in parallel, I've been provided with reports indicating that staff of service providers at the Nauru centre have been allegedly engaged in a broader campaign, with external advocates, to seek to cast doubt on the government's border protection policies more generally, and that also casts some doubt on the integrity of previous allegations.
"I'm drawing no conclusions about any of these matters, but it's very important that we get these matters resolved."
Morrison also describes the allegations of sexual misconduct as "abhorrent" and tells media he would be "disturbed" if they took place.
The real Cormack
CORMACK'S interview with Moss is even more compelling when compared to the combative evidence he gave a few months earlier to the President of the Human Rights Commission, Gillian Triggs, during her Inquiry into children in immigration detention.
TRIGGS: … Is it acceptable to have children, held on Christmas Island, in shipping bunkers, containers, on stony ground, surrounded by phosphate dust, in that heat, with no education, at the moment, an acceptable environment into which to send children?
CORMACK: We operate within the policy of the government of the day. We put in place measures that recognise that there will be, consistent with government policy, a requirement to detain children, and the last time I looked, president, there was no shipping container…
GILLIAN TRIGGS: I've seen them.
CORMACK: They are containerised accommodation, they are not shipping containers.
TRIGGS: Thank you very much, is that not a shipping container?
CORMACK: No it's not.
TRIGGS: What is it then?
CORMACK: It's not. It's modular accommodation. It is. If you want to use these emotive terms…
Ironically, Cormack's testimony to Moss is littered with emotive terms, perhaps none more so than his startlingly frank assessment of what occurred earlier that year on Manus Island, when Reza Berati was beaten to death by the men paid to protect him.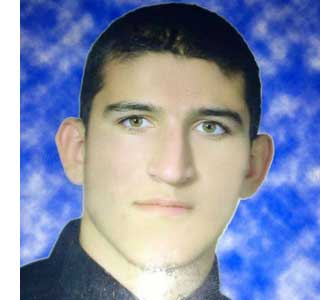 "… I think the thing that had the greatest impact on me was just the scale of the unrest, the large injury toll that was inflicted upon people, the fact that in the case of Manus, it got beyond the point where we couldn't control it. And as you know, what happened with Manus [was]people wielding machine guns, assault rifles and effectively the PNG mobile squad broke down the fence, fired tear gas and then followed that with rounds of automatic shotgun (sic) at people who were unarmed, and they were joined by Salvation Army local staff, who came and absolutely beat the shit out of large numbers of people and killed a man."
It was precisely this horror, says Cormack, that motivated him to move against the Save The Children workers, after he formed the belief the protests on Nauru could escalate to "a scale much worse than Manus".
The Moss review
THE Moss Review has still not been released by the Abbott Government, although it is understood to have been completed.
It remains unknown if Moss finds any evidence of self-harm coaching on Nauru, although New Matilda understands Moss may have uncovered evidence of staff misconduct around the removal of sensitive data from the island.
Cormack and Morrison have both moved on from their roles in the Immigration Department – Cormack to another deputy secretary position in the Department of Health and Ageing, and Morrison to the Social Services portfolio.
But it seems they may well be brought back together one final time.
New Matilda is seeking comment from Minister Scott Morrison and Mr Cormack, but it was not available at the time of press.
Donate To New Matilda
New Matilda is a small, independent media outlet. We survive through reader contributions, and never losing a lawsuit. If you got something from this article, giving something back helps us to continue speaking truth to power. Every little bit counts.