Freya Newman, the whistleblower in the Frances Abbott secret scholarship scandal, has been given a two-year good behaviour bond and had no conviction recorded against her in the Downing Local Court this morning.
Magistrate Teresa O'Sullivan read a lengthy judgment to a packed courthouse, which included more than two dozen journalists.
At the end of the judgement, she asked Freya Newman to stand.
"The offence is proved. You are discharged on the condition that you enter into a good behaviour bond for two years," Magistrate O'Sullivan said.
And with those words, the long-running saga was finally over for Ms Newman, the 21-year-old University of Technology Sydney student who blew the whistle on the $60,636 scholarship provided to the Prime Minister's daughter by the Whitehouse Institute of Design.
Or at least it will be the end of it in 28 days, when the period for an appeal by the prosecution officially expires.
That time is likely to pass without appeal, given the lengthy and detailed judgment handed down by Magistrate O'Sullivan.
The local court judge provided substantial detail around the reasoning of her sentence, after having accepted submissions from both the prosecution and the defence that the offence of 'accessing restricted computer data' was at the lower end of the scale.
Magistrate O'Sullivan also outlined the facts which had been accepted by the court.
"More senior staff members had informed members of the media about the scholarship, but [were]advised the story would not run without evidence," Magistrate O'Sullivan said.
"Ms Newman was told by more senior staff where the evidence could be located, and how it could be accessed.
"Those staff members encouraged Ms Newman to use another staff member's log in details to access the information.
"Ms Newman made no attempt to conceal her actions, and resigned from the (Whitehouse) Institute the following day. She pleaded guilty at the earliest opportunity."
Magistrate O'Sullivan accepted that Ms Newman was not motivated by personal gain, nor a sense of animosity towards Frances Abbott.
"I accept Ms Newman was motivated by a sense of injustice rather than a desire for personal notoriety, greed or any desire to embarrass the student (Frances Abbott).
"I accept Ms Newman is remorseful, as shown by writing a letter of apology (to Frances Abbott)."
Magistrate O'Sullivan also noted Ms Newman's good character, and strong references.
"Ms Newman has no previous convictions. [There have been] testimonials of numerous referees and her community involvement in charitable works. She has very good prospects for rehabilitation," she said.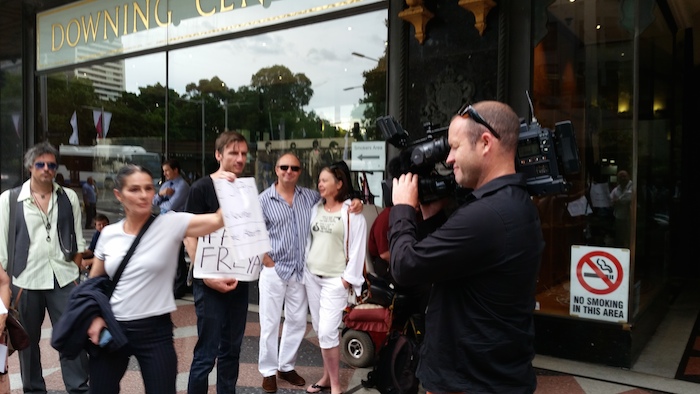 Magistrate O'Sullivan also acknowledged the significant media interest generated by the case, but she rejected defence submissions that it amounted to an 'extra-curial punishment' of Ms Newman.
"This case has attracted significant media attention," Magistrate O'Sullivan said, to a large audience that spilled out the door into the lobby.
"This attention has been very difficult for Ms Newman. I accept the media attention has had a significant impact on Ms Newman's wellbeing.
"It's been submitted by the defence that the level of media interest has amounted to an extra-curial punishment. I accept it can in some cases, but I do not consider this is such a case.
"I do take into account that the media attention has affected Ms Newman's health."
Throughout the proceedings, Ms Newman was surrounded by family and friends, as has been the case in all her hearings. She was also greeted by a small crowd of supporters outside the court, and a large media contingent.
As Ms Newman fronted a large media pack, her supporters cheered and chipped media, who surrounded a silent Ms Newman.
In September Newman pleaded guilty to breaching Section 308(H) of the NSW Crimes Act, after using the log in details of a fellow staff member at the Whitehouse Institute of Design to retrieve Ms Abbott's records.
Frances Abbott recently spoke publicly for the first time about the incident, forgiving Newman for accessing her records but comparing her ethics to that of a "small child".
"To be honest, it's just like as a small child you learn it's not right to read someone's diary. It's not right to hack into anything," Ms Abbott said.
After completing her studies Ms Abbott was given a job by the Whitehouse Institute, though a staff register revealed she was the only employee without a formal job description.
Her father, Prime Minister Tony Abbott, has still refused to update his parliamentary interests register, despite acknowledging Frances was his dependent at the time, and despite reporting numerous small benefits received by his children, including flight upgrades and tickets to free events.
At the time the scholarship was awarded, Mr Abbott was Leader of the Opposition.
*New Matilda is an independent Australian media publication. We rely predominantly on subscriptions for our survival. You can fund us here. Or just help by sharing this our work on social media.
Donate To New Matilda
New Matilda is a small, independent media outlet. We survive through reader contributions, and never losing a lawsuit. If you got something from this article, giving something back helps us to continue speaking truth to power. Every little bit counts.