For the third time in as many months, Donald J Trump, the 45th president of the United States of America, has been charged with a crime.
Well, dozens of crimes, actually.
Trump is the first president in US history to face a criminal indictment before, during or after a term in office. Currently, he is facing 84 separate charges, across three distinct criminal matters:
Allegations that he illegally paid 'hush money' to porn star Stormy Daniels in the run-up to the 2016 presidential election, and disguised the funds as something other than campaign expenditures;
Allegations that he illegally withheld top secret and classified documents, and showed those documents to people without appropriate clearances, and additionally that he obstructed justice by ordering staff to delete video surveillance footage of attempts to conceal those documents from government officials; and
Allegations that he conspired with at least six others to fraudulently alter the outcome of the 2020 presidential election, and prevent the inauguration of the rightfully elected president Joe Biden.
A fourth indictment, from Georgia, is expected in the coming weeks. It's expected to detail separate and specific allegations of electoral fraud, meaning Trump will be facing four separate criminal trials in the lead-up to him contesting the 2024 presidential election.
Thus far, those pending criminal matters appear not only to have not dented Trump's standing in the eyes of many Americans, but they've actually bolstered his electoral fortunes, with numerous polls indicating bumps in his popularity every time he's been charged.
According to US polling gurus FiveThirtyEight, just over half the population of US voters have a negative impression of Trump, while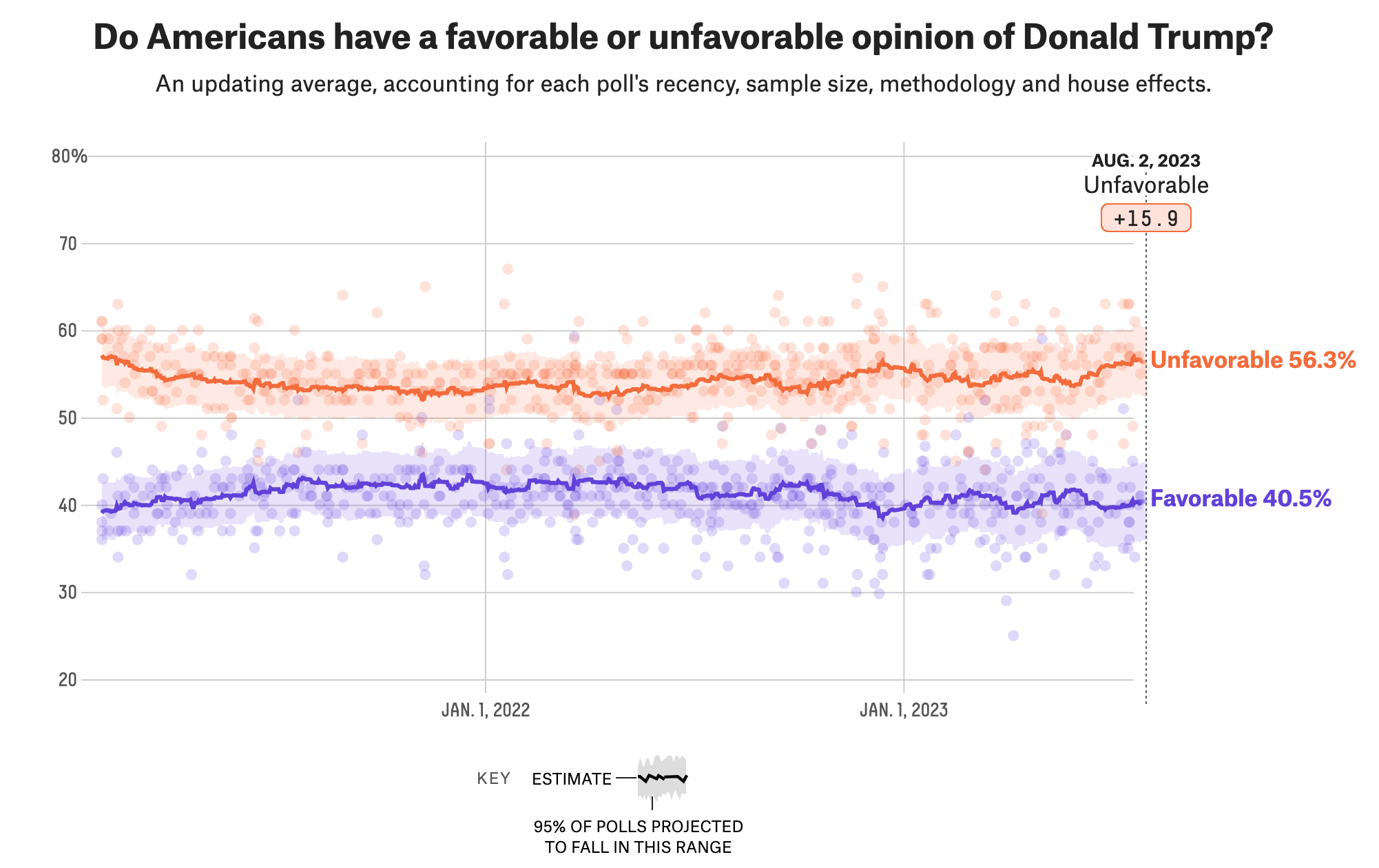 Currently, Trump and President Biden are neck-and-neck in polling, according to the New York Times.
Democracy Now!, an independent media outlet based in New York City, provides a good overview of the issue so far, with a focus on the latest charges, which relate to Trump's alleged attempts to overthrow the 2020 presidential election result.
Below are each of the indictments (the second indictment has two documents, including a superceding indictment released last week which added additional charges against Mr Trump, and a third co-conspirator, Carlos de Oliveira, who works for Mr Trump at his Florida resort, Mar-a-Lago).
Trump Indictment 1 – Stormy Daniels Hush Money Case
Trump is facing 34 charges of 'Falsifying business records in the first degree'. It's alleged he directed his lawyer, Michael Cohen, to write cheques to porn star Stormy Daniels, in exchange for Daniels' remaining silent about an affair Trump had with her in 2006 (Trump has always denied the affair took place). Business records for the Trump organisation were then allegedly falsified to hide the payments.
Cohen has already served just over a year in prison, and 18 months in home confinement, over the matter, after pleading guilty to political campaign finance violations and lying to federal Congress, the US parliament. Cohen was prosecuted by federal authorities, however Trump's indictment is a New York-based prosecution, meaning neither he nor a future US president can pardon him, were he to be convicted (only the New York governor, currently a Democrat, can pardon Trump in a New York criminal matter).
Trump case 1 - Stormy Daniels

---
Trump Indictment 2 – Classified Documents Case
Trump originally faced 38 indictments in this matter, which revolves around his alleged retention of top secret and classified documents after leaving office. Charges include allegations that he engaged in a conspiracy to prevent recovery of the documents, and that he showed the documents to people unauthorised to see them. The charges are federal in nature, meaning if convicted Trump could be pardoned by a US president.
Trump case 2 - classified docs ORIGINAL

---
Trump Indictment 2a – Classified Documents Case (Updated Superceding Indictment)
This is known as a 'superceding indictment' – basically, it's an updated document, after Trump had additional charges added to the original indictment. Specifically, Trump is now facing an additional four charges (total 42 for this indictment), including now also facing obstruction of justice charges. He is alleged to have directed staff under his control to delete security footage, which shows them hiding boxes containing top secret and classified documents, so that they could not be recovered by government authorities.
Trump case 2a - classfiied docs SUPERCEDING

---
Trump Indictment 3 – 2020 Presidential Election Fraud
Trump is facing four federal charges, related to his alleged attempts to overturn the 2020 US presidential election result. Three of the four charges allege Trump was part of a conspiracy, and at least six unnamed co-conspirators are referenced in the indictment. These people, including Trump's personal lawyer Rudy Giuliani (the former Mayor of New York), along with lawyers John Eastman and Sidney Powell, may be charged at a later date, after the prosecution of Trump.
Trump case 3 - election fraud

Donate To New Matilda
New Matilda is a small, independent media outlet. We survive through reader contributions, and never losing a lawsuit. If you got something from this article, giving something back helps us to continue speaking truth to power. Every little bit counts.