On Saturday, the committee which governs Sydney's iconic Mardis Gras will debate whether or not to ban the Liberal Party from the event. Holly Brooke and Bridget Harilaou explain.
From his recent comments decrying 'gender whisperers' in schools to outspoken campaigning against marriage equality, Scott Morrison has been upfront about his opinions on queer people throughout his political career. Now the Prime Minister of Australia, he has only doubled down on these positions.
As members of Pride in Protest, we see it as essential to stand up to the Prime Minister and bring Mardi Gras back to its true values and roots as a protest.
Beginning in 1978 as a protest parade-turned-riot, Mardi Gras was created to fight against the criminalisation of homosexuality and police brutality towards "gays, women and blacks".
40 years on, we are proposing a motion to the Mardi Gras Annual General Meeting that, if passed, would see Prime Minister Scott Morrison and his party not invited to the 2019 Mardi Gras parade.
The Liberal Party's track record – and current policy portfolio – has no place in Mardi Gras.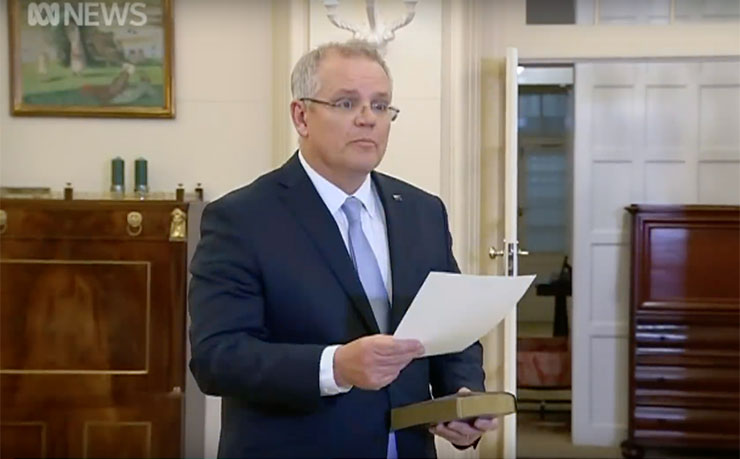 From denying children anti-bullying programs, legislating against marriage equality, supporting the expulsion of queer students and firing of teachers, illegally detaining queer refugees in nations where homosexuality is criminalised, to promoting brutal gay conversion therapy.
A Liberal float in Mardi Gras sends the message that the party can actively oppose our rights yet still capitalise on our community's spirit when it is politically useful.
I was born to lesbian parents, and the Liberals' recent push for the 'right' of religious schools hits close to home. At my religious primary school, accidentally letting slip how I was born or my mum's sexual identity was a constant spectre hanging over my head.
On one occasion, her work superior minded me after school, and took the opportunity to ask me repeated, invasive questions about my mum's romantic and sexual life, until I finally responded "mummy has a boyfriend". At 8-years-old, my gut instinct was to lie to protect my mother's job as a teacher. I was right; homophobic prejudice and laws were stacked against us.
The Liberal Party has actively engaged with the Ruddock Religious Freedom Review's recommendations to support the right of religious schools to fire queer teachers, and expel queer children and the children of queer parents. This discrimination has already been felt gut-wrenchingly by me, and other children like me, for decades.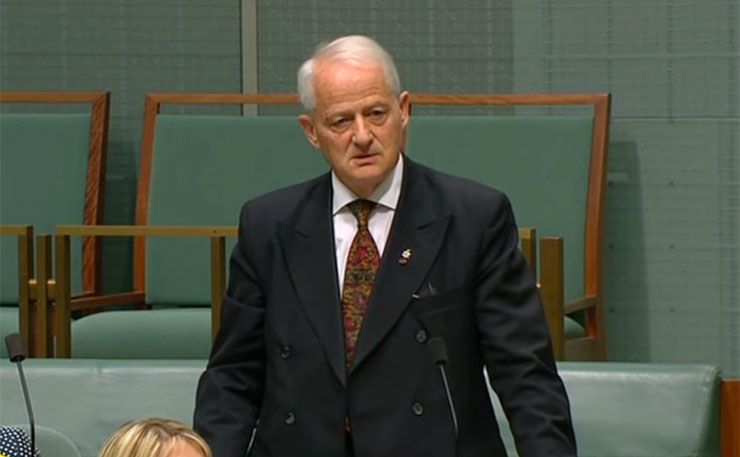 How can Mardi Gras be a space for us and an institution that to this day, threatens the livelihoods of families like mine on the basis of sexuality?
The Teachers' Federation have long been a union that advocates for queer rights, mobilising huge support as Yes Campaigners during the 2017 marriage equality postal vote.
The queer community was shocked and disappointed to hear that Mardi Gras had rejected their float in this year's parade due to a "lack of space", until community outrage and a petition garnering over 2,000 signatures reversed this decision.
Many other community floats weren't so fortunate, and were denied space in the parade while corporate and conservative organisations marched.
Why should those who have stood in solidarity and fought with us for our rights be excluded while the Liberal Party is welcomed?
Some people question the barring of a whole political party, asking "what about gay members of the Liberal Party?"
Everyone has the right to join whatever political party they feel best represents their interests. We accept gay Liberal members exist. We simply feel a party whose positions consistently conflict with the rights of queer people, should not be granted a float in our parade. Individual Liberal members or supporters are welcome to join community organisation or themed floats.
Our specific grievances are with institutions that take part in harming LGBTI+ people, including refugees and asylum seekers, Aboriginal and Torres Strait Islander people, children, and sex workers. To hold an institution accountable for its values and actions is vastly different to targeting individuals.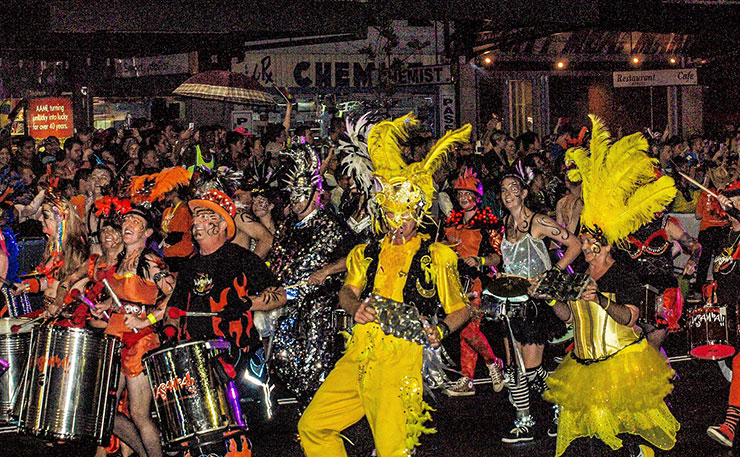 Critics of social justice activists always seem to claim that standing up to oppression is just as bad as perpetrating it. This attitude prevents us from speaking out against the homophobia, transphobia and bigotry, and is ignorant of queer history and how power manifests in our society.
Pride in Protest acknowledges that we have always won our rights by standing up to the rich and powerful, and delivering consequences until change is inevitable.
Removing the Liberal Party's representation in our community spaces is a consequence for their historic and current positions on LGBTI+ rights, and shows that we prioritise the inclusion and safety of our LGBTI+ siblings negatively impacted by Liberal policies above the interests of rich politicians.
Inviting Scott Morrison and the Liberal Party into our community spaces is just as political as not inviting them – there is no neutral option. Mardi Gras is either a safe space for marginalised people, or a billboard for big business and conservative political actors.
Whether you think of Mardi Gras as a protest march or a party, it's an event and an organisation that every year makes a political statement. We choose to stand with everyday people in the LGBTI+ community rather than with the 1%; to take a principled stance against injustice rather than placate institutions who, no matter what they say, have never been on our side.
Donate To New Matilda
New Matilda is a small, independent media outlet. We survive through reader contributions, and never losing a lawsuit. If you got something from this article, giving something back helps us to continue speaking truth to power. Every little bit counts.