When good people stay silent, bad things happen. In Australia, not enough good people are speaking up in the fight for justice for the Palestinian people. Nick Riemer weighs in.
Last week's announcement that the government is open to moving Australia's embassy in Israel to Jerusalem caused consternation among progressives and, indeed, most reasonable people. As if Morrison's irresponsible bid for the Zionist vote in Wentworth wasn't enough, Australia last week also joined Israel and the US in trying (unsuccessfully) to humiliate Palestine by opposing it as chair of the UN group of 77 developing countries.
With the Liberals becoming increasingly slavish in following Trump's dangerous anti-Palestinianism, it's clear that supporting Palestine is a meaningful way of opposing the most reactionary political forces at home. So why isn't there more concrete action among Australian progressives?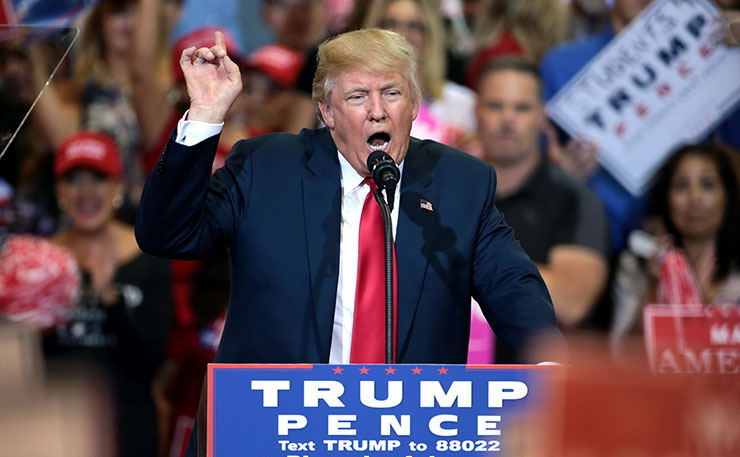 Disapproval of the actions of Israel and sympathy for Palestinians in public opinion is high. But, as every Palestine campaigner here knows, translating agreement into action can often be an uphill battle.
At the moment, the cultural boycott of Israel is at centre stage of global Palestine-justice efforts. Next year's Eurovision Song Contest is to be held in Tel Aviv. Under the leadership of the Boycott National Committee in Palestine, Palestine-justice organisations all over the world are coordinating calls on broadcasters like SBS not to cover Eurovision unless the host country is changed.
In September, 140 musicians and artists from around the world, including here, signed a letter in the Guardian calling on the world to boycott Eurovision in 2019 for as long as Israel remains the host. As the letter said, 'Until Palestinians can enjoy freedom, justice and equal rights, there should be no business-as-usual with the state that is denying them their basic rights.'
A successful boycott would be a real political setback for Israel, which does everything it can to counter boycott, divestment and sanctions (BDS) efforts.
Australian musicians and artists have signed the Eurovision letter. But getting public support has been hard. Tiny Ireland, with its population of less than 5 million people, already has over 11,000 signatures on a petition calling on its state broadcaster, RTÉ, not to screen a Tel-Aviv-based Eurovision. In response, RTÉ quickly agreed that employees who support Palestine will not be required to make the trip to Israel to cover the song contest.
That's a significant early concession which indicates the potential of the Eurovision campaign.
But in Australia, our own petition, launched at the same time as the Irish one, sits at a mere 1,200 signatures. Surely, we can do better than that.
Of course, it doesn't help that the mainstream media here largely refuse to give proper due to Palestine or Palestine justice efforts, as Randa Abdel-Fatah has recently reminded us. You might have thought that the horrifying ongoing Israeli violence on the Gaza fence this year – 205 now killed and 18,000 wounded – would have inclined news and opinion-page editors to actually devote column space to the landmark campaign of the international Palestine-justice movement.
Quite the contrary. BDS Australia, the coordinating body for BDS efforts in this country, of which I'm a committee member, has bent over backwards to get the media to report the campaign.
Overseas, the boycott has been reported in mainstream media in Canada, Scotland, Ireland, Germany, Belgium, France, Spain, and many other countries. Here, only Junkee and a dedicated music site reported the news. As for opinion-page editors, no-one's in the slightest bit interested, not even when we pitch a piece by a prominent public figure: not the SMH, not the Guardian either. We didn't even try The Saturday Paper, whose Zionism is on the public record.
Thankfully, though, progressive campaigns don't just rely on support from the mainstream media to get traction. Petitions can go a long way on social media, even given the hostility frequently displayed by Facebook. Which is why it's disappointing that more people haven't yet signed.
So, this is a straightforward appeal to all NM readers who support a just peace in the Middle East: please, sign the Eurovision boycott petition, share it on social media and by other means, and don't let the silence of Australia's political and media establishment dull you into complacency.
BDS is the flagship, global human-rights campaign today. Supporting Palestine isn't a zero-sum game: a victory for Palestine can set a powerful example of what grassroots solidarity can accomplish in other human rights campaigns too. When Palestine is finally free and Israelis and Palestinians are living peacefully side-by-side, you'll be proud to say that you were part of the global campaign that made it happen.
If you can see the importance of BDS, you might also consider contributing to the crowdfunding campaign that BDS Australia is running to support our work. We're not asking for much – just $30,000 to keep our part-time organizer over the next 12 months. This is crucial to our capacity to promote justice for Palestine in this country. We've only got a few days left in the campaign, and we're not even one third of the way there.
Writing on Facebook the other day, Gazan journalist Ramzy Baroud commented that
Gazans are no ordinary people. It is not romanticizing whatsoever. I am Gazan, and I speak from firsthand knowledge. When a person has his legs amputated due to injuries sustained at the Gaza fence, yet returns, couple of weeks later, on a squeaky, rusty wheelchair, with wounds still unhealed, raising a flag and chanting for his people's freedom, that's beyond human emotional endurance. While it is certainly heartbreaking, it is uplifting too. People like this cannot be subdued.
Palestinians can't be subdued, perhaps, but they also can't prevail over Israeli shells, fences and bombs without our help.
It's time for Australians to turn their sympathy for Palestinians into action.
Donate To New Matilda
New Matilda is a small, independent media outlet. We survive through reader contributions, and never losing a lawsuit. If you got something from this article, giving something back helps us to continue speaking truth to power. Every little bit counts.