A powerful coalition of survivor rights groups have joined forces to demand the Prime Minister change legislation to allow the stripping of government pensions from disgraced former officials, amid revelations former Governor-General Peter Hollingworth continues to collect a taxpayer-funded benefit worth well over half a million dollars a year.
Dr Hollingworth resigned from the Governor-General's office in 2003 after it emerged he failed to take action against known paedophiles within the Anglican Church during his time as the Archbishop of Brisbane in the early 1990s. He was also adversely named in the recent Royal Commission into Institutional Responses to Child Sexual Abuse, after being found to have mislead an earlier inquiry about paedophile priest, John Elliot.
Dr Hollingworth served less than two years as the head of state, but a decade-and-a-half on continues to be paid a substantial annual benefit. In 2016 alone, he was the beneficiary of $640,000, documents released through Freedom of Information reveal. $357,732 is paid as a salary, the remainder he receives to run a staff office, plus travel entitlements.
Under the current laws, a former Governor-General could be sentenced to a term of imprisonment, and still receive his or her pension.
The call also comes as the Morrison Government prepares to deliver a National Apology to Victims and Survivors of Institutional Child Sexual Abuse later this month, a key recommendation from the recent Royal Commission.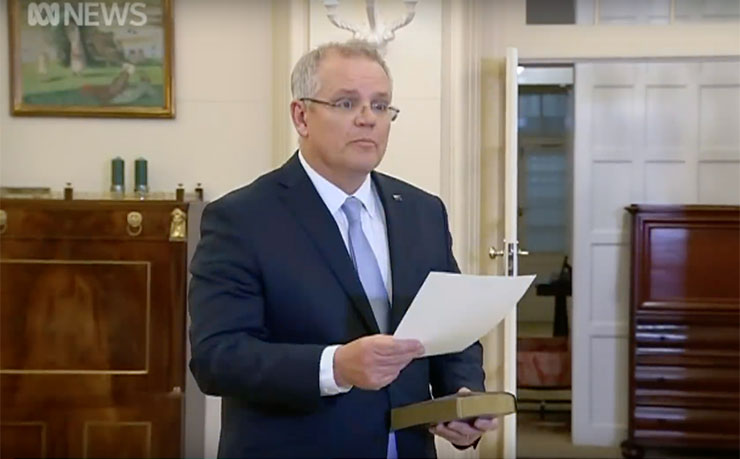 In an open letter to Prime Minister Scott Morrison published today, Bravehearts, the Blue Knot Foundation, Care Leavers Australasia Network, End Rape On Campus Australia*, Beyond Abuse and the Queensland Child Sexual Abuse Legislative Reform Council demand that he reform legislation so that a pension can be stripped if information comes to light which suggests it is "not in the public interest".
"We, the undersigned, ask the Prime Minister to immediately commit to introducing legislation to amend the Governor-General Act 1974 to include a Code of Conduct, and link ongoing payments to a Good Character/Good Conduct test plus a provision to cease payment of public money to a former Governor-General where that payment is deemed to no longer be in the public interest.
"The National Apology to Victims and Survivors of Institutional Child Sexual Abuse on 22 October 2018 should be a watershed moment in Australia's history, acknowledging the harm caused to tens of thousands of victims of abuse over many generations.
NEW MATILDA RELIES ALMOST ENTIRELY ON READER DONATIONS AND SUBSCRIPTIONS TO SURVIVE. CLICK HERE TO CHIP IN AND HELP US HUNT THE TRUTH.
"Vulnerable children were abused by those entrusted with their care. Their suffering was made worse by decades of denial of their truth by those in leadership who knew the truth but still denied it.
"The abuse by so many individual offenders would not have been possible, nor would it have continued for so long, without the knowing and complicit protection of those offenders by senior leaders in the institutions."
Open letter to Scott Morrison

"At a time when ordinary Australians are working harder than ever, with energy, petrol and food prices constantly rising, and the taxpayer bearing the burden of the enormous cost of untreated child abuse it is not in the public interest that the tax payer continue to also fund a person who has betrayed the public trust in their previous role as an institutional leader.
"The public money Hollingworth receives is paid under the Governor-General Act.  At the time of drafting the legislation the Parliament did not foresee that a former Governor-General would have betrayed the public trust so severely in their previous role and therefore the legislation contains no provision to stop ongoing payments of public money that are deemed to not be in the public interest.
"Under existing legislation a former Governor-General could be convicted of a crime and imprisoned and the Government would be obliged to continue to pay them hundreds of thousands of dollars public money every year.
"This is clearly bad law and is an unintended consequence of an oversight of the original legislation.
"It is time for that oversight to be corrected and we look to you Prime Minister to rectify this wrong."
In 2002, an inquiry by the Brisbane diocese found Dr Hollingworth had allowed paedophile priest John Elliot to remain within the church until his retirement, despite Elliot admitting to Dr Hollingworth he had sexually abused two boys before becoming a priest. He was later jailed over the molestation of seven boys.
In a letter written in 1993, Dr Hollingworth tells the priest that after "prayerful thought" he had decided to not remove him from the Dalby Parish, despite advice from a psychiatrist that he is likely to keep re-offending.
"The matter which has exercised my mind most strongly is the fact that your departure at this stage could cause unintended consequences that would make things worse for you and the Church."
Instead, Dr Hollingworth proposes that Elliot give a written undertaking that he will not form close associations with groups of boys, that when in the presence of young boys he always have someone else present, and that he retire at the age of 65.
Hollingworth letter

Elliot retired from the Dalby Parish five years later in 1998, although Dr Hollingworth allowed him to continue providing fill-in services at other parishes, due to his poor financial circumstances.
The Age reported in 2003 that "refusal to remove Elliot from Dalby parish in 1993 was also motivated by a desire to protect the church from adverse publicity. A 'sudden termination' would have caused 'unwarranted concern' in the parish and been 'very difficult to explain publicly', Hollingworth's lawyers told the inquiry".
Evidence emerged in the recent Royal Commission that Dr Hollingworth had been advised by the same psychiatrist that Elliot was an "untreatable" paedophile who posed an ongoing risk to children.
The Royal Commission subsequently found that, through his lawyers, Dr Hollingworth had mislead the Brisbane Inquiry about his knowledge around the past abuse perpetrated by Elliot.
Dr Hollingworth apologised to victims at the Royal Commission for his failure to act.
In August, police announced they were reviewing investigations into Dr Hollingworth's conduct as Archbishop,  in light of new evidence which had recently emerged.
NEW MATILDA RELIES ALMOST ENTIRELY ON READER DONATIONS AND SUBSCRIPTIONS TO SURVIVE. CLICK HERE TO CHIP IN AND HELP US HUNT THE TRUTH.
Donate To New Matilda
New Matilda is a small, independent media outlet. We survive through reader contributions, and never losing a lawsuit. If you got something from this article, giving something back helps us to continue speaking truth to power. Every little bit counts.