Just when you thought the Coalition government couldn't sink any lower. Ben Eltham weighs in on the ABC-crisis engulfing the Morrison Government.
If, like me, you value public broadcasting and love the ABC, the past 48 hours have been mesmerising and terrible in equal measure.
For news junkies like myself, the fast-moving story of the sacking of ABC managing director Michelle Guthrie has been one of the most compelling media stories in a decade.
The bare facts of the story are well known. Late Sunday night, the ABC Board summarily fired Guthrie, just two and a half years into her five-year term.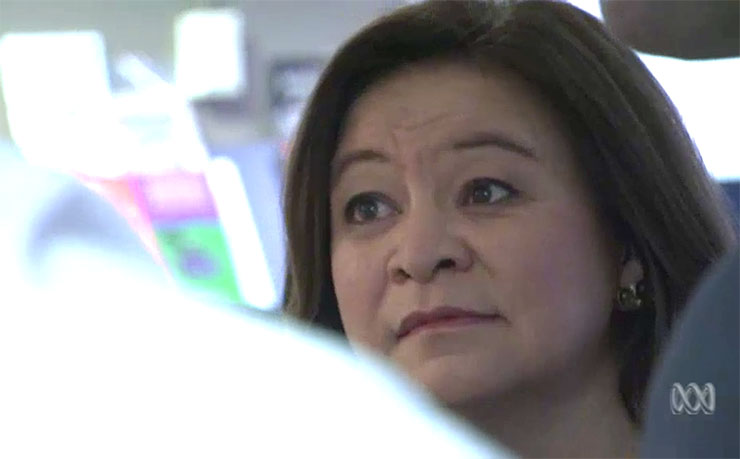 No detailed reason has yet been given by ABC chairman Justin Milne. In a disastrous interview on ABC 24 on Tuesday, Milne refused to explain why he had sacked Guthrie. The best he could manage was a series of mealy-mouthed vagueries, such as "her leadership style is not the leadership style to carry the organisation forward." He then mentioned the mysterious Project Jetstream, a little-known digital content database that the ABC is supposedly working on, which Guthrie is understood to have opposed.
HOUSE AD – WE'VE LAUNCHED A POZIBLE FUNDRAISER TO COVER CHRIS GRAHAM'S LATEST TRIP TO GAZA AND TO HOPEFULLY GET HIM BACK THERE SOON. WE'D LOVE YOUR SUPPORT – CLICK HERE.
Guthrie's summary dismissal was unsettling enough. Her tenure has been chequered and she has won few friends amongst senior producers and journalists. Many in the ABC clearly welcomed her departure, viewing her as out of her depth and out of touch with senior staff and the broadcaster's many pressing challenges. 4 Corners producer Sally Neighbour tweeted out a short but cutting "excellent decision".
Excellent decision https://t.co/Xzo14iRDcM

— Sally Neighbour (@neighbour_s) September 24, 2018
But the flap about Guthrie's dismissal was soon eclipsed by a story about Milne himself.
Barely had the ink dried on Guthrie's marching orders than explosive new revelations emerged about Milne's behaviour as chairman – most notably, that he had urged Guthrie to sack ABC business journalist Emma Alberici after she wrote an article critical of the Coalition's now-abandoned company tax cuts.
Back in February, Alberici's article had been heavily criticised by the ABC's implacable enemies at News Corp and inside the government. It did contain a small number of minor factual errors. But in the main it was broadly correct: there is little evidence that cutting company taxes leads to more economic growth or higher business investment. The government's case for the company tax cuts was phoney.
In the wake of the Alberici article, the ABC came under intense pressure from an enraged Malcolm Turnbull and his government. Communications Minister Mitch Fifield rang Guthrie personally, and then lodged a formal complaint. And we now know that pressure was bought to bear on Milne, as chair of the ABC's board.
According to emails seen by Fairfax Media, Milne wrote to the Managing Director in the wake of the Alberici controversy, bluntly informing Guthrie to "get rid of her."
"They [the government]hate her," Mr Milne said in the email, which was conveyed to Fairfax Media by a source close to the board.
"We are tarred with her brush. I think it's simple. Get rid of her. We need to save the ABC – not Emma. There is no guarantee they [the Coalition]will lose the next election."
When this news broke, the story exploded.
By Wednesday evening the national broadcaster was in chaos, with staff at stop-work meetings calling for Milne's resignation. An emergency phone hook up with ABC board members resulted in a defiant statement by Milne in which he refused to resign. Communications Minister Mitch Fifield then launched an inquiry, to be conducted by the Secretary of the Communications Department.
Biggest turnout to a union meeting I've seen in over a decade. People pouring out of lifts. pic.twitter.com/Kl0E2Ae1jc

— Lucy Carter (@lucethoughts) September 26, 2018
Stories also emerged that Milne had tried to prevent the ABC music network Triple J from moving their flagship Hottest 100 competition away from the date of Australia Day, and had also pressured ABC executives over the performance of political journalist Andrew Probyn, radio host Jon Faine and TV comedy presenter Tom Ballard.
Make no mistake. This is a critical moment for the future of public broadcasting in this country.
The revelation that the chairman of the ABC has pressured the managing director to sack a controversial journalist because the government "hates her" is a watershed for the independence of Aunty.
If the ABC's independence is to mean anything at all, this situation cannot be allowed to stand. If it is, Australia will have taken a big step down the road towards the destruction of the ABC as an independent broadcaster. Invidious comparisons to unfree media in countries like Turkey and Iran will beckon.
The ABC will always be politically controversial. When the broadcaster is doing its job well, it will inevitably annoy and embarrass those in power.
As a public media organisation, the ABC owes its allegiance first and foremost to the citizens of Australia. Indeed, this vital role is enshrined in the organisation's legislation and charter.
We have grown used to criticism of – indeed, outright hostility towards – the ABC from ministers and prime ministers. That's a major problem for our democracy; it would be better if politicians simply stated their disagreement and moved on. But this is something new.
What's unprecedented about Milne's intervention is that now we have a board chair pressuring the organisation to remove a journalist who has angered the government.
This is why it cannot possibly continue with Justin Milne as its chairman. By Wednesday afternoon it was clear that Milne must resign.
And so it transpired.
His position untenable, by Thursday morning Milne was gone.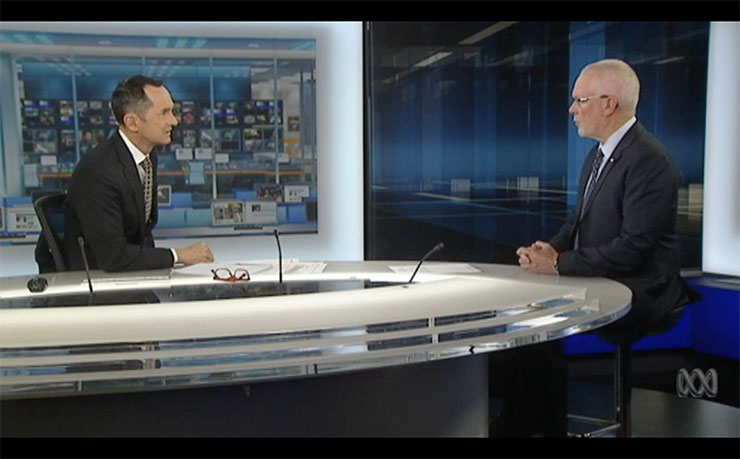 The ABC mess also says something about the broader decline in standards of governance in the Australian government and public service. There is a growing stench about the Coalition government, a wafting odour emanating from a number of different directions.
Five years of Coalition government have seen a slow but deliberate erosion of the independence of the public service. There have been unprecedented attacks on key departments and agencies such as the federal Treasury, the Immigration department, the Office of the Information Commissioner, the Australia Council for the Arts, and now the national broadcaster. From mysterious $444 million grants to a Coalition-linked environment charity, to vicious public attacks on the integrity of statutory officials like the former Human Rights Commissioner Gillian Triggs, from phone calls to complain about an SBS journalist's tweets about Anzac Day, to the ruthless stacking of any number of government boards, this is a government that has shown no compunction when it comes to attacking those it perceives as its enemies.
Justin Milne was one of those partisan appointments: put on the ABC board by his friend Malcolm Turnbull, he is just the most current example of the Coalition's cynical policy of ensuring that the people it appoints to direct vital public bodies are ideological and political friends. That's how a middle-ranking businessman with zero experience in public broadcasting ends up chairing Australia's most important cultural institution.
HOUSE AD – WE'VE LAUNCHED A POZIBLE FUNDRAISER TO COVER CHRIS GRAHAM'S LATEST TRIP TO GAZA AND TO HOPEFULLY GET HIM BACK THERE SOON. WE'D LOVE YOUR SUPPORT – CLICK HERE.
The current mess at the ABC is not wholly the government's fault, but it occurs in an environment of endless culture war, in which the conservative foes of the national broadcaster have waged relentless combat against a public media body they rightly recognise as an existential threat.
The independence of the ABC was once a bipartisan commitment, honoured by both major parties whatever their personal animosities. That has not been the case since John Howard's government, at least. It's just another symptom of the illiberalism of the modern Liberal Party. The once-great party of Menzies is a shadow of its former self.
As long as the Coalition holds power in Canberra, the independence of the ABC will remain gravely threatened.
Donate To New Matilda
New Matilda is a small, independent media outlet. We survive through reader contributions, and never losing a lawsuit. If you got something from this article, giving something back helps us to continue speaking truth to power. Every little bit counts.