"Without this essential funding, how are we supposed to afford hyperbaric chambers for recovering kindergarten stars of Little Athletics?!" Liam McLoughlin weighs in.
Thanks to Prime Minister Scott Morrison's principled dedication to socialism for the rich, Catholic and independent schools will no longer flounder with only two or three playing fields per campus.
The $4.6 billion in new funding announced Thursday will do much to allay the concerns of Catholic educators, who worried they could no longer pay for a personal priest to chauffeur every single student to and from school.
Lest critics unfairly criticise the Liberals for their one ubiquitous policy of happy endings for the wealthy and syphilis for the poor, it's important to present a few facts in their defence.
HOUSE AD – WE'VE LAUNCHED A POZIBLE FUNDRAISER TO COVER CHRIS GRAHAM'S LATEST TRIP TO GAZA AND TO HOPEFULLY GET HIM BACK THERE SOON. YOU CAN SUPPORT IT HERE.
Firstly, yes, between 1999 and 2005, John Howard did increase federal funding for each private school student by $1584, but he also increased funding for public school kids by $261, more than enough for a lifetime's supply of carob.
Secondly, yes, 63.8% of federal funds do go to private schools, but that still leaves 36.2% for the proles, although that's maths that might actually be quite difficult if educated at an Australian public school since Howard took office.
Thirdly, yes, total public funding for private schools has increased 9.8% compared to 3.3% for public schools over the last 10 years, but it's not like those Olympic-size swimming pools and observatories, so vital to the sense of superiority bequeathed to private school students, are gonna build themselves.
Fourthly (can they still afford to teach such high numbers in public schools these days?), yes, the six most elite private schools in Perth, which each charge more than $20,000 in fees per student per year, received $270 million in public money over the last five years. But this ignores the fact that six of the poorest schools in Western Sydney each received a box of Jatz crackers.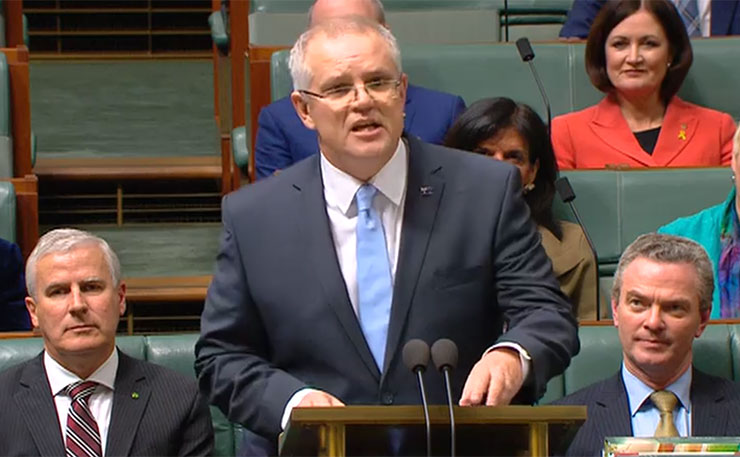 In any case, the Liberal Government is already addressing the problem of "overfunded schools" by promising to cut their funding. The way they are going about this is quite ground-breaking in the sense they are reducing their funding by actually increasing their funding. Take Loreto Kirribilli, expecting some savage cuts to its the degustation menu at the 3-hatted school cafeteria in 2018, actually had its year-on-year funding increased by over $200,000. You'd be surprised how quickly you can blow 200K on hors d'oeuvres.
And now there's this ingrate, NSW Liberal education minister Rob Stokes, who remembers that private schools in his home state get $6700 more per student than public schools but forgets that the Liberals need to bribe their constituents to have even a snowball's chance in a climate-change-stricken dystopia of not being demolished at the next election.
Mr Morrison, educated in a public school back when they were funded by money rather than Iced VoVos, has reassured the plebs that this $4.6 billion will address unforeseen "needs and circumstances" over the next decade and help "Catholic schools in less fortunate areas… continue to get the support".
HOUSE AD – WE'VE LAUNCHED A POZIBLE FUNDRAISER TO COVER CHRIS GRAHAM'S LATEST TRIP TO GAZA AND TO HOPEFULLY GET HIM BACK THERE SOON. YOU CAN SUPPORT IT HERE.
He said the money would go to private schools in drought-affected areas, which is fair because we've long known that public schools in such areas, what with their intricate playground river systems, are drought-proof.
He added the caveat that, "As you know the Catholic system makes decisions about how it spreads its resources that are provided to it."
Given that private schools in general use public funds to improve facilities rather than reduce fees and Catholic schools in particular have a track record of directing funds away from poorer areas to more popular schools, the PM's words are about as reassuring as the existence of God.
Donate To New Matilda
New Matilda is a small, independent media outlet. We survive through reader contributions, and never losing a lawsuit. If you got something from this article, giving something back helps us to continue speaking truth to power. Every little bit counts.