Australian Bianca Talevska recently volunteered at a refugee camp on the Greek Island of Lesvos. She met many people with uncertain futures. One of them in particular stood out.
Mohammed Sharife sits down to talk with me. The intense look in his eyes slowly fades to that of innocence and desperation. He is eager to tell his story, in the hope those reading can get even the slightest glimpse into his short life.
From the Parwan Provence of Afghanistan, Mohammed, aged 16, could be like any teenager. Yet, his place and time of birth set him considerably apart from boys his age in the west. The discrepancy in his age (he tells me he is 16, but has no birth certificate to prove it) means he has spent the last three months sleeping on an exercise mat on the floor of a refugee camp on the Greek Island of Lesvos.
They call this section: new arrivals. It is meant to be a temporary area of stay (one night) for those arriving via boat that day, but the sheltered area is filled beyond capacity with people like Mohammed who have spent up to three months calling it their home.
Due to Mohammed's unproven age, there is not enough space in section B, otherwise known as 'unaccompanied minors', so his only option is to sleep on the overcrowded floor of the new arrivals area. Barricaded with barbed wire and checkpoints at most gates, the camp looks more like a prison.
"When I go out [of the gates]I get attacked. I don't feel safe," he says. Within days of arriving at camp, Mohammed had his only source of communication with his family, his mobile phone, stolen.
"The situation in here is not suitable for me." He has not made contact with his Mother, who remains in Afghanistan, since arriving. "My mother is very sick. We do not have the family or the money to take her to the hospital."
That family he refers to is his father. Five years ago, Mohammed's dad, a government employee, was killed by the Taliban. Just months earlier his 32-year old cousin was also brutally murdered by the extreme fundamentalist group. The reality of mortality has become far too common for children in Afghanistan. If the loss of his father and other family members wasn't traumatic enough, at the age of 14, Mohammed was taken hostage.
"They [Taliban] come and find me. They know that my father worked for the police so they capture me. For three days they take me and keep me in a dark room and torture me. I escaped them. When I escaped I fell off a wall and hurt my stomach on a fence."
To this day, Mohammed visibly wears the scars of his upbringing.
"They [doctors in Greece]tell me I need surgery, but they tell me I can only stay in the hospital for two days, then I must come back and sleep on the floor again. How can that be? I am in so much pain."
Together with the physical wounds, Mohammed also carries the psychological trauma of the brutality he has witnessed. He says he continually replays the moments of the war in his head.
"It is hard for me to sleep; I have many bad thoughts, many negative thoughts of the bad things that happened in my country and I cannot sleep in the night."
Mohammed says he repeatedly requests to see a psychologist, but to no avail. "I need to see a doctor and talk to somebody."
You may wonder how a teenager from Afghanistan can travel alone to a tiny Greek Island. He shows me his birthdate stamp on his arrival card; it reads: 2002. Just a year after the United States declared war on Afghanistan. Mohammed's childhood is marked by the sounds of the bombs, gunfire and missiles that ravaged his country and carved out his uncertain future. His only chance at freedom has been to make his way to Europe, traveling first through Iran and then to Turkey where he was smuggled into Greece.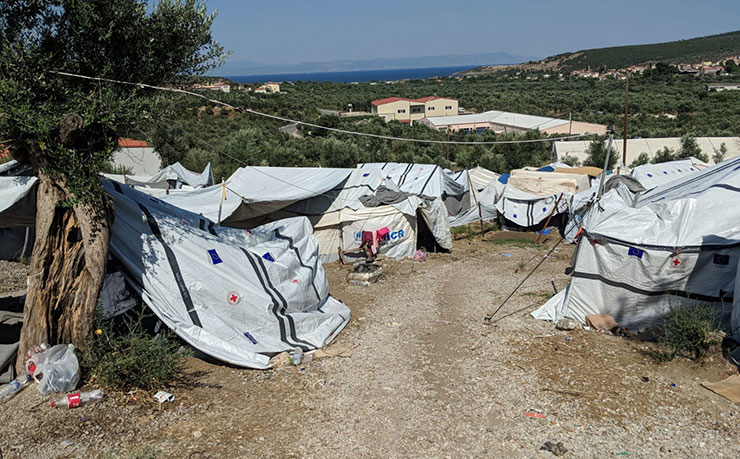 According to the United Nations Human Refugee Agency (UNHCR) there are currently more than 25 million refugees, over half of whom are under the age of 18. Living in a refugee camp is not what Mohammed imagined nor had planned for his life. Reluctant to show much emotion, his words ring alarm bells of desperation for his own safety and sanity.
"It's dangerous here, many fights happen; it is not a safe place for me."
The camp contains people from over 40 ethnicities, many from rival countries. The result: constant tension that has seen riots, beatings, stabbings and shootings. Despite all of this, when asked what his hopes are for the future, Mohammed looks at me sternly and seriously: "I want to be in a safe city, I want to study in a safe country, I wish to take classes and help my family."
The situation in Greece is nothing short of hopeless for the thousands of refugees who have made the long journey across the sea. The process to get from Lesvos to Athens – where refugees spend time at another camp, awaiting processing out of Greece – can be extremely lengthy and doesn't guarantee them asylum into Europe. Some have spent up to three years in Lesvos with deportation to their war-stricken countries hanging over their heads.
For now, Mohammed does not attend school. And whilst he has begun to develop friendships with a small group of Afghan boys at the camp, he doesn't know how long it will take for him to get the education, security and freedom he and so many others deserve.
Donate To New Matilda
New Matilda is a small, independent media outlet. We survive through reader contributions, and never losing a lawsuit. If you got something from this article, giving something back helps us to continue speaking truth to power. Every little bit counts.