The Greens loss in Batman suggests the party has a long way to go before it can challenge Labor in the lower house, Ben Eltham writes.
It was a tale of two parties. I spent the night of the Batman by-election between the election functions of the Greens and Labor. Needless to say, the moods were contrasting.
The Greens function was at Tallboy and Moose micro-brewery in Preston, a drafty former warehouse that now serves tasty burgers and their own range of IPAs and lagers. While there were plenty of party supporters in green t-shirts and the bar was doing a brisk trade, the atmosphere was deflated, even sombre. Adam Bandt looked downcast, Richard di Natale looked angry, and Alex Bhathal looked downright upset.
The reason was obvious. It was a terrible night for the Greens. Not only had Bhathal failed to win the seat, but her vote had gone backwards in two-party preferred terms. In a short concession speech, she acknowledged the defeat, and congratulated her opponent. "I know that this has been a difficult night," she told supporters. "We will continue to stand by our Greens policies and fight for what we think is right."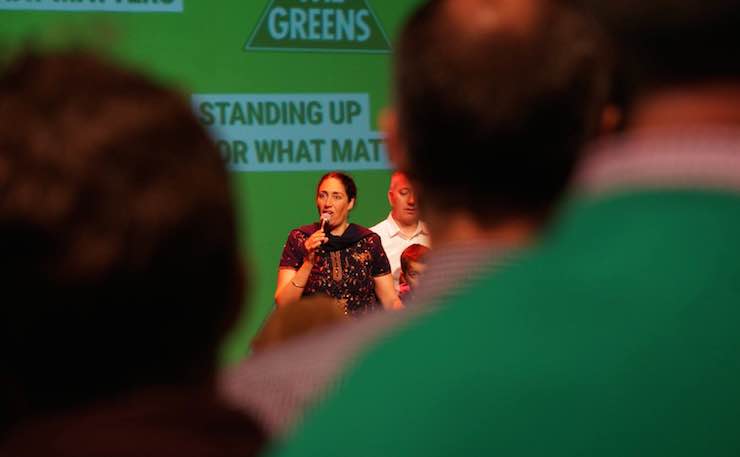 Greens supporters and volunteers I talked to were deeply disappointed, and many were quite shocked at the anti-Bhathal leaking that had harmed the Greens campaign. Some were angry at coverage from Fairfax and much of the mainstream media, which they believed was pro-Labor and anti-Greens.
Speaking off the record, one member acknowledged that the party had made a mistake campaigning in the northern suburbs, and had been complacent in the south of the seat, where Labor made strong gains.
It was, of course, a rather different atmosphere at Labor's function at the Thornbury Theatre. As the results came in, the crowd of largely younger Labor supporters and campaign workers in red t-shirts cheered wildly. When the pie charts went up on the big screen, they broke into chants of "Ged! Ged! Ged!"
Labor's candidate Ged Kearney was the woman of the moment. To many of the unionists helping out on her campaign, she is something of a personal hero. I spoke to one younger union organiser from the NUW who had handed out how-to-votes on the day. He was, unsurprisingly, upbeat about the result, but also about the union movement in general. Like a number of the Labor supporters I spoke to, he mentioned Sally McManus and the positive impact she has made at the Australian Council of Trade Unions.
The leadership of McManus is reinvigorating the grassroots activism that underpins organised labour in this country. That activism was clearly on show in the strong ground game that Labor was able to mount in Batman.
Labor ran a smart campaign. In pre-selecting Kearney, they chose a candidate with whom many Greens voters clearly identified. Labor deployed sound tactics by working hard in the big booths in the south of the electorate, securing some big swings back to the ALP where the Greens were thought to be impregnable. And Labor's campaign focus on local issues like schools, health and public transport obviously resonated with voters, some of whom may have become cynical about the Greens' two-dimensional focus on refugee policy and the Adani Carmichael mine in north Queensland.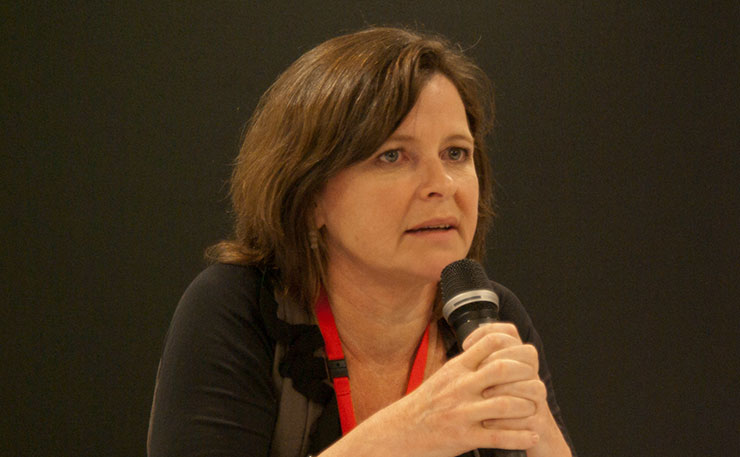 But, as more than a few people told me on Saturday night, perhaps the real message was the unsuitability of former Labor member David Feeney. A number of Labor activists argued that the Greens vote in 2016 was inflated by a protest against Feeney, who was unloved by the electorate and accident prone on the campaign trail.
Ultimately, it was Kearney's victory.
"Oh, they said we'd never do it, but we did!" she told her enthusiastic supporters in her victory speech. Former factional animosities between Kearney and Bill Shorten looked long gone as the Labor leader beamed at the Labor faithful from the Thornbury Theatre stage.
Kearney's appeal was undeniable. A number of voters that I spoke to told me that they simply liked her. One Labor volunteer I spoke to told a story of voters apologising to Greens members handing out how-to-vote forms, and explaining they were going to vote for Kearney. I heard a similar story from a Greens volunteer, about Greens supporters saying they found the decision very difficult.
As always in politics, victory is sweet. Labor can look to Batman as a template for how to hold gentrifying inner-city seats. Pre-select a strong progressive candidate. Promise to move party policy to the left. And campaign hard to win back former Labor voters who have swung to the Greens. It may not work every time, but Kearney has shown that Labor is still a force to be reckoned with amongst progressive voters.
The ALP is marching towards a victory against the Coalition in 2018. Time will tell what sort of government Bill Shorten will lead.
That's not to say the Greens are finished in Batman, or the inner cities generally. As Guy Rundle argues, the Greens can still win these seats in the right circumstances. Kearney's local appeal will be tested should Labor regain government, when it must start making tough decisions in controversial policy areas. A Labor government with Chris Bowen as Treasurer will undoubtedly make some unpopular decisions at some stage.
But the Greens have a lot of soul-searching to do. There are already plenty of whispers of discontent about Richard Di Natale's leadership, and a policy direction that is far too centrist for much of the party's base.
In the Darebin branch, on some measures the largest in the country, there will undoubtedly be blood-letting, with Di Natale promising on Monday to expel any members found to have leaked against the party to the media. This hasn't gone over well with some Greens members, either.
With factional wars also being fought in New South Wales, it's clear the Greens have a lot of work to do on internal unity. Factional infighting is never popular with voters. Disunity is death.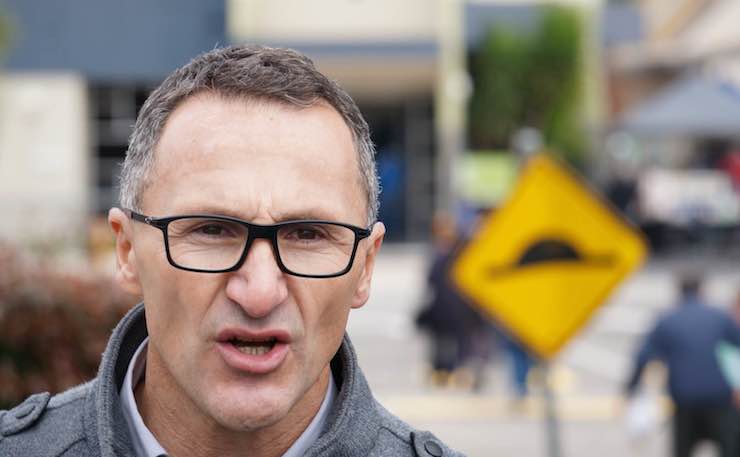 But the Greens' real problems are philosophical, not internal. The party has not done the hard work required in many policy areas to graduate from minor party to a party prepared to govern, potentially in coalition with Labor.
On economic policy, in particular, the Greens need to do much more work to articulate their vision for a 21st century economy that saves the planet while providing ordinary citizens with a decent livelihood.
It is not just a matter of sitting a couple of steps to the left of the ALP on any one issue. The Greens need to work harder to develop an over-arching philosophy of environmentalism that will appeal to a much broader electoral base.
There are opportunities for the party, if they are prepared to seize them. Could the Greens embrace a universal basic income as a fundamental plank in their platform? Could they model their economic policies on bold new philosophies such as British economist Kate Raworth's "doughnut economics"? Could the wealth created by artificial intelligence and automation be captured for citizens by a much more radical redistribution by the state? Is it time to start thinking about "fully automated luxury communism"? Could corporate power be fundamentally curbed by new laws abolishing the primacy of the profit motive for boards of directors?
Despite the media commentary claiming that minor parties are finished, the Greens are not going away as a political party any time soon. The party's fundamental position as the party of the environment ensures its enduring relevance on a crowded and warming planet. As the reef dies and the glaciers melt, the Earth is facing a wave of extinctions and Australia's environment continues to degrade.
The Greens are the best-placed party to grapple with the environmental crisis. But to do so, they must grow from a party of the left-most tenth of the electorate to a party that can genuinely shape Australia's political landscape. Doing so will take time, effort, concentration … and unity.
Donate To New Matilda
New Matilda is a small, independent media outlet. We survive through reader contributions, and never losing a lawsuit. If you got something from this article, giving something back helps us to continue speaking truth to power. Every little bit counts.