The story of Australia's involvement in Iraq isn't just about the failure of government, or a failure of our parliamentary system. We as a community also failed to do enough, writes Senator Andrew Bartlett.
Yesterday marked 15 years since the invasion of Iraq in 2003, in which Australia played a crucial role. This not just a time to lament the ongoing waves of death, conflict and misery this unnecessary and illegal war unleashed – we should all do this. Nor is it enough just to say that the Australian community was right and the Australian government should have listened to our instinctive recognition that initiating this war was a seriously bad idea.
It is a time to reflect on why we, the Australian community, allowed our government to commit, and get away with, such a massive mistake when we knew it was a wrong and stupid thing to do.
In Brisbane, over 100,000 of us rallied. We told them this war would only lead to more conflict, misery and desperation. That it would only fuel the terrorism and misery of future generations. They didn't listen.
The rally was easily the largest anti-war gathering in Brisbane's history. Public transport into the city was at bursting point. The march started from King George Square, winding its way around city blocks to the River Stage in the Botanic Gardens. When the people leading the march arrived at the destination, there were still some at the starting point waiting to leave.
The River Stage area was full to bursting, with many others having to give up getting in. Simon Crean, the Opposition Leader at the time, spoke to the Brisbane rally. I also addressed the rally as Leader of the Australian Democrats party, the largest Senate crossbench party at the time.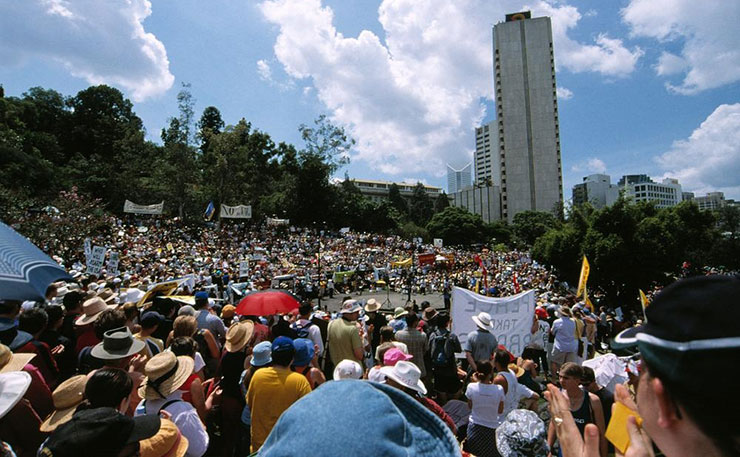 Addressing the sea of people was one of the most memorable experiences of my life. The mood of the crowd was positive, yet defiant – a giant instinctive collective shout of No War, No War, No War!
For many people, it was their first protest march, and for some their last. The millions of people who marched and protested in Australia and globally were contemptuously dismissed by John Howard and his government as "the mob" – the views of George Bush and Tony Blair were more important.
To this day, whenever those massive rallies are mentioned, someone will tell me it was a time they lost some faith in democracy – that the general public had no power to make a difference.
There is no decision more important a government can make than the decision to go to war, yet despite the view of the nation being clear, we were all ignored. Even the Parliament was ignored, despite the Senate agreeing to a motion clearly opposing the war.
This story isn't just about the failure of government, or a failure of our parliamentary system. We as a community also failed to do enough. We couldn't work out a way, or marshall the collective will, to do more to stop this atrocity being committed in our name.
No parliamentarian – myself included – called for a general strike or any other mass collective action. We rallied, we marched, we protested and then we went home. I believe in the value of these actions, but they clearly are not enough when the power of the state is determined to act against the wishes and the interests of the community they are purportedly meant to serve.
Fifteen years later, we are still dealing with the impacts of the failure of that mass movement to stop that war. Our community is far less safe, our government is removing more of our freedoms and becoming ever more authoritarian under the guise of 'protecting' us from the terror they played a big part in galvanising.
They want to make our country a global player in the arms market, and our ever-tighter military alliance with the USA is putting us well on the path to being in a state of perpetual war.
It is no wonder a majority of voters have little faith in democracy as it now exists in our country.
Donate To New Matilda
New Matilda is a small, independent media outlet. We survive through reader contributions, and never losing a lawsuit. If you got something from this article, giving something back helps us to continue speaking truth to power. Every little bit counts.