Much is at stake in tomorrow's Batman by-election, for both Labor and the Greens. Ben Eltham reports from his home electorate.
The inner-Melbourne seat of Batman is unusual in many respects. Stretching approximately 10 kilometres in a concrete ribbon north from Clifton Hill to the middle ring suburbs of Preston, Reservoir and Bundoora, it encompasses much of Melbourne's diversity and dynamism.
On one analysis, Batman is the most left-leaning seat in the country. According to the ABC's Vote Compass, the seat scores the most leftwards on political philosophy of all 150 federal electorates. The demographics are a rainbow coalition of white and blue collar workforce, second generation Greek and Italian immigrants, with a large swathe of Melbourne hipsterdom and LGBTIQ voters predominant.
The seat's retail artery, High Street, is an epicentre of Melbourne gentrification. Served by the famous (or should that be infamous) 86 tram, old shops are being knocked down and high-rise apartment blocks are sprouting. Just a decade ago, Thornbury was a sleepy middle-ring suburb known mainly for Italian grandparents. Now it's one of Melbourne's hottest restaurant and bar districts, with wood-fire pizzerias and small bars on seemingly every block. Men with beards and women with tattoos are everywhere.
In the centre of Batman lies the suburb of Preston, where I live. Made famous by Courtney Barnett in her song 'Depreston', Preston is a fast-changing mix of bucolic bungalows in cul-de-sacs, old factories and warehouses, and new apartments, cafes and bike repair shops. 'Depreston' depicts a young couple considering purchasing a house "out further" from their usual digs in the inner city. A poignant four minute elegy to suburban anomie, the song describes Barnett's travails house-hunting, a rite of passage all too familiar to Batman voters.  "We don't have to be around all these coffee shops," Barnett tells her partner in the song.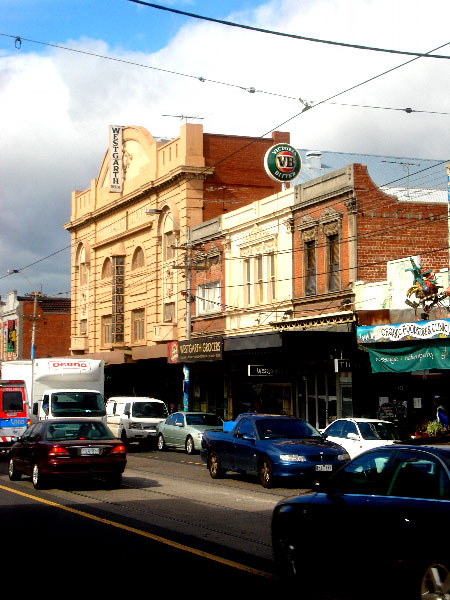 'Depreston' is only a few years old, but it's a handy gauge for just how rapid the demographic change in the seat is. You won't find a house worth $500,000 in the postcode anymore. House prices have shot skywards in a process that has hurt many at the pointy end of Australia's unprecedented experiment in housing inequality. While the boom has minted millionaires for those selling houses on big blocks, the pain for workers of moderate means is real. As fast as the hipsters move in, the working classes move out, driven north and west by spiralling rents.
The demographic transition has happened faster than anyone ever expected, which is what makes the Batman by-election so interesting, both for local residents and especially for Australian politics. Batman is a litmus test. The stakes are high.
For the Australian Labor Party, nothing less than the future of the ALP in the inner cities is at stake. In Ged Kearney, the party has fielded the best that the labour movement has to offer. Kearney has impeccable credentials as a representative of workers. A former nurse and union delegate, she rose to the top of the ACTU, all the while demonstrating a winning mix of warmth and determination. Kearney has been a strong advocate for the environment and for the plight of refugees. She is a woman of substance in a winnable seat.
I sat down with Kearney at a café inside the cavernous Northlands shopping centre. She'd just come from a doorstop at a local school.
"I had been interested in Batman before, it didn't work out," she told me. "And I'm glad because I had unfinished business in the ACTU and I did great work while I was there. It's my home. It's a good fit for me, it's a good fit for where I am personally, I know and I love the area."
"There's a feeling that Labor hasn't been as progressive as it should have been, and I think there's a couple of really big issues on which people are disappointed. But it's interesting – when you sit down and get a chance to talk to people and explain Labor policies, people are surprised.
"I'm kind of new to selling Labor policies," she laughed.
"I've had some great conversations. One chap stopped me today and asked me did I realise about the number of public servants in the area, and the issue for federal public servants is a wages freeze. I was able to have a really good chat to him."
When I asked her about the issues voters mention, Kearney replied: "Schools, schools, schools."
"This is all about schools. The schools could do with a lick of paint, they could do with some capital infrastructure. They've got 100-year-old windows, they've got tiles falling off the roof, this is really why I hope I get elected, I would focus on that."
Kearney is undeniably ambitious. "I reckon I could make a difference," she said at one point, with a steely smile. "I would hope that I don't stay a backbencher for long, I would like to work my while through to a higher level of presentation so I could really make change. I know how to win battles, I've got experience on the ground in winning change in campaigns, I know the hard work that needs to go into policy."
Kearney's run is all the more important because it will answer the question of whether the problem for Labor in inner city seats has been personal, or philosophical. In inner Sydney, where the ALP is represented by Anthony Albanese and Tanya Plibersek, the party can point to two substantial figures of the left, who have been progressive in their politics and diligent in their fight against the forces of the right.
Melbourne has been rather the opposite: Kearney is running in Batman because the representation of the hapless David Feeney, a widely disliked factional warrior of the ALP right, resigned after falling foul of section 44 citizenship problems with the High Court.
In contrast, Greens candidate Alex Bhathal's story is one of traditional grass-roots politics. She first stood for the seat in 2001, where she picked up a small swing in the Tampa election that swept John Howard to a third term. Far from a factional warrior or a professional operative, Bhathal is a suburban social worker and a social democrat: the sort of candidate Labor used to throw up in its younger days.
When I sat down in a Thornbury park to talk to her in the last week of the campaign, Bhathal told me that "jobs and housing" were amongst the key issues in the electorate. "Renters are being pushed out of the whole electorate now, maybe with the exception of Kingsbury and Bundoora, but even then people get evicted with very little notice, rents are rising, there's also the problem of housing affordability for people looking to buy in the electorate.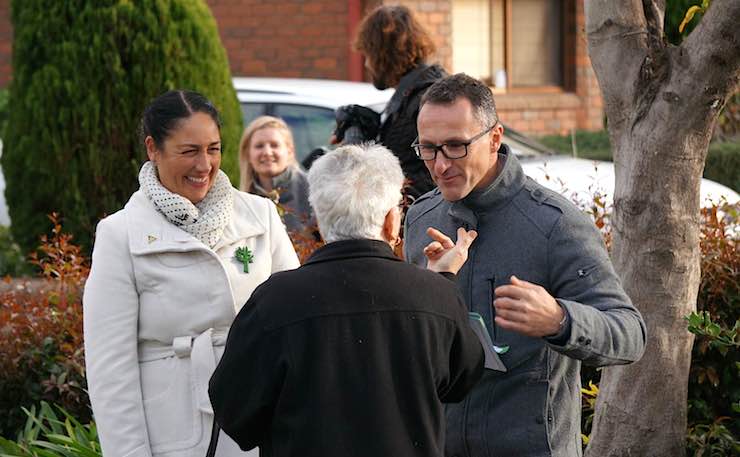 "The other broad issues – which seems to surprise Labor, but they don't surprise me – are that people are outraged about what's happening to refugees, and they want some action on the climate emergency," Bhathal said.
"The other thing that people talk to me a lot about, and it's more likely to be raised to me by older migrants, is that they're outraged by the inequality that is forcing people to live on the streets. I've had people crying in frustration and despair."
What's it like running against an opponent of the stature of Ged Kearney, I asked. "She is someone who I've long valued for her stance on refugee and asylum seeker rights," Bhathal responded. "I was shocked to read her statement that the detention of refugees is a 'reality we need to accept'. I can't understand why she would say such a thing… if she's talking about political reality, that's precisely why progressive leaders need to lead the way and take a bold stand."
Bhathal echoed the Greens talking point that the ALP is a graveyard for progressives looking to change the party from the inside. "I've seen a lot of impressive people come into Labor, from Greg Combet, a former ACTU head as well, to Peter Garrett. They say they're going to change things internally, and Labor changes them."
In contrast to 2016, when she had a dream run against the accident-prone Feeney, 2018 hasn't been an easy campaign for Bhathal. Even though she has contested the seat five times since 2001, Bhathal faced a nasty pre-selection battle in 2016 which saw a small minority of her branch split off in opposition.
While Bhathal won the pre-selection contest comfortably, the victory embittered her internal opponents. Bhathal has suffered a damaging series of leaks from inside the party aimed at painting her as a bully.
Are you a bully, I asked her.
"No. I'm not that kind of person. The party has dealt with that matter and from my perspective it was a comprehensive evaluation and investigation, and I was re-endorsed as the candidate for the seat and I'm running now. Anyone can look on the ground can see we've got huge numbers of our local members of the Greens, and our supporters are out there campaigning in the seat."
While anonymous and unsubstantiated, the leaks have been seized upon by the media. The Greens believe they are held to higher standards than the major parties, so internal warfare is all the more destabilising with switched-on local voters.
Bhathal conceded it has been damaging.
"It has been really, really difficult for me, but I've been overwhelmed by support. It hasn't been difficult because people believe it, it has been difficult just because I believe it has been terribly unfair."
"It worries me that this could happen in any political party, and that the media hasn't asked the questions that could be asked about it, but I've been trying to focus on the issues."
Media hostility was on full display on the Thursday before the by-election, when Fairfax's Noel Towell published a scathing attack piece on the Greens, featuring a claim he had been sworn at by an unattributed "Greens staffer". Towell dressed up his allegation by claiming the Greens were under pressure, and of course they are, but the effort looked more like a calculated smear than a new revelation. Privately, staffers in Greens headquarters acknowledge that the incident has hurt them, even while contesting Towell's version of the conversation.
And yet, the race remains close, in part because The Age is far from the powerful force it used to be. Local campaigning and social media may prove more important.
And then there's policy. Despite the heat of the campaign, in policy terms, the by-election has been rather unadventurous. Both the Greens and Labor have rolled out just a single new policy, with the Greens pledging to reform the Fair Work Act and Labor announcing its new policy on dividend imputation. Both candidates have also had to deal with the swings and roundabouts of their leaders' positions on key issues.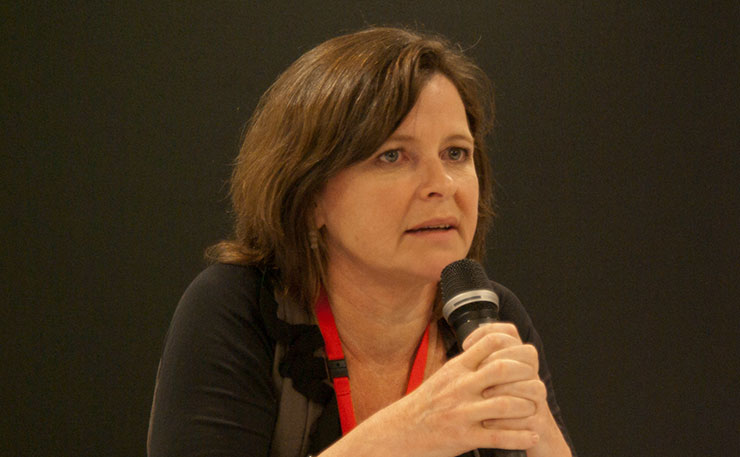 For Kearney, the challenge has been to navigate Labor's confusion on mining policy, as Bill Shorten has swung like a weather vane on Adani's Carmichael mine in north Queensland. As I wrote last week, the ALP is all over the shop on Adani, and Kearney has had to defend a position that appears to be simultaneously pro- and anti-Carmichael.
"Personally, I think I've been very clear [that]I don't think it should go ahead, it doesn't stand up financially, the jobs story is not real, it will take jobs away from other industries," Kearney told me in our interview. "But I'm acutely aware that there are people in north Queensland who need jobs, they're a long, long way away from us, and I'm not prepared to say we're going to throw you under a bus. And I don't think Bill Shorten is."
Kearney has also had to spend time explaining her position on asylum seeker policy. As a noted campaigner for asylum seekers, many have pointed out the inconsistency of her previous statements, given she will now be bound by Labor's platform.
This animus blew up last weekend, when someone snapped a photo of Bhathal at a refugee rally, in front of a Labor corflute poster which had been defaced with a red "no" sign emblazoned across Kearney's face. "I saw that corflute and I was dismayed, and I actually asked the people not to use it," Bhathal told me. "I think it's appalling, I would never ever do anything to support the defacement of election materials."
On refugees, Kearney walks a tightrope. "I don't think anybody wants to see people languishing on Manus or Nauru," she said in our interview. "I think what people need to remember is that Labor asylum seeker policy is pretty progressive, there will be funding for resettlement, it starts from a humane approach and not demonising or prosecuting people."
But Kearney won't cross the floor or speak out on ALP asylum seeker policy. "I will continue to speak for my position, which is well known, at party conference." It's about all she can honestly promise, but it will hardly mollify those who wish for a more humane immigration policy.
Bhathal has also faced challenges on policy, being forced to defend the Greens position on pensions (the party voted with the government to tighten asset testing in the last parliament). The difficulties multiplied late in the race, after Labor announced its policy to remove the cash rebate for fully franked dividends, a policy the Greens declared they would seek to modify in order to protect low-income pensioners. There has been some suggestion that Labor's announcement will hurt it with older voters who have been frightened by the Coaliton's scare campaign.
Whether any of this matters on the day is anyone's guess. There has been little published polling on the by-election, and neither campaign is revealing any details of their internal surveys. As one would expect given her experience, Kearney has performed well in public debates and in media appearances. But Bhathal is better known in the electorate. Labor has run a slick and well-organised campaign. The Greens have enlisted more door-knocking foot soldiers and mounted a stronger ground game.
Bhathal's other problem has been dealing with the virulence of Labor attacks, particularly from rusted-on ALP supporters who resent the Greens' inroads into a Labor stronghold. These are to be expected in what amounts to an internecine battle: it remains difficult for Labor stalwarts to accept that the ALP is no longer the uncontested party of the left; this drives a view of Greens voters as traitors to the working class cause.
But Batman is interesting precisely because it potentially illuminates a rising demographic of new voters. The conventional view of Greens voters is that they are disaffected Labor deserters. If so, the theory goes, a sufficiently left-wing candidate and platform might win them back.
But how true is this? There are many younger Greens voters who have never voted for the ALP. An 18-year old who voted for Bob Brown in her first election in 2010 is now 25 or 26. Labor has not spent a great deal of effort to try and appeal to such voters; in some election years, like 2013, it has actively alienated them. If there really is a growing cohort of deep Greens, then Batman is the place to see them. Saturday's election will provide us with some granular evidence.
The other big unknown is what conservative voters will do. The Liberals polled 20 per cent in Batman in 2016, but are not running a candidate this time round. It's a move most expect to help the Greens. The theory goes that wealthier voters, the so-called 'Teal Greens', will plump for the minor party over the hated party of unions. That is one narrative explaining the victory for Lidia Thorpe in the Northcote state election earlier this year. But equally, many Liberal voters could cop the fine for not voting, and simply stay home. A handful of right-wing candidates from the Australian Conservatives, Australian Liberty Alliance and Rise Up may also harvest preferences in unpredictable ways.
When I asked her about this, Bhathal had short shrift for the view that her electorate is chock full of teal Greens who are wealthy enough to afford to be concerned about refugees and the environment. "I've always been completely nonplussed about that view. I've never believed in the 'hipster proof fence' at Bell Street… or maybe it's moving to the Ring Road!" she laughed.
All in all, it's a toss up. On Friday afternoon, as this article was published, the by-election was too close to call. Much will be decided in the booths of Batman on Saturday. The result will tell us much about the future shape of Australian progressive politics.
For years, Labor treated inner-city seats like Batman as trophies of factional combat. Feeney replaced another figure of the Labor right, Martin Ferguson, whose pro-carbon politics were radically out of step with many in Melbourne's green-tinged inner north. Just to rub it in, Ferguson has spent his post-politics retirement working for the fossil fuels lobby.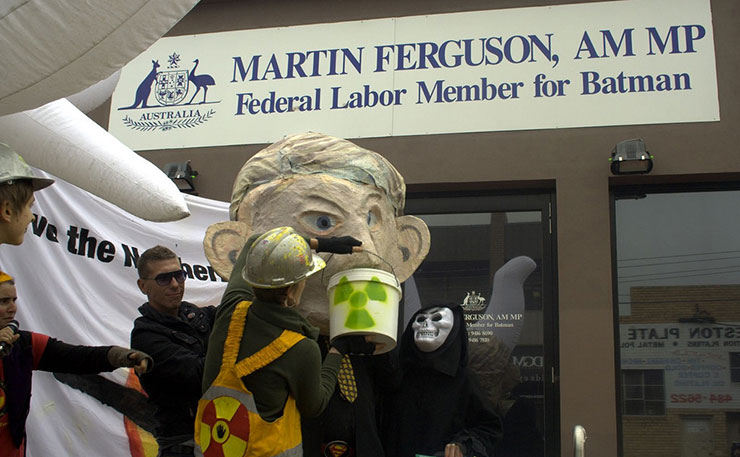 With little local appeal, Feeney was parachuted in to Batman after losing his winnable spot on the Victorian Senate ticket. It was a symptom of the way the party took left-leaning voters for granted. In contrast, Kearney is the candidate Labor should have pre-selected after Ferguson: a strong, likeable progressive with local roots.
If Kearney can't win Batman, therefore, the ALP will be forced to confront some unpalatable truths: that its problem in the inner cities is not just weak candidates, but a demographic shift to the left. In the worst case scenario, it would condemn Labor to concede the fast-growing inner cities to the Greens, and move the focus of its campaigning to the mortgage belts of the suburbs and regions, where it can compete on more traditional issues of the centre.
As Kearney told me towards the end of our interview, "I really don't know what I'm going to do if I don't win… I will have to go and look for a job."
But just as much it at stake for the Greens. With Alex Bhathal in Batman, the party has its best shot of a second House of Representatives seat. Bhathal has deep local recognition: it is almost impossible to walk down the street with her without being hailed by a resident or friend. She is well-respected in the local community. And she has momentum: taking the Greens vote from single figure percentages to a majority of primary votes.
If Bhathal can't win Batman, therefore, many will ask whether the Greens' ambitions to become a third major party are fantasy. To make a difference in the lower house, the Greens must seize and hold winnable electorates, building on their base to construct a meaningful House of Representatives caucus. Bhathal is a popular candidate with impeccable left-wing credentials and a high local profile. If she can't win in Australia's most left-leaning seat, the future of the Greens in the lower house looks limited.
Donate To New Matilda
New Matilda is a small, independent media outlet. We survive through reader contributions, and never losing a lawsuit. If you got something from this article, giving something back helps us to continue speaking truth to power. Every little bit counts.