In the 1980s and 1990s, a vibrant environmental movement took the fight to the government to save some of NSW's most iconic forests. The price for that fight is the same today, but with logging growing, the stakes are even higher. Mick Daley looks back on almost four decades of activism, and what's needed today.
25 years ago, early on 18 November 1992 a group of some 30 activists invaded the NSW Forestry Commission's head office in Pennant Hills, Sydney. A film crew documented the five-hour drama that followed.
Calling themselves the People's Commission for Forests, they barricaded themselves into the building while spokesman John Corkill briefed journalists on the Commissioner's phone.
"This is a political action against… an agency that cannot comply with law, that is running at multi-million dollar losses. We are taking this action to throw a stark spotlight on what has been going on for far too long."
While police, media and emergency services surrounded the building, from the rooftop activists strung a banner that read 'Under New Management'. Sipping liberated coffee, other protestors faxed a new Forestry Charter with 'seven directives for sustainable forest management' to regional Forestry offices on the Commissioner's letterhead.
These 'feral' activists had come directly from blockades in northern NSW, where old-growth logging and industrial erosion was annihilating ancient forests.
Their occupation was a pivotal point in a 14-year environmental campaign which (eventually) brought down a State government and saved countless endangered species as well as massive swathes of NSW forest by 2003.
It earned the activists fines ranging up to $1,000 and condemnation as terrorists in Parliament. If they'd attempted such a feat today it could have seen them charged under terrorism laws and thrown in jail.
Things have changed in the political landscape, as well as in the forest. In NSW, successive governments have rolled back environmental protections, new laws prevent activists from intervening in suspect logging operations and regulatory systems appear to be failing.
Yet while protests against the Adani mine, coal seam gas and other movements indicate growing public consternation over global warming, the importance of healthy forests in mitigating against climate change has, it seems, been overlooked.
New land clearing and logging laws are once again destroying NSW forests at an alarming rate. And this time around it seems that breaking the law is the only way to stop them.
A KEY scene from the 1992 occupation video shows activist/police liaison Aidan Ricketts inviting Inspector Collings into the building, to ask the two remaining Forestry staffers if they'd had been held there against their will. They answered no, confounding the Commission's later claims in court that 20 employees had been held hostage in a violent rampage.
The five-hour occupation eventually ended with the peaceful arrests of the activists. Their stunt garnered blanket media attention, headlines such as 'Sydney Hostage Drama' depicting a populist backlash.
The activists were members of the North East Forest Alliance (NEFA), formed in 1989 in opposition to unregulated logging operations. John Corkill's six successful court actions for NEFA against the Forestry Commission had already demonstrated the unlawfulness of its work. This 1990 ruling by Justice Hemming was illustrative:
"It is obvious that since 1982 the Commission has approved logging of rainforest areas in North Washpool in breach of the provisions of the (Environmental Protection) Act."
In 1992 NEFA had angered the Greiner state government and conservative press after blockades in Chaelundi and Killekrankie forests highlighted a slew of illegal logging operations.
The Greiner government sought to quash NEFA with new legislation, but as Aidan Ricketts, now a legal academic and internationally published counter-culture author points out, this was spectacularly unsuccessful.
"When NEFA and the indigenous clans of the Bundjalung Alliance stared the government down on the lawns of the Domain, the government dropped its new package on November 13," he said. "So the government tried new legislation, the Timber Industry Interim Protection Act, which set aside a whole lot of areas that could be logged without Environmental Impact Statements (EIS)."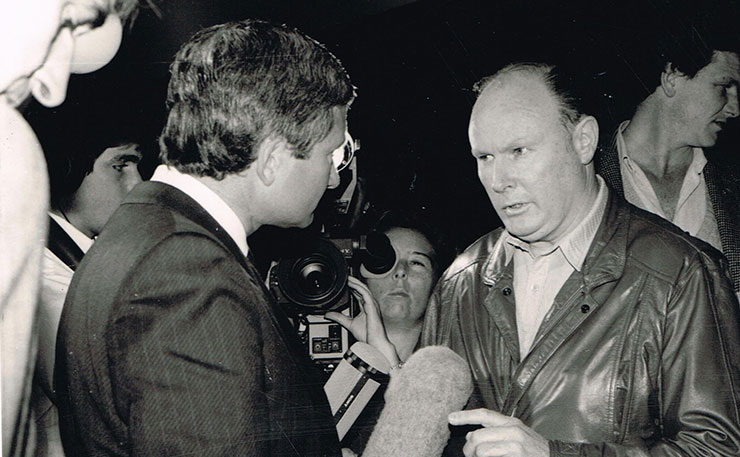 The Greiner government had a slim grip on Parliament and following the defection of MP Terry Metherell as an Independent, Greiner offered Metherell a job to secure his vote over the Timber Industry Bill. This later became the subject of an ICAC enquiry and the political fallout resulted in Greiner resigning the premiership.
In the meantime, NEFA occupied Forestry Commission headquarters to let the public know what was going on in their remote forests and boardrooms.
"The upshot of it was that the environment movement had serious street cred," said John Corkill. "They realized we don't just say stuff, we do stuff and I think that really put the fear of the ferals into the Forestry Commission."
Leaving Sydney, NEFA returned to Lismore in northern NSW. They mobilized hundreds of activists into a series of rolling blockades across NSW that continued until 1995, when the Carr government was elected on an unfulfilled promise to create a reserve system that guaranteed national parks and conservation areas.
The battles continued until July 2003, when Dailan Pugh, known as NEFA's 'Field Marshall' sent out an historic email declaring the conservation of all remaining old growth forest in the state as a 'bloody great victory'.
John Corkill and Dailan Pugh were each awarded Order of Australia medals for their conservation work. At the time Pugh estimated that NEFA, at the cost of many hundreds of arrests, had saved around 1,376,507 hectares of forest, or 269 hectares a day from 1989 to 2003.
With that victory, many forest activists believed their job was done and they could resume normal lives.
Aidan Ricketts took a job teaching law and activism at Southern Cross University, Lismore. John Corkill returned to teaching and rearing a family. Dailan Pugh and other activists continued their vigil in NSW forests, despite Pugh's vow to retire.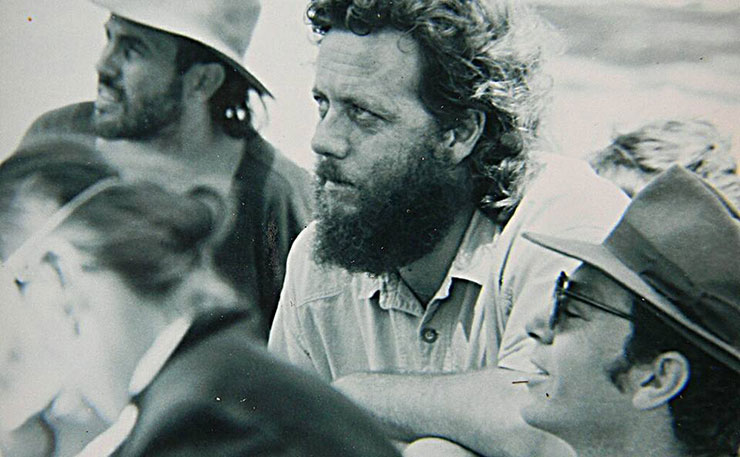 But since those heady days, NSW governments have repealed forest protection measures and passed draconian laws with fines of up to $5,000 for protesting logging operations.
In 1998 Bob Carr's Labor government rescinded laws whereby citizens could bring proceedings against breaches of environmental law. The O'Farrell Government enacted a new Forestry Act in 2012, giving legal exemptions to the Forestry Commission and in 2016 the Baird government passed anti-protest laws carrying penalties of up to seven years jail.
Sue Higginson was one of the young NEFA activists blockading throughout the 1990s. She went on to become a public interest lawyer working for the NSW Environmental Defenders Office (EDO), eventually becoming CEO of that organization. She is scathing of the regulatory systems in place for NSW forests.
"The problem is the whole model was doomed to fail because you had one government agency responsible for another government agency," she said. "You don't get one part of a government suing another. It's the most flawed system you can have. Now nobody is holding the forestry commission to account."
Dailan Pugh says that things are worse now than they were 25 years ago.
"For a start we have an increase in mechanical logging. They're removing up to 90 per cent of the canopy, whereas 25 years ago they couldn't take more than 40 per cent.
"The Environmental Protection Authority (EPA) are next to useless, so there's no consequences on forestry if they do something illegally, and they do something illegally all the time.
"Also, 25 years ago, we had a legal recourse, so if the government wasn't enforcing the environmental laws then in effect we could do it, but now there's no checks and balances."
The failure of these safeguards is indicated by such disasters as Cherry Tree State Forest, where Pugh documented hundreds of breaches of logging laws in 2015. The EPA acted on two of them.
In a ruling over forestry breaches in the South East National Park in June 2011, Justice Pepper pointed out that the Forestry Commission had been prosecuted for eight prior offences. She further observed that "the number of convictions suggests either a pattern of continuing disobedience in respect of environmental laws generally or, at the very least, a cavalier attitude to compliance with such laws".
In November 2017 NEFA took former NSW Environment Minister Bob Debus into the forests around Port Macquarie to see a logging operation that devastated thousands of hectares of prime koala habitat.
"It beggars belief that the Forestry Corporation has got away with this for the last decade," Debus said. "It's vandalism pure and simple.
"I have to acknowledge that the Forestry Corporation must have mislead the Government back in the 90's. And it would seem they've been pulling the wool over everyone's eyes if this type of logging is called forestry," he said.
Dailan Pugh pointed out to Debus that heavy logging has another catastrophic effect on forests. Once they are opened up, lantana infestations often follow. This encourages colonisation by bellbirds that farm an insect pest called psyllids, sap-sucking insects that feed on eucalypt leaves. These cause 'dieback', the slow death of the remaining trees.
Over 100,000 ha of northern public forest is already seriously affected and the problem is rapidly expanding southwards. John Corkill observed that this poses significant dangers.
"Even some of the forest country that hasn't been too heavily logged has now got dieback in it, because adjacent areas have been logged," he said.
"Further west whole patches of forest have characteristic bare branches and low leaf cover. We've got pretty serious ecosystem-level impacts happening now. In 20 years it could be game over for forests in NSW."
A 2016 economic analysis by the Australia Institute found that NSW forests would be worth more to the economy if unlogged. A loss of over $79 million in the past seven years was compared to the $40 million yearly profit the forests would contribute if left standing as emissions offsets.
"The economic arguments against logging are getting made more and more," said Sue Higginson. "The costs to log are enormous, but the economic benefits of having healthy forest are becoming more understood and the quantums are being calculated in a realistic way."
AIDAN Ricketts again acted as police liaison during the epic citizen's coal seam gas blockade at Bentley, NSW, near Lismore in 2014. He says a senior inspector described it as the largest public order challenge the NSW police had ever faced.
Through a Freedom of Information request Ricketts discovered that the police determined not to proceed with a planned bust of the blockade because of "the likelihood of casualties, possibility of death and massive litigation that would follow an operation of 800 police against 5,000-10,000 mainstream citizens in their own community".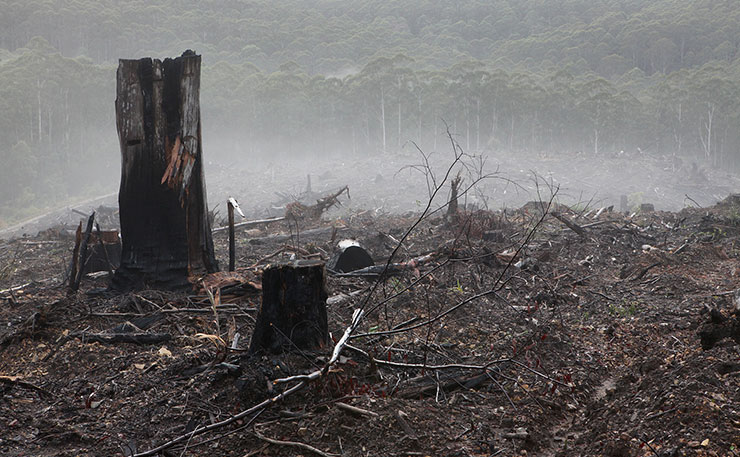 That information showed what lengths a NSW government was prepared to go to to enforce an extractive industry, no matter how it would impact on the environment.
In that kind of political landscape, Ricketts says that being labeled as terrorists is a genuine risk for modern activists.
"Probably the greatest fear people would have would be an extended and novel use of anti-terror laws against people.
"But the truth is that citizens who engage in non-violent action as part of transparent social movements to bring about democratic change are people respecting the rule of law. They're engaged in conscientious objection. Whether you're talking about the suffragettes, Martin Luther King, Ghandi, the Knitting Nanas, NEFA bunnies on tripods, it's all the same thing."
Sue Higginson has her own democratic remedy. She recently resigned as head of the EDO and has announced her intention to run for a Parliamentary role for the NSW Greens. Her motivations are compelling.
"I've tried so hard on the ground with direct action campaigning, lobbying in parliament and fighting in the courts. But I've got children and grandchildren now and when I see these reckless politicians playing with coal in Parliament and laughing like it's just hilarious, that makes me go 'right you guys, move out of the way. You've taken up too much air'. That's why it's politics for me now."
John Corkill sees a grim future for forests unless some form of direct action is taken to reverse NSW government policy on forests.
"We've tried to go through the proper channels. But with no parliamentary oversight, those channels don't seem to exist any more.
"On the 25th anniversary of the occupation of the Forestry Commission we started to discuss using these other channels again.
"Let's face it. There is no goodie going to ride into town and save our forests. It's going to have to be people who say 'we're not copping it and we're going to take what action is available to us'.
"People have to be robust about it. If people say, 'will I get a criminal conviction?' I say 'yes', because it's a rite of passage and it won't stop your life.
"And there's a long list of people from Bob Brown on down who have got substantial criminal records because we cared, because we put our bodies and reputations on the line."
Donate To New Matilda
New Matilda is a small, independent media outlet. We survive through reader contributions, and never losing a lawsuit. If you got something from this article, giving something back helps us to continue speaking truth to power. Every little bit counts.