Could the NSW Liberals lose the unloseable election? Alex Mitchell thinks the numbers are too early to crunch, but the policies certainly bear closer scrutiny.
Just 12 months ago the Liberal Party regarded NSW Premier Gladys Berejiklian as its most valuable electoral asset. Her popularity rating was in the 70s and she was regarded as a red hot certainty to win the next State Election in March 2019.
All that has changed. Her popularity has dropped among voters of all ages across metropolitan Sydney and regional NSW, where she remains largely unknown and unpronounceable.
This week's Newspoll has the Coalition and Labor neck and neck at 50-50 on a two-party preferred vote.
For Labor it is a resurrection of Biblical proportions. At the NSW Election in 2011 Labor was trounced after 16 years in office, in the party's biggest election defeat in 100 years.
For Liberal and National MPs the unthinkable is unfolding before their very eyes and many are muttering privately: 'Do you realise we could be chucked out of office in one year's time?'
After such a spectacular start managing Australia's wealthiest and most populous state, what's gone wrong for Gladys? The latest economic figures are so impressive that it is difficult to believe that her popularity is nosediving.
But therein lies her problem: the state's 45th premier, a former merchant banker, appears to be the victim of her own success. The windfall of billions of dollars in state revenue from power privatisation and stamp duty collected during the unrivalled real estate boom have been transferred to wealthy Liberal supporters while the rest of society has been told to 'suck it up'.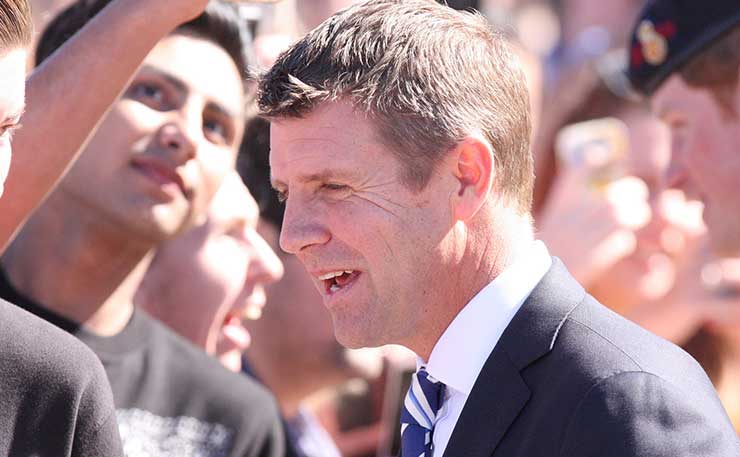 Premier Berejiklian and her two Liberal predecessors, Barry O'Farrell and Mike Baird, were perfect politicians for another age, but not this one.
Their obsession with capitalist economics – 'freeing' rich corporations from 'red tape' (i.e. regulations) and giving the wealthiest companies and individuals tax breaks, subsidies and rates holidays – suited the grasping decades of Ronald Reagan, Margaret Thatcher and their Australian epigones, Bob Hawke, Paul Keating, John Howard and Peter Costello. But it doesn't work nowadays.
"Greed is good," said Hollywood actor Michael Douglas playing Manhattan chiseller Gordon Gecko in the 1987 movie Wall Street. While audiences cheered 30 years ago, today they're booing and shaking their fists.
When Gladys Berejiklian stepped into the premiership to replace Mike Baird in January 2017 she immediately began to dismantle the nasty policies which were putting the Coalition on the nose. In quick succession she scuttled council amalgamations, lifted the total ban on greyhound racing and eased the absurd lock down on pubs, clubs and bars.
However, the poll "bounce" failed to occur, largely because the premier remained zealously committed to the multi-billion-dollar WestConnex motorway across Sydney, the relentless sale of public buildings and Crown land, the privatisation of public agencies such as the Land Titles Office and passing legislation which favours developers, real estate agents and private land investors. She also bowed to extra-parliamentary pressure and gutted the effectiveness of the Independent Commission Against Corruption.
Her whirlwind approach to state management often seems chaotic and her administration's disregard for community concern is taken for arrogance. To many voters she seemed more like a head prefect rather than a premier and became known as 'Glad the Impaler'.
As a result, her political rivals among right-wing and centrist Liberals are becoming restive. They include rising 'stars' like Treasurer Dominic Perrottet and Attorney-General Mark Speakman who are quietly building firm alliances among 'wet' and 'dry' backbenchers.
It is far too early to speculate about Coalition MPs dumping the Premier and replacing her with a more winnable candidate, but there are traces of blood in the water and the sharks have begun to circle.
The Coalition's current strategy is to mount an election campaign based on the boom in building infrastructure and bringing NSW back to No 1 place in Australia's prosperity.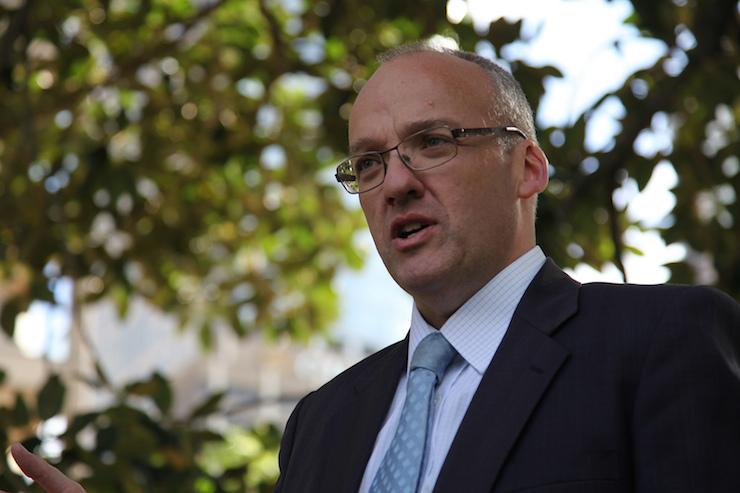 Labor's Luke Foley wants to focus on the crassness of building two new football stadiums at a minimum cost of $2.5 billion to replace ANZ Stadium at Homebush and the Allianz Stadium at the Sydney Cricket Ground.
While it is a worthy campaign response, is it a smart one? The vast majority of spectators at football games are Labor voters, not Liberals. The question deserves asking: will the dwindling number of ALP activists get behind Foley's stop-the-stadiums manifesto or would they prefer Labor commitments on public housing, public health and public education?
How will Labor's retro plan stack up against the Coalition's transformation of central Sydney into a 'global city', a second airport at Badgerys Creek plus an 'aerotropolis' business park at North Bringelly?
With a female premier and a "plan for the future" the Coalition is clinging to the belief that it is on a winner. Others are hedging their bets.
Donate To New Matilda
New Matilda is a small, independent media outlet. We survive through reader contributions, and never losing a lawsuit. If you got something from this article, giving something back helps us to continue speaking truth to power. Every little bit counts.