Barnaby Joyce's paternity interview with Fairfax was a thing to behold. And then there was the defence offered up to shoot down his central point. Which is a whole new ball game, writes Chris Graham.
Barnaby Joyce's career is in tatters. Although in this case, 'tatters' represents a man with a much smaller workload, who still collects a $203,030 annual salary, has a government driver, free business class air travel and tens of thousands of dollars in travel and electoral allowances.
How Joyce got there is a lesson in gargantuan stupidity, ego and incredibly bad media management. With one caveat. There are some things even the best media managers cannot control.
Introducing Sharri Markson, the 'national political editor' for the Daily Telegraph. Which is obviously a 'made up title', a bit like 'Head of the Ethical Standards Division' in the Victoria Police. We'll return to Markson – the journalist who broke the story of Joyce's affair with his former staffer, Vikki Campion – shortly, to explore how she got the yarn. Or more to the point, how she let Joyce's office know she got the yarn. It's a lesson in the tactics mainstream media will use to corner their prey.
But first the background.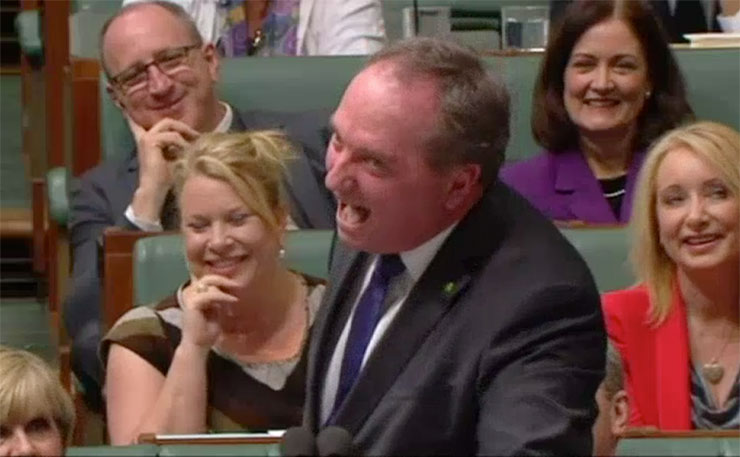 Over the weekend Joyce gave a truly staggering interview to Fairfax's Mark Kenny in which he publicly questioned the paternity of the child, and alluded to the fact that he was overseas quite a bit when the baby was likely conceived. Utter lack of public interest aside (and that's not a shot at Kenny, Joyce himself raised it in the interview), it is actually helpful in demonstrating that Barnaby Joyce is clearly not a man fit for public office, and likely never was.
Send in the clown:
"Former deputy prime minister Barnaby Joyce has slammed the initial reporting of his relationship with Vikki Campion, saying he was never asked if he was the father of his former staffer's unborn child and that the issue of paternity is not certain.
In an interview that calls into question a key factor in Mr Joyce losing the second-highest political office in the country, the Nationals MP told Fairfax Media the baby boy he and Ms Campion are expecting in April would be raised as "mine" but conceded the identity of the biological father was "a grey area".
Mr Joyce claimed he was never asked by the Daily Telegraph – which revealed in early February that the couple were expecting a child – if the child was his. The story was widely followed by other media outlets, including The Sydney Morning Herald and The Age, and ultimately led to his resignation from cabinet.
The backbencher said journalists did not check the apparent "fact" he was the baby's father against the pair's respective travel to see if Mr Joyce, 50, and Ms Campion, 33, were geographically together around the time of conception.
Mr Joyce conceded that the fact they were physically apart for almost all of the critical period in which conception occurred, meant the question of paternity remained "a bit of a grey area".
Wow.
The key sentence for the purposes of this story is the one in bold – Joyce, inexplicably, appears to be gloating that the Daily Tele got it wrong, and never asked who the real father was. Which is false.
On Sunday, Sharri Markson fired off a tweet in her defence, which put the sword to another Barnaby lie. Here it is below… but make sure you're sitting down before you read it.
Here's the email where, contrary to his quotes in Fairfax, I directly ask Barnaby Joyce, before publication, if the baby is his and ask him to confirm he had already told his wife and daughters. We published the story when we were satisfied he was treating the unborn as his own. pic.twitter.com/sKNBjCaqKP

— Sharri Markson (@SharriMarkson) March 3, 2018
Like we might probe the carcass of an alien that has fetched up on planet Earth, let's analyse Markson's tweet for any signs of human life, or ethics.
"I am writing a story for publication in tomorrow's newspaper that Deputy Prime Minister Barnaby Joyce will be a father for the fifth time and is expecting a baby with Vikki Campion. We understand the sensitivities for all involved and will treat the story sensitively and delicately, as we did the last time I wrote about the personal crisis in Mr Joyce's life."
And then we got this, a front-page photograph of a heavily pregnant woman – and clearly shocked – woman which screams 'BUNDLE OF JOYCE'.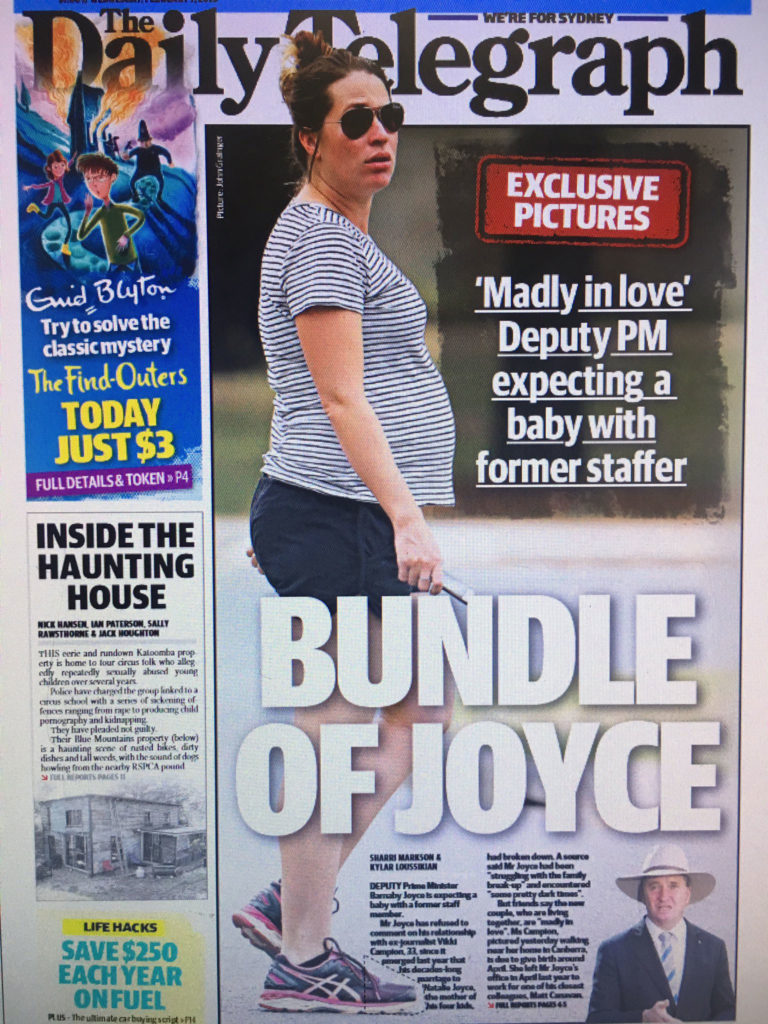 'Sensitively and delicately' in this case obviously meaning the opposite of what we all thought it meant. But back to Markson's tweet:
"As you are already aware, a photographer from The Daily Telegraph has this morning taken a photograph of Vikki. Firstly, I would like to offer Mr Joyce and Ms Campion the option of a sit-down interview and a posed photograph to replace the pap taken this morning."
Anyone else get a bit of a 'blackmaily vibe' from that paragraph? 'We snapped a paparazzi-style candid photograph of your heavily pregnant partner, but if you agree to a sit down interview we'll do a nicer posed one.'
Followed by this:
"Alternatively, could I please have a comment on the following questions pertaining to my story, prior to 6pm."
Were this a ransom note, it would be the equivalent of 'you have three hours to comply'. Which is actually more time that Markson provided – if you look at the header on the email, it was sent just after 3:30pm. Joyce was effectively given two and a half hours to decide whether or not to 'play ball' and get ahead of a major scandal that would ultimately go on to destroy his political career.
The final paragraph in Markson's email is also instructive:
"We understand, and are including in the story tomorrow, that Mr Joyce has told his daughters he is having a baby with Ms Campion. Is this correct?"
In journalism, we call this 'fishing'… in other words, Markson clearly didn't know for sure whether or not this was true and had no way of confirming it, thus she was fishing for information (otherwise why ask?). We don't know the reply from the media adviser – he may well have hosed it down – but for the record, he obviously didn't confirm it, because that 'understanding' wasn't included in the original story. And a note to Sharri: no professional media adviser in the history of spin has ever fallen for the fishing ploy.
Making media is a bit like making sausages – sometimes what comes out at the end of the process is tasty, but you really don't want to know how it's made. This story is one such occasion.
I don't actually disagree with the Telegraph reporting Joyce's affair. I thought Markson was within safe ethical boundaries breaking the story because I don't accept the blanket statement that the private lives of elected leaders are off limits. It's a bit like the statement 'violence is never the answer' – it makes you feel good saying it, but if police turned up to your local and simply waited for a stranger flogging the daylights out of you to run out of steam, because 'violence is never the answer', you'd be pretty pissed off.
I happen to agree strongly with this piece by Melissa O'Donnell published in New Matilda recently. I don't think there's anything wrong with demanding higher standards from our elected leaders than we do from others. I also don't think politicians should sleep with their staffers. I think the power dynamics of a relationship like that are seriously problematic, and I think when it happens, it's news. I don't agree that the suspected abuse of public funds was the only problem here, nor the only reason to trigger the public interest.
I also do believe that Markson reported the issue sensitively – at least, the actual text of the article was (by Daily Telegraph standards). I think Markson showed restraint… albeit the Daily Tele didn't present it that way.
All of this is a long way of saying… in other words (indeed in Barnaby's words), there are a lot of 'gray areas' in this issue. It's complicated, it's messy, and it feels hypocritical to have so many 'ifs, buts and maybes' attached to your position.
But one thing, to me at least, is crystal clear: how Markson used the information she had to try and leverage more is a matter of public interest and should be a matter of public discussion.
But that Markson shared it so publicly without apparently batting an eyelid – and that it hasn't sparked a broader discussion in the media – speaks to an even greater matter of public interest: this sort of practice is deeply entrenched in mainstream media.
Donate To New Matilda
New Matilda is a small, independent media outlet. We survive through reader contributions, and never losing a lawsuit. If you got something from this article, giving something back helps us to continue speaking truth to power. Every little bit counts.