Max Koslowski spoke to supporters of neo-Nazi booster Milo Yiannopoulos outside his recent Melbourne talk. Brace yourself.
Lauren has just left Milo Yiannopoulos' show, and is still buzzing when her Mum texts. She turns her phone to me:
"Don't post anything about tonight on Facebook if you're looking for a job".
Lauren laughs.
"It's true. We are afraid of what to say because of these people," Lauren waves to protesters on the other side of the road.
"I just went and saw a show, and I've been told that I've gotta be careful because of these people. And that really annoys me".
The 22-year-old bartender has just finished watching Yiannopoulos, right-wing British-born provoker, perform in front of around 800 supporters.
"I've been called a Nazi. I sat down to listen to a dude speak and now I'm a Nazi. I honestly want to know why!"
Lauren, from Wodonga, 300 kilometres north-east of Melbourne, has come to the Milo show with her boyfriend David. Her main political worries stem from modern day feminism, Australia's lack of free speech, and the increased power that Sharia law has in her country.
I ask how Sharia law is rising in Australia.
"They're trying to…." she turns to her partner. "What are they trying to do?"
"I don't really know what Sharia law is," David replies.
"They're trying to change our holidays… yeah, like Australia Day – which is ridiculous. And I don't like the fact that they are trying to say their culture is very feminist – their law basically shuns women. Maybe I'm wrong, maybe they don't. But that's how I see it".
David fits the profile of a typical attendee at Milo's show – he's a 23-year-old who works at a McDonald's in Geelong while finishing his degree. Most of Milo's supporters here are young and male, and some have turned up as couples, or as part of a whole family. But most rock up in small friendship groups.
Like Harry and Simon – two 19-year-old high school leavers, who first got into Milo after seeing videos online. They tell me about how they lost friends when they started to support the controversial figure.
"Most of my guy friends are pretty fine with it. A few of my girl friends, I feel like they misunderstand what views on the right of politics are," Harry explains to me. "Because they've got such an agenda being pushed down their throats, the minute you say something against feminism, all of a sudden you're against all of women".
But he was hopeful that his strong beliefs weren't for nothing.
"The political landscape is shifting a bit now. With guys like Milo coming over, there's a lot more attention being given to these viewpoints, I think people are drifting over and somewhat being converted.
"A lot of kids – we just finished Year 12 – a lot of kids in our year are attracted to him because he's funny and charismatic."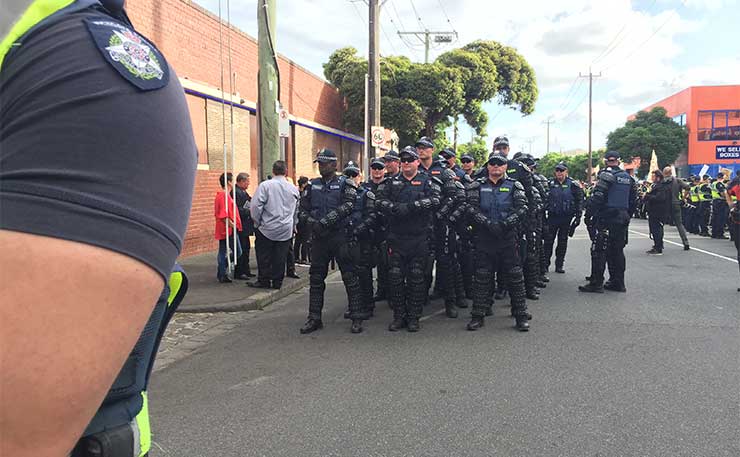 I ask them whether they think that Milo galvanises those on the far right.
"I think a lot of them hate him. There's no Charlottesville-type protests going on here," Harry replies, referring to violent protests in the Charlottesville, Virginia that lead to the death of one.
"There's no Antipodean Resistance, or stuff like that," Simon jumps in.
The Antipodean Resistance are a small Australian neo-Nazi group. I point out that Blair Cottrell, the infamous co-founder of United Patriots Front who once said that there should be a copy of Mein Kampf in every classroom, had attended the protests, and note that he was joined by far right groups True Blue Crew and Sons of Odin.
"But the vast majority were probably normal people," Harry responds.
"Yeah, I didn't think it was a genuine concern for people to say that Milo is going to bring out all the racist rednecks, because if he were to, then they'd turn up tonight," adds Simon. "Maybe there was Blair and a couple of his mates, but I don't really think it's a big deal".
Some rocks and water bottles are thrown in our direction by the protestors on the other side of the road. A police officer asks us to move on, so we head towards the group of Milo supporters who are starting to line up for the next show. One fan, who is wearing a Make America Great Again cap, sits on his friend's shoulders and holds up a pro-Trump flag. The protesters across the road boo. I realise that the supporters aren't lining up, but instead voluntarily waiting outside, enjoying the spectacle.
I ask some others waiting outside how they first got interested in Milo. Anna and Harrison, 19-year-old siblings who travelled an hour and a half from Ballarat, say they "probably just saw him on social media or something".
Duncan, a 16-year-old who is here with his Mum, says the same thing.
I move inside. I try to listen to what people are saying – one supporter asks his friend where all the "beautiful blonde Aryan chicks are". His name is Carlos, and he is here with his friend Hayden – both are in their 20s, and both work at the same pizza shop.
"He's for freedom of speech," Carlos tells me, speaking of Milo. "I'm a bit worried about this country – I feel like I can't state the wrong opinion or look in the wrong direction without having the wrong intention. I feel like I can't manspread. I get looks – it's a bit disconcerting to me.
"I started liking Milo when Trump was going for the presidency. He started calling Trump 'Daddy', triggering people and showing their hypocrisy. I just identified with that point of view that hadn't been stated so bluntly before".
Carlos had also lost friends because of his support for Milo.
"I don't have friends anymore. Most of my friends don't talk to me anymore. Our point of views changed – it came to a breaking point, where I agreed with the right-wing stuff more. I started learning more about the ideas, and everything just changed. They stopped being friends with me," he said. "Even on little arguments and disagreements, they would think I am implying something, but I wasn't. I lost a lot of my friends because we were disagreeing. Daily interactions changed."
The foyer is starting to get packed – a lot of people are holding on to a copy of Milo's new book, 'Dangerous', and many are wearing Donald Trump's iconic red caps. It feels festive. Someone laughs as they say that they hope a car runs over some of the protesters outside.
It's a couple of minutes before the show's start time. The crowd is waiting to be let through the doors. Hayden shouts "Make Australia great again!", and some clap and whoop in response.
When the doors finally open and the show begins, Milo plays the room well. He doesn't say much for the first couple of minutes, and then kicks things off by asking a question:
"Australia, what have they done to you?"
PLEASE CONSIDER SHARING THIS STORY ON SOCIAL MEDIA: New Matilda is a small independent Australian media outlet. You can support our work by subscribing for as little as $6 per month here.
Donate To New Matilda
New Matilda is a small, independent media outlet. We survive through reader contributions, and never losing a lawsuit. If you got something from this article, giving something back helps us to continue speaking truth to power. Every little bit counts.