Australia's response to the genocide in Myanmar is untenable, particularly in light of our place on the Human Rights Council, write Catherine Renshaw, Ronan Lee and Joshua Roose.
In September 2017, the United Kingdom announced that it was suspending its program of defence cooperation with Myanmar's military. The UK's decision was unsurprising. Myanmar's military had just completed a "clearance operation" in northern Rakhine state, home to the country's minority Muslim population, the Rohingya.
The operation included the torching of Rohingya villages, the murder of Rohingya men, women and children, and the rape and torture of Rohingya women. Hundreds of thousands of Rohingya fled across the border to Bangladesh, or died trying to.
There were credible reports that Myanmar's military was laying landmines on the Burmese side of the border to deter their return. UN Secretary-General Guterres called it ethnic cleansing and referred it to the Security Council. President Macron of France called the military's actions "genocide".
Australia, however, decided to maintain its defence cooperation program with Myanmar's military. The program, which is low-level and small budget, primarily involves training and assistance around humanitarian relief and disaster management.
Australia also decided to maintain its current level of foreign aid to Myanmar, worth around $78 million per annum. Australia's economic engagement in Myanmar, including the development of potentially lucrative gas projects, remains on foot.
The Australian government has been circumspect in its criticism of Myanmar's government, referring simply to "challenging security, human rights and humanitarian issues" in Rakhine state and noting the complexity of the issues.
The Australian government appears to be following the advice of academic commentators and policy advisers who see engagement as potentially more productive than sanctions and criticism. After all, Myanmar was isolated and subject to sanctions for 20 long years of military dictatorship, with no observable effect.
Keeping the lines of communication open, so the argument goes, is more likely to produce positive change than censuring.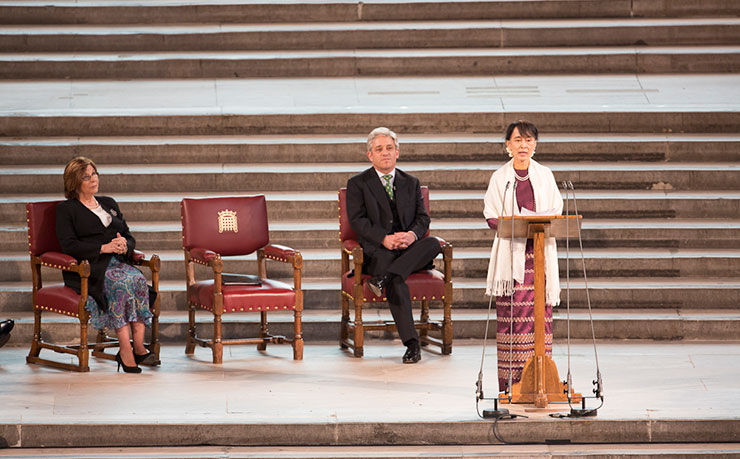 Human rights organisations hold a different view. To most human rights organisations, speaking the truth about atrocities matters; condemnation has effect; severing ties with human rights abusers, even if the ties are weak and the severing is symbolic, contributes to creating a global culture of respect for human rights.
It is unconscionable to let political considerations mute our response to human rights violations.
What should Australia's response be to the tragedy of the Rohingya? Earlier this month, at a panel discussion organised by the Institute for Religion, Politics and Society at the Australian Catholic University, which included Burmese human rights activist Wai Wai Nu and Melbourne Rohingya leader Habibu Rahman, the question of what Australia ought to do was answered in a relatively clear cut way.
First, Australia's membership of the UN Human Rights Council means that its current response to the Rohingya crisis is untenable. Joining the Human Rights Council means a commitment to safeguarding human rights globally.
Instead of viewing human rights abuses committed by Myanmar's military as a purely domestic matter, Australia must follow the direction set by the UK, EU and USA. Australia must cut military links with Myanmar and impose sanctions on military leaders.
Ordinary Australians would be appalled to learn that little prevents Myanmar's generals from travelling to Australia or even buying investment properties here.
Second, the tens of millions of dollars of aid which Australia provides to Myanmar should be suspended until UN investigators are given the visas they need to enter the country.
Aung San Suu Kyi's own government department currently blocks these visas.
Future aid funding should be made contingent on human rights being respected within the country.
Third, Australia should cease policies that give cash bribes to Rohingya asylum seekers to encourage them to return to a country where they will face serious rights abuses.
Finally, Australia should review its policies that bar refugees from accessing higher education through HELP deferred payment schemes. Administrative hurdles that deny refugees the right to education are far too reminiscent of the structural discrimination that currently prevents many Rohingya in Myanmar from receiving any school education at all.
There may be times when constructive engagement with pariah regimes yields dividends for people suffering under the rule of tyrants. The situation now, with the Myanmar government and the Rohingya, is not one of them.

Donate To New Matilda
New Matilda is a small, independent media outlet. We survive through reader contributions, and never losing a lawsuit. If you got something from this article, giving something back helps us to continue speaking truth to power. Every little bit counts.