The people have spoken. Marriage equality in Australia is long overdue. Chris Graham reports.
The marriage equality postal vote has delivered a stunning victory for same-sex attracted couples around the nation, with the Australian Bureau of Statistics announcing the results a short time ago.
Yes votes – 61.6% (7,817,247); No votes – 38.4% (4,873,987).
Every vote and territory in Australia voted in favour of marriage equality, and the participation rate nationally was 79.5% – a high result for a non-compulsory vote. All age groups had high participation rate turnouts.
The ACT delivered by far the highest Yes vote, with 74%. NSW delivered the lowest, with 57.8%.
Thus, attempts by ultra-conservative and religious groups in Australia – led by political pundits such as Tony Abbott, Cory Bernardi, Eric Abetz and the Australian Christian Lobby's Lyle Shelton – to divert debate to issues like 'gender education' and 'political correctness' did not confuse the Australian public.
The result has weakened further an already flailing Turnbull Government, which has been down in the polls for the majority of the year.
The marriage equality postal vote was conceived by Liberal minister Peter Dutton, in an attempt to delay or weaken the push for same-sex marriage.
It has failed, and spectacularly so.
It was a high-stakes, $122 million gamble for Dutton. If Australians voted no, or even if the result was close, Dutton would have been a hero of the extreme right, and strengthened his run for the Prime Minister's job in the process.
Instead, Australians have delivered a stunning rebuke to Dutton, and Malcolm Turnbull's government.
What Dutton has also done has polarized even further a nation of voters with deep antipathy towards a government which, since July 2, 2016, has lurched from disaster to disaster, and everything in between.
Dutton's play helped add an additional 90,000 voters to the electoral roll, all of whom joined prior to the plebiscite, presumably to vote on marriage equality.
Based on the result, the majority, obviously, wanted it.
That same majority is less likely to view the Coalition kindly at the next election, which thanks to the Section 44 crisis, might be closer than we all think
90,000 new voters is an average of 600 new voters per electorate.

In the latest Newspoll released earlier this week, Bill Shorten's Labor remains in front 55-45 – a result that would wipe out the Liberal Party in federal parliakment.
But before we get there, the enabling legislation for marriage equality will have to be dealt with.
Legislation drafted by West Australian Liberal Senator Dean Smith is most likely to form the basis of Australia's marriage equality laws.
It's received the backing of Turnbull, Finance Minister Matthias Cormann and Defence Minister Christopher Pyne. It also appears to have the backing of Labor, so would pass the House of Representatives easily, and then be at the whim of the Senate.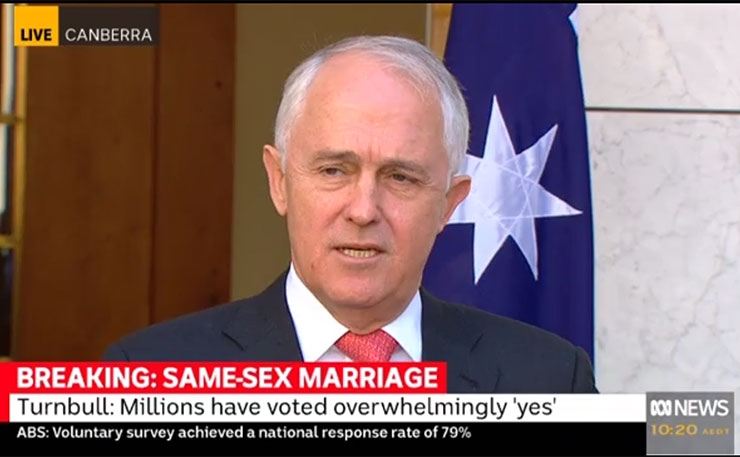 A short time ago, Malcolm Turnbull described the result as "overwhelming" and said the goal was to have the legislation through parliament before it rises for Christmas.
A last ditch attempt by the hard right to hijack the debate – a Bill drafted by Liberal Senator James Paterson – has failed to move his party, with Turnbull last night declaring the alternate legislation had no chance of passing.
Of course, the plebiscite result is non-binding on politicians. So the political heat will now turn to who backs the will of the people, and who ignores it.

Donate To New Matilda
New Matilda is a small, independent media outlet. We survive through reader contributions, and never losing a lawsuit. If you got something from this article, giving something back helps us to continue speaking truth to power. Every little bit counts.