In Australia, people who oppose fascism are considered extreme by mainstream media. But the people who promote it… they're funny and quirky and bankable. Michael Brull explains.
How does the media deal with supporters and opponents of fascism? You would expect – and hope – that people who support fascists and neo-Nazis would be stigmatised and marginalised by the biggest and most prominent outlets of the corporate media.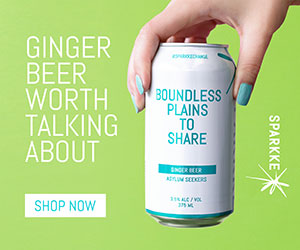 Contrarily, one might think that opponents of fascists would be given a balanced reception. As some of them engage in violent confrontations with fascists, their tactics might be subjected to critical scrutiny, but their opposition to fascists would be regarded with something approximating sympathy.
At times when fascists were resurgent, one might expect these trends to be particularly strengthened. That is, if fascists were gaining strength, responsible media might highlight opposition to fascists, whilst generally denying a larger platform to fascists. If they were allowed to present their views to the public, it would be balanced with harsh questioning, and voices to expose their hateful agendas.
This is what one would hope for. But Australia is a different type of country.
Media on the pro-fascist: Milo
So let us consider this question through the prism of Milo Yiannopoulos, the former writer at Breitbart.
Milo is known for being casually outrageous in the nasty things he says about women, Muslims, black people, trans people and other minority groups. At college lectures he has singled out trans people for ridicule, and encouraged the audience to "Purge the Illegals" (that is, report them to the government so that they can be deported).
He says feminism is cancer, birth control makes women ugly, and they'd be happier in the kitchen.
In a speech about why he hates Islam, he said, "If you give them an inch, they'll take a mile, and rape everything inside it." He went on to quote Andrew Bolt's criticisms of the Australian Grand Mufti.
In October, Buzzfeed published an important exposé on Milo and Breitbart. It showed that Milo used as passwords references to Nazi landmarks, such as Kristallnacht, the Knight of Long Knives, and also the year 1290, when Jews were expelled from England.
It showed that Milo performed a karaoke song, as the crowd of Nazis – including Richard Spencer – celebrated his performance with Nazi salutes.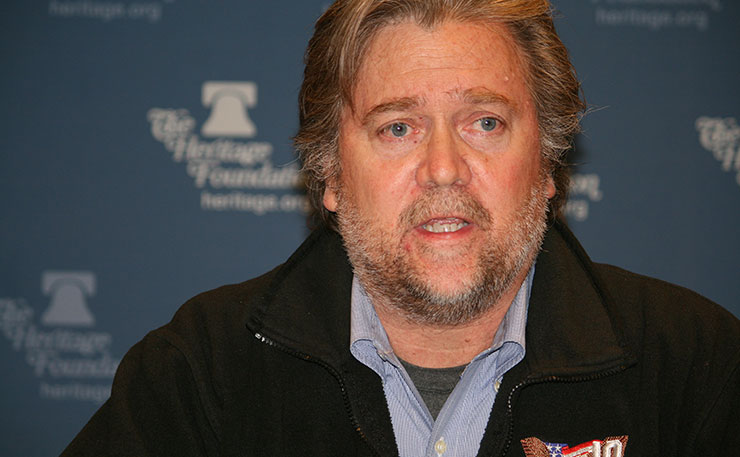 Former Goldman Sachs vice-president Steve Bannon strongly backed Milo's work, and even demanded that he ramp it up ("we are in a global existentialist war… and u r jerking yourself off w/marginalia!!!!).
Milo replied: "Message received… I will do a Week of Islam next week."
Bannon qualified this – an entire week wasn't needed, but he needed to "get in the fight" for Western civilisation. Milo assured Bannon he would work hard for him and "win the war".
Breitbart and Milo are also backed by the billionaire Mercer family. The Mercers have also funded Milo's post-Breitbart media ventures since shortly after his departure from the company.
Milo has also used his large platform and audience to promote Nazi propaganda. For example, he was credited with writing a long story about the "alt right" (a euphemism for racist and neo-Nazi political movements). As with much of his work, Milo didn't write it. First, he reached out for information to a neo-Nazi from the Daily Stormer and other white nationalists. His ghost-writer, Allum Bokhari wrote the original draft.
Milo then workshopped that draft with his Nazi collaborators, who carefully edited it, along with Bokhari and a Breitbart editor. Milo referred to one of those white nationalists – Devin Saucier – as "my best friend".
Saucier regularly advised Milo on stories, and successfully urged him to spike a story on affirmative action of which Milo had sent him a draft, to solicit feedback.
Milo also urged his superiors at Breitbart to let him have as a guest on his podcast "Weev", a neo-Nazi hacker from Daily Stormer, mentioned above. Milo identified Weev as "one of the funniest, smartest and most interesting people I know…. Very on brand for me."
Here are two screencaps from Daily Stormer – yes, they have a specific section on the "Jewish problem", and yes, they quote the authority of "uncle Adolf" on "the kikes and their filthy Jew lies".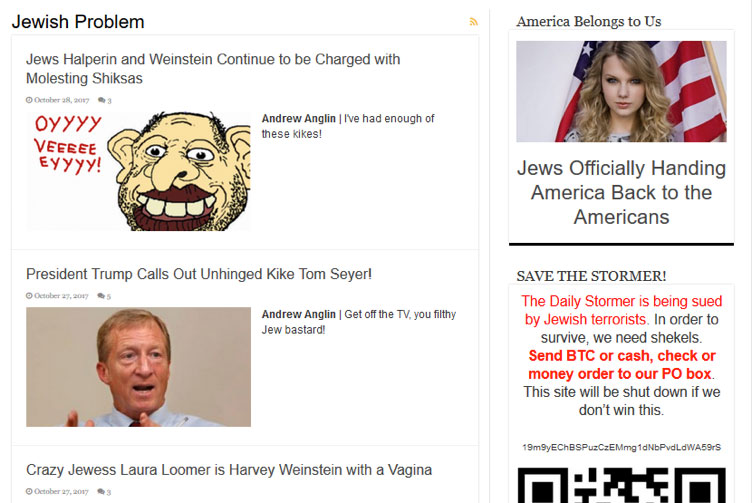 Note Milo doesn't deny the truth of the leaked emails. His only disagreement about his long record of promoting Nazi propaganda and collaborating with Nazis on articles is that he claims he was unable to see Nazi salutes given a few metres away from him as he sang karaoke.
So, given that Milo can be regarded as a supporter of fascists, neo-Nazis and Nazi propaganda, how has the media treated him? (For a moment, set aside that the major corporate sponsor of the Daily Stormer is Smerff Electrical, owned by Simon Hickey in Brisbane).
A few weeks after the devastating long story on Buzzfeed, Milo was given a 16 minute segment to discuss his coming tour on Channel 10's Studio 10. Jessica Rowe objected to his lack of civility, his harassment of a celebrity, and for trolling women. Another host then said that she read his book and he does "make some fair points", though his "outrageous shtick" may turn off some followers.
Joe Hildebrand then assured his guest that he is "often very funny, often very witty", and also "often very interesting". After letting Milo talk about himself for a while, Hildebrand agreed that Milo makes a lot of good points about the censoriousness of the left. They concluded by explaining where Milo would tour and how people could find further details.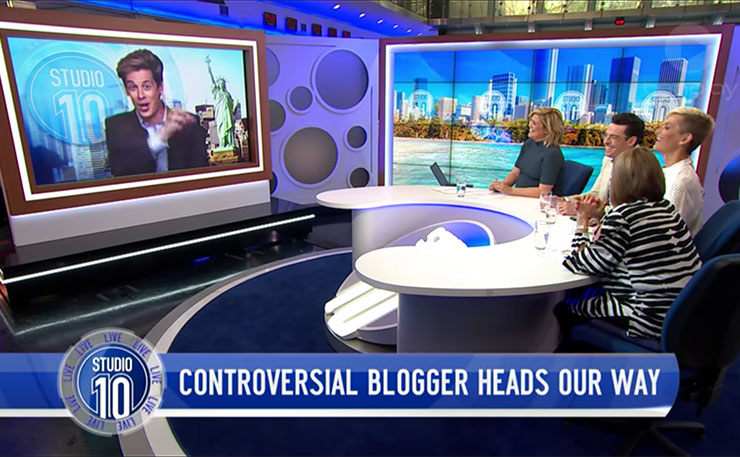 The Daily Mail – duly impressed by Milo's cleverness in the interview – ran a story about Milo as fun rogue and "champion of free speech" who was "outspoken about his dislike of feminists".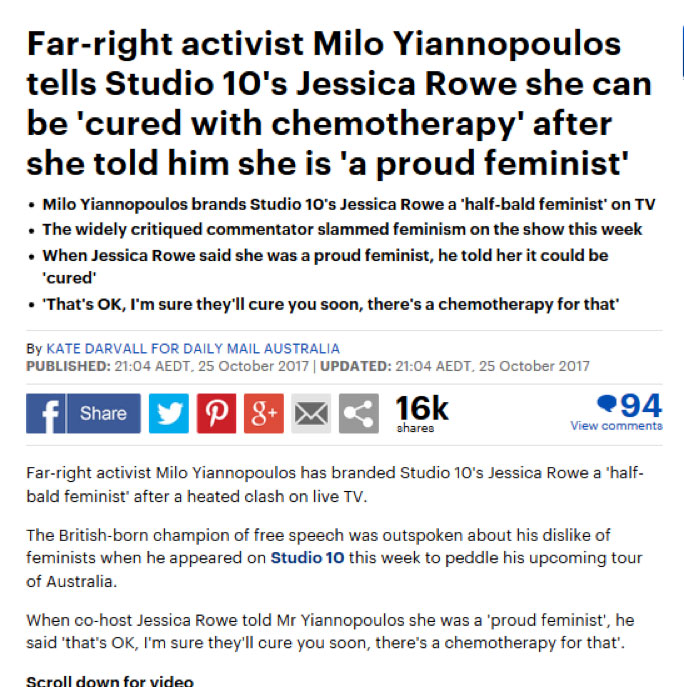 In a shorter segment, also after the Buzzfeed story was published, Milo appeared on Sunrise for five minutes. Similarly, the hosts objected to Milo's anti-feminist comments and lack of civility (he interrupted one of the hosts, calling her "darling"). Still, whilst they did give him a platform, they were clearly unsympathetic to him. Sunrise did not try to balance his appearance with any countering point of view.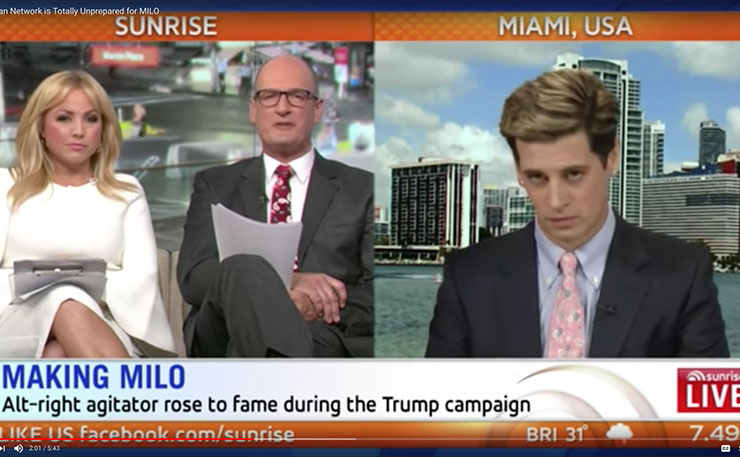 Then there's Fairfax's coverage of Milo. The story was not headlined in relation to his fascist propaganda. Instead, it said how he hopes to reveal hypocrisy. The story began by identifying him as someone who "spares no one" in his teasing and ridicule (rather than as someone who stigmatises women and minorities).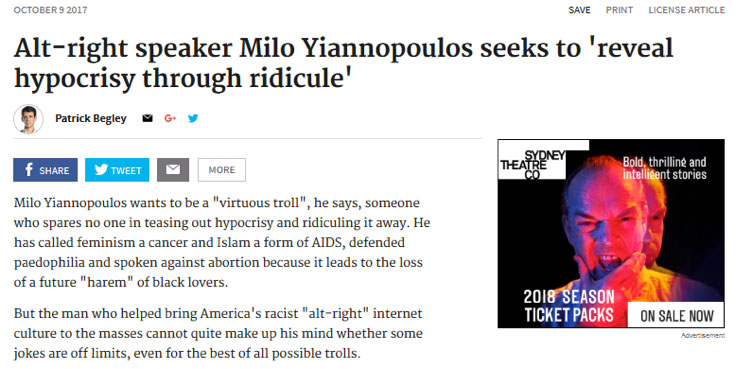 And then more of the same: baiting leftists, quoting his identification as someone who exposes hypocrisy through trolling. And listing his identity credentials (such as Jewish descent), which he endlessly cites in a silly attempt to immunise himself from the obvious facts of his pro-Nazi record.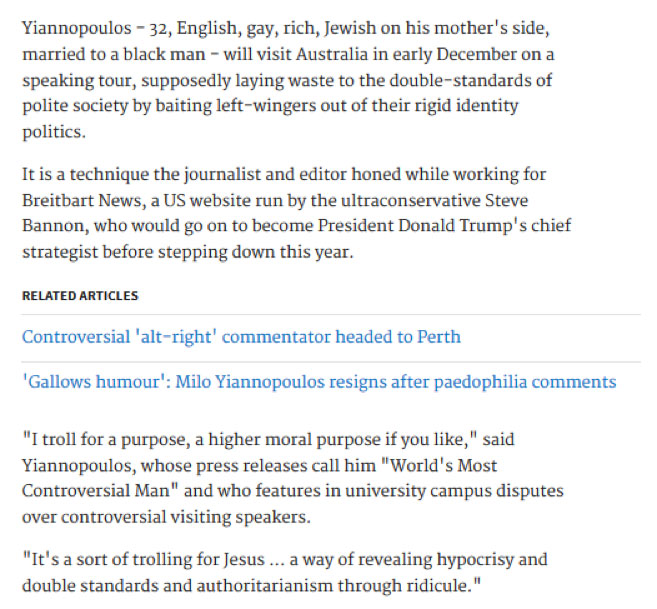 In paragraph 8, Fairfax turned to the Buzzfeed story. Evidently, they regarded his pro-Nazi affiliations as less significant in understanding Milo's record. Pro-Nazi propagandist might strike readers differently to someone who trolls the left to expose their double standards.
Worse was the performance of Andrew Bolt – who invited Milo on for a second appearance on his show in September. Bolt began by identifying Milo as a martyr for free speech. In the interminably long 25-minute segment, Bolt does not issue a single challenge to Milo, other than softly suggesting that his earlier comments about paedophilia were unfortunate.
Bolt has since announced that he will serve as MC for two of Milo's public appearances during his Australian tour. He also explained that this is because of "free speech". And that the one with the real "fascist instincts" is the Western Australian government which opposes Milo. Bolt says he is doing this "not to endorse Milo". Sure.
Milo also appeared on Mark Latham's Youtube show for 40 minutes. He said something about how the media should learn from Milo, but I couldn't bring myself to watch Latham's show.
Media on anti-fascist: antifa
These media outlets have shown basically zero interest in people who organise and engage in activism against fascists. For example, there are anti-fascist groups in Sydney, Melbourne, Brisbane and elsewhere. Aside from the casual and reckless smears of John Safran, they are mostly ignored, except for handwringing op eds condemning them whenever there are violent clashes with far-right groups.
An exception is a recent story on anti-fascism in Brisbane. Antifa is an abbreviation for anti-fascist. Corrine Barraclough ran a story, based on the lurid claims about antifa by one Shayne Hunter. The headline proclaimed that he "established a terror movement in Australia", antifa.

Hunter went on: antifa is a "growing extreme group" which believes "violence is legitimate". He was "radicalised", they engage in dangerous rhetoric, and so on. He went on to insinuate that antifa is "training people to shoot and punch", like their counterparts in the US.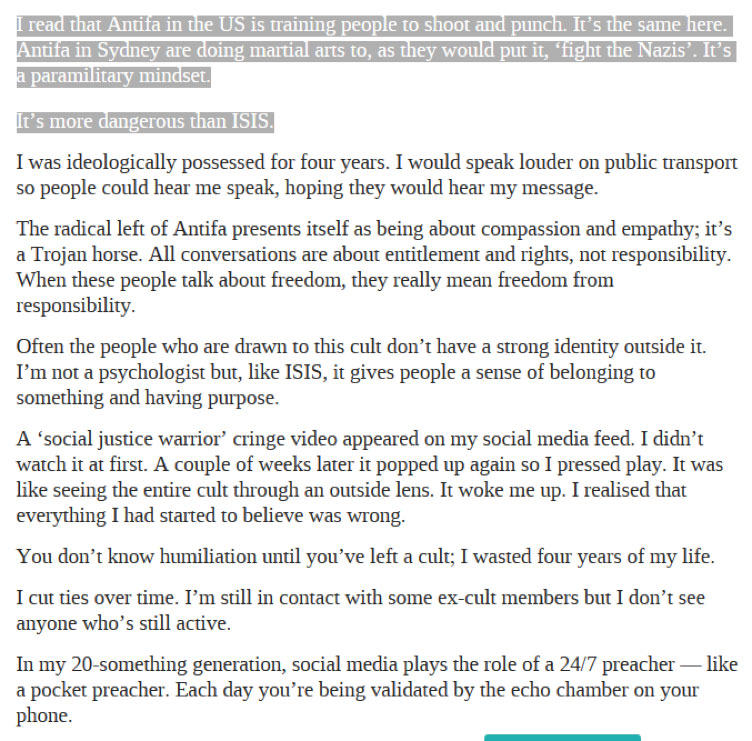 Ultimately, they are "more dangerous than ISIS.
Anti-Fascist Action Brisbane responded to this article by making a few comments. Firstly, anti-fascists existed for decades before Hunter claimed to found the entire movement. Secondly, Hunter was "excluded from numerous leftist spaces in Australia due to his erratic behaviour and a history of sexual assault". Barraclough seemingly didn't consult any relevant people from the group to corroborate Hunter's claims.
Conclusion
Let me underline this. Milo has gotten plenty of media, even as his record of collaborating with Nazis to promote their views and solicit their feedback to edit his articles has become public record. Even before it was publicly exposed, his extreme racism was manifest in his work.
And yet, Australian media has mostly regarded him as a fun provocateur, who maybe is not civil enough, and overly rude about feminists. Certainly, he is not too extreme to invite onto their shows.
On the other hand, opponents of fascists – like Milo – are not regarded as provocative, if a bit extreme. They aren't invited on Sunrise or Channel 10 to discuss their provocative ideas about when violence may legitimately be used as a political tool. Virtually their sole coverage is in the prism of a questionable confession from a former anti-fascist who now thinks the work he was engaged in was comparable to ISIS.
I have written along these lines before, but it is still shocking. It is shocking that fascists get more favourable coverage than their opponents in Australia, who are overwhelmingly marginalised.
Current Affairs editor Nathan Robinson once observed about Milo that there is "nothing 'dangerous' at all in picking on women and refugees. People will pay you good money for that. The dangerous ideas are the ones they don't pay you for, the ones that don't get you on" television.
In fact, "You're dangerous when you stick up for those on the fringes rather than kicking them. There's nothing courageous or edgy in bullying the despised and excluded."
That is Milo's entire shtick. He presents himself as courageous, when he is simply peddling the same old hate, first on behalf of a former Goldman Sachs vice-president, then for a billionaire family.
And the Australian media – well, they probably will pay Milo good money for it, as they acclaim the brave and dangerous provocateur peddling Nazi propaganda written for him by his ghost writer and neo-fascist friends.

Donate To New Matilda
New Matilda is a small, independent media outlet. We survive through reader contributions, and never losing a lawsuit. If you got something from this article, giving something back helps us to continue speaking truth to power. Every little bit counts.