As the Hollywood purge of sexual harassers continues, Rutaban Yameen looks specifically at the experience of Women Of Colour.
Actress Jane Fonda and journalist Gloria Steinem recently appeared on MSNBC as representatives for the Women's Media Centre.
"It feels like… something has shifted," Fonda said. Then she said, "It's too bad that … it's probably because so many of the women that were assaulted by Harvey Weinstein are famous and White and, you know, everybody knows them."
She then added: "This has been going on a long time to Black women and other women of colour and doesn't get out quite the same."
Fonda wasn't trying to undermine the severity of the experiences that majority White celebrity actresses alleged they suffered. She wasn't dismissing the depravity of Weinstein's alleged actions.
Many pointed out the irony. It still took a White celebrity for people to empathise with the oppressive experiences of women of colour (WOC) in the US film industry.
But this is a non-issue. White people who are progressive should use the platforms available to them to show support for WOC who experience sexism and racism.
In 1972, Fonda visited Vietnam amid the anti-Vietnam War movement. She was nicknamed "Hanoi Jane" after photographs of her sitting in an anti-aircraft gun with Vietnamese enemy combatants drew the ire of the US administration and right-wing pundits.
Fonda never regretted her visit.
Her concerns for WOC today come during a dynamic period in US history.
The Black Lives Matter movement inspired mass protests against systemic police violence toward African-Americans.
The hashtag #SayHerName shone a light on the plight of African American women who, like their partners, brothers and sons, were suffering from increased rates of incarceration and police violence.
The hashtag #OscarsSoWhite went viral when in 2016, no actors or actresses of colour were nominated for the second year in a row.
Beyoncé's performance at the 50th Super Bowl was America's most watched television event of the year. The backup dancers wore berets reminiscent of the Black Panthers. It was a clear memento to Black struggle and identity through their historic oppression.
NFL player Colin Kaepernick's peaceful protests against police violence toward African Americans inspired a watershed moment this year when players, cheerleaders, spectators and celebrities were photographed "taking the knee" on and off field.
So there's an intricate political context to which Fonda's words find relevance.
In the era of Trump
The Weinstein allegations have seen more kings tumble as they face their days of reckoning amid sexual harassment and assault allegations. These events are a product of the Trump era.
President Donald Trump epitomises the sexist in power. Trump profited from the sexual objectification of women through his ownership of and participation in beauty pageantry. He opposes abortion rights and the civil rights of LGBTIQ identifying people. In the final weeks of the campaign trail, several women alleged that Trump made unwanted sexual advances towards them.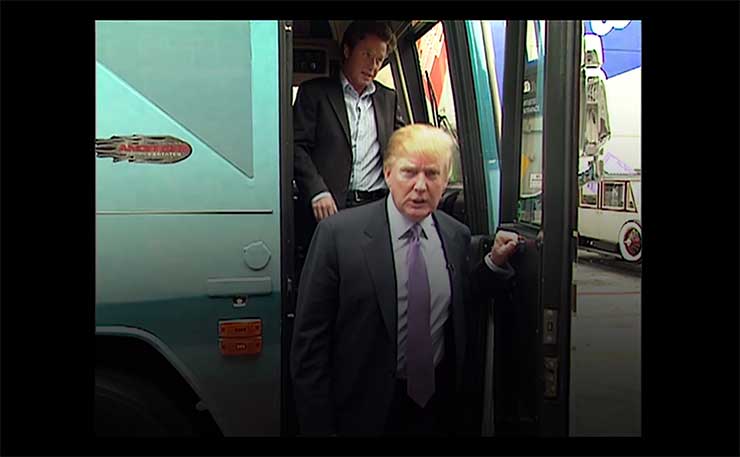 The Washington Post published audio recordings in which Trump said, "I just start kissing them. It's like a magnet. Just kiss. I don't even wait." Then he said, "Grab them by the p*ssy. You can do anything."
His inauguration was met with some 3 to 4 million people partaking in the Women's Marches in Washington DC, cities across the US and around the world. This included WOC.
Anti-sexism and the concept of feminism has been reinvigorated under the Trump administration. The Weinstein allegations arose within this explosive political paradigm.
Systemic abuses of power
During the MSNBC broadcast, Steinem said that it took "cumulative instances" of racism and sexism in the US film industry for such allegations to be recognised widely.
On October 10, The New Yorker and New York Times published investigative pieces detailing Weinstein's conduct towards young women, including actresses with fledgling film careers.
They were confronted by harassment, assault and instances of rape allegedly perpetrated by a film executive who could make or break acting careers.
In an audio recording, Weinstein pressures a woman to enter his hotel room. Her stress and discomfort is audible.
She said, "Why yesterday you touch my breast?" Weinstein said, "Oh, please, I'm sorry, just come on in, I'm used to that." Then she said, "You're used to that?" Weinstein said, "Yes, come in."
Some 60 mostly celebrity women have spoken out. Lupita Nyong'o is the most recognisable WOC to have detailed Weinstein's abuses of power.
Brooklyn Nine-Nine star Terry Crews alleged that a male executive groped his genitals in front of his wife at an industry event in 2016.
Crews feared he would be prosecuted if he retaliated. On October 11 he tweeted that headlines might read, "Black Man stomps out Hollywood Honcho".
He explained why he didn't take further action. "Par [for]the course when the predator has power [and]influence".
On October 12, former Dawson's Creek star James Van Der Beek tweeted, "I've had my ass grabbed by older, powerful men."
He then tweeted, "I understand the unwarranted shame, powerlessness [and]inability to blow the whistle. There's a power dynamic that feels impossible to overcome."
Stanley Kubrick, Roman Polanski, Lars Von Trier, Ben Affleck and Casey Affleck are only a few names at the apex of the Hollywood hierarchy. They have been embroiled in allegations of sexual harassment and assault.
Director Bryan Singer was allegedly involved in rapes of adolescent boys.
In 2016 Elijah Wood told the Sunday Times about how paedophilia was systemic within the US film industry.
As Steinem put it, "We have reached a tipping point."
The "tipping point" in sexual politics
By now any illusions you had in Hollywood and the pursuit of fame should have been obliterated.
The mud cake of silence, pay-offs, abuses of power, sexual exploitation and economic inequality is covered by the thin gold icing of wealth and stardom within the US film industry.
It is immaterial whether most of the women making allegations against Weinstein are famous. The point is that adult and child actors and actresses are often subjected to fundamental abuses of power.
These abuses come from their unequal and lowly positions within the film industry hierarchy.
Actors and actresses work in a highly competitive industry. Their careers and livelihoods are either characterised by poverty and mediocrity, or wealth and fame.
The sheer number of women who were harassed by Weinstein and other film fat cats shows women disproportionately experience abuses of power compared to men.
This isn't to discount the conclusions drawn by Crews, Van Der Beek and Wood. But while men and children in the film industry experience abuse because of their subordinate position in the film industry hierarchy, women experience sexual harassment and assault because as a gender they are relegated to subordinate positions in the film industry hierarchy.
The oppression actresses experience as a group is constituted in the mere fact of their gender.
A woman is identified in the film industry in proportion to her femininity. Actresses are reduced to their roles as objects of sexual desire and aesthetic appeal. Hollywood rationalises women's inequality within the film industry and in society by promoting stereotypical and reductionist images of women.
That's why character roles for women are mostly unintelligible. Heroines are delimited by their sex appeal.
The sinister dynamics of the film industry is a microcosm of the pervasive nature of sexism and sexual harassment in society generally.
From the daily harassment experienced by women in the services industry, to sexual exploitation in garments factories, to sexual harassment against social workers, volunteers and healthcare workers. Corporate environments in the finance and legal sectors are saturated with sexism.
As one of Weinstein's victims, Brit Marling, put it in her compelling article for The Atlantic, "Weinstein was a gatekeeper". Then she said, "Weinstein could also ensure that these women would never work again if they humiliated him. That's not just artistic or emotional exile — that's also economic exile."
The Weinstein allegations for the first time in a while exposed the economic foundations for the degrading treatment of women in the film industry.
But the material damage wrought by the Weinstein allegations is novel.
There have been countless allegations of lewd conduct over decades. Through that time, we have seen the media drag names of victims through the mud. But today we find allegations against Amazon Studios' Roy Price, director James Toback and Nickelodeon's Chris Savino. Right-wing pundit Bill O'Reilly is embroiled in new sexual harassment allegations and defamation suits.
The Trump paradigm which involves the most identifiable sexist in power, may have been the straw that broke the camel's back.
The public outcry and the material damage to the reputations of various high-level executives, directors and producers is a "tipping point" in modern sexual politics.
White women should support WOC
The experiences of WOC are disproportionately hampered by the dual paradigm of sexism and racism. This point seems lost on Rose McGowan, one of Weinstein's victims.
Talk show host James Corden recently made light of the allegations levelled against Weinstein at a gala for the American Foundation For AIDS Research. Corden said: "It has been weird this week watching Harvey Weinstein in hot water. Ask any of the women who watched him take a bath."
In her deleted tweet, McGowan said his comments reflected White male privilege. Then she tweeted, "REPLACE THE WORD 'WOMEN' w/the 'N' word. How does it feel?"
In attempting to prove Corden's sexist insensitivity, McGowan made light of the historic enslavement of African Americans. She compared their plight to that of American women.
I guess White "feminists" never bothered to watch 12 Years A Slave. Its harrowing account of the US slave trade was only the tip of the iceberg. The cruelty perpetrated against African American slaves was far worse.
McGowan explained away the gravity of her error by alleging she was high at the time. But her words epitomise the modern failure of White women who proclaim themselves as "feminists".
McGowan, among others, is a victim of structural discrimination. Yet she could not acknowledge the structural discrimination African American women face.
Nyong'o was the only victim whose allegations received Weinstein's explicit public denial. White American men in positions of power were never doubted by their compatriots when they denied sexual harassment allegations from African American or Black women.
Commentators have wondered why more WOC haven't come forward against Weinstein. It could be one of two reasons. First, that Weinstein never assaulted any other WOC (this I highly doubt). Second, because WOC face more severe structural disadvantages compared to White women within the film industry.
In 2015, a San Diego State University study found that within the top 100 films, 76 per cent of all female characters were White.
Only 13 per cent were Black. Some 4 per cent were Hispanic. And 3 per cent were Asian.
Slate reported this year that across 1,000 films and 1,114 directors, 34 (3 per cent) were Asian or Asian American and 57 (5.1 per cent) were Black or African American.
Among Black and African American directors, literally 3 (0.05 per cent) were women.
There are enormous barriers within the film industry for WOC.
Hollywood reduces images of women to objects of sexual desire. To add insult to injury, WOC are seen as lacking sex appeal.
As Bim Adewunmi put it for Buzzfeed, "Black women do not often … [get the]high-profile and award-winning roles that a producer with Weinstein's power could offer… in an industry as White as Hollywood, the racially problematic 'attraction question' is part of what reduces the shelf life of Black actresses."
Within the dual paradigm of sexism and racism in the context of the inherent inequality and hierarchy within the US film industry, can you imagine the risk WOC would be taking by publicly disgracing Hollywood filmmakers for sexism, sexual harassment and assault?
They would be playing with fire.
This is not to deny their agency. Nobody takes their oppression lightly.
One day soon, more like Nyong'o may have the courage to speak up. And maybe with support from White actresses, too.
Starting with Fonda.

Donate To New Matilda
New Matilda is a small, independent media outlet. We survive through reader contributions, and never losing a lawsuit. If you got something from this article, giving something back helps us to continue speaking truth to power. Every little bit counts.