Sometimes art imitates life, and sometimes life imitates art. Catherine McGauran is hoping new Australian film Killing Ground will motivate life, and resolutions.
The outback may just be the most formidable character in Australian film and literature. More than just scenery or background, the bush is active in creating or enabling the horror that plays out in our much-loved Australian gothic stories.
Damien Power's film Killing Ground is a textbook expression of post-colonial anxiety, grounded in white Australians' fear of the bush. It can go from idyllic playground to unpredictable captor in seconds.
At first Killing Ground looks like just another foray into this genre. However, it is Power's overly predictable use of tropes and cinematic techniques which make the film so terrifying – these familiar structures reinforce our post-colonial story, by shoving latent fears into our face, with a new level of ferocity.

Killing Ground's release coincided with the decision of two Melbourne councils to drop Australia Day ceremonies on January 26. Yarra City Council made the decision out of respect for Aboriginal Australians and because "of the depth of feeling about what that day means for so many of our residents". Prime Minister Malcolm Turnbull said the move was "out of step" with national values, and proceeded to strip Yarra City Council of its power to hold citizenship ceremonies.
But is it really out of step? The nature of social media has brought discussions like this from the fringes and into the mainstream. As a result non-Aboriginal Australians are learning more about our disturbing history, which is at best glossed over in schools, and support for recognition of this is growing.
Even the national broadcaster's network Triple J held a survey to gauge where its listeners stood on moving the Hottest 100 from January 26. Power's film is part of this movement, suggesting that the disturbance of white Australia's past is now so palpable that it can no longer be ignored. We are haunted by an unacknowledged past, which is why the post-colonial narrative of the sinister outback is so simple, yet so haunting.
Europeans have always had a murky relationship to the Australian landscape. Overwhelmed by the foreign environment, First Fleet marine Watkin Tench reported an oppressive heat and unpredictable climate. Others wrote of their struggle to mark time by the clock; of isolation, fear of pursuit and the unknown, including the Aboriginal people.
By the end of the nineteenth century colonialists had severely decimated the Aboriginal population. Around this time they also started disappearing from colonial journals and stories, marking the start of what is sometimes called the 'great Australian emptiness.'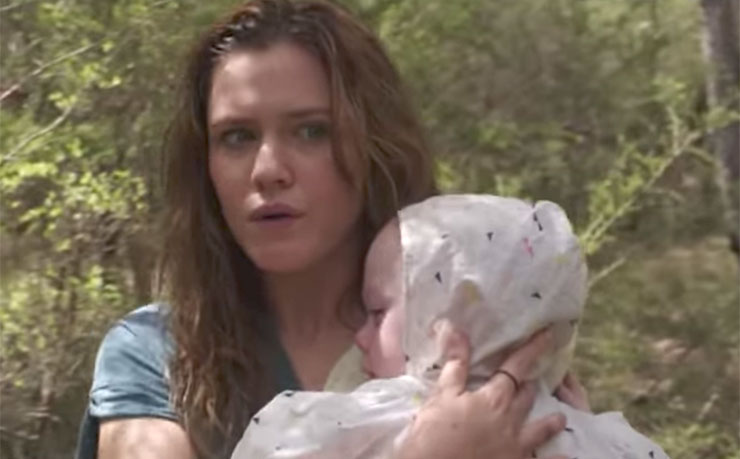 It is against this complex backdrop that we understand Killing Ground. Power moves through scene-setting tropes quickly – a white middle-class couple, Ian and Sam, drive their hatchback to camp over the weekend (this could be me!). They sing along to the radio and stop to buy alcohol.
We quickly learn Sam and Ian are disappointed they are not alone at the site (perhaps a cursory reference to European settlers), Sam proposes to Ian (showing us they have their whole lives ahead), they discover there is no mobile phone reception (oh dear), Sam gets scared by a barking dog (a warning).
The next day they discover that the tent of Rob, Margaret and their children Em and Ollie has been abandoned. Power combines predictable tropes with bland yet pleasant characters so they are easy to identify with. That frees us up to get to what's really bothering us.
Despite the physical harshness of Australia, our fear of the land is largely intangible even when humans are the bad guys, like German and Chook. Carl Jung wrote that Aborigines "assert that one cannot conquer foreign soil, because in it there dwell strange ancestor-spirits who reincarnate themselves in the new-born".

Interestingly, Aboriginal actor Aaron Pedersen said (of his character) "…that the land was sick and therefore German was infected by it". In Picnic at Hanging Rock, everyone's watches stop at midday. Three schoolgirls and their teacher mysteriously vanish while climbing the rock, and two other students become disoriented. In The Cars That Ate Paris, Arthur makes numerous attempts to leave the outback town but is trapped.
Power plays with this in a few ways, such as a non-linear in structure which creates unease. Shots go back and forth in time, forcing us to piece together who was the first victim. Em, the teenage daughter of the family who owns the tent, has a nightmare and her parents talk about getting dream therapy for her. Once all the characters are visibly in the hands of German and Chook, the typical 'cat and mouse' game that follows keeps nerves running until the end.
It is worth noting that German was not intentionally cast as Aboriginal. Pedersen introduced this layer of depth after he was approached to play German.
"I did say to Damien that it would give it more gravitas, more weight, with the knowledge that what was initially a killing ground is now a camping ground…" Was this just meant to be a scary film?
If Power set out to make nothing more than a scary film, it shows just how deeply this narrative is ingrained in our psyche. Perhaps with the help of Pedersen, Power tapped into the broader shifting of consciousness in Australia and made a film that uses predictability to drive home the message that our country has a history that needs to be acknowledged.

Donate To New Matilda
New Matilda is a small, independent media outlet. We survive through reader contributions, and never losing a lawsuit. If you got something from this article, giving something back helps us to continue speaking truth to power. Every little bit counts.