A prominent Indian journalist was assassinated in early September, sparking outrage and protest around the country. Harsha Prabhu reports.
It was Shehla Rashid Shora, former Vice President of the Jawaharlal Nehru University student union, who nailed it. Speaking outside the Delhi Press Club at a pop-up action to protest the killing of Gauri Lankesh, she said: "This bullet was meant for each of us."
The bullets that took the life of journalist and activist Gauri Lankesh were fired at her while she alighted from her car at her home in Bengaluru, Karnataka, late on Tuesday, 5th September.
While the case is still under investigation, Lankesh's murder appears to point to a criminal, terrorist conspiracy whose likely origins lie in the climate of hate and division engendered by the Hindutva right wing forces in India.
Climate of hate
This was a theme echoed by many at the action to protest Gauri Lankesh's death at the amphitheatre in Mumbai's suburb of Bandra last Wednesday.
Activist Teesta Setalvad said: "Along with remembering the murders of freethinkers, we'll also have to remember those who were murdered by gaurakshaks (cow-protectors). Be it bullets or lynchings, it's the same crime. This is the result of the work of those who spread hate and poison. All Indians live in fear today. Whether on a train or a bus, they can't speak freely, can't eat or drink what they want. All this is being done in an organised manner, so we need to have a collective response."
Feroze Mithiborwala, secularist and convenor of Bharat Bachao Andolan (Movement to Save India) said: " When I heard about the attack, the first thing that came to my mind was Teesta Setalvad. Testa, we are with you today."
Teesta Setalvad had invited the Modi government's wrath by being an indefatigable fighter for the rights of those affected by the Gujarat 2002 pogroms against Muslims. She has pursued cases on behalf of the victims that have resulted in the conviction of BJP and Hindutva functionaries. The Modi government has responded by registering cases against her NGO, a Ford Foundation-supported charity that publishes an online magazine whose motto is 'Hate Hurts, Harmony works'.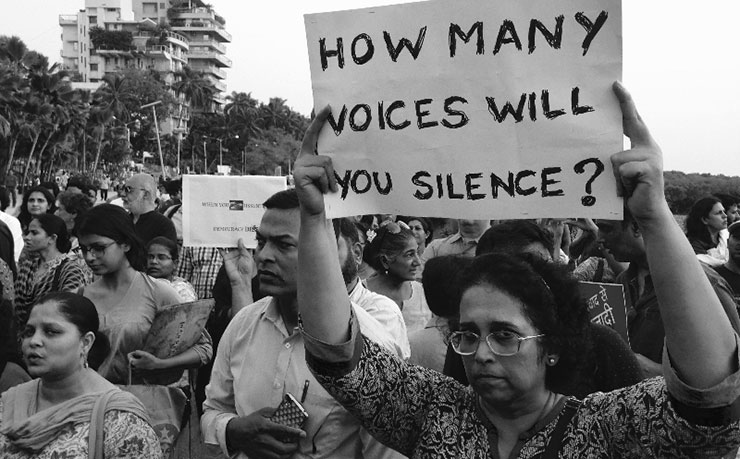 Mithiborwala said: " Are we very clear we stand against all forms of religious fascism? All forms of communal violence? Be it Hindu or Muslim fanatics, we stand against them all?"
The assembled crowd of several hundred roared, 'Yes."
He went on to say: "We are defending this country, defending Ambedkar and Nehru's constitution, defending our freedom struggle, the struggle of Mahatma Gandhi… these are the values upon which we have assembled today. These are the values for which we may have to die. That is what Pansare, Dhabolkar, Kalburgi and Gauri Lankesh have taught us. We will take back out streets, we will take back this great country of ours."
People broke out into the anthemic chant made famous by Kanhaiya Kumar at the Jawaharlal Nehru University protest in 2016: "What do we want?" And the crowd responded: "Azaadi ( freedom). Hum sub ek Hain (We are all one). Sangharsh hamara nara hain (Struggle is our slogan)."
Irfan Engineer, Centre for Study of Society and Secularism, said: "It's not just the murder of some individuals, it's the murder of Indian democracy. What's important is not who fired the bullet; what's more important is the rising intolerance in the country since the last three years. This government is fanning the flames of hatred and rewarding people who indulge in such actions with ministerships." This last was referencing the Modi ministry, which features politicians who have criminal cases pending against them, including crimes against women, assaulting doctors and Muslim-baiting.
Nandita Das, actress and filmmaker, said: "The problem is the culture of silence. We are all scared. Since nothing was done to catch the killers of Kalburgi, Pansare and Dhabolkar, they will be emboldened and be at out door tomorrow. If not for the abstract rights of others, we have to speak out for our own safety. We have to mobilise and come together."
Speaking of the need to speak up and not be silent in these dark times, Bollywood actress and activist Shabana Azmi began with a quote from her father, poet Kaifi Azmi: "Honton ko see ke dekhiye pachchtayiga aap. Hungame jaag uthte hain aksar ghutan ke baad."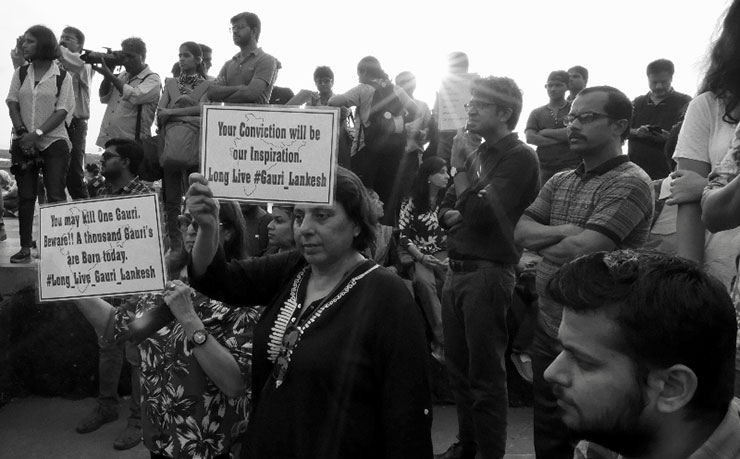 It roughly translates as: "Try sealing your lips and you will regret it. Remember, repression has always awakened storms."
She ended with a quote from the Pakistani poet Faiz Ahmed Faiz:
"Bol, ke lab azaad hai tere:
Bol, zabaan ab tak teri hai,
Tera sutwan jism hai tera –
Bol, ke jaan ab tak teri hai."
Speak, for your two lips are free;
Speak, your tongue is still your own;
This straight body is still yours –
Speak, your life is still your own
(Translated by V G Kiernan)
Speaking in Marathi, Gandhian activist and union worker, Bajarang Sonawane, said: "We won't allow you to change the constitution that Dr Ambedkar wrote. You want to rule via religious texts, but we want to follow the constitution. We won't be silenced."
Another speaker said: "After this rally we'll go home, but we will not be quiet, we will not stop speaking out."
The protest ended with a rousing rap performed by Sense, a trio from Dharavi, India's largest slum. The original was in Mumbai Hindi, laced with street slang; this is a rough translation:
Listen all, this is India's debacle
Who gains from the sacrifice of these brave people?
Wherever you look, there's corruption
We don't need the kindness of these politicians
Who have expanded India's corruption
And given rise to poor people's tension
And the price of Parle-G bikkies has gone up, why don't you mention.
Raise you voice, claim your rights,
Let the typhoon of peace arise.
Condemnation
While Hindutva's many trolls on social media celebrated the killing of Gauri Lankesh – a twitter handle followed by PM Modi went on to say, "Ek kuttiya kutte ki maut kya mari, saare pille ek sur mein bilbila rahe hain (It took a bitch to die a dog's death, for all pups to howl in the same tune) – Lankesh's murder was met with grief, anger and condemnation by most civil society organisations and people from across the country.
Asmita Basu, Programmes Director at Amnesty International India, said: "The killing of journalist Gauri Lankesh raises alarms about the state of freedom of expression in the country."
Journalist unions across India, including the Delhi, Bengaluru, Hyderabad and Mumbai press clubs, the Indian Women's Press Club and the Editor's Guild, condemned the killing of Lankesh, with some holding vigils on Wednesday. Rallies were also held in Delhi, Mumbai, Bengaluru, Hyderabad and other metros, with more actions planned in the coming days.
Gauri Lankesh and the copy-cat killings
Gauri Lankesh was the daughter of acclaimed modernist Kannada writer and journalist, P Lankesh. She stared out working for mainstream media like The Times of India and Sunday, but, after her father's death, stepped into his crusading shoes.
She started her own Kannada weekly, Gauri Lankesh Patrike. Lankesh was a passionate advocate for the underdog, be it women, Dalits, Muslims, students or leftwing activists. She was a mentor to many budding journalists and a 'mother' to several young activists including Kanhaiya Kumar, former president of the Jawaharlal Nehru University (JNU) Students Union and Umer Khalid, human rights activists and JNU student, both arrested under sedition laws by the Delhi police for allegedly raising anti-Indian slogans at a rally to discuss Kashmir. The charge was found to be based on fake videos.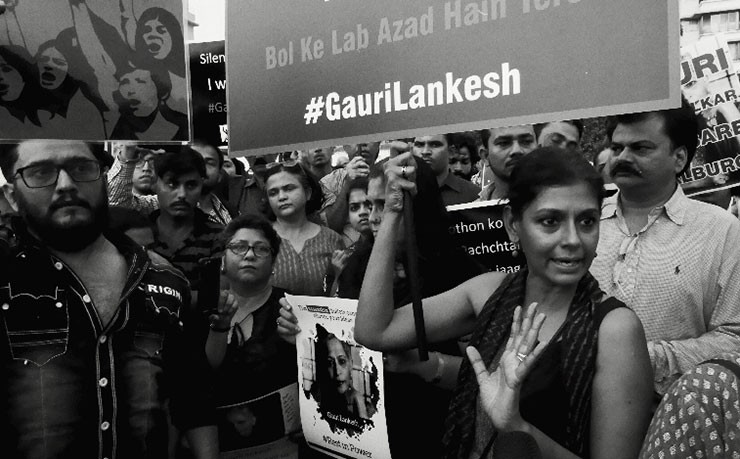 Gauri Lankesh was also a mentor to activist Shehla Rashid Shora, also from JNU; and Jignesh Mevani, Dalit lawyer and activist, who has lead marches to protest the lynchings of Dalits and Muslims. She was also a critic of the policies and actions of all governments, including the Congress, but reserved her most trenchant criticisms for the BJP and the Hindutva right.
Indeed, Lankesh's murder shares a pattern with similar murders of freethinkers and intellectuals, including: Narendra Dhabolkar, in Pune, Maharashtra, in August 2013; Govind Pansare, in Kohlapur, Maharashtra, in February 2015; and MM Kalburgi, in Dharwad, Karnataka, in August 2015.
Dhabolkar was a doctor who campaigned against superstition and fake godmen, including Asaram Babu, currently under investigation for sexual assault against a minor.
Pansare was a communist who wrote a controversial biography of Hindutva icon, Shivaji and campaigned against the Hindu caste system and the glorification of Nathuram Godse, the man who killed MK Gandhi.
Kalburgi was a scholar, author and academic whose work on the 12th century anti-caste poet-saint Basava attracted the wrath of Hindu right wing organisations, including the Vishwa Hindu Parishad, Bajarang Dal and Shree Ram Sena.
All four were shot by men on motorcycles using a country-made revolver in what commentators are calling copy-cat killings.
The investigations of Dhabolkar's murder led to the arrest of a member of the Hindu rightwing outfit, Sanathan Sanstha. The Sanstha, a shady and secretive organisation headed by a hypnotist guru, is headquartered in Goa, with branches in many countries, including Australia.
Police suspect at least two of the murders, that of Pansare and Dhabolkar, are linked, but critics of the investigation are pointing towards a wider conspiracy.
Criticising the slowness of the investigations, the Bombay High Court recently said: "These are not acts committed by a person or two. The reports indicate that this is a completely organised set up."
Hindu Rashtra
Is the murder of Gauri Lankesh and the other freethinkers part of a conspiracy hatched by Hindutva?
No-one suggests the BJP's top brass are directly involved in the killings. But their responsibility for engendering the climate of intolerance that inspired them is another matter.
Indian PM Narendra Modi's own past hangs under a cloud of allegations, including that he was somehow involved in the pogroms against Muslims in Gujarat in 2002, while he was CM.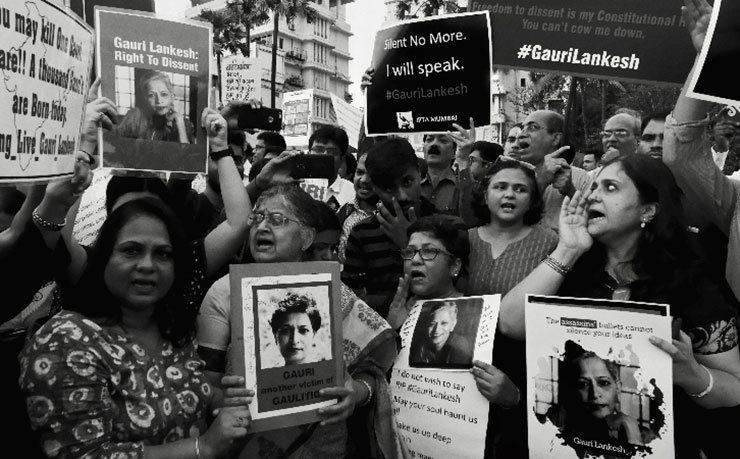 While Modi was cleared by the Supreme Court appointed Special Investigation Team (SIT), there are serious questions about how this enquiry was conducted. Critics have pointed out certain shortcomings in the probe: from the available evidence, while Modi was interviewed by the SIT, it does appear he was never cross examined (interestingly, the officer responsible for that SIT investigation was just rewarded with an ambassadorship by Modi's government).
Modi has since gone from strength to strength, winning elections by playing the communal, anti-Muslim, anti-Christian, anti-minorities card. His mentors include the neo-fascist organisation, the Rashtriya Swayamsevak Sangh (RSS), whose heroes are Hitler and Mussolini. The RSS was implicated – and even banned for a short while – for the murder of MK Gandhi in 1948, as part of newly independent India's first Hindu terrorist conspiracy.
It is this same RSS that wants to establish a Hindu Rashtra (Nation) in India. It's the un-elected RSS that's working through the elected BJP government of Narendra Modi to realise its re-designing of the Indian republic.
Hindutva terrorism casts a long shadow. Karnataka BJP MLA and former minister, Jeevraj, declared on Wednesday that Gauri Lankesh would still be alive today if she hadn't written so critically about the RSS.
India's democracy is clearly at a critical crossroad.
Whether it will survive in the shape it's founding fathers fashioned it – a secular, democratic republic where all are equal under law – might actually depend a lot on whether civil society can maintain the rage.
Will the killing of Gauri Lankesh lead to a thousand Gauris being born, as one of the placards at Mumbai's action prophesied?
Will the spirit of Gauri – one of the names and forms of the goddess in India – reborn in many, kill the demon of Hindutva and save Indian democracy?

Donate To New Matilda
New Matilda is a small, independent media outlet. We survive through reader contributions, and never losing a lawsuit. If you got something from this article, giving something back helps us to continue speaking truth to power. Every little bit counts.