Australian mining companies – with the help of the Labor and Liberal parties – have got their eyes fixed firmly on Africa. Lucy Manne, Head of Campaigns at ActionAid Australia worries about the price Africans (and the rest of us) will pay.
This week, Australia's Minister for Foreign Affairs, Julie Bishop, will speak at the annual 'Africa Down Under' conference in the intimate and luxurious surroundings of Perth's 5-star Pan Pacific Hotel.
At more than $1,700 a ticket, this exclusive event will give Australia's mining sector the chance to rub shoulders with key government representatives from Australia and across Africa. The conference literature is clear: this is an event to court Australian mining companies as they look to extract the still untapped wealth hiding in the "ancient land mass of Africa… without question the world's greatest treasure trove."

That "treasure trove", and the men (yes, men, just look at the presenters list – of the 71 speakers currently listed, 68 of them are men) seeking to raid it, should be of great alarm to us all. There are now more Australian mining corporations operating in Africa than from any other nation and later this week, ActionAid Australia will release a report showing for the first time, just how much African coal Australian mining companies have in reserve.
As we finalise the data, an alarming picture is emerging. Australian coal mining in Africa could well push us over tipping points, into dangerous climate change beyond 1.5 degrees.
Despite the immensity of this threat, Australian mining companies operating in Africa have accomplished a rare feat in Australian politics: bipartisan support.
It is of little surprise to find Julie Bishop in attendance at the Africa Down Under conference. The Liberal's febrile enthusiasm for coal is well-known. But this year's Africa Down Under conference will also be graced by the Labor Premier of Western Australia, Mark McGowan, and Tanya Plibersek, in her role as Shadow Minister for Foreign Affairs and International Development, featured as one of the most notable and high profile speakers at the conference last year.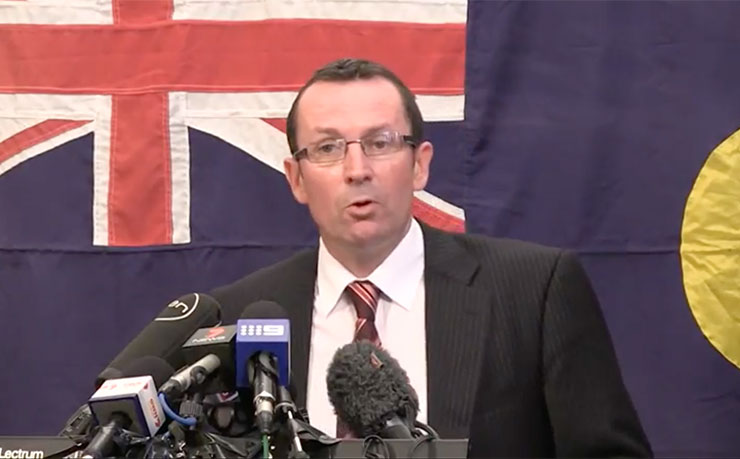 Perhaps the most galling aspect of this unilateral support for Australian mining corporations in Africa, is the wilful blindness both sides of politics have shown to the impact of Australian mines on African communities.
The Africa Down Under conference will celebrate Australian mining as a gift to the African people, a generous deal that will provide much-needed global investment in African communities. In response to the Sustainable Development Goals, in fact, the Australian-Africa Mining Industry Group asserted that the industry would be "vital in efforts to permanently lift millions of people out of poverty". With Australia's aid to Africa at an all-time low, both sides of politics will attempt to position private-sector investment as a means to fill the aid gap.
In truth, the Australian mining industry has not only failed to relieve the burdens shouldered by remote African communities, but there is evidence that the legacy for mining communities has instead been one of human rights abuses and "environmental ruin."

The 2015 award winning International Consortium of Investigative Journalists project, Fatal Extraction, revealed that since 2004, the Australian mining industry has been directly associated with 380 deaths in "mining accidents or in off-site skirmishes connected to Australian publicly-traded mining companies in 13 countries in Africa". The report also details the systematic violation of worker's rights, including a lack of proper health and safety protections for mine workers and the "toxic trail" left by mining companies that has destroyed both rivers and land.
ActionAid's own experience working with women in mining communities in both Mpumalanga and Limpopo provinces in South Africa confirms that the global mining industry has fuelled significant women's rights violations. For women living in mining affected communities in South Africa, the coal industry has resulted in food insecurity, an increased burden of unpaid labour, chronic health problems and environmental pollution.
The UN Special Rapporteur on Violence against Women, Ms Rashida Manjoo, also found on her 2015 mission to South Africa, that women miners are exposed to extremely high levels of violence and rape. Women miners constitute a minority group underground and are routinely victims of sexual violence, harassment and abuses, such as male employees demanding sex from female subordinates.
This is the industry that our Government will be spruiking at the Africa Down Under conference this week. This is the industry our Government will be calling a compassionate economic investment in Africa's most vulnerable communities.
Not one of the leaders present at this week's conference – Australian or African – will address the environmental or human rights abuses that are the stark and brazen elephant in the room.
Their silence is predictable, and must be broken.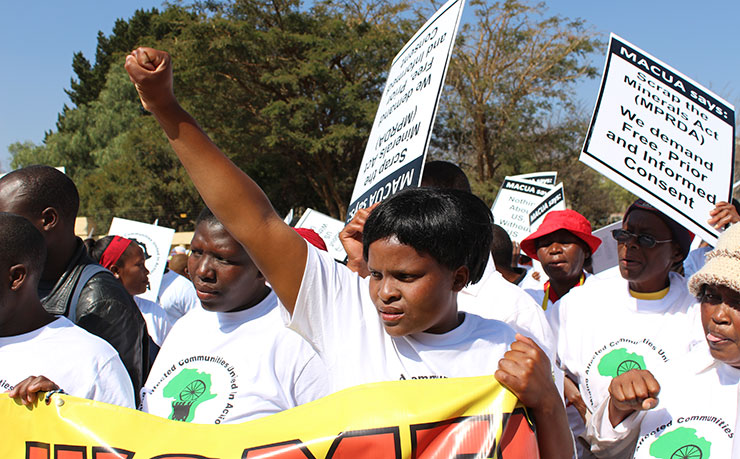 Francina Nkosi, a representative from a community impacted by the Australian mining industry from South Africa will travel to Perth this week to make sure these truths are heard. Nkosi has been on the frontlines of the abuse experienced by African mining communities at the hands of Australian corporates.
Nkosi and ActionAid are calling on Julie Bishop, who has made strong commitments to support women's rights, to meet with her and hear her concerns about Australia's investment in coal mining in Africa.
Julie Bishop has yet to respond, but it will very likely remain up to the Australian public and Australia's committed networks of environmental and human rights activists to make sure Nkosi is given the platform she deserves.
Nkosi's is a powerful voice and one that will stand not only for the African communities whose human rights are at risk, but for the welfare of a desperately compromised climate, upon which we all depend.

Donate To New Matilda
New Matilda is a small, independent media outlet. We survive through reader contributions, and never losing a lawsuit. If you got something from this article, giving something back helps us to continue speaking truth to power. Every little bit counts.