Another day, another disgusting chapter in the Australian Football League's racist history. Chris Graham explains.
As the racism scandal surrounding Héritier Lumumba continues to grow, his official Facebook page has been swamped by trolls in a frenzy that's reminiscent of the hate directed at Aboriginal star Adam Goodes, when he stood against AFL racism several years ago.
The more things change…. although, black men have always had a place in the AFL, provided they 'know their place', which is to keep their mouths shut.
Last week, Lumumba published this post on his Facebook page, in which he revealed how he was called 'Chimp' by team-mates at Collingwood. The post was the subject of a New Matilda story yesterday, available here.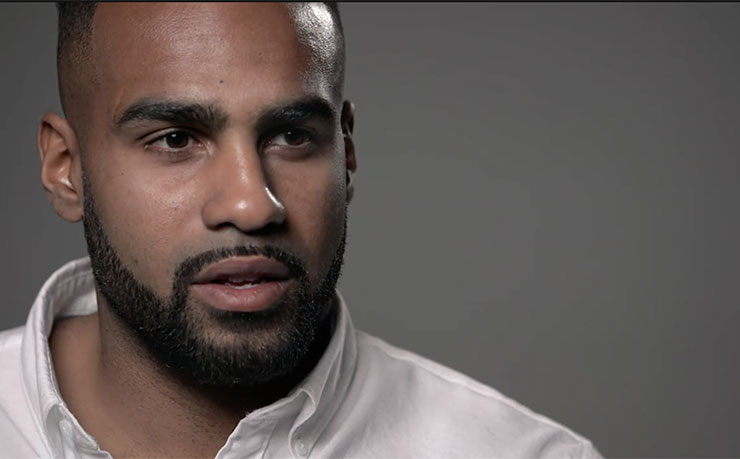 At the time of press, almost 600 comments had been added to Lumumba's wall. No prizes for guessing which way some of them went.
The general consensus appears to be that Lumumba (and Adam Goodes, of course, the favoured target of rednecks everywhere) are the ones who are racist, and the victims are actually the long-suffering AFL fans who've had to endure 'Blacks' and 'Aborigines' shooting off at the mouth because they don't know how good they've got it.
And that's some of the milder stuff. The language is pretty bad, although the spelling and grammar is arguably worse.
There's this, from 'Sam Italiano':
"You are an absolute fucking idiot…. an attention seeking flog. You're the sort of modern day fuckwit who gets offended walking past a blackboard. You actually took time off to mourn the death of bloke u didn't even fucking know! You've got issues and u need fucking help…… Adam goodes…. plz…. he's finished from football not cause he's black, not cause he's aboriginal but because he's a fkn wanker. The bloke took every opportunity he could to drive a divide between black and white and found every excuse possible to never try and bring the 2 together….. funny how a bloke like Eddie Betts who's copped a lot of racist shit which is terrible, can understand that the stupidity of a couple of people is not reflective of a country of people. Amazing how people can sympathize, respect and love him even more….. that's how u bring the 2 together. Not by being a self indulgent fuckhead."
'Italiano's' comment has already gathered around 500 'likes'.
'Kevin Elms' works himself into a frenzy not once, but several times:
"I know Aboriginal and black People who if called this nick name at there job or sporting club WOULD LOSE there shit on the spot !! So why would you have played so long at a club that called you this ?? Why not then when called it stand up for ya self and walkout ? Your a Flog !!"
And then he added this:
"Not racist but thought you where a cock Smoker when u played. Your not playing and your still a cock Smoker"
This one from 'Shane Smith' is one of the more unintentionally idiotic:
"How is collingwood racist its colours are black & white. There would of been a few jokes thrown around the club (as happens in every club) as mates do. But in no means would of been intentionally racist!!! Harry gee you played how many games for collingwood getting payed good money for how many years but put up with this so called racist slurs doesn't sound right to me mate. Move on & live your life"
The other consistent theme in the comments is that Lumumba didn't 'stand up' when he was at the club, because the money was too good. In fact, Lumumba raised social issues with the club numerous times, at one point addressing the entire playing group about racism, and later objecting to a homophobic poster in the dressing room. His consistent highlighting of issues marked him as a troublemaker, and he ultimately left the club because of it.
The scandal continues to gather pace, with other AFL players expected to speak out this week on their treatment by the AFL, and Collingwood.
SBS is preparing to air a documentary called Fair Game on Sunday, September 3 which focuses on Lumumba's treatment at the club. You can catch it early via their On Demand website.
Despite all this, the AFL has remained silent on the issue, save for this video posted on the AFL's official website, where a smirking Collingwood coach Nathan Buckley smears Lumumba as having 'mental health issues' and claims to have never heard the nickname 'Chimp'.
There is, it's worth noting, also considerable support for Lumumba on his page. But for now, here's a very small sample of the redneck rubbish fire now burning out of control.
Donate To New Matilda
New Matilda is a small, independent media outlet. We survive through reader contributions, and never losing a lawsuit. If you got something from this article, giving something back helps us to continue speaking truth to power. Every little bit counts.