If you want to know how to really show disdain for women, then look to the global alcohol industry, writes Chris Graham.
As most readers would know, last year New Matilda got involved in a start-up based out of Adelaide, called the Sparkke Change Beverage Company.
Sparkke is a tiny company run out of a garage. All of the team are women, and half of the Board (two folks, including me) are women.
Sparkke has launched four products since it started, and we're poised to launch the fifth very soon. Our crowdsourcing campaign for 'Say I do' ends Sunday night, so if you want to be part of the first batch of the first 'white white bubbles in a can' ever launched in Australia, you've only got a few hours left.
In the meantime, I've put a 'bit more meat on the bones' of why Sparkke exists, and why I think it's an important company to support.

In her pitch to New Matilda to convince us to get involved, one of the brainchilds behind the Sparkke brand, Kari Allen, coined the phrase 'pale, male and stale' to describe the 'beer industry' in Australia and globally.
It's a phrase that stuck with me, in no small part due to the fact that I'm definitely male, and indisputably pale… although as a comparatively childish 45 year old, I reject the tag of 'stale'.
Even so, the Dominance Of Men in the alcohol industry is undeniable. And when you look closely into it, it's actually quite shocking. So are the ethics of the major alcohol companies.
Below is a guide to the five biggest alcohol companies in the world. Needless to say, there's good reasons why companies Sparkke are needed, and need your support.
You can check out Sparkke's Say I do campaign here. In meantime, strap yourself in.
1. Anheuser-Busch InBev: Belgium
You might know Anheuser-Busch from such brands as… well, if you drink mass produced commercial beer, then you're probably drinking something one of theirs. They own six of the top 10 selling beers in Australia.
That includes the iconic 'Australian' brands of VB and Fosters, anything 'Carlton', plus Cascade, the Great Northern Brewing Co, Matilda Bay (which includes Fat Yak, Redback and Beez Neez), KB Gold, Melbourne Bitter, NT Draught, Pure Blonde… etc etc etc.
Anheuser-Busch InBev has 15 members on its board. Just two of them are women. Their senior management team includes 21 people. All but one of them are men.
Budweiser, Corona and Stella Artois are just three of more than 500 brands owned by the mega-corporation. A few years ago, they bought the second largest brewer in the world – SAB Miller – forming a massive beer company which is more than twice the size of its nearest competitor. And of course, this is how the "big boys' behave….
In October 2015, Anheuser-Busch InBev was pursued by the US Department of Justice for buying up beer distributors and then restricting sales of competitors' beers.
Six months later the company was investigated by the European Competition commission amid allegations it abused it dominant position in the Belgian market.
Another year down the track, Anheuser-Busch InBev caused outrage int he craft beer industry in the US when it blocked access to virtually the entire South African hops market, by buying up the biggest producers in a series of acquisitions.
A month later it emerged Anheuser-Busch InBev had bought a non-controlling stake in global beer rating website www.ratebeer.com.
Here's a story on the Bud Light advertising, which included a tagline about 'removing no from your vocabulary' when you drink their product.
And here's a Corona ad for you to enjoy from 2010, featuring a group of boys who go on a surf trip down the Mexican coast, accompanied by their loyal girlfriends who wait on the beach, to be serenaded at night by guitar in front of a fire… because girls don't surf, and can't play music.
2. Heineken Holdings: Netherlands
The second largest beer company on earth is also one of the most notoriously dishonest.
In April 2007, Heineken was fined almost $264 million for leading a price-fixing cartel across Europe (InBev, later acquired by Anheuser, was part of the Cartel), by conspiring fix prices and price increases across Europe. At the time, Heineken controlled half of the European beer market.
Five years later, Heineken was still contesting the fine in court. They eventually lost their final appeal in 2012.
Of the executive and supervisory board members listed for the company, four women occupy 12 positions. The company lists 15 people in their executive team and leadership structure. Thirteen of them are men.
As to how they advertise their products, Heineken has gotten in trouble many times for the misogyny in its advertising.
This one is hard to top.
3. Kirin Holdings: Japan
A whole swag of brands you might think are Australian are not. They're Japanese. Emu Brewery, James Boag, James Squire, Little Creatures, Swan Brewery, Tooheys, West End, even the legendary Castlemaine XXXX – producer of XXXX Gold, the most Popular beer in Australia – are all foreign-owned.
Kirin's "Board Members, Auditors and Executive Officers" lists 14 people, 12 of them are men.
As for misogyny, you can choose from any number of ads for different brands from Kirin. One of the most overt is probably James Boags, a former Tasmania brewer.
Virtually all of the Boags ads have been staggering in their misogyny. This one – where a guy pushes his girlfriend into a lake so she can come out 'wet and better' – is among the worst.
4. Diageo: United Kingdom
Until recently, Diageo – a British owned multi-national – was the world's largest distiller (it was knocked off by Chinese company Kweichow Moutai for the top spot in April). It's also a major producer of beer.
In 2016, the company reported revenues of more than 15 billion pounds. Their products include iconic brands such as Smirnoff, Johnnie Walker (the world's best-selling blended Scotch whisky), Baileys (the world's best-selling liqueur), and Guinness (the world's best selling stout).
So how do they fare in terms of their representation of women? Comparatively, Diageo is a bit of a standout. Out of 11 board members, four of them are women. Not quite parity, but much better than their competitors.
Unfortunately, they don't fare so well when it comes to advertising their products*. Among their swag of products, Diageo owns Bundaberg Rum, a drink they advertise to Aussies as 'Unmistakably Ours'.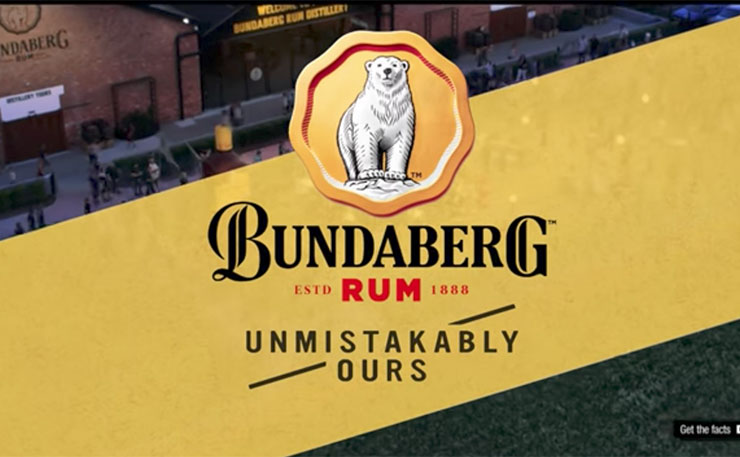 Obviously, it's unmistakably British. It's also unmistakably misogynistic.
Bundy Rum ads are notorious for their 'blokeyness'… here's one where a group of Aussie blokes trick some archetypal 'hot Swedish tourists' into drinking with them by scaring them with a 'drop bear' falling out of a tree. Because women are easily frightened, and best in the company of men.
5. Asahi Group Holdings: Japan
You'll probably know Asahi best for their beer of the same name, or their Vodka Cruisers, one of a suite of alcopops that hit Australia few years back and which was widely accused of being marketed directly towards children. Asahi also own the 'Australian brand' Mountain Goat.
The company lists 15 members of its "Board of Directors, Audit & Supervisory Board Members and Corporate Officers". Just two of them are women.
By beer advertising standards, Asahi are generally quite a bit less sexist than their counterparts… but they're coming off a low base.
Here's a recent commercial which has two men playing chess (and drinking Asahi as they go) for the right to go home with a woman.
Support Sparkke
Please consider supporting Sparkke, and New Matilda, by getting involved in our crowdsourcing campaign to launch Say I Do, the first 'white wine bubbles' ever released in a can in Australia.
Sparkke is based out of a garage in Adelaide. The management team is 100 per cent women. The Board of Directors is 50 per cent male, and 50 per cent female (the author of this is one of two directors).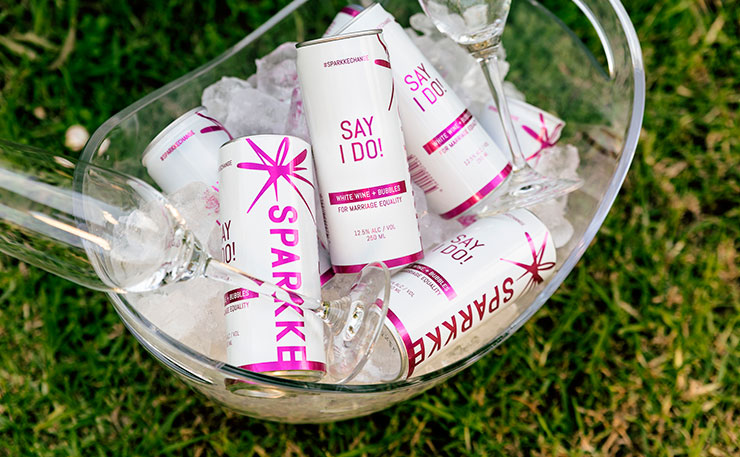 Sparkke's products specifically target misogyny, along with changing the date of Australia, asylum seekers, marriage equality and sexual consent.
Sparkke's products are mostly mid-strength (to promote responsible drinking) and are not targeted children. All sales help build a small, ethical brand, and will help New Matilda produce great independent journalism.
* The original version of this article included a link to a video purporting to be advertising Guinness. The video was pretty appalling… it was also a hoax. The error was the authors (although in his defence, it certainly didn't appear to be any more extreme than the average alcohol commercial). Needless to say, apologies to readers. Shoulda fact-checked harder.

Donate To New Matilda
New Matilda is a small, independent media outlet. We survive through reader contributions, and never losing a lawsuit. If you got something from this article, giving something back helps us to continue speaking truth to power. Every little bit counts.