The One Nation Senators had planned to address the Jewish community in Melbourne. They didn't even make first base. Michael Brull reports.
The Herald Sun loves to claim that white people saying racist things are being silenced for their totally reasonable and legitimate concerns about minority communities. It has already begun to spin the shocking tale of the day that far leftists silenced One Nation and stopped them from addressing a Jewish audience in Melbourne.
It is hard to take those claims seriously. What really happened is that a small but diverse group of Jews intended to protest One Nation. Rather than face a few hundred protestors, One Nation cancelled the event. There is no evidence that any violence was being planned, let alone that the heavy police presence would have been unable to contain it.
It appears that One Nation simply wanted to avoid the unpleasant spectacle of being confronted by Jewish protesters.
The 'anti-Semitic persecution' of One Nation
The invitation to One Nation's Senators Malcolm Roberts and Pauline Hanson came from Avi Yemini. Yemini lives in Melbourne, and founded IDF (Israeli Defence Force) Training. Aside from teaching Israeli martial art Krav Maga, it also teaches "its members to use firearms like elite Israeli army snipers", according to Bianca Hall.
He also offers to "help Australians join the Israel Defence Forces". Writing to gym members, Yemini explained that "we help people interested in joining the IDF, by supporting them through the process of applying from Australia and ensuring their training is top notch so that they are physically prepared".
"People will compare what we're doing to Islamic State, but people need to remember there's a big difference," said Yemini.
Yemini is a big fan of One Nation. And Andrew Bolt. It is hard to know what they might have in common.
About a week ago, Yemini commented on a story about Waleed Aly. Yemini explained "If we'd got our immigration policy right all those years ago, we wouldn't be stuck with this POS on our TV screens every night. Time to send Waleed home. #sickofhisshit".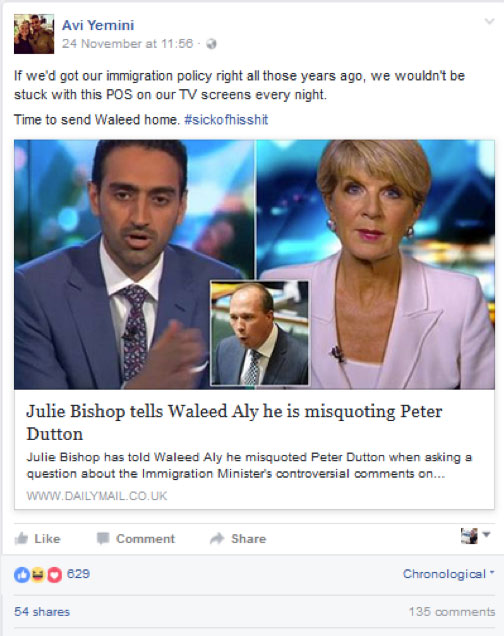 When one of Donald Trump's advisers was reported identifying Islam as a cancer, Yemini said "I'm feeling safer already".
Yemini apparently originally intended to book out a hall from Glen Eira City Council, but failed to fill out the necessary paperwork. Yemini concedes this is the case, but claims it was used as a pretext to deny them the space.
Roberts may have slightly tarnished the credibility of their case when he claimed that "Yemini has been targeted because he is Jewish". He concluded that this "bigoted cancellation" demonstrated "deep-seated and appalling anti-Semitic behaviour".
Fairfax reported that four of the nine councillors are Jewish. Roberts alleges that the Council said in a phone call they would "never" accommodate such a gathering, presumably because of their deep-seated anti-Semitism.

According to AIJAC, Roberts appears to have gathered his anti-Semitic persecution theory from Yemini. AIJAC explained that "four of Glen Eira's nine councillors are Jewish, and it regularly hires its venues to Jewish groups, so it seems very clear that the allegation of antisemitism was completely baseless."
Glen Eira Council similarly rejected Yemini and One Nations' claims. Glen Eira Mayor Mary Delahunty said that "Council's facilities are available to all, but at short notice and at one of the busiest times of year, we were unable to safely accommodate a venue for 100-plus people plus the associated protesters and demonstrators without cancelling other long-held private bookings or community services on the day… The comments made by One Nation Senator Malcolm Roberts that the council is anti-Semitic are highly offensive".
Councillor Joel Silver, who is Jewish, was also outraged at the accusations.
"Australia's premier fascist party is coming to the Matzah Belt"
When the event was announced on 16 November, the Facebook page Jews Against Fascism shared the news, commenting "Australia's premier fascist parliamentary party is coming to the matzah belt."
Scheduled for Sunday 4 December, they had about two and a half weeks of notice. An organising collective of six Jews formed, to protest the coming event. I interviewed two members of the collective, Jordy Silverstein and Bracha Rafael.
Jordy was designated the media spokesperson for the group. She told me that of the collective, some are "involved in the AJDS (Australian Jewish Democratic Society), some independent activists, some from Jews against Fascism, all Jewish. We share an anti-fascist, anti-racist perspective." She said that, "We've all done work in Jewish organisations, as well as in Indigenous solidarity, refugee solidarity, feminist and queer spaces. Some of us are from Holocaust survivor backgrounds, and we mostly have family histories of involvement in the Jewish community. Some of us attended Jewish schools and youth movements, others didn't."
Jordy is on something like the radical left of the Jewish community. My impression is that Bracha is closer to the centre left. As a child, Bracha attended Beth Rivkah Ladies College, a Melbourne Chabadnik school. Bracha then spent a gap year in Israel studying Judaica with the religious Zionist youth movement, Bnei Akiva. Coming back to Sydney, Bracha became a youth leader at politically non-partisan Jewish youth movement Hineni for a few years. She was also briefly involved in the Australasian Union of Jewish Students.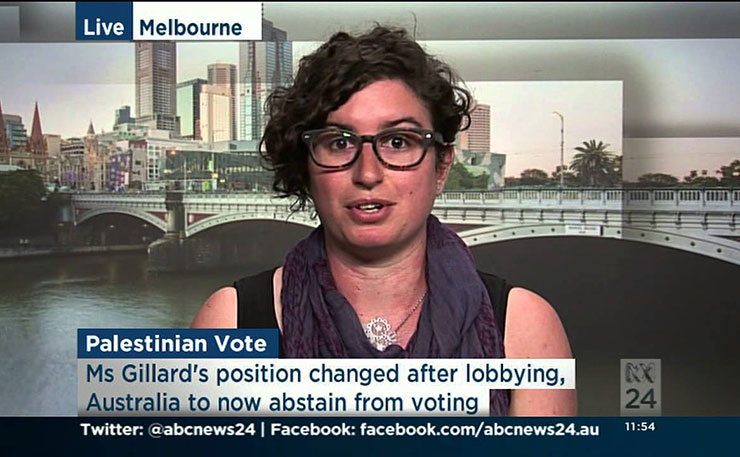 Bracha became the editor of online Jewish magazine Galus Australis for about 18 months. She is a member of an "inclusive orthodox" synagogue called Shira Hadasha, and has been involved in various interfaith dialogue initiatives and organisations.
When I asked about her political views, Bracha said that she is not a member of any political party. She is a member of a union, which is affiliated with the ALP.
A few members of Jews Against Fascism announced the protest, created the Facebook event, started reaching out to the Jewish community for support, and did some of the logistic work, such as organising the PA system for the event. Bracha got in touch, and offered to "do my best to make sure that the event involved and was led by a broad cross section of the Jewish community in Melbourne. I put a lot of effort into getting a really ideologically diverse bunch of Jewish groups to attend and speak at the event."
Bracha said her "key role in the protest was to make it very clear that it's not a far left cause to be opposed to Pauline Hanson… in the Jewish community the fringe is to defend her, the mainstream is to be very vigorously opposed and alarmed by the prospect of her coming to address the community."
Bracha was able to attract "people who do not identify as far left, or even as left at all, who don't have a tradition of protest, and were really quite jittery and intimidated by the prospect of turning up to something that to them seems really aggressive." They "would've been there anyway, because it really, really mattered to them".
She was proud that supporters of the protest "spanned to the Liberal Party". She gave as an example Joel Silver, a member of the Liberal Party, and Councillor at Glen Eira City Council. Silver supported the pro-diversity picnic arranged by Bracha during the day of the event.
As the event approached, various Jewish groups denounced One Nation. The National Council of Jewish Women of Australia wrote, "As Jews, we are particularly sensitive to the pernicious nature of racial hatred and hate speech… We stand firm against the policies and politics of those such as Pauline Hanson, Malcolm Roberts and the One Nation Party. We believe that people should not be judged by their ethnic origin or religion, but by their actions towards peace and the harmony of our community."
The small, progressive AJDS wrote that "One Nation senators Pauline Hanson and Malcolm Roberts will be coming to Caulfield to spruik their divisive and racist politics to the Jewish community. Along with many others in the Jewish community, AJDS stands firmly opposed to the ideas which they put forward, standing instead for principles and practices of inclusion, diversity, and real, substantial multiculturalism. When they hold their meeting at a gym on December 4th, AJDS will stand together with many others out the front, making clear that we oppose the hatred and fear which One Nation – like other white supremacist groups internationally – foster in our society."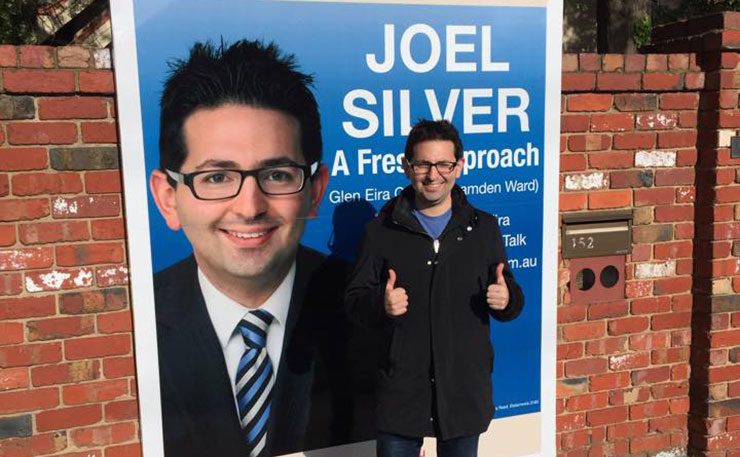 Five Jewish youth movements released a joint statement on the event. They said that "we stand against the upcoming address by One Nation senators, Pauline Hanson and Malcolm Roberts to our community about the issue of Islamic immigration. Statements expressed by those attending are harmful to many members of Australian society, and we do not wish to be associated with any organisation that harbours hateful and derogatory views of others. Giving these people a platform within the Jewish community to speak is harmful, and does not align with the values that we hold as a Jewish community." They "do not believe in the act of discriminating against others based on gender, race, religion or any other factor."
Bracha said that Rabbi Ralph Genende offered to read a statement of support at the protest. Jordy said that Rabbi Jonathan Keren-Black was also supportive.
"The real reason the event was called off was the extent of Jewish community opposition"
Police were planning to "be out in force" at the bowling club where the event was to be held. Yemini said "hundreds" of police were expected. They were expecting 200 attendees at the event, and hundreds of protesters. The Facebook event had some 300 listed as "going". Bracha was hoping for a hundred people from the community to show up for the protest. A picnic for diversity organised by Bracha is still going ahead, and has a few dozen attendees.
On the Jews Against Fascism page, it was always made clear that the plan was for a peaceful protest. In one typical example, they described "our street party to drown out racism and oppose One Nation. Bring your noisemakers – pots and pans, shofars, gaggers – wear loud cloths, and come down to make as much noise as we can. This will be a peaceful but noisy event".
Having been oppressed by the 'anti-Semites' of Glen Eira City Council, One Nation then decided it was also being menaced by Jewish protestors. Andrew Bolt amplified this claim, identifying the Jewish protesters – organised by Jews, some of them descended from Holocaust survivors – as part of a "neo-fascist Left".
I asked Bracha what she thought about claims that violence was being planned. She said "I think that it was really clear from the Jews Against Fascism page that violence was not only not part of the plan, but was actively discouraged. I think that all the groups who committed to come, committed to come for a peaceful protest…. It was pretty clear that the protesters were not coming to start a fight, they were coming to make a statement."
Though the protests against One Nation were organised by Jews, and would have consisted overwhelmingly, if not entirely, of Jews, One Nation announced that the Jews were the real victims. Senator Roberts claimed that "The Jewish community have been intimidated by the horrid and vicious left wing, chased from their communities, and forced to hide by these vile extremists".
This claim is so preposterous I wonder if Roberts is sufficiently in touch with reality to consciously lie.
Hanson's comments suggest traditional political cynicism. She claimed that "her high level of concern for the Jewish Community's safety [w]as the primary reason for the cancellation of the event." It is a little hard to credit that a large police turnout couldn't handle something like 100-200 protesters from the heart of the Jewish community.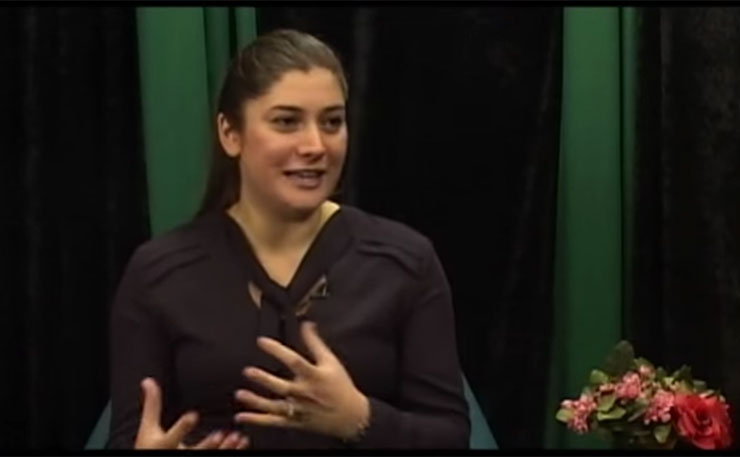 Jordy rejected One Nation's claims as "bogus". She said that "We were planning in cooperation with the Victoria Police a peaceful and safe protest. The real reason the event was called off was the extent of Jewish community opposition to the event. Hanson and Roberts and their Islamophobia are not welcome in Melbourne and not welcome in the Jewish community."
She noted that, "A peaceful but loud protest had been organised by concerned members of the Jewish community. A broad cross section of the community was expected to attend including religious leaders, youth movements, community organisations and social justice campaigners."
I asked Bracha how she felt about the cancellation. She said she was a "little bit relieved, but only in a sense that the urgency has dissipated. But the issue is still there". Bracha "wasn't agitating to have the event cancelled… I was saying: even if it doesn't happen on Sunday, it is going to happen, this issue is not going away."
One Nation absolutely should have the right to address public gatherings in Australia. However, given their propensity for wild accusations, and the publicly available facts of the protest, their allegations should be regarded sceptically unless and until they produce meaningful evidence.
"You do not have anything to offer my community"
I asked Jordy why she protested One Nation. She said:
"We protested One Nation because they're racist and fascist and their Islamophobia, antisemitism, racism and anti-immigrant attitudes are destructive and hateful. We want to be part of creating a community and a society which is oriented towards justice, and that means that the messages which One Nation are [promoting]are not welcome. We protested their coming to Caulfield as a way of standing in solidarity with those who are most subjected to their rhetoric and practice, and as a means of reaffirming an idea and practice of Jewishness which is based on inclusion, and real, substantial multiculturalism, and staunch opposition to antisemitism. We affirm: 'nisht keyn tsedek, nisht keyn sholem' – no justice, no peace."
I asked Bracha why she thought the protest was worthwhile. She said that, "the Jewish community doesn't have the luxury of not having an opinion on Pauline Hanson". She thought that it was "really important for the community" that if a "small number of far-right Jews" turn up to the event, a "larger number of mainstream Jews turned up to make it clear that they were unhappy about this."
I asked Bracha what her message to One Nation would have been if they had turned up. "You do not have anything to offer my community, and my community knows this."

Donate To New Matilda
New Matilda is a small, independent media outlet. We survive through reader contributions, and never losing a lawsuit. If you got something from this article, giving something back helps us to continue speaking truth to power. Every little bit counts.