Social media may have changed the world, but it's also made campaigning to make at least one life better a genuine reality, writes Shira Sebban.
I recently started an online crowd fund to help the families of two Vietnamese citizens, sentenced to jail for trying to seek asylum in Australia. Between them, they have five children aged 4-14, none of whom will be able to attend school without the help of Australian donors.
Mother of three, Tran Thi Lua, has lost her appeal against a 30-month jail sentence imposed by the Vietnamese government for helping organise an "illegal departure" to Australia in a fishing boat last year.
Lua's case has been complicated by the subsequent arrest of her husband, Nguyen Long, by Indonesian authorities, who accuse him of fishing in their waters. He has been detained in Indonesia, his boat and gear confiscated.
Meanwhile, the father of the other two children, Nguyen Minh Quyet, who skippered the boat on its ill-fated Australian journey in July 2015, has lost the use of both his legs while detained in jail in Vietnam.
"The prison officers refused to allow him medical treatment," his wife, Pham Thi Thu Thanh, said. "When I protested and demanded he be taken to hospital, they threatened to paralyse his arms if I would not shut up."
While Quyet has also lost his appeal, he has been allowed to remain at home, cared for by his wife, until he is well enough to return to jail to complete his two-year sentence.
As an Australian, I feel morally responsible for the families of these asylum seekers, who were abandoned to such a harsh fate by our government. They were among the 92 Vietnamese intercepted in two separate incidents by the Australian navy last year.
Assessed at sea and found not to warrant protection, they were forcibly returned after the Australian government received written assurance from its Vietnamese counterpart that returnees would not be punished.
Several members of the two groups have since been incarcerated. Undaunted, Australian authorities have continued to return Vietnamese intercepted in the Timor Sea under the government's Turn Back the Boats policy.
In the face of continued government intractability, it is easy to feel overwhelmed: what can one person do to help? For help I must.
True, in the current political climate, I often feel as if I am in the minority, with most Australians seeming to agree with our government's stance, adamant that "we will decide who comes to this country and the circumstances under which they come". Whatever happened to befriending the stranger?
Thanks to the generosity of some fellow Australians from various cultural backgrounds and walks of life, I was recently able to send $1,500 to each family to help pay for school fees and other expenses, only to discover that the donation had attracted the attention of the Vietnamese police.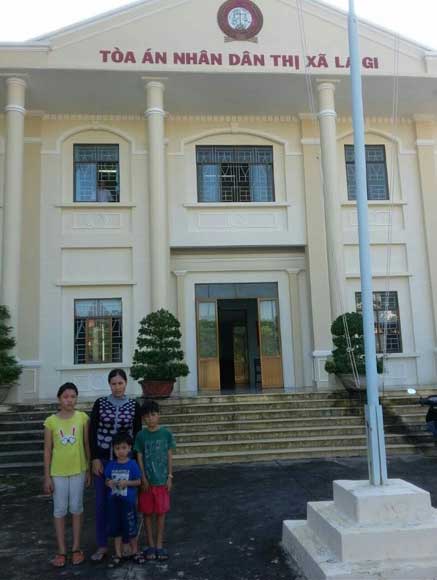 "They keep coming to my house to ask me about the money," Lua said. "They ask where it comes from, what it's for, who sent it. I told the police that it's from foreigners who feel sorry for my situation and decided to help me so my children can go to school."
To make matters worse, she maintains that the police have now prevented her from going to the beach to dig for clams to sell at the market, which has been her only source of income since her husband was detained in Indonesia. "I asked them why people from overseas would help me, while the Vietnamese government does nothing to help and even causes more problems…. It makes me very upset that foreigners care so much, yet the government sees them as enemies."
Lua is only too aware how her jail sentence will impact on her children's future, depriving them of education and work opportunities. "In Vietnam if one person commits what is considered to be a crime, the whole family pays."
Both Lua and Thanh are now too scared to talk to me, the police having come to their homes to threaten that if they continue to speak to people overseas who will say "bad things" about the government online, then both of them will be taken to jail immediately.
The police intervention, however, has made me only more determined to help these families. It all started two months ago, when I first decided to take action, running an online fundraising campaign in support of the family of another Vietnamese failed asylum seeker. More than a hundred fellow Australians contributed to raise over $10,000 to prevent four children from having to leave school and live in an orphanage.
The children, aged 4-16, had seemingly been condemned to a dismal future after their mother, Tran Thi Thanh Loan, lost her appeal for leniency on the basis of being their sole carer.
She was set to begin a three-year jail sentence following the attempt to seek asylum in Australia. Their father, Ho Trung Loi, was already serving a two-year sentence in a jail seven hours' drive from the family's home and is not due for release until mid-2017. Maintaining that no-one in her family could afford to look after the children, Loan was told they should leave school and go to an orphanage.
Unable to bear the thought of this family suffering even more, and not wanting to see them further torn apart, I decided to contact their lawyer, Don An Vo, in Vietnam via Facebook, to ask how much it would cost each month for the extended family to care for the children until their father's release from jail next year.
According to Loan, the family originally left Vietnam because the state had seized their land, they had lost their livelihood due to Chinese incursions into fishing grounds, and also because of institutionalised discrimination against Catholics. While Australian authorities claim they were fairly assessed, she said a translator was not provided for the group, none of whom spoke English. They only realised they were being returned when they reached port in Vietnam.
Initially too embarrassed to accept help, Loan calculated her children's living and education expenses to be around AUD$425 per month, or about $5,000 for the year. Within a few weeks we had raised more than double than amount, thereby ensuring not only that Loan's children are well provided for, but also that their parents can get back on their feet once they are released from jail.
The good news is that following an international public backlash, Loan has been granted a temporary reprieve, her sentence delayed for one year until her husband's release. Her lawyer has since put me in touch with the families of other failed asylum seekers.
I had never believed before that one person could really make a difference. But social media has changed that, as has the possibility of making personal contact with asylum seekers, whether online or face-to-face.
A drop in the ocean? Perhaps, but we cannot give up. For as the ancients taught, "whoever saves a life is considered as if they saved an entire world".

Donate To New Matilda
New Matilda is a small, independent media outlet. We survive through reader contributions, and never losing a lawsuit. If you got something from this article, giving something back helps us to continue speaking truth to power. Every little bit counts.