A new organisation targetting online bigotry might have other more political goals in mind, argues Michael Brull.
The Israeli government, and its loyal advocates around the world, have tried for decades to conflate anti-Zionism with anti-Semitism. If they can delegitimise criticism of Israel and Zionism, then they can prevent scrutiny of Israel's actions, and forestall attempts to change Western support for Israel.
In Australia, many of the leading Jewish organisations – such as ECAJ and the Anti-Defamation Commission – are more or less open about their determination to treat anti-Zionism as a form of anti-Semitism.
Their attempts to do so are mostly ignored in progressive discussions of the issue of racism. Their claims are not ridiculed or attacked: they are just met with a stony silence.
For example, in 2010, an NGO Steering Group, with substantial contribution from over 30 NGOs, and the endorsement of over 100 NGOs, prepared a submission to the United Nations Committee on the Elimination of Racial Discrimination.
Though 163 pages long, there is no discussion of the relationship between anti-Semitism and anti-Zionism, when criticism of Israel becomes anti-Semitic, or any of the other favourite tropes of organisations that lobby in defence of the Israeli government and its wars.
The sole reference to anti-Semitism is a critical reference to the Australian Foreign Minister refusing to attend a conference in Durban in 2009, as it may have included anti-Semitic sentiment.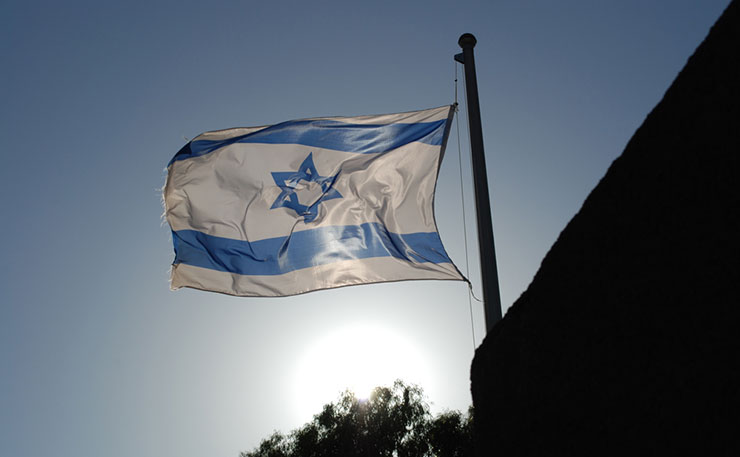 Or take this report by the Australian Human Rights Commission on the 40th anniversary of the Racial Discrimination Act last year. The only reference to Israel in the report is in its list of organisations consulted, which included AIAJC (Australia/Israel and Jewish Affairs Council).
Zionist doesn't appear in the report either.
HOUSE AD – NEW MATILDA SURVIVES ON CONTRIBUTIONS FROM OUR READERS. YOU CAN HELP SUPPORT INDEPENDENT MEDIA THROUGH OUR LATEST POZIBLE CROWD SOURCING CAMPAIGN. CLICK HERE. EVEN $5 MAKES A BIG DIFFERENCE.
The author, Tim Soutphommasane, is by no means a radical – as I discussed in a Tracker article, before he was Race Discrimination Commissioner, he supported the Northern Territory Intervention. Yet regardless of his regular involvement with aggressively pro-Israel Jewish organisations, his report did not include any concessions on the mythical connection between criticism of Israel and anti-Semitism.
As little headway has been made in convincing human rights and anti-racist organisations to campaign against anti-Zionism, it appears there is a new plan to convince progressive Australians that anti-Racism and anti-anti-Zionism should be united. This is in the form of the Online Hate Prevention Institute (OHPI).
It seems innocuous enough. Its Facebook page has some 24,150 likes, including several of my progressive friends. Its description seems innocuous. They "work to make online hate as unacceptable as real world hate, because the internet should not be a shield for bullies and racists."
They have an "online reporting tool that brings transparency to the way social media companies deal with the reports users make to them. This monitoring facility provides statistical analysis of online hate incidents which governments, agencies, and law enforcement badly need".
It notes that the CEO, Andre Oboler, used to work in Israel, and is the "author of numerous leading research papers into online antisemitism. He has provided expert testimony to international bodies, governments and parliamentary inquiries."
All this sounds ordinary enough. Their feed sounds straightforward enough. One post on misogyny. In another, Jenna Price at the Age cites their research. Another on anti-Aboriginal racism. Another day, they were interviewed by Hack at ABC about racism. In Fiscal Year 2015-2016, they received a grant from the Australian Federal Police to "conduct a three month campaign into anti-Islamic hate on social media." The grant was only for $550, but the fact they were given the grant alone suggests a stamp of approval and legitimisation.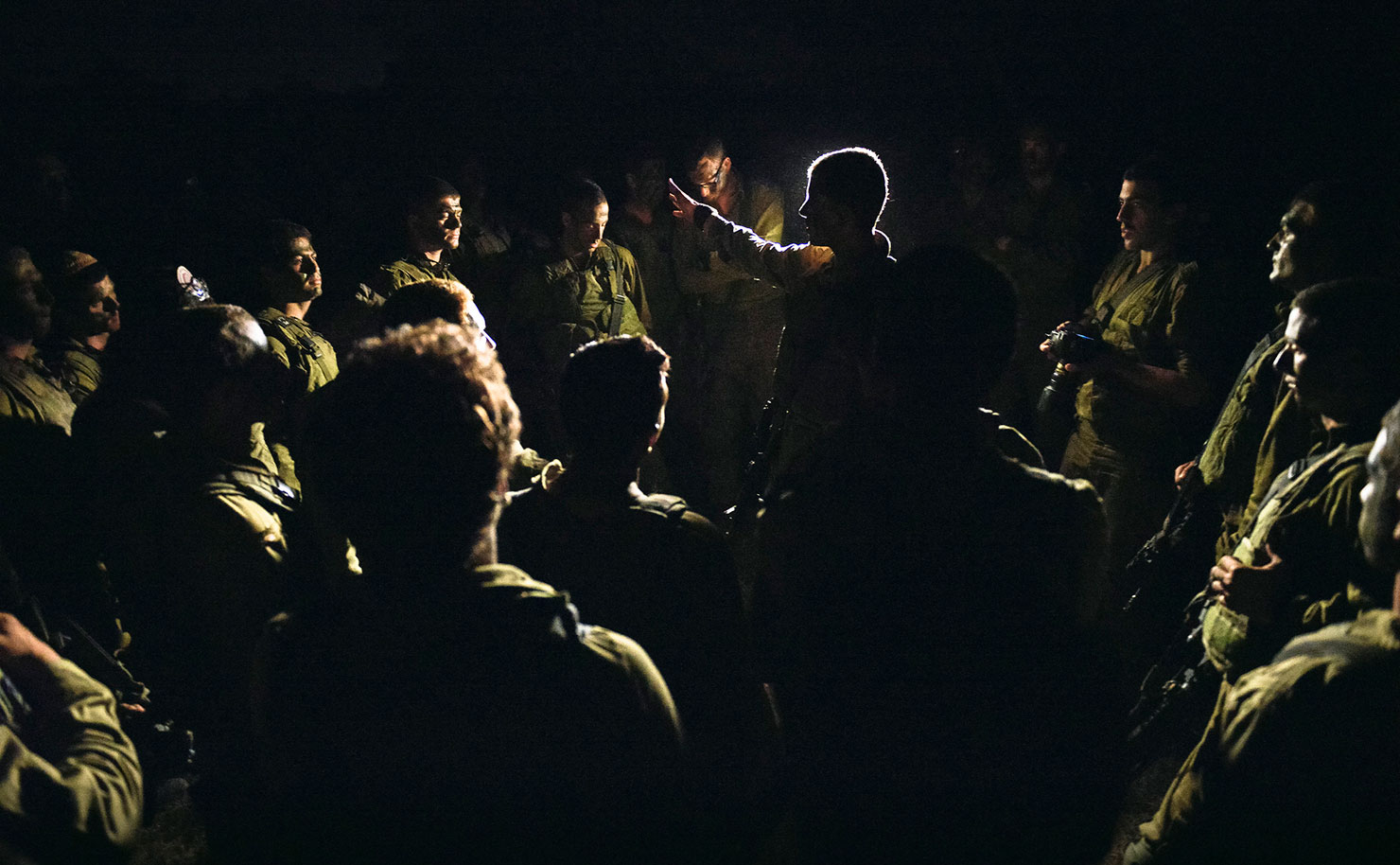 Does the organisation conflate criticism of Israel with anti-Semitism? Yes, and they do not attempt to hide it. They have a page where they explain how they define anti-Semitism. Borrowing another organisation's expansive definition of a nefarious, wide-ranging anti-Semitism, they explain that "manifestations" of anti-Semitism can "also target the state of Israel, conceived as a Jewish collectivity."
It goes on to explain that:
"Examples of the ways in which antisemitism manifests itself with regard to the State of Israel taking into account the overall context could include:
Denying the Jewish people their right to self-determination, e.g., by claiming that the existence of a State of Israel is a racist endeavour.
Applying double standards by requiring of it a behaviour not expected or demanded of any other democratic nation…
Drawing comparisons of contemporary Israeli policy to that of the Nazis.
Holding Jews collectively responsible for actions of the state of Israel."
OHPI acknowledges this Working Definition of Antisemitism comes from the "European Union Monitoring Centre on Racism and Xenophobia (EUMC), now known as the Fundamental Rights Agency of the European Union". The EUMC's definition was the subject of considerable controversy, for the obvious reason that its vague definition allowed for criticism of Israel and Zionism to be conflated with anti-Semitism.
Richard Kuper argued in 2011 that "the 'Working Definition' was not adopted by the EUMC. As Beate Winkler, EUMC Director, said at the time, it 'should be viewed as "work in progress" … with a view to redrafting.' In fact, the document appears to be dead in the water as far as the Agency for Fundamental Rights (FRA), the successor body to the EUMC, is concerned."
Kuper reported that the feedback they received on "initial testing of the document 'drew attention to a number of issues which impacted on its effectiveness as a data collection support tool.' In other words, it wasn't useful. 'Since its development we are not aware of any public authority in the EU that applies it,' the FRA official added."
HOUSE AD – NEW MATILDA SURVIVES ON CONTRIBUTIONS FROM OUR READERS. YOU CAN HELP SUPPORT INDEPENDENT MEDIA THROUGH OUR LATEST POZIBLE CROWD SOURCING CAMPAIGN. CLICK HERE. EVEN $5 MAKES A BIG DIFFERENCE.
They also had "no plans for any further development' of the 'Working Definition.'"
Kuper concluded in a longer analysis that "the EUMC working definition has little to do with fighting antisemitism and a lot to do with waging a propaganda war against critics of Israel".
By the end of 2013, the controversies that had raged over the definition were over. Blanca Tapia from the FRA reportedly explained that "her organization had never viewed the document as a valid definition". As reported in the Times of Israel, "Campaigners against anti-Semitism said the document is significant because alongside classical anti-Semitic behaviour, it lists the vilification of Israel or Israelis".
In the Independent, Mira Bar Hillel crowed that the FRA had "officially dropped its "working definition" of anti-Semitism, adopted in 2005". They now said that they were "neither able nor authorised to define the term."
The "dangerous sting" in their definition "which has been used recently to gag, or at least mute, free speech and most criticism of Israel in the UK media and beyond" had finally been retired. She commented that this was "Not before time. As the FRA now says it had never viewed the definition as valid in the first place."
Shimon Samuels complained that, "Those who fight anti-Semitism have lost an important weapon". It was indeed an important weapon, used against critics of Israel. And some still used it, despite its official disavowal.
For example, in 2014, passions ran high as Israel bombed Gaza. OHPI responded to a posting of a 2012 cartoon by the Age's Michael Leunig by claiming it was anti-Semitic, having contravened the Working Definition.
As we have seen, at this time, the Working Definition had been abandoned by the body that had proposed it. OHPI wanted to prevent hate by challenging the posting of this cartoon by a charity, which received 5000 likes and 3500 shares. They were able to convince the charity to remove the cartoon, presumably because of the obsolete and discredited definition of anti-Semitism that OHPI relies on.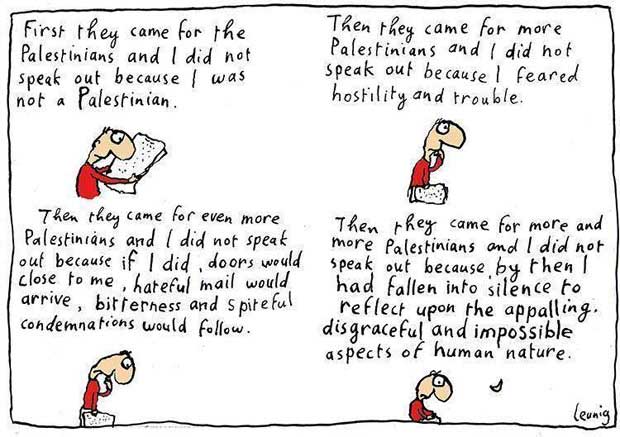 This act of persuasion was presumably assisted by OHPI presenting as a general authority on racism, rather than a determinedly pro-Israel organisation.
The CEO of OHPI, Andre Oboler, shows his various jobs and projects at his LinkedIn page. It shows that he has served as "Co-chair of the Global Forum to Combat Antisemitism (Israeli Foreign Ministry appointment)". Before working at OHPI, he was Director of the Community Internet Engagement Project at the Zionist Federation of Australia, from August 2009 to September 2011.
From February 2005 to December 2009, he was CEO of Zionism on the Web. It's About page identifies its CEO as Oboler. It gives a short bio of him, noting that, "In 2006 (during the Hizbullah crisis) Andre was the UK delegate on the Bayit Meshutaf program run by the Israeli Ministry of Foreign Affairs. In 2007-2008 Andre is a Legacy Heritage Fellow at NGO Monitor in Jerusalem."
The site's "Hot topics" include "Anti-Zionism is racism", "Israel apartheid analogy", "Reclaiming Zionism's Good Name" and so on. It includes under a section on racism "The UN and Israel". Various links offer readers the chance to peruse right-wing agit-prop on critics of Israel and Zionism, and supporters of boycotting Israel.
As for Oboler's stint at NGO Monitor, readers may not be familiar with that particular organisation. It devotes great energy to attacks on groups that advocate for things like human rights and anti-racism. It routinely accuses these NGOs, whether Israeli, Palestinian or international, of anti-Semitism and bias against Israel.
Its head is a man called Gerald Steinberg. In 2009, the Goldstone Report accused Israel, the Palestinian Authority, and Hamas of war crimes. Steinberg responded with an attack on the report, arguing that, "By any logical definition of proportionality, after 8,000 rocket attacks, on which Goldstone and his colleagues remained silent, Israel had the moral right to flatten all of Gaza."
Put aside that Goldstone and his colleagues devoted 20 pages of their report to rockets fired at Israel, and said they may constitute a crime against humanity. Steinberg actually claimed that Israel had the "moral right to flatten all of Gaza". That is the man who Oboler worked for, in delegitimising progressive NGOs.
Oboler is currently soliciting donations for the OHPI. It was originally set up with "seed funding" by unnamed "private donors". In 2015, OHPI received emergency funding from the Victorian Government. Its future presently looks unclear.
Some people may regard OHPI's work as valuable. Certainly, it is more credible in its opposition to racism than some other ostensibly anti-racist organisations, like the Anti-Defamation Commission. Yet its crude demonisation of critics of Israel and Zionism has apparently sailed under the radar for at least some progressives.
Some have vaguely followed the page, pleased at its work on documenting Islamophobia, unaware that its definition of anti-Zionism as anti-Semitic disproportionately demonises the political views of Muslims.
Those who are interested in supporting it should at least be aware of its Zionist orientation.
HOUSE AD – NEW MATILDA SURVIVES ON CONTRIBUTIONS FROM OUR READERS. YOU CAN HELP SUPPORT INDEPENDENT MEDIA THROUGH OUR LATEST POZIBLE CROWD SOURCING CAMPAIGN. CLICK HERE. EVEN $5 MAKES A BIG DIFFERENCE.

Donate To New Matilda
New Matilda is a small, independent media outlet. We survive through reader contributions, and never losing a lawsuit. If you got something from this article, giving something back helps us to continue speaking truth to power. Every little bit counts.