As part of a writing workshop with New Matilda's Michael Brull, Mona Elhassan penned this piece exploring the rise of Islamophobia in Australia.
We can no longer really claim that bigots and racists are on the fringes of our society. The Essential poll released last month showed that 49 per cent of Australians support a ban on Muslim migration.
In her maiden speech in the Senate, Pauline Hanson claimed that Muslims bear a "culture and ideology that is incompatible" with Australian culture. This is a sentiment that resonates with a sizable portion of Australian society. Essential Media found that 22 per cent of Australians who support a ban believe that Muslims do not share our values.
Hanson, and her many sympathisers, don't seem to understand the diversity of Muslims coming to Australia.
Muslim Australians have diverse backgrounds and, contrary to common belief, not all Muslims arriving in Australia are from the Middle East. Insinuating that all Muslims bear the same culture is dangerously ignorant and over-simplistic. It forcibly groups all Muslims together, as though we are all the same.
This is not politics: it is racism. Muslims do not bear a single culture. We embody the cultures of our ancestral backgrounds and present realities, just like everyone else.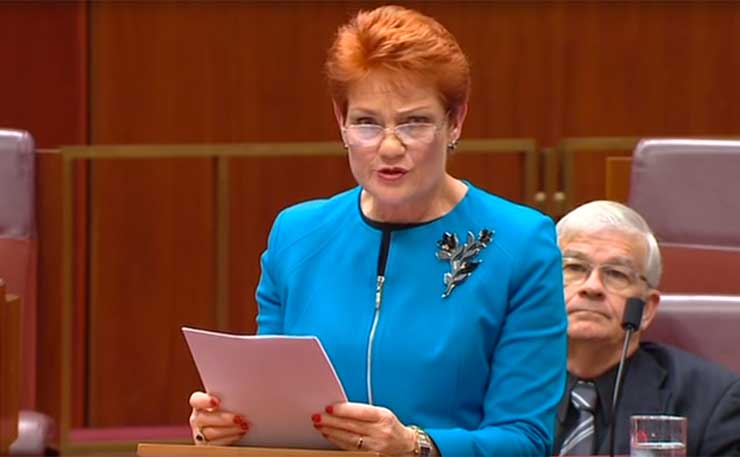 If we want to discuss Islam as an ideology, it is more than the terms "hijab", "niqab", "halal", and "Sharia law". It is more than the signifiers that have come to represent it, as a result of how Islam is portrayed in the media.
There are over 1,000 years of scholarship dedicated to understanding and implementing the teachings of the scripture of Islam. To summarise this rich tradition with a few phrases is simplistic and naïve.
HOUSE AD – NEW MATILDA SURVIVES ON CONTRIBUTIONS FROM OUR READERS. YOU CAN HELP SUPPORT INDEPENDENT MEDIA THROUGH OUR LATEST POZIBLE CROWD SOURCING CAMPAIGN. CLICK HERE. EVEN $5 MAKES A BIG DIFFERENCE.
Those who agree with Hanson's view that mosques and Islamic schools "should be monitored" are essentially agreeing that the teachings of Islam are negative, incompatible with Australian culture, and probably violent.
If Australia was being "swamped" by Muslims, and we really did have such aggressive teachings, it is a marvel that we haven't yet established our caliphate in Australia, imposed Sharia law, and commenced treating non-Muslims like second-class citizens.
What the poll really shows is that a lot of Australians don't know much about Islam. So here is a brief lesson.
There are five main pillars of Islam. None of those pillars includes the Burqa. One of the five pillars is Zakat, the annual giving of 2.5 per cent of one's excess wealth to the needy.
Historically, Zakat was the tax the ruling Islamic group would collect and then redistribute – a bit like an Islamic version of Centrelink.
Since there is not a ruling Islamic group in Australia, many Muslims pay their taxes, and give Zakat as donations to various charities. Most people do not know this. Do these donations pose a threat to the Australian way of life because Islam prompts them? I would ask this to those who believe that Muslims do not share Australian values.
Twenty seven per cent of those who support a ban on Muslim immigration do so because of fear of the "Terrorist threat".
However, most of the terrorist attacks in Western countries were carried out by nationals, or immigrants who had been already been settled in those countries for years.
The perpetrators of the Charlie Hebdo attacks in Paris were born and raised in France while Bouhlel, the Bastille day attacker, had migrated to France a decade before he carried out the attack.
Similarly, Omar Mateen, the attacker on the gay club in Orlando, was born in the US, and the Tsarnev family entered the US 10 years before the Boston bombings. The attackers were migrants or were born to migrant parents – just like most people in the US and Australia – but their emigration status was not the reason that led them to carry out the attacks.
There is no evidence that shows that being a refugee or migrating from a Muslim country is a precursor to becoming a terrorist.
Put aside the attacks by states to protect their national interests, which are apparently regarded as legal, and certainly not terrorism. Non-Muslim groups also carry out acts of terrorism.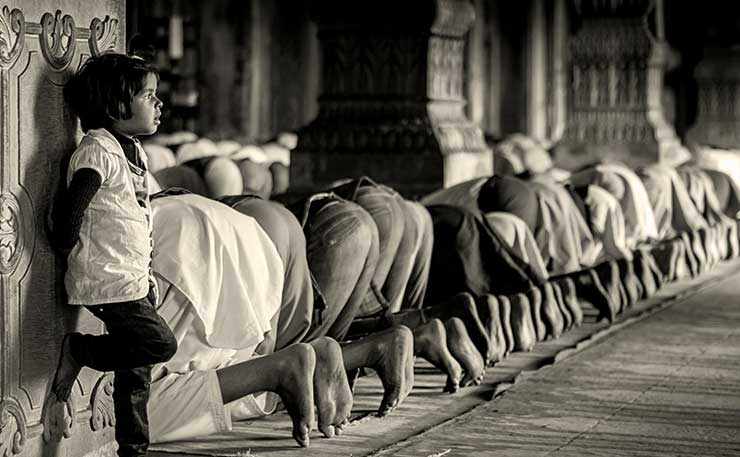 According to the FBI, six per cent of terrorist attacks were perpetrated by Muslims between the 1980 and 2005, while 'religiously motivated' attacks in Europe comprised less than two per cent of all terrorist attacks between 2009 and 2013. Linking refugees to acts of terrorism in Western countries is ignorant, callous, and false, as is perpetuating the image that Muslims commit most acts of terror. The facts simply show otherwise.
That so many Australians think a ban on Muslim immigration would be reasonable indicates a deep fear and distrust of Muslims. However, the reasons and fears that would encourage people to support a ban are based on misinformation.
Studies and statistics show that there is no predisposition towards terrorism or violence if an individual is a migrant, refugee, or Muslim. This has been said time and again, but seems to fall on deaf ears. The role the media plays in magnifying the threat of terrorism does not help either.
Values are a different story altogether. First of all, if Australians worry that Muslims do not share their values, they should at least familiarise themselves with Islam and its basics. As mentioned before, Muslim people come from different parts of the world and cultural practices find their way into religion, so Islam will manifest itself differently in Muslim peoples' lives.
People must understand that Islam, like Christianity or any other religion, will include values that work with Western modernity, and it will include values that do not.
HOUSE AD – NEW MATILDA SURVIVES ON CONTRIBUTIONS FROM OUR READERS. YOU CAN HELP SUPPORT INDEPENDENT MEDIA THROUGH OUR LATEST POZIBLE CROWD SOURCING CAMPAIGN. CLICK HERE. EVEN $5 MAKES A BIG DIFFERENCE.
Secondly, we must determine, as a collective group, what Australian values are and what it means to be Australian.
It is not up to One Nation to do this alone – it is not for them to claim that being Australian has to fulfil a certain set of standards and if anything remotely different shows itself it is an indication that we are being "swamped".
It is up to everyone to contribute their experiences of being Australian. And it is up to all Australians to think about what it means to ban the entry of those who flee their countries because of wars (that Australia may or may not be involved in).
How tragic it would be if we supported something that would make us so uncivilised and inhumane – and then called it Australian.
Mona Elhassan has a Masters in environmental Microbiology and Honours in Literature and currently works as a business analyst.

Donate To New Matilda
New Matilda is a small, independent media outlet. We survive through reader contributions, and never losing a lawsuit. If you got something from this article, giving something back helps us to continue speaking truth to power. Every little bit counts.