Donald Trump's most recent outrage – his attack on women everywhere – should give people pause for thought about what they really stand to lose, writes Junaid Cheema.
There are a lot of things Donald Trump wanted to be famous for, but 'locker room banter' was probably not on the list.
He famously boasted "When you are a star they let you do it.. you can do anything", as he gloated about his approach to sexually assaulting women. But we are told to just accept this as 'locker room banter' which is what the average bloke does.
Actually the average bloke doesn't do this at all, because the average bloke in the locker room is not a star, nor is he rich, nor powerful and certainly he can't do to others whatever he wants. But Trump can, precisely because he is not the average bloke.
Donald Trump pretends to be average, but he is not. He's rich and powerful. This is about packaging the extraordinarily obscene as average, to sell to the average bloke and maintain the average vote – something the likes of Trump have mastered.
The 'banter' that just surfaced may be new, but there is nothing new about Trump grabbing at the dignity of the powerless for his personal pleasure, knowing they are powerless to stop him. He has been doing this since the very beginning of his campaign. Actually it's pretty much what his campaign has been all about.
HOUSE AD – NEW MATILDA SURVIVES ON CONTRIBUTIONS FROM OUR READERS. YOU CAN HELP SUPPORT INDEPENDENT MEDIA THROUGH OUR LATEST POZIBLE CROWD SOURCING CAMPAIGN. CLICK HERE. EVEN $5 MAKES A BIG DIFFERENCE.
He has been snatching at the dignity, the self-respect and the very identity of Latino's, Blacks and Muslims from day one, he has caricaturized demonised, and vilified them for his pleasure and for political gain, knowing they are powerless to stop him.
Just like Trump and his supporters are trying to package sexual assault as average bloke behaviour for the average person to accept, he packaged the violation of human rights and human dignity as political bravery in the face of political correctness. Again, it was packaged for the average American to buy – and many of them bought it.
Clearly Trump and his supporters care just as much about the sentiments of minorities as they do the sentiments of women – which is not much at all.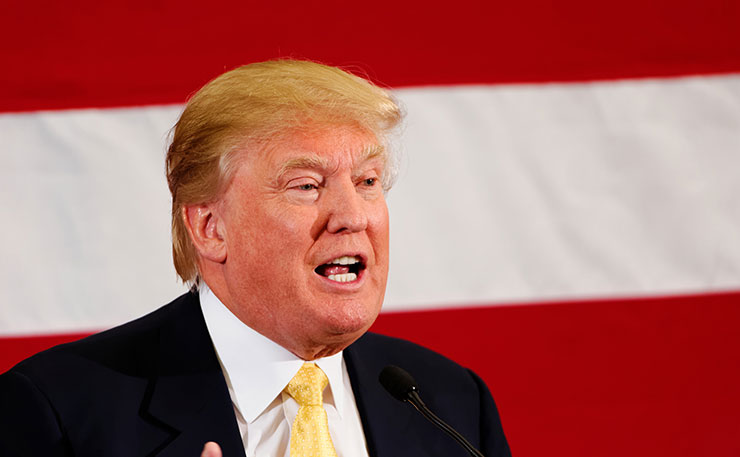 So it should be no surprise that the likes of the 'Trumps' here at home are trying to do the same and explain away his behaviour by saying it's normal.
This is no silly mistake. It's actually a calculated socio-psychological tactic called Normalisation, convincing us that certain behaviour is acceptable because everyone is doing it.
So it's no wonder why a woman in a powerful political position here at home is willing to brush aside the promotion of sexual assault on women by one of the most powerful men abroad, as just average bloke behaviour.
Why? Because it's not about the average bloke, the dignity of women or even minorities, it's about the manipulation of the average bloke, women and minorities for personal power and amusement. It's about the powerful taking from the powerless whatever they want, whenever they want it, taking what is not theirs to take.
It's about the house of cards that the campaigns of division, hate and demagoguery are built upon and it's about protecting every card, because one flip of the card will bring the whole structure crumbling down.
Democracy is our most prized possession, it is synonymous with freedom, so let's take lessons from the destruction of the first democracy to prevent our destruction.
The Athenian democracy came crumbling down because political leaders hijacked the passions and prejudices of the masses, pretending they were for the people, when they were not, pretending they were just like the people when they were anything but.
They sowed hate, paranoia and delusions of grandeur within the people only to reap destruction for the nation.
HOUSE AD – NEW MATILDA SURVIVES ON CONTRIBUTIONS FROM OUR READERS. YOU CAN HELP SUPPORT INDEPENDENT MEDIA THROUGH OUR LATEST POZIBLE CROWD SOURCING CAMPAIGN. CLICK HERE. EVEN $5 MAKES A BIG DIFFERENCE.
Much has changed since the first democracy, but human psychology hasn't and psychology tells us that hate is the easiest emotion to channel – it doesn't require a big heart, it requires the absence of one. The bully bullies, only because he can.
Today if China sneezes Australia catches a cold so for the bullies, Asian's are off limits. But our First Nations people and Muslims are fair game. It is fair to bite at them under the cover of higher democratic principles such as 'free speech' because everyone knows they can't bite back. And it's okay to bite at women undercover, just as long as no-one is listening.
However if we continue this dog eat dog approach to democracy, like the first democracy we will eat each other from within, and lose the very institutions and values we set out to protect – our democracy and our freedoms.

Donate To New Matilda
New Matilda is a small, independent media outlet. We survive through reader contributions, and never losing a lawsuit. If you got something from this article, giving something back helps us to continue speaking truth to power. Every little bit counts.