The man set to take the top job at the United Nations has been one of the most prominent critics of Australia's anti-boat obsession, writes Max Chalmers.
If there's one thing to take from the rise of António Guterres, it's just how small Australia shrinks when confronted by a global crisis.
Guterres, a former Prime Minister of Portugal, is set to become the next United Nations Secretary General after emerging as the Security Council's clear favourite to take the post.
Before stepping down to run for the UN's highest office, Guterres spent a decade serving as High Commissioner for Refugees. And what a decade it was.
Since 2005, the proportion of the global population who are displaced has steadily notched upwards, jumping starkly after 2011.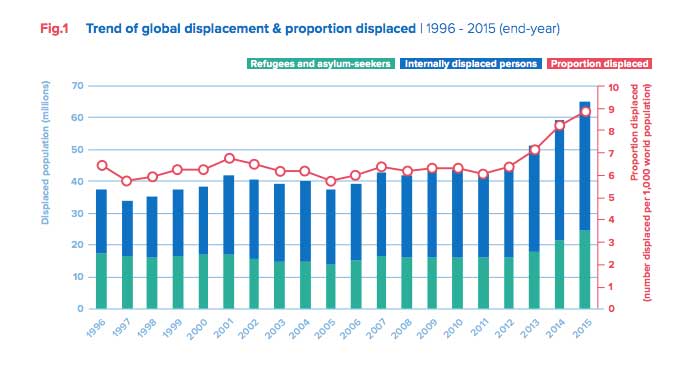 It has been Guterres' unenviable task to assist the nine out of every 100,000 people around the world who find themselves displaced at a time when nativist, xenophobic politics have taken hold in many of the countries wealthy enough to offer assistance.
In this capacity he has been gently criticising Australia's pivot to a hard-line, anti-boat arrival policy since 2012, and expressing personal bafflement at the psychological grip the issue continues to hold on a country remote from the epicentre of the true global crisis.
In 2012, then High Commissioner Guterres wrote to the Australian government criticising Labor's plan to send asylum seekers to be processed on Manus Island, in Papua New Guinea, presciently arguing that the developing nation did not have the resources required to oversee the process.
Earlier, in a letter to then Minister Chris Bowen, he had politely questioned the assurances Australia made in relation to processing on Nauru, and pushed back against new rules designed to frustrate those arriving by boat.
The tone of the letter is that of a tolerant adult, gently suggesting that the logic employed by their misbehaving child might be off: maybe it's not a good idea to 'help' your brother by flinging food at him across the table, yeah? Perhaps it's not a sound plan to leave an underdeveloped nation with a tiny population and critical lack of infrastructure to support the people fleeing persecution, hey?
As we know, these diplomatically phrased objections were ignored.
Guterres' somewhat more forceful comments about the Abbott government's plan to settle refugees in Cambodia, a country with a dictatorial leader known for human rights abuses and the refoulement of refugees, also fell on deaf ears.
"Refugees are persons who are fleeing persecution or the life-threatening effects of armed conflict. They are entitled to better treatment than being shipped from one country to the next," Guterres said in a statement issued when the deal came to light.
More recently, he expressed the surprisingly controversial sentiment that the Australian government should not be making payments to people smugglers. Classic UN do-gooder!
All the while, the soon-to-be UN chief has also expressed bemusement. In 2015 Turkey hosted 2.5 million displaced people, with other countries experiencing hundreds of thousands of arrivals. Why would a few leaky boats make Australians so anxious?
In a 2012 speech at the Lowy Institute Guterres praised Australians for accepting refugees who had been allowed to settle into their communities but said the country must not move towards unilateral policies designed purely to lower the number of arrivals. Which, of course, leaders of both major parties soon did.
"Compared to the refugee problems in other regions of the world, it is my belief that this debate has been very politicised and is out of proportion in relation to the real dimension of the issue, as the numbers of people coming to Australia are small by global standards," he said.
He made similar remarks in 2014, congratulating Australia for being generous in terms of its resettlement program and for the work of government and civil society in encouraging integration.
"The problem is when we discuss boats and there, of course, we enter into a very, very, very dramatic thing," he observed. "I think it is a kind of collective sociological and psychological question."
A year later the then High Commissioner dubbed this Australia's "floating obsession".
When you look at Australia's refugee policies from the global perspective, as Guterres does, the policy settings start to look not only cruel – which they are intended to be – but openly absurd.
A country with a small refugee arrival rate has taken the 'out of sight, out of mind' philosophy to a startlingly literal level by turning men, women, and children out to sea for the crime of trying to enter on a boat and lodge a claim for asylum.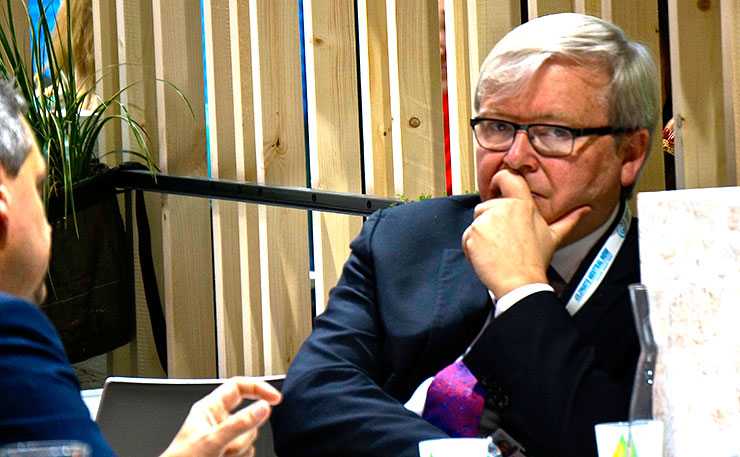 For reasons transparent only to ourselves, Australia has locked up a few thousand of the globe's 65 million displaced people on remote Pacific islands apparently without any plan as to what to do with them next.
It's for that reason that the next Secretary General of the UN will no doubt look upon Australia with puzzlement as much as anything else, seeing the country's paranoia for what it is.
That might be an unpleasant thing to consider as an Australian, so here's a final, slightly more cheerful note to land on.
When Guterres is sworn in to the UN's top job it will mark the absolute conclusion of the miserable campaign launched by Kevin Rudd to contest the position, a quest that fell apart after he failed to receive the endorsement of Prime Minister Malcolm Turnbull.
There's always an uncomfortable sort of pleasure to be derived from witnessing Rudd's ego publicly deflated, but especially so in this case given he was the leader to lock-in Australia's most hard-line anti-refugee policies (his bid for the Secretary General job was greeted lukewarmly by Australian human rights groups and ardently denounced by those such as Kurdish journalist Behrouz Boochani, who is currently detained on Manus Island).
Guterres faces an enormous task in his new position, one that will demand intensive inter-personal skills, diplomatic nous, and a deep humanitarian instinct. For that reason, we can all be thankful it didn't end up falling to Kevin Rudd, a man who did as much as any other to keep a global crisis out of sight and out of mind.

Donate To New Matilda
New Matilda is a small, independent media outlet. We survive through reader contributions, and never losing a lawsuit. If you got something from this article, giving something back helps us to continue speaking truth to power. Every little bit counts.