The 'enduring silence' on Aboriginal violence isn't coming from the Aboriginal community, writes Michael Brull.
In an op ed in The Australian on Monday, Warren Mundine wrote about family violence and sexual abuse of children in Aboriginal communities. He recited the familiar – and appalling – statistics showing the disproportionate rate of family violence in Aboriginal communities.
Rather than calling for any particular program or plan of action to address these problems, Mundine argued that there was a widespread silence on these issues.
Whilst two men from Sky News, and Bess and Jacinta Price spoke about these abuses, "Indigenous people, progressives, feminists and the media don't want to talk about indigenous abuse. Partly they don't want to say negative things about indigenous people. Partly they are labouring under the myth that calling out indigenous wrong­doers tarnishes all indigenous men."
Mundine seemed to direct particular criticism at Aboriginal people. He said that "Indigenous families and communities must start standing up for victims, not abusers." Furthermore, "if indigenous people remain silent we deserve to be tarnished. When communities protect abusers they are complicit in abuse. When families hide or turn a blind eye to abuse, they enable abusers to commit crimes. It's no wonder victims are afraid to speak up."
Compare the accusations of Mundine to this quote: "Violence at its most blatant has become a part of everyday life. Horrifying crimes are occurring regularly and have instilled in the minds of the elderly, the young and others a level of fear previously unknown to the Australian population. Murder and other violent crimes are destroying what has traditionally been the Australian way of life."
Or this one: "That there has not only been a significant increase in the number of offences recorded in Indigenous Communities, but the level of severity in such crimes has also increased. Violence is now overt; murders, bashings and rapes, including sexual violence against children, have reached epidemic proportions with both Indigenous and non-Indigenous people being perpetrators."
That is from the start of a report on family violence in Aboriginal communities in Queensland from 1999. It was written by Boni Robertson, the Chairperson of the Aboriginal and Torres Strait Islander Women's Task Force on Violence.
The Taskforce consisted of 50 Aboriginal and Torres Strait Islander women across Queensland. They began their investigations in December 1998. They were already furious, because they felt they had been waiting a long time for action.
Robertson wrote that:
"While the violence being regularly committed in Indigenous Communities has become front-page news, it is not new. It has been acknowledged by Indigenous and non-Indigenous forums for many years. The people who could have made a difference have failed to intervene to stop innocent women and children from being bashed, raped, mutilated and murdered and exposed to forms of violence that have been allowed to escalate to a level that is now a national disgrace."
The problem then – as now – was not Indigenous silence. It was a refusal by white governments to listen. Robertson explained that:
"Indigenous women's groups, concerned about their disintegrating world, have been calling for assistance for more than a decade. While their circumstances may have been recognised, their pleas have not always been met and in some cases, deliberately ignored. At times, Government representatives appeared to regard violence as a normal aspect of Indigenous life, like the high rate of alcohol consumption. Interventions were dismissed as politically and culturally intrusive in the newly acquired autonomy of Indigenous Communities. Moreover, the 'Aboriginal cause' attracted little interest or sympathy in the broader Australian community, which seemed oblivious to the mayhem that was happening, even though the plight of Indigenous people had been described in numerous reports. The violence being witnessed can only be described as immeasurable and Communities, pushed to the limit, are imploding under the strain."
Robertson thought action was urgent. She wrote that, "The time for preventive measures is long past. Both Indigenous and non-Indigenous people must work together to stop the carnage through proactive intervention. Indigenous people can no longer live under a system that defies and inhibits autonomy and self-determination. In the spirit of reconciliation and reciprocity, a whole of Government approach is required, with Indigenous people also taking responsibility to repair the broken lives of an increasing number of people. There must be no skimping; no shortcuts or knee-jerk reactions, because as an Elder indicated 'there may not be another chance'."
Those words were written some 17 years ago.
Robertson stressed the Taskforce's frustration with government inaction: "While Governments of all persuasions have made funding available to address the issues pertinent to violence in the lives of Indigenous peoples, the Task Force was advised that only minimal intervention has occurred to date. Service provision to Indigenous Communities was reported to be so poor in many Communities that people believe the services intended for their protection, are in reality increasing their violation."
Their message wasn't to Aboriginal people to stop being silent. It was for the Government to finally address the violence in their communities.
Robertson wrote that, "In investigating the violence, members of the Task Force were advised that the strongest message that they could give to the Government and the public of Queensland is that violence in all its forms, whatever its locale and in any circumstances, is unacceptable, and both Indigenous and non–Indigenous peoples must work together to help in its eradication."
As for the alleged silence of Aboriginal communities, Robertson observed that the Taskforce found many of those consulted divulged painful stories that they had not previously shared.
In her foreword, Robertson wrote that:
"The work of the Task Force has required courage and tenacity that members did not know they possessed. As they shared the agony, grief, and at times, the triumphs of the many Aboriginal and Torres Strait Islander women and men who have survived incredible ordeals of violence, the enormity of the task became apparent to the Task Force. As Chair, I would like to acknowledge the courage of the women on the Task Force in bringing this Report to fruition. I would also like to express sincere appreciation to the many people who came forward to contribute their concerns and thoughts on critical issues and solutions to end the violence in all its forms.
Most importantly, members of the Task Force dedicate this Report to the many people who shared their lives and stories of pain and distress. To those people, we must commit our efforts to breaking the cycle of violence to allow families (men and women, Elders and the young) to build a better future where we can all live in harmony and peace."
Yet Robertson stressed that whilst those who spoke to the taskforce were adamant that "while it was important to expose the severity of the violence, it was equally important to identify solutions. Many Elders acknowledged that while the stories must be told, it is also important to provide a way forward."
Finding solutions required facing the causes for higher rates of violence in Aboriginal communities. Robertson wrote that, "Colonisation and dispossession were factors identified throughout the consultations as being central to the current alcohol and drug abuse, violence and dysfunction witnessed in Indigenous Communities. Indigenous people generally have been profoundly affected by the erosion of their cultural and spiritual identity and the disintegration of family and Community that has traditionally sustained relationships and obligations and maintained social order and control."
The report made a raft of recommendations. Readers can guess the government response.
Or take another report, on the sexual assault of children in Aboriginal communities in NSW. Published in 2006, its acknowledgments begin by thanking those who had done the most important work in helping their investigation: the Australian Child Sexual Assault Taskforce "sincerely appreciates, and has been humbled by, the Aboriginal people who have come forward and shared their stories. The implementation of the recommendations made in this report is the recognition that they deserve."
They went on to acknowledge "the people we met with deepest respect. They are our community champions who shared their stories with courage and dignity, sometimes at great risk to themselves and their families. These people spoke of the heartache of child sexual assault for victims and their families, and the devastating impact that it has on our communities.… The Taskforce is honoured by their honesty and shares their determination to make our communities safer for our children."
They made 119 recommendations. The taskforce chairperson, Marcia Ella Duncan, observed that they implemented only one of those recommendations.
At the time, the leader of the state opposition, Barry O'Farrell denounced the state government's inaction.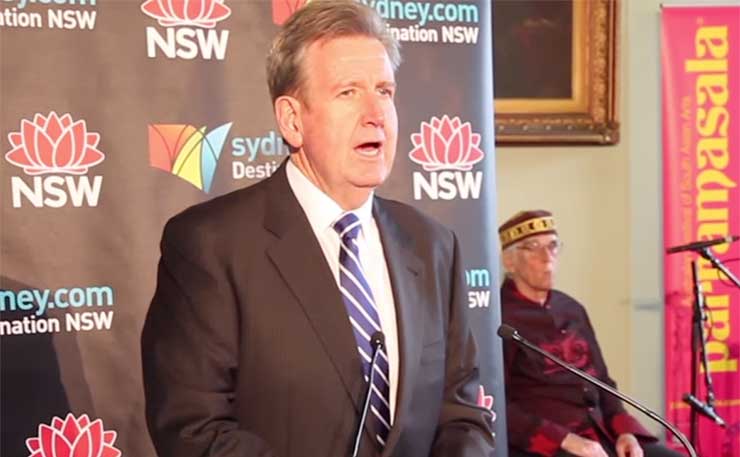 He said,"If Morris Iemma was fair dinkum about ending child sexual abuse in Aboriginal communities, last December he would have put $25 million into backing this report."
He wasn't fair dinkum. Neither was Nathan Rees, Kristina Keneally, Barry O'Farrell, or the incumbent Premier Mike Baird.
Or take the Northern Territory Intervention. It was supposed to address the sexual assault of children in the NT, and was theoretically in response to the Little Children are Sacred Report. Yet it overwhelmingly ignored the report's recommendations.
According to Pat Anderson, she and her co-author of the report, Rex Wild QC were "betrayed, disappointed, hurt and angry — pretty pissed off all at the same time".
Anderson and Wild observed in their report that the problem wasn't a lack of knowledge.
"We know the problems, we know how to fix many of them and the likely monetary cost.… We have an enormous amount of knowledge in this country…. The money is available. The Australian Government budget surplus last year was billions and billions of dollars. What has been lacking is the political will."
The solution would be "in a word, empowerment!"
Warren Mundine did not agree with the approach outlined in the report. He approved the Intervention, and saved his anger for its critics.
This is part of the strangeness of Mundine's op ed. As Robertson observed, Aboriginal people have been speaking out about family violence for decades. To repeat, Robertson wrote that "Indigenous women's groups… have been calling for assistance for more than a decade."
That was in 1999.
One can note Aboriginal feminists like Judy Atkinson and Audrey Bolger who have been writing about these issues from the early '90s. But it is also important to note that inquiries into these issues routinely note the heartfelt support they have received from Aboriginal communities. Their strength and courage should be acknowledged, just as the many reports stress that Aboriginal communities will be part of any meaningful solutions.
There is nothing wrong with Mundine being angry about family violence in Aboriginal communities. We should all be angry about family violence. Yet Mundine used his platform in The Australian to unfairly complain about Aboriginal silence, erasing the many men and women who have been fighting for change for decades.
Notably, he didn't complain about governments ignoring the many reports on family violence.
There is a small library of reports on family violence and sexual assault in Aboriginal communities. Mundine is one of the most influential Aboriginal people in Australia. He is the chair of the Indigenous Advisory Council, the body created by Tony Abbott. Aside from access to the pages of The Australian, he has the ear of the Prime Minister.
Whilst Mundine is free to make whatever argument he likes, he is in an excellent position to call on the Federal Government to start the process of funding and implementing the recommendations of the many ignored reports.

Donate To New Matilda
New Matilda is a small, independent media outlet. We survive through reader contributions, and never losing a lawsuit. If you got something from this article, giving something back helps us to continue speaking truth to power. Every little bit counts.