Later this week, an investigation by the Brisbane Indigenous Media Association will reveal details of the extraordinary police assault of a 29-year-old Aboriginal man. Amy McQuire, who led that investigation, takes up the story.
A 29-year old man has been charged with serious assault police, as well as two counts of assault occasioning bodily harm and three of obstruct police. He is due to appear in the Brisbane Magistrates Court on Monday….
Two officers were treated at hospital, one with a fractured hand and bite injuries, the other for ligament damage to a knee and abrasions.
The second man was treated at hospital for facial injuries.
That was how the Queensland Police Service described a 'police assault' in their media statement, following an incident at Kelvin Grove in Brisbane in October 2013.
What they left out was the extent of the injuries sustained by the 'second man', the man 'charged with serious assault'. That man was Leon Petrou, who was bashed, tasered and pepper sprayed, and is still trying to recover, three years later.
Leon is a Gumbaynggir man, single father and an employee at the Brisbane Indigenous Media Association (BIMA). He also presents Brisbane community radio station 4ZZZ's Indigenous programme – IndigiBriz – on Sundays.
Before the events of October 2013, he was what you might call a 'clean skin'. He had never had a run-in with police in his life, with the exception of a few traffic infringements, and had even worked directly with them, while previously employed as a security guard.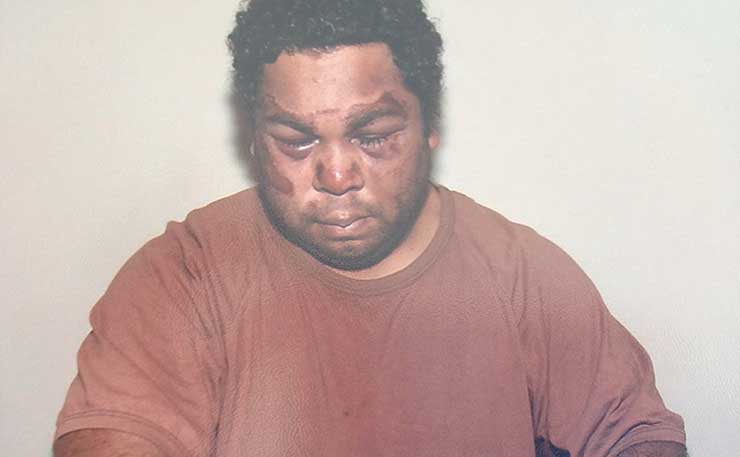 But three years later, Leon is still struggling to come to terms with what happened to him that night outside his Brisbane home, when he was tasered, capsicum sprayed, punched and kicked by police officers, and then charged with assaulting them.
He had committed no crime, but was instead, yet another black victim of police brutality, in a country which still outsources its outrage over this abuse of power as an overseas phenomenon.
That night, Leon had heard his neighbour become involved with police outside his apartment block. He'd gone downstairs with his friend, another Koori man, who both had the intention of calming down the situation.
"I asked the police officers if I could have a chat to him, and they said 'yeah' come up, and I went up there and chatted to him," he tells BIMA.
"… When everything was calm… I walked back down to Josh (his friend). Then the officer said 'where are you going'."
Leon followed directions from police officer.
"And that's when they pulled the taser out," he said.
At the time, Leon thought it may have been a gun. He described the 'red dots' rebounding through his glasses, and put his hands up to try and block the shot. At that point, Leon began to fear for his life.
"Then he put the taser down to my chest and shot me," he said.
"I had to kneel down because the pain was so intense, and when I knelt down the officers got down behind and started belting and punching into me. Punched my tooth into my top lip there. He put his hand in my mouth and ripped my jaw open. He was actually poking me in the eyes full on with his thumbs and fingers."
Leon was also tasered a number of times while on the ground, and was also capsicum sprayed in the face.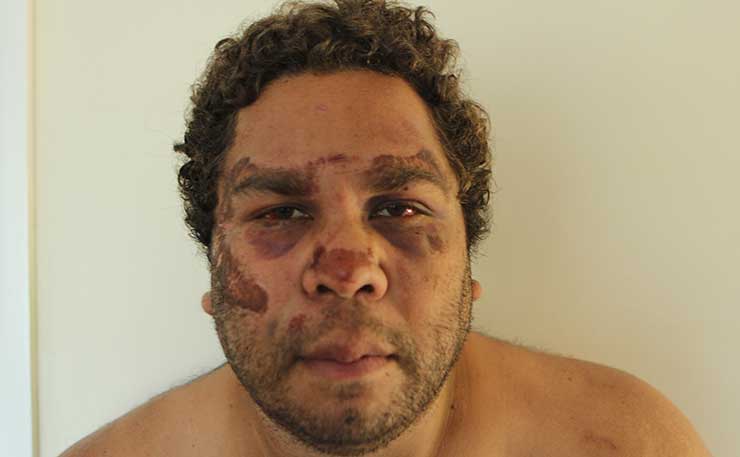 "It was a lightbulb in my head. Hang on, I'm black. They don't like blackfellas. That's how the mentality of this nation goes."
The images of Leon with his face bloodied being pushed and rubbed into the ground can be seen in several grainy video images shot by bystanders with their phones.
Leon estimates there were around 50 people watching.
"They thought it was just fun and games… here's another blackfella being assaulted by police. He must have done something wrong," he says.
A witness who later testified for the police also shot footage off her balcony. It shows police kicking and punching Leon, while she giggles in the background.
Leon was medically examined before being thrown in the watch house, but during the course of this experience was questioned about being on ice, and was assumed to have been drunk.
A medical examiner later testified that he had a resting heartbeat of 200 beats per minute, and as an asthmatic he was very close to death.
Despite this, he was thrown in the watch house over the weekend without any asthma medication, and without his glasses. It was only on the Monday that he was released on bail.
He could have likely ended up a statistic – one of about 400 black deaths in custody since the Royal Commission into Aboriginal Deaths in Custody handed down its report.
Leon was charged with seven counts of obstructing and assaulting police, including serious assault occasioning bodily harm. He was facing a sentence of three-years jail under Queensland's mandatory sentencing laws.
The extent of the police injuries, as described in the QPS media release, are shown in the accompanying shots.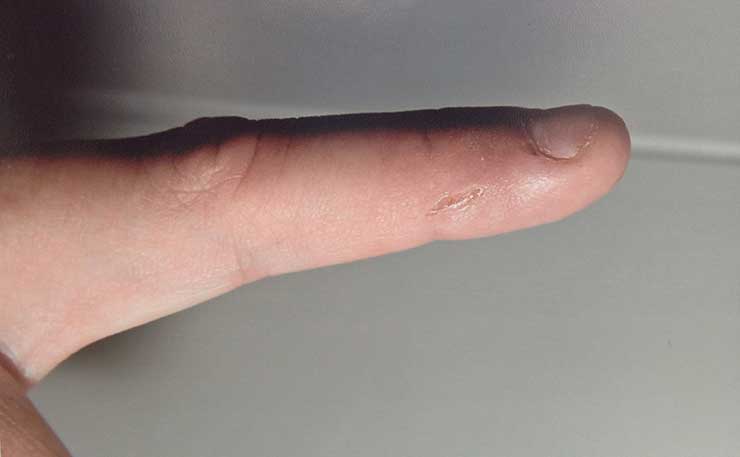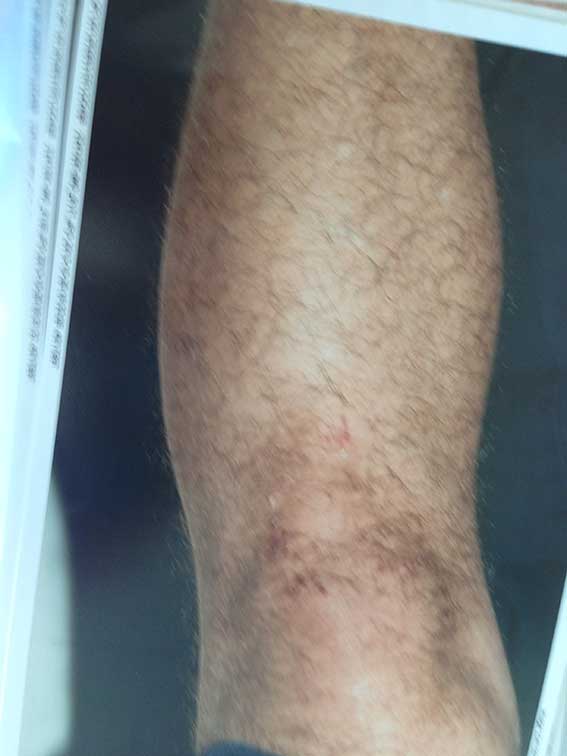 One officer, is shown in the shot with a barely visible graze on his knee and a hairline fracture to his wrist which Leon says was sustained while he was "punching me in the head".
He also has a grazed mark on his finger, which he claimed was bite marks.
"That's from just him sticking his finger in my mouth," Leon says.
That has since been profiled in the Queensland Police Service press releases for helping rescue a possum over Easter, complete with smiling snaps.
Leon was found not guilty of all charges last year, but the impact on his life has been enormous.
"It changed (my life). I'm more wary of the police system now. Every time I see police now I get that bad anxiety…. I used to work in security and I used to work with police all the time and help them out. Now it's a reversal… just getting attacked. It blew my mind," he told BIMA.
He also doesn't like to think of what would have happened to his son – who would have been left without a father if he had been convicted, another innocent life punished.
Leon's story is part of a BIMA Let's Talk investigation into police brutality, featuring Leon, former First Nations police officer Matt Bond and former Crime and Corruption Commission Indigenous Complaints Officer Trudie Broderick. The panel is being launched online on Wednesday.
Lets Talk Police Brutality Trailer from BIMA on Vimeo.
Trudie told Let's Talk she can't understand how police feel that force is justified.
"I really do feel sick by the extent of those injuries… I don't know how it's justified," Trudie said.
"I always feel deeply offended by something happening, and then the next day police commenting, 'I completely support that process, the officer acted in accordance with his powers… That same line is taken on every occasion… and that's before it's even come before the courts," she said.
Matt tells Let's Talk about his time as a police officer in Inala, and the casual and systematic racism he experienced there. He says there is a problem with police culture, and the practice of protecting their own.
"It's from the sergeant down. The way they talk about blackfellas, as we're not as good as them, or we don't deserve the respect when dealing with blackfellas. Impressionable first years come out of the academy, they see their seniors acting like that, so they're not getting in trouble for it, of course they are going to act that way," he says.
"That's the way the crowd's going and when you start out early in your career you learn quickly you have to follow the crowd."
To see Leon's story as part of the video series 'Let's Talk: Police Brutality' tune in to Let's Talk's Facebook page on Wednesday
You can see the promo of the Let's Talk investigation here or above.

Donate To New Matilda
New Matilda is a small, independent media outlet. We survive through reader contributions, and never losing a lawsuit. If you got something from this article, giving something back helps us to continue speaking truth to power. Every little bit counts.