The agency has a record of targeting activists to help sustain the inhumane siege of Gaza, writes Michael Brull. (Read Part 1 here.)
As almost all Palestinians facing military courts are convicted, and most of those convictions are based on confessions, either Palestinians have a bizarre propensity to incriminate themselves, or the Shin Bet has somehow managed to devise some particularly effective tactics in eliciting confessions. Yet that is not the Shin Bet's only talent. They have also demonstrated their shrewd ability to foil terrorist plots, by banning international visitors from Israel.
One example is the Jewish American scholar of the Israeli-Palestinian conflict, Norman Finkelstein. When he flew in to Israel to visit the occupied territories, he was detained and then deported by the Shin Bet. After interrogating him for hours, the Shin Bet said Finkelstein "is not permitted to enter Israel because of suspicions involving hostile elements in Lebanon," and because he "did not give a full accounting to interrogators with regard to these suspicions."
Another triumph of the Shin Bet was when Ivan Prado, "the most famous clown in Spain", tried to visit Ramallah. After flying in to Israel, he was detained and interrogated for six hours by the Shin Bet and the Israeli Interior Ministry. The Shin Bet said to Ha'aretz that "We recommended to the Interior Ministry to prevent his entry into Israel after the findings of the security check produced suspicions about him… The man declined to provide complete information to the security people, especially in regard to his links with Palestinian terror organisations."
Or take another terrorist plot foiled by the Shin Bet. In 2012, international activists planned to fly in to Israel to protest its increasing policy of banning Palestine solidarity activists. The Shin Bet produced a blacklist of 1,200 people who would be banned from Israel. A high-ranking source told Ha'aretz that the Shin Bet "had no solid grounds for believing that 470 of the 1,200 people whom Israel labelled as 'pro-Palestinian activists' intended to do anything illegal."
Those placed on the list included a French diplomat and his wife, "an employee of Italy's Communications Ministry who was supposed to meet with her Israeli counterparts here, and a Dutch member of the board of directors of German pharmaceutical giant Merck", an Israeli returning home, and more.
Aside from those accidentally included because of the Shin Bet's less than extreme levels of competence, there were 730 people on the initial blacklist who "were banned either because they were determined by Israeli intelligence to be flying in for the express purpose of taking part in the protest, or because they had arrived here for that purpose during a previous fly-in in July."
Note: though the Shin Bet is supposedly concerned with Israeli security, is has explicitly banned people for coming to Israel for the sake of non-violent political protesting. And it has claimed that political critics of the Israeli government are somehow connected to "terror organisations". Including a clown.
Their allegations against World Vision are being taken very seriously by Western media, despite the Shin Bet having a wilder record of accusations than Joseph McCarthy.
The Campaign Against NGOs In Israel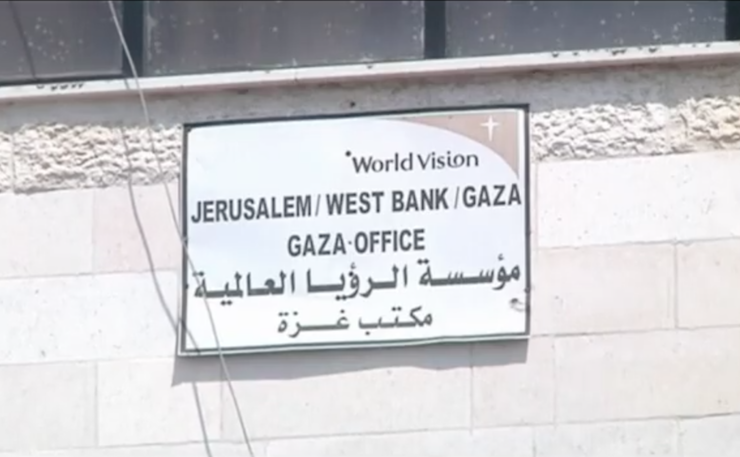 The allegations against World Vision should be seen as part of the broader campaign by Israel to besiege Gaza and to delegitimise anyone they regard as undermining the siege. Minister of Security Gilad Erdan responded to the allegations by going on Israeli TV to say "The affair…exposes the network of links between Hamas and the Gaza branch of…World Vision, and points to the phenomenon we have warned of… There is an ideological and financial affiliation between terror groups and the de-legitimisation groups acting against the State of Israel."
Simply trying to give toys to traumatised children, or helping grow strawberries in Gaza, has become part of a nefarious plot to delegitimise Israel, working hand-in-hand with "terror groups".
Apparently pleased with its propaganda coup, Israel has now charged a UN Development Program employee. By amazing coincidence, that detainee also confessed to working for Hamas. Amazing coincidence how so many Palestinians just love confessing. In the case of the UN employee, he had been detained since July 3. It seems it took a bit over a month to convince him of his conspiracy with Hamas.
There has been a general crackdown against non-government organisations (NGOs) in Israel. The left, with which human rights organisations are identified, has gained so much stigma that the leader of the Zionist Union and Labour Party wants to be known as a centrist. The fight against the treacherous left has lately manifested in a bill before the Knesset that would force NGOs to register as foreign agents and detail their funding in public material. The original bill even suggested NGO workers wear a badge identifying them as foreign agents when addressing the Knesset. The bill is intended to target human rights organisations in particular.
There has been a general demonisation of NGOs in Israel, which are identified as traitors who help the international conspiracy to delegitimise Israel. In December last year, far-right group Im Tirtzu released a particularly scurrilous video identifying three human rights organisations as foreign agents who support terrorists. Earlier this year, the Israeli army responded to a TV news report by conducting an investigation into Breaking the Silence, an NGO of former soldiers who collect and publish testimonies of human rights abuses by Israeli soldiers in the occupied territories. Breaking the Silence identified this as a "despicable attempt by right-wing activists to discredit the organisation". The supposedly moderate Defence Minister suggested they may have practiced treason, before walking back his accusation.
The Civilians Of Gaza
As chronicled in the Goldstone Report, the Israeli government has repeatedly claimed that there is no distinction between the civilian and military wings of Hamas. On this basis, it has struck civilian targets, claiming that they are legitimate targets. The world has consistently rejected these claims. This includes the Australian government, which prescribes the military wing of Hamas as a terrorist organisation, but not the civilian wing.
By collapsing this distinction, Israel has tried to legitimise its many attacks on civilian infrastructure. During the 2014 war on Gaza, the Israeli army produced an image, distributed by the NSW Jewish Board of Deputies, justifying the bombing of schools, mosques, hospitals, ambulances and homes, claiming that these were all used by Hamas, and Israel was going to "dismantle" this "terrorist infrastructure". The horrific results were shown by the UN High Commissioner for Human Rights. 17 hospitals and 56 primary health clinics were destroyed or damaged during the war.
26 government schools were totally destroyed and 209 schools sustained damages (122 government schools, 83 UNRWA schools and four private schools) due to their proximity to targeted sites, or as result of direct attacks. UNRWA estimates that 118 of its installations, including schools, health centres, and warehouses, have been damaged during the war.  Furthermore, three universities were directly hit in Israeli strikes and eight universities sustained collateral damage.
Water and sanitation infrastructure in the Gaza Strip sustained damage reportedly amounting to USD 33 million. According to the Coastal Municipalities Water Utility, 63 water facilities were damaged; among them 23 were completely destroyed. As a result, 40 per cent of the population were deprived of access to running water while, by 20 August, the rest of the population were receiving running water only on average every three to four days. A wastewater pumping station serving 200,000 people was also damaged in Gaza City.  According to the Coastal Municipalities Water Utility, six of its staff members were killed during Israeli attacks while they were working…
The sole power station in Gaza was forced to shut down after its fuel tanks and one turbine were hit in Israeli strikes… The shutdown of the power plant deprived households of both electricity and access to water and sewage treatment. It also increased the vulnerability of hospitals forced to rely on precarious generators…
17,000 hectares of cropland and other agricultural infrastructure was substantially damaged, and half of Gaza's population of poultry birds was lost directly in Israeli strikes or through lack of water, feed or care resulting from access restrictions. On 6 July, the fishing limit was reduced from six to three nautical miles. The fishing sector lost an estimated 234.6 tons of fish – 9.3 per cent of the local fishermen's yearly catch – during the first month of hostilities.
Chris Gunness, a senior director at the United Nations Relief and Works Agency, observed that some 100,000 homes were damaged or completely destroyed. This affected hundreds of thousands of Palestinians. Unemployment reached 47 per cent in late 2014, while average "power blackouts are 18 hours a day. Around 90 per cent of all water in Gaza is undrinkable."
And yet, after all the destruction, after years of siege, Israel doesn't even allow others to spend their own money to rebuild Gaza. Oxfam observed last year that "it could take more than 100 years to complete essential building of homes, schools and health facilities in Gaza unless the Israeli blockade is lifted". From 2012, the UN Conference on Trade and Development has been warning that Gaza may be uninhabitable by 2020. It reaffirmed that warning in September last year.
Collective Punishment In Gaza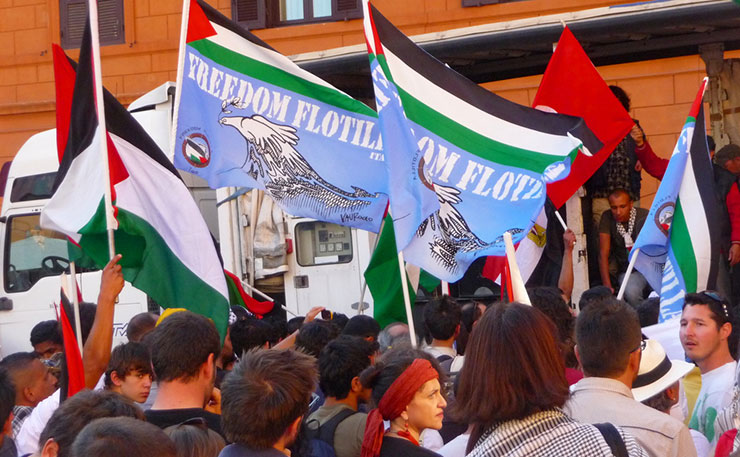 Israel periodically tries to legitimise its siege on Gaza by claiming it is about security. This is bullshit – as is admitted semi-regularly in Israeli media. For example, in 2007, Israel's security cabinet identified Gaza as an enemy entity, which would "let Israel cut off vital electricity, water and fuel supplies to the Palestinian territory". As reported in the English version of Ha'aretz – later redacted – "The security cabinet unanimously approved a number of sanctions to be imposed on the Gaza Strip should the rocket fire on southern Israel continue. The steps are designed to create 'civilian levers' that will pressure Gaza's Hamas rulers to bring the rocket fire to a halt." Civilian levers means that the policy is designed to target the civilians in Gaza.
In 2008, Israel told US officials their intention to "keep Gaza's economy 'on the brink of collapse' while avoiding a humanitarian crisis". Why keep it on the brink of collapse? As a way to utilise those "civilian levers".
In 2010, after killing nine activists on the Mavi Marmara, Israeli human rights group Gisha won a lawsuit, forcing the government to provide documents on the siege on Gaza. These showed Israel identifying the blockade of Gaza as a form of "economic warfare". Once the document was released, a government spokesperson told McClatchy that Israel "could not lift the embargo altogether as long as Hamas remains in control" of Gaza.
That is, it is about economic warfare against the population of Gaza, as a way of combating Hamas. At the time, 40 types of goods were allowed into Gaza. They responded by allowing in more types of goods: "soda, juice, jam, spices, shaving cream, potato chips, cookies and candy". Israel had banned those goods. And told the world it was for security reasons.
In October 2012, Ha'aretz journalist Amira Hass reported on another document on the blockade uncovered by Gisha. It showed that Israeli planners created a "red lines" document. The point was to carefully calculate how many calories were needed for each Palestinian age and gender group in Gaza, and use those figures "to determine the quantity of staple foods that must be allowed into the Strip every day, as well as the number of trucks needed to carry this quantity." Though Israel claimed this document wasn't implemented after it was made public, Gisha disputes this, based on arguments it had in court with the government over the siege on Gaza.
In practice, the effect of the siege, in combination with the wars, has been devastating. Israel tightened the siege on Gaza, utilising "civilian levers" against Hamas. It then launched a brutal attack on Gaza in 2008, targeting much of Gaza's civilian infrastructure. The blockade remained in place, preventing meaningful reconstruction. Israel launched another attack in 2012, and then its most brutal attack in 2014. Since then, the siege has remained in place. The destruction of civilian infrastructure – a sample is reviewed above – was bolstered by the siege, making reconstruction impossible, making life in Gaza more desperate and miserable.
This isn't a coincidence. It is a consciously chosen policy, designed to make the civilian population of Gaza to suffer, to turn them against Hamas. The siege and wars are forcibly imposed on Gaza, to create "civilian levers" that will turn on Hamas. The use of force against civilians to achieve political goals is terrorism, and it is official Israeli policy.
As no one buys Israel's claims about the siege being about Israel's security concerns, the Shin Bet has claimed that World Vision in Gaza has been secretly supporting the military wing of Hamas. The result is that Palestinians will suffer because of unproven allegations, that can never be meaningfully tested, after a Palestinian was detained for 50 days before even being charged, by an organisation with a long record of cruel, inhuman and degrading treatment of Palestinians.
The victim here isn't Israel. It is Mohammed El Halabi, and the Palestinians of Gaza. If Australia's cut off of aid to World Vision in Palestinian continues, it will be yet demonstration sign of Australian complicity in Israel's oppression of the Palestinians.

Donate To New Matilda
New Matilda is a small, independent media outlet. We survive through reader contributions, and never losing a lawsuit. If you got something from this article, giving something back helps us to continue speaking truth to power. Every little bit counts.