When ALP leaders lined up to denounce the Greens they only harmed their own credibility, writes Greens member Charles Jago.
While the Labor Party generally exceeded expectations at the 2016 election, I believe they could have done better. They damaged their own credibility through two key scare campaigns – and I don't mean Medicare.
One was about Senate voting reforms, and the other on the supposed preferences deal between the Greens and the Liberals. These campaigns were aimed at both at the Liberals and the Greens, but also reduced Labor's own credibility.
Labor presents itself as fighting battles on two fronts: one with the conservatives and one against the Greens. On the one hand, they count on Greens backing in Parliament, and in presenting alternative views to those of the government. On the other hand, they want to defend their inner city seats in Melbourne and Sydney.
Labor's numbers men seem to have bought the Liberal story from Michael Kroger in Victoria that the Liberals might do a lower house preferences deal with the Greens in key seats. The Greens would not recommend that voters preference Liberal before Labor – but just run an "open" how-to-vote ticket favouring neither before the other. Labor attacked the Greens hard on the supposed deal. But then it eventually came out: the real game was a deal between Labor and the Liberals.
Labor's hypocrisy on this did not help them at all. Not a surprise, since Labor votes with the Liberal party far more than the Greens do.
The related issues were overlooked. Greens in some electorates already run open tickets, with decentralised decisions made by local Greens groups. Just as they normally do, there was also a less obvious deal between Labor and the Greens covering far more votes, on the basis of Greens support in the lower house for Labor, and from Labor to the Greens in the Senate. Meanwhile, the Greens know that any whiff of a Greens/Liberal deal will damage their reputation with their own voters.
While Labor intended to attack the Greens supposed association with the Liberals, the main effect was simply to reinforce the Tony Abbott line that Labor and Greens together can only signify chaos. The Murdoch press lapped it up. Labor knows they can only reach government with Greens preferences but their action has undermined both the Greens and themselves.
Anybody who pays attention to politics knew that the Senate voting system was broken – that's why the Joint Standing Senate Committee on Electoral Matters came up with a widely supported plan to reform the system by putting power in the hands of voters, not the parties. But Labor backed out and proceeded to create fear, uncertainty, and doubt. Some of the arguments were blatantly contradictory.
With this campaign, Labor left behind one of their chief contributors to the recommended Senate reform, Shadow Minister of State Gary Gray, who expressed his disappointment and sadness at Labor's change of direction.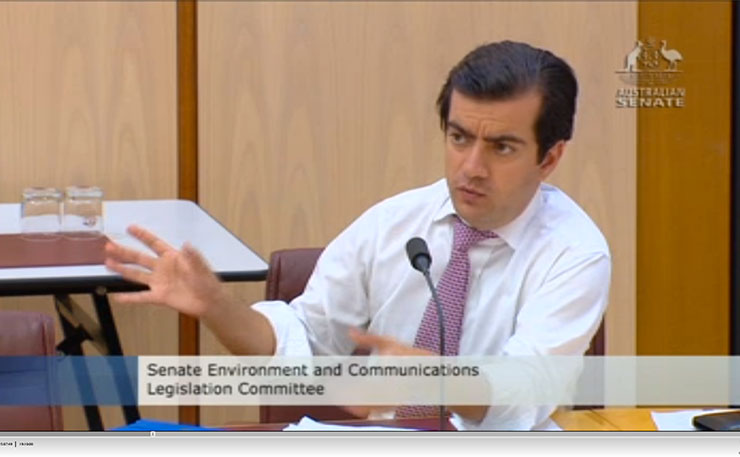 While much of the general public has not noticed Labor's campaign, NSW Labor Senator Dastyari used the occasion to refer to the Greens as a "cancer" shortly before the election was called. His comments were amplified by the Murdoch press. This was even worse than it sounds – it was Labor who had turned away from an important reform which they had recently supported with a campaign to frighten people in the community.
Can you imagine any Liberal cabinet member calling Barnaby Joyce a cancer? Not likely. What would happen if they did? No doubt the outcomes would not help the Coalition cause.
We know that these two parties often disagree in private, but they have learned to be mostly polite in public, for their own benefit. When the Liberals lose a seat to the Nationals (this time it was Murray), they have nowhere to go but suck it up. The Liberals don't talk about a war on two fronts; they know they have to work with the Nationals or else lose.
I have not seen any research on the impacts of either of these issues on the Labor vote, but it did cost them, even though Labor may be happy with their defence against the Greens.
If Labor wants to form government they need a different attitude towards the Greens. They don't have to agree on the issues; Labor and the Greens will continue to both cooperate and compete. Nor do they need an alliance agreement. But they need to keep it civil, because anytime they support a negative stereotype from the conservatives about the Greens, or oppose a worthwhile cause, they simply give away their own credibility and leak further support.
Their position would have been significantly improved by straight dealing on these two issues. Yes, they risked losing inner city seats, but they also lost reputation in marginal seats.
This may seem like a small issue in the longest campaign in recent times. But we know that Labor's primary vote remains low compared to many past elections. Why could that be? There will be many reasons, but Labor's jarring stance on these two issues surely played a part, undermining both Labor and the Greens.
Fortunately for Labor, the Greens national vote increased (as did that of other smaller parties), delivering the preferences Labor needed to get close to the line. Maybe it wasn't such a smart move to attack the partner who was contributing toward their shortfall.
What did these two scare campaigns from Labor cost them in the election? Probably just a small margin. But then, that's how close they came to missing out on government. Maybe Labor should focus its attack on one front, not two.

Donate To New Matilda
New Matilda is a small, independent media outlet. We survive through reader contributions, and never losing a lawsuit. If you got something from this article, giving something back helps us to continue speaking truth to power. Every little bit counts.