In the wake of the tragic death in custody, the young woman's family say the suppressed footage would lead to a global outcry, like that seen after Four Corner's Don Dale investigation. Amy McQuire reports.
Today marks the second year anniversary of the death in custody of Ms Dhu, but in the mind of her Uncle, Shaun Harris, it feels like "22 years".
"It's been a short, but long road. The road being mainly uphill. And yeah, there's still a few more rises in that hill. Especially in terms of the release of that CCTV footage of my niece's last few days in custody."
Ms Dhu would have been 25 this December. But two years ago, she lost her life while on the short route to the Hedland Health Campus. The people charged with her duty of care were police officers; 12 of them, over two days, in the line of command. Over those two days, while she was locked up for failure to pay over $3,500 in fines, her suffering was repeatedly mocked, belittled, and seen as suspicious.
Ms Dhu was considered to be 'faking it' by health professionals, who relayed their thinking onto police officers.
On this day two years ago she was handcuffed, dragged from her cell and plopped in the back of a police van "like a carcass". She lost her life shortly after her third visit to that health campus – an institution that actually shares the carpark with the watchhouse.
A coronial inquest, which began last year, heard she had died from severe sepsis and pneumonia spreading from an infection in a broken rib. She had been a family violence victim.
Her grandmother Aunty Carol Roe had tried calling repeatedly while her granddaughter was incarcerated. She was told Ms Dhu was fine at the same time that the young girl's life was slipping away in the most undignified of circumstances.
"She's not here anymore because of their needless, senseless deprivation of liberty, that is engrained – the institutional systemic racism," Mr Harris told me on 98.9 FM's Let's Talk program this morning.
"How many other people out there have died and been grossly mistreated in the justice system? The whole system needs to be overhauled and addressed, and changes need to be there.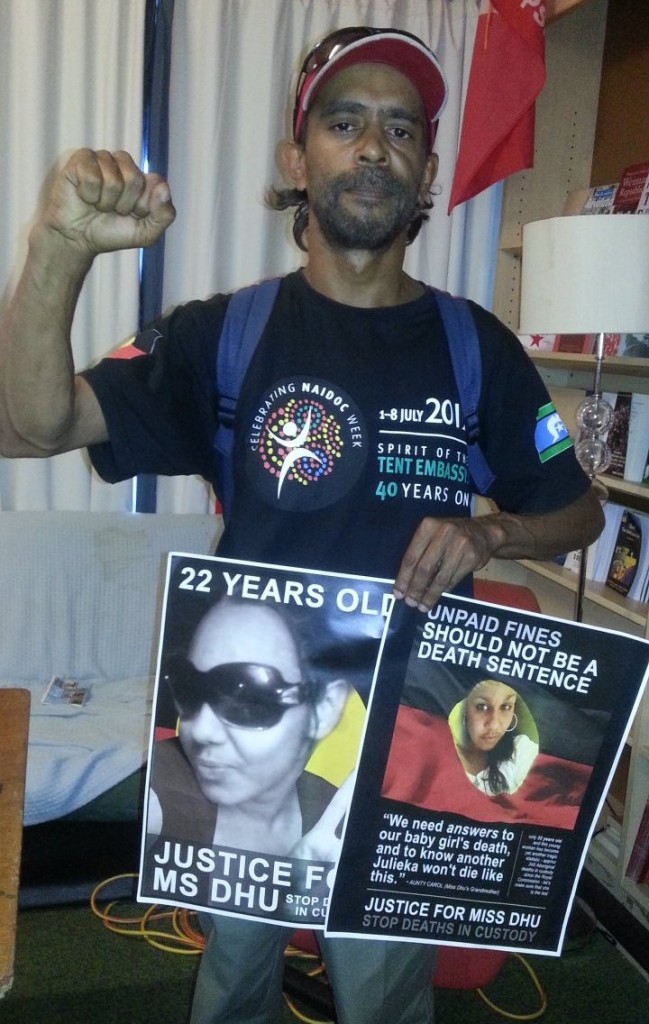 "My niece, all she needed was antibiotics, and she'd still be here. An apparent world class health system and it's not if you are a black person in Australia."
Mr Harris and Aunty Carol, along with the rest of Ms Dhu's family, have been campaigning for the past two years to ensure their niece's name doesn't just become a statistic. They have forced a promise from WA Premier Colin Barnett, a meeting in South Hedland, and an expedited coronial inquest. They have made sure that her name is never out of the newspapers, and although her death still hasn't been given the coverage it deserves, there is a growing recognition of the injustice.
In the meantime, the family want the CCTV footage that show Ms Dhu's last hours released. The disturbing CCTV footage of Ms Dhu's last hours was suppressed by Coroner Ros Fogliani, originally on request of the family. But the Coroner has since knocked back another family submission to release it, claiming that it would "re-traumatise" the family further down the track.
The family feel there is a need for these images to be shown to shock Australians into outrage, and it's particularly relevant following the recent Four Corners report showing images of torture of Aboriginal children in NT's Don Dale Detention Centre.
"They dragged her out of the cell by her arms while on the ground like a dead carcass… they handcuffed her… then they proceeded to place her in the back of a paddy wagon while she was handcuffed, while she was dead, or very close to. When they got to the health campus they pulled her out of the back and pretty much swung her, tossed her into a wheelchair… they didn't even bother to put her in the wheelchair with any dignity… even after her life and death, they are still inflicting deprivation of liberty on this poor girl by not releasing this footage," Mr Harris says.
Mr Harris anticipates an "international backlash" just like Four Corners if this footage is shown.
"That is very strong and powerful footage as we all know," he says.
"It's deserving of public outrage and backlash. Australia needs that attention to help stop the injustices against all people."
How the Coroner, as a non-Indigenous person, has the right to determine what would traumatise an already traumatised family, and whether there is another reason behind the suppression of the footage, are now both questions worth asking.
But that is just one hill to climb to get to justice.
For Mr Harris, justice is the main issue. And justice means a conviction.
"For the first time ever in Australia if there were so many parties involved with my niece's death, around a dozen police, and if not as many but as much health staff, somebody needs to be held accountable… we want convictions. We have always wanted convictions because that's about accountability.
"Two of the officers involved were promoted. And that's far from justice."

Donate To New Matilda
New Matilda is a small, independent media outlet. We survive through reader contributions, and never losing a lawsuit. If you got something from this article, giving something back helps us to continue speaking truth to power. Every little bit counts.