The NSW Premier turned a world city into a casino dotted wasteland. It's part of a broader political project that has squeezed people and their voices to the fringe, writes Xiaoran Shi.
On Tuesday, Melbourne's 24-hour public transport services were granted extra life when Premier Daniel Andrews announced they will be operating until at least June 2017.
By contrast, some 900km north of the Victorian capital, Sydney's public transport system is in the midst of crisis as the Baird government presses forward with its $16.8 billion WestConnex tollway project and Opal fare increases, set to take effect next month.
For many, these infrastructure changes reify long-standing sentiments of Melbourne as a more progressive and culturally enriched city. This may be true, not due to some innate difference in cosmopolitan character between the two capitals, but because successive NSW Liberal governments have systematically eroded the cultural and civic landscape of Sydney.
To fully understand the scale of this let us rewind to 2014, where our tale of austerity and paternalism begins.
March 1, 2014 could have passed like any other Friday night in the Sydney CBD, were it not for the fact that, in the early hours of Saturday morning, the O'Farrell government's lockout laws were rolled out for the first time across the city centre. In the two years since, dozens of restaurants, bars and clubs – 42 in Kings Cross alone – have been forced to shut their doors. Some marked their end with a bang, others disappeared without so much as a whimper.
Even a multinational conglomerate has been no match for the Liberals' stranglehold on Sydney nightlife with the McDonald's on the corner of George and Bridge Streets closing down in April 2015, little more than 12 months after the lockouts came into effect. Once faithfully serving the drunk and hungry, the lost and lonely, the site is now another convenience store – the third on the 200m stretch bookended by Jackson's on George and the Establishment.
Although this is by no means a eulogy for the golden arches, attention must be paid to the freak event that is McDonald's conceding defeat in a major pedestrian corridor. In fact, it is mind-boggling to consider a conservative government overseeing rapid economic downturn in the epicentre of Australia's largest city.
Yet, when we lift up the edges of what appears to be an international city in commercial decline, we see that prime real estate is prime real estate after all, and that the vacation of landmark properties does not spell their death, simply their rebirth as a shinier, less disruptive franchise.
This is because the lockout laws are not, contrary to popular belief, declaring a war on business. It is not the closure of pubs, clubs, or even fast food chains that has galvanised the Reclaim the Streets and Keep Sydney Open movements, which have collectively mobilised tens of thousands at rallies since the lockouts began. It is what these closures represent: a calculated and concerted plan to lock people out of the city proper, to relegate its inhabitants to the suburbs and pacify their power to shape the culture of their city after dark, when the day's work is done.
Foot traffic has decreased by 84 per cent in Kings Cross, while Oxford Street, the former heartland of LGBTI Sydney, is not far behind, recording an 82 per cent decline. To walk through the CBD at night now is to walk alone. This is a resounding affirmation that Sydney is no longer a people's city; rather, it is an economic zone dotted with the occasional tourist monument. Outside business hours, it is no man's land. The Star and in time Barangaroo will keep churning quietly on the waterfront day and night, as will an assortment of dedicated "VIP" pokies "lounges" in weary pubs. But for any establishment offering more than a steady IV drip into the billion-dollar gambling industry, the future is bleak.
And it's only going to get bleaker next month with the abolition of the Opal free travel concession. The cherry on top, however, is the state government's 'promise' to freeze increases to Opal fares until 2017, as though this were some magnanimous act of charity for the citizenry. What this essentially means is that from next July, the people of NSW can most likely look forward to a 4.2 per cent rise in fares every year until at least 2019, as per the recommendations handed down by the Independent Pricing and Regulatory Tribunal.
These reforms, which make public transport more prohibitive, will hit the wallets of commuters while also continuing to marginalise Sydney culture. Already disheartened by deserted streets, hollowed out shopfronts, the inability to change venues after 1:30am, and the impossible mission of ordering the right drink after midnight (no shots, no straight liquor, no alcopops), Opal fare hikes will deal the final blow, extinguishing any remaining incentive to participate in the city's nightlife.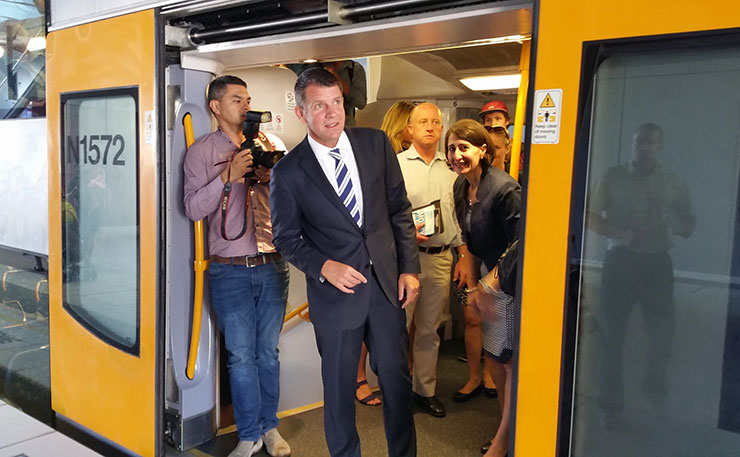 In mounting increasing barriers to accessible public transit, the Baird government has created a climate where travel is a luxury, where the only movement we feel compelled to make is what is necessary and sanctioned by economic imperative. There is a cruel parallel to be drawn between the increasing lack of social mobility and the increasing lack of literal spatial mobility. Stats published by the NRMA show that cutting free Opal travel will result in a fare increase of up to 40 per cent for those in the outer suburbs, and with fares slated to surge again next July, why wouldn't we just turn in and turn the lights out? It's what the Baird government, who have adopted O'Farrell's lockout legacy with gusto, would want.
Perhaps most galling of all is that the Opal fare rises are not justified by accompanying upgrades to public transport networks or service expansions; they merely exist as part of some opaque bureaucracy that raise costs according to an internal metric. Indeed, the Liberal government's answer to the failings of Sydney infrastructure is to further sideline public transport as an accessible option and instead engage $16.8 billion in constructing the WestConnex motorway, aka A Big Fucking Road.
Work on WestConnex has already commenced, despite persistent community campaigns, particularly in the inner west. As well as passing a suite of laws giving police unprecedented powers to break up protests and the courts to bring severe sentences against protesters, the Baird government has also merged local councils and replaced elected mayors with "general managers". In short, #CasinoMike has dissolved local government and succeeded in locking people out economically, culturally, and now democratically too.
It's policy coordination at its finest: the Opal fare changes will work in tandem with the lockout laws to reconfigure Sydney as a sanitised shopping mall, a sprawling consumer complex where people work, buy, sell before returning home to sleepy suburbia. But, it can be argued that this dire vision for a Westfield-ified city presents a silver lining.
Just as there was once a glimmer of hope in reviving a dormant warehouse scene in the wake of the lockout laws, there is now the possibility that the attrition of an affordable and robust public transport system may lead to the development of vibrant scenes detached from the city centre. This is a fallacy. Energetic subcultures are already alive and well in many parts of outer Sydney, and have been for decades. What is at stake is the livelihood of the city centre, Sydney's nightlife, its culture, and the right of its people to determine its future.
Last week, Deputy Premier Troy Grant offered cautious support for the repeal of the 1:30am lockout, saying that if the independent review into the laws led by former High Court Justice Ian Callinan recommended "pushing the lockouts back, I think it's something we absolutely should do." With the findings from the Callinan review due for publication this month, many are buoyed by the prospect of the end of lockouts. Although this would be a victory in no uncertain terms it is, by the same token, not enough to repair the damage wreaked by the last 29 months of Liberal chokehold.
In order to fortify Sydney's nightlife and return the city's streets to the populous blur they once were, the state government cannot simply be congratulated for reversing its own draconian legislation and hoping for the best. A significant boost to arts funding, a reinstatement of elected leaders in local government, and a major investment in public transport that expands late-night and suburban services should form the fundamental first steps to rebuilding Sydney's future.

Donate To New Matilda
New Matilda is a small, independent media outlet. We survive through reader contributions, and never losing a lawsuit. If you got something from this article, giving something back helps us to continue speaking truth to power. Every little bit counts.