Growing concerns about the long-term cost of cleaning up mines has led to action. Thom Mitchell reports.
The Audit Office of New South Wales is drawing up terms of reference for a review of the security deposits paid by mining companies with an eye to examining how they stack up against the true cost of rehabilitating land damaged by the industry.
New Matilda has confirmed that stakeholder consultation is underway, and a final report is expected early next year.
The question of who will pay for mine rehabilitation has been a growing focus for environmental campaigners over recent years, as speculation that the coal industry has entered a structural – rather than cyclical – decline grows. 
There is widespread concern that taxpayers may be left to foot the bill as struggling miners move to cut or avoid costs. NSW Greens Mining Spokesperson Jeremy Buckingham said that "as coal declines structurally, the issue of who will hold the liability and who will be held responsible for mine clean up will become a bigger and bigger issue".
Bonds paid for mine site rehabilitation have already been examined in Queensland, in 2014. In that state, an Audit Office review found that "the financial assurance held is often insufficient to cover the estimated cost [of]rehabilitation and is rarely enforced".
"As a result, successful environmental rehabilitation is not occurring and the [Queensland Government]  remains exposed to unnecessary and unacceptable financial risks." With concerns New South Wales is similarly exposed mounting across the border, the Auditor General has received requests for a review, including from a local council in the heavily-mined Hunter Valley.
The terms of reference now being developed by the Auditor General are expected to be finalised and made public within six weeks, and the working title Mining Land Rehabilitation Security Deposits has now been adopted.
The issue of mine rehabilitation was injected with fresh impetus last week, when it emerged mining giant Rio Tinto is attempting to sell off its Blair Athol mine in Queensland for just $1. The company would also pay a junior miner which is considering the offer, TerraCom, $80 million towards the cost of rehabilitation.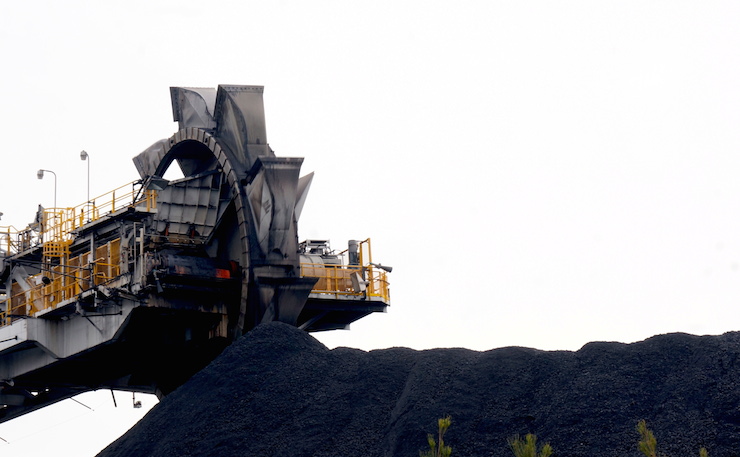 A former industry insider who helped develop Rio Tinto's global guidelines and policy on rehabilitation, Rick Humphries said the full cost of rehabilitating the Blair Athol mine is more than double the $80 million being offered.
He said the New South Wales Auditors Office should focus on two primary goals.
"The first is protecting the taxpayer, by making sure the industry fully internalises the cost of mine rehabilitation; and the second is maximising the amount of progressive rehabilitation that occurs within the life of the mine," he said.
Humphries is now campaigning with Lock the Gate, and said it's believed the amount of security deposits held by the New South Wales Government is around $2 billion, but that this would be a "gross underestimation" of the true cost.
Much of that money is held in the form of bank securities, which Humphries said don't encourage miners to rehabilitate as they go. He said not holding cash increases the risk of mines being sold off to relatively unknown companies like TerraCom, which may be less able to fork out for proper rehabilitation.
"Some of the coal miners in NSW, with Rio Tinto being a case in point, are running at massive losses," Buckingham said. "Their parent companies are basically insolvent and each year they're required to renew the security for their mine rehabilitation, and there's just no transparency in the system.
"So we welcome the Audit and I think what we will find is that a huge cost is going to be borne by the taxpayers and environment of NSW unless [Premier] Mike Baird acts to reform the regime and to ensure that the coal miners bear the full cost of rehabilitation," he said.
According to Humphries, "the only way industry responds to these kind of things is if they've got financial risk, and the financial risk is there if you've got a big bunch of cash sitting in a government bank account".
"You really have to lock the companies in," he said. "Companies will do whatever they can get away with to get the full cost of rehabilitation off their books."

Donate To New Matilda
New Matilda is a small, independent media outlet. We survive through reader contributions, and never losing a lawsuit. If you got something from this article, giving something back helps us to continue speaking truth to power. Every little bit counts.