OPINION: Those on the front lines know the Coalition has done real damage to healthcare in Australia. No wonder Tasmanians turned on their MPs at the ballot box, writes GetUp's Natalie O'Brien.
Coalition MPs have been running a fever for the past few weeks. Breathless and flushed, they've taken to the airwaves to denounce the "deceptive", "grotesque" and "cynical" campaigns on health that nearly cost them the election.
But on this alleged 'Mediscare' scandal, the Coalition ought to have a Bex and a good lie down.
Let's look at some facts.
The Coalition extended the freeze on Medicare bulk billing rebates. They removed bulk-billing incentives for pathology and radiology. They increased co-payments on prescription medicines. They privatised Medibank. They had a taskforce to privatise the Medicare billing system. They tried to charge a co-payment for all GP visits. They ripped billions of dollars in funding from local hospitals.
Senior Coalition ministers have been fronting the media, blindsided by their dismal performance at the polls and blaming it all on "Labor's lies". But here's a wild idea. Maybe, possibly, their ballot box bruising has something to do with the fact that investment in health services polled as the top priority for voters this election, higher than jobs or the economy. And what if, just maybe, that's related to the Coalition's terrible track record on healthcare, and the fact they have repeatedly betrayed the electorate's trust on all manner of issues relating to our health system.
To see how little voters appreciate the Coalition's health policies, look no further than Tassie. Coalition cuts to hospitals have hit Tasmania especially hard and led to a horrific drop in quality of care. Patients at Launceston General Hospital are routinely treated in waiting room chairs or forced to wait on ambulance trolleys. Doctors have resigned in protest.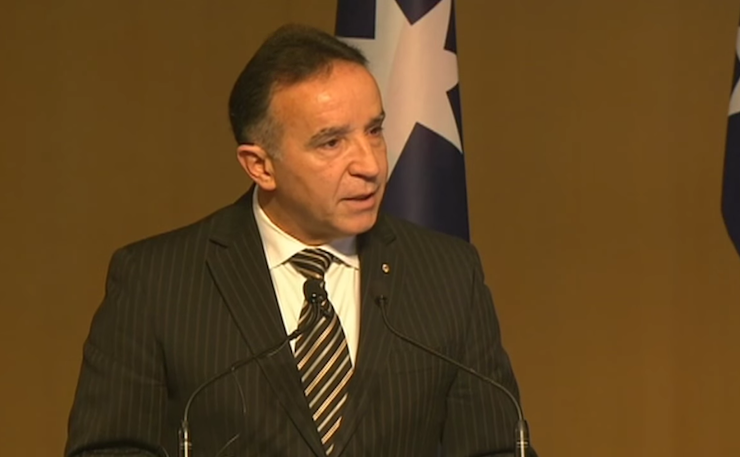 In Launceston, MP Andrew Nikolic was dumped with a massive 10.4 per cent swing against him. His Coalition Tasmanian compadres Eric Hutchinson and Brett Whiteley – collectively known as the three amigos – were also given the boot. Make no mistake: all reports from the ground show these results were the consequence of genuine community anguish about what Coalition cuts are doing to local services.
The likes of Tasmania Senator Eric Abetz are doing their best to downplay these concerns, weaving a counter narrative about the dishonest Labor 'Mediscare' campaign and the role of GetUp! It's a bit rich to be lectured to about scare campaigns from the very people who threatened $100 lamb roasts under the Carbon Tax, and the apocalyptic danger of a debt and deficit crisis.
But worse than the hypocrisy is the fact there is every reason to be scared about what they are doing to our health system.
Doctors are warning of fewer hospital beds, higher bills for families seeing the GP, and more people dying in emergency departments. These are the real costs of Coalition health cuts – and they're bloody terrifying.
The two most powerful plays in public policy debates are to set the agenda and to frame the narrative. Australians put health at the top of the agenda this election, but the Coalition are doing their best to hijack the discussion.
Instead of an investment, healthcare has become a burden. Having apparently learned nothing from his party's electoral near-miss, Treasurer Scott Morrison recently said that "We can't have the health system being a money pit where the argument is just about how much money you throw down the hole."
And with the now universally adopted 'Mediscare' pun, the genuine fears of doctors, nurses and the people they care for have been dismissed as a Labor/union conspiracy to frighten the elderly with menacing phone calls in the middle of the night.
With the Coalition back in power, the stakes in framing the narrative on health are higher than ever. Prime Minister Turnbull has indicated that negotiations for a new Commonwealth-States funding model for hospitals will commence early next year. They will revolve around the size of the Commonwealth contribution.
There are also a number of major health reviews underway, focussed on cost cutting. The Pharmaceutical Benefit Scheme Review and Medical Benefits Schedule Review look increasingly like a cash grab. The Health Minister has even admitted that most of the funds freed up by cutting items from Medicare would be spent shoring up the Budget bottom line, rather than reinvested in our health system.
We cannot allow the national conversation on health care to be limited to numbers on a balance sheet. Health is about people, and the ensuing dialogue needs to be firmly centred on those who stand to lose the most from vicious healthcare cuts – our sick, frail, and elderly.
The Abbott government's ham-fisted attempt to introduce a $7 GP co-payment was the final nail in its political coffin, and the Turnbull government's atrocious record on health care came within a hair's breadth of costing them this election. Australians have resoundingly told our politicians that we care deeply about universal healthcare, and that we will vote to protect it.

Donate To New Matilda
New Matilda is a small, independent media outlet. We survive through reader contributions, and never losing a lawsuit. If you got something from this article, giving something back helps us to continue speaking truth to power. Every little bit counts.