With Pauline Hanson looking certain to return to parliament, there's never been a worse time to be the Great Barrier Reef, writes Liz Conor.
Fellow Austraiyans. If you are reading me now it means that I have become murderous.
Murderously, apoplectically incensed.
Pauline Hanson appears to have picked up a spot in our Senate at the time of writing, possibly even two or more. She will represent Queensland in our House of Review, where our nation's proposed laws are rejected or amended. And it's not a three-year term. Unless Turnbull (potentially newly rolled into Prime Minister Morrison out of revenge for the LNP's slashed majority) finds some other spurious reason to call a double dissolution, Hanson's term is Six. Six. Six.
Hanson will make extravagant use of the Senate's committee system, already proposing royal commissions into Islam and climate science. How in chrissname do you conduct an inquiry into one of the three major world religions? Imagine the terms of reference. Are there too many believers? Should they perform the pilgrimage to Mecca? Are Humans superior to Angels? Will the Australian Royal commission into erm, Islam require the seventh-century originals of its foundational documents be tendered – the Qur'an, hadith and tafsir?
And why does Hanson even have an opinion on climate science? Why are racists climate deniers? Does Hanson have doubts about enlightenment empiricism? Logical positivism? The verification of Authentic Knowledge? Or has she, like most climate deniers and obstructers, featherbedded her campaign with undeclared funds from fossil fuel conglomerates?
And this from the state where a few short weeks ago 69,000 jobs were unceremoniously scuppered from tourism on our ghostly white Great Barrier Reef. 5.2 billion in revenue sank without trace with the 'jobs and growth' shipwreck of LNP sloganeering.
The reef grief and reef rage many of us felt was bad enough. I mean it's nice to banner hope for the unbleached 7 per cent and 'recovering' 65 per cent with a donate button but let's be honest, the waters aren't going to get cooler in the long-term, there will be more frequent El Niño events, worsening storms and Crown of Thorn starfish outbreaks.
The reef is terminal. We have five years to save what little remains but instead the two parties that oversaw this catastrophe now hang in the balance, continuing to accept party donations of $3.7 million from the corporations responsible. While still in unfettered power the Libs demanded UNESCO whitewash any mention of the reef from its report into risks to world heritage sites and tourism.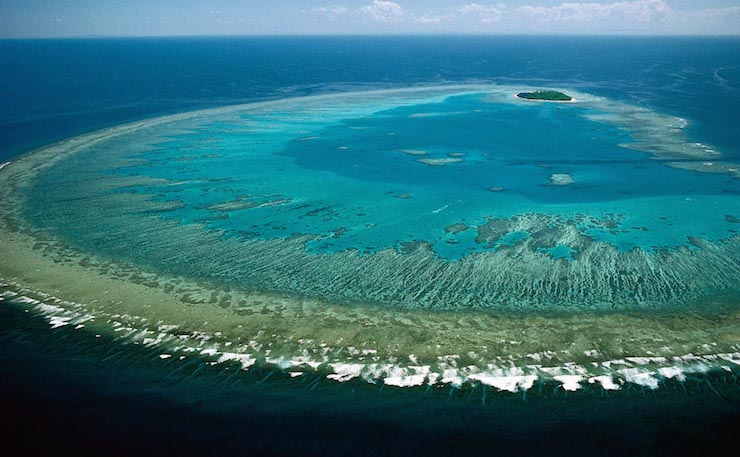 So. Once you've taken out the largest living organism on the planet how precisely do you top that? It seems their ecocidal mania knows no bounds. Both parties can lay claim to the dubious distinction of perpetrating the only environmental catastrophe visible from space.
These people are not in jail where they belong. Instead they spent the last eight weeks fronting up to Australians asking to be entrusted again. We are not in safe hands.
As the 350.org Nemo who intercepted Turnbull might reasonably protest to humans, 'I'm fed up with being told, this is our reef. Well, where the hell do I go? I draw the line when told I must pay and continue paying for something that happened over 20 years ago,' namely early and credible warnings of global warming.
What kind of electoral dissonance are One Nation Voters suffering? As we of the Greens voting variety have been instructed, the workers of Australia have been so cowed by threats to Medicare they simply cannot spare a thought for refugees. Apparently the capacity for workers to run more than one thought process in their heads at any time is somewhat limited. Only the left commentariat can multitask, it seems.
But how can we fathom the thinking of One Nation voters, many of them jumping ship from the Palmer United Party.
I believe we are in danger of being swamped by Caucasians, tax evasions and Australasians. They have their own culture and religion, form ghettos, and do not assimilate.
We are bringing in people from Oxley at the moment. There was a huge amount coming to our polling booths, and they've got diseases, they've got BIAS.
Either Blind Freddy or Rip Van Winkel would have to vote for a candidate who did time for electoral fraud. Even if her conviction was overturned it shows a hair-raising lack of judgement in whom she entrusts the basics of organisational governance.
Where will Hanson-voters' intolerance for Halal snackpacks take us? What other food allergies are they intending to force on the rest of us? Battered Islamophobia? Deep-fried homophobia? Queue-jumping dimsims?
Hanson will find a way to jumble racism with climate obstruction. As Naomi Klein presciently argues they already go hand in glove. She writes, "there is no way to confront the climate crisis as a technocratic problem, in isolation. It must be seen in the context of austerity and privatisation, of colonialism and militarism, and of the various systems of othering needed to sustain them all."
But let's give Pauline the last word on facing imminent destruction: "Do not let my passing distract you for even a moment … For the sake of our children and our children's children, you must fight on."
Thanks for the tip Pauline. You can bet we will.

Donate To New Matilda
New Matilda is a small, independent media outlet. We survive through reader contributions, and never losing a lawsuit. If you got something from this article, giving something back helps us to continue speaking truth to power. Every little bit counts.