In 2009 Malcolm Turnbull went to the wall over climate change, after declaring "I will not lead a party that is not as committed to effective action on climate change as I am". Now, nine months into his Prime Ministership, many in the electorate are seeing the irony in that statement.
Yesterday former Liberal Party leader John Hewson joined the chorus of criticism over Turnbull's fidelity to Abbott-era climate policy. At a rally in Turnbull's Eastern Sydney electorate of Wentworth, he launched a damaging attack on the Liberal Party's record, condemning short-term politicking over climate change as a "national disgrace".
He mourned "a conscious attempt by the Abbott Government to wipe out the renewable energy sector", and attacked John Howard, who he said "admitted in London that he'd played short-term politics deliberately" with policy around Emissions Trading.
Tapping into a key Coalition election slogan, Hewson said "I've been frustrated all these year not only at the fact that short-term politics has been played with this issue but the lost opportunities in terms of jobs and growth that we might otherwise have had".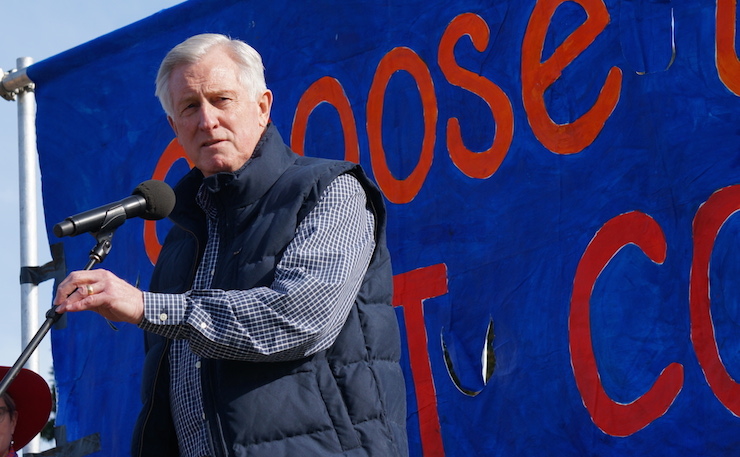 Hewson looked out at a sea of hundreds of placard-corals at Steyne Park in Double Bay, just a few hundred metres from Turnbull's waterfront Point Piper mansion. Demonstrators were there to mourn the bleaching of vast swathes of the Great Barrier Reef and the lack of investment in protecting its future, and to brand Malcolm Turnbull a climate change "fizza".
Hewson said the Turnbull Government's emissions reduction targets are "about half of what it ought to be if you're going to actually take the challenge of climate change seriously".
"Coral not coal" was the rallying cry.
HOUSE AD – NEW MATILDA NEEDS YOUR HELP. OUR LATEST FUNDRAISER ON POZIBLE IS HERE. HELP US PAY OUR HUGE LEGAL BILLS AND KEEP INDEPENDENT MEDIA ALIVE!
The demonstration followed an earlier action on Saturday, when a team of 'kayactivists' invaded the beach below Turnbull's property to pressure him on home turf ahead of the July 2 election.
Environmentalists now widely see Turnbull as a better salesman for the Direct Action "con" he once condemned. With no change to climate policy since Turnbull became Prime Minister, there is a sense that the Coalition's policies remain – to use a Turnbull turn of phrase from 2009 – "an environmental figleaf to cover a determination to do nothing".
The policy of handing taxpayers dollars to polluters to cut carbon hasn't changed since Turnbull derided it as "bullshit", and experts have consistently lined up to question how it will work long-term.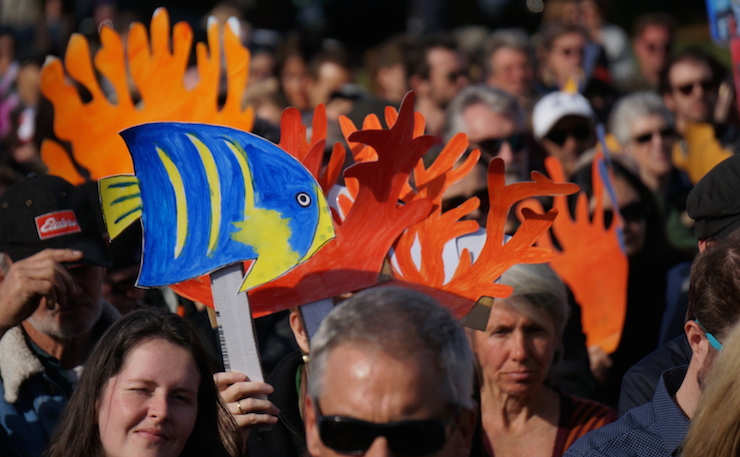 In their 2016 election scorecard the Australian Conservation Foundation gives the Coalition's environment policies a mark of just 13, compared to Labor's 57. In a separate scorecard, WWF notes Labor has "a target and plan to net-zero carbon pollution," while the Coalition does not.
It's true what the government says, about Australia being on track to meet its international commitment of a five per cent cut to carbon by 2020, on 2000-level pollution; but the physical reality behind international accounting methods is emissions actually continue to rise. And they do so as an existential climate-fuelled crisis laps at the Great Barrier Reef, with 22 per cent of the coral bleached dead over recent months.
"Scientists are telling you we need to act. We need to do things for the planet, and particularly today for the Great Barrier Reef," said the President of the CSIRO Staff Association, Dr Michael Borgas.
Instead, Dr Borgas told the crowd the CSIRO has seen 1,300 staff cut over the last two years. "One in five has gone." Hundreds of scientists were told they would lose their jobs over recent months, under the Prime Ministership of Malcolm Turnbull.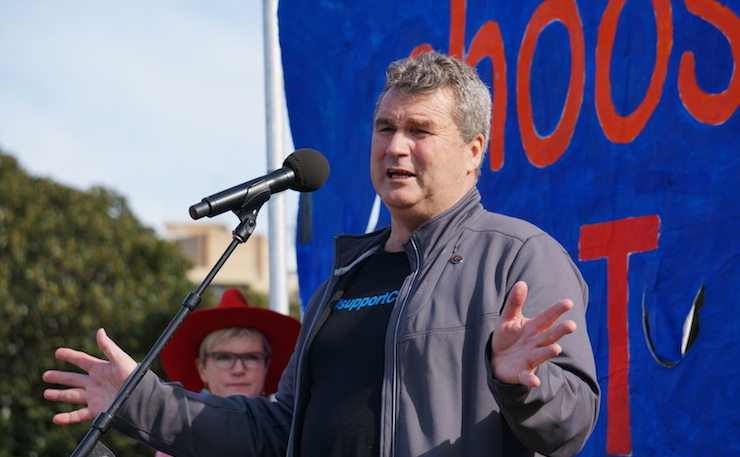 Dr Borgas said "there's a lot of pressure coming on scientists through this campaign to shut up. It's being directed by the Australian Public Service Commission and John Lloyd, formerly of the Institute of Public Affairs".
But, the union leader said, "depending on the election outcome there could be all of us surviving. There could be an increase of research in the Great Barrier Reef. So think about your vote."
The sort of pressure Dr Borgas suggested, protestors told New Matilda, was the same that Turnbull had stood up to before he lost the Liberal leadership in 2009. And from exile in 2011, Turnbull had continued to worry that the Great Barrier Reef is "brutally confronted, [being]indeed on the front line of the climate change battle".
At the Virginia Chadwick memorial lecture, he emphasised the need to "treat the science with respect" and "rely on the best science, which is the only prudent and responsible thing to do". And he dropped one of his then-frequent allusions to the climate change denialism which afflicts sections of the Liberal Party.
A representative of 2,600 scientists at the CSIRO, Dr Borgas said yesterday "if we don't make this move to renewable energy to reduce our impacts on the planet, it's not going to be a pretty future for our children and our grandchildren".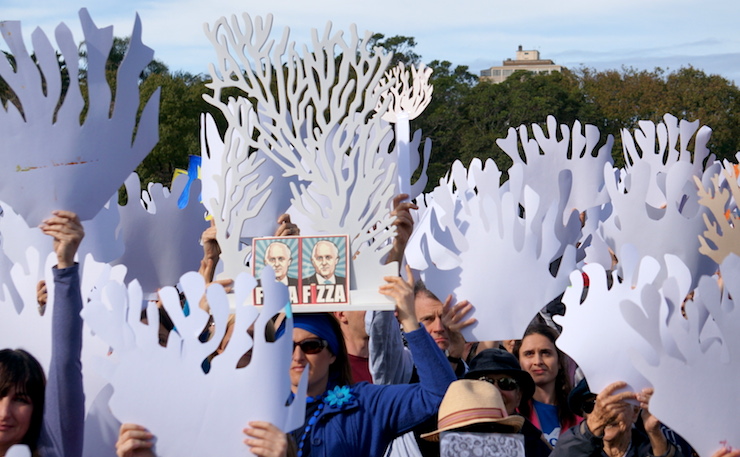 Yet the Turnbull Government's election campaign has seen no new money promised toward climate action, and vanishingly little for the Great Barrier Reef. The central announcement was effectively a shuffling of deckchairs.
A $1 billion fund for renewable energy projects and improving Reef water quality was announced, but as Michael Slezak wrote in Guardian Australia, the plan involves no new money. And money is lent rather than spent by the Government, because it is redirected out of the Clean Energy Finance Corporation which would already have invested it in renewables projects.
On the broader issue of climate change, details about how exactly the Abbott-era Direct Action policy will be used to meet the government's modest emissions reduction target of 26 per cent by 2030 has been put off to a review in 2017.
Labor, meanwhile, is nearly twice as ambitious on climate change. The Opposition is proposing a 45 per cent cut to 2005 level pollution in the same time-frame, with a new climate change policy platform. Labor has also pledged $377 million more than the government towards Reef water quality, but this is still just one tenth of what scientists say is needed.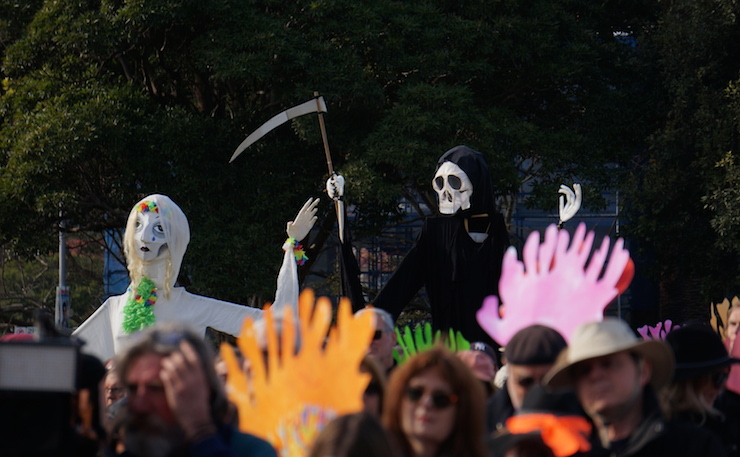 The frustration at Turnbull's newfound advocacy of Tony Abbott's climate policies is part of a deeper trust deficit in the electorate. After Turnbull staged his coup in September last year, a Labor victory seemed unimaginable. The polls show a growing disappointment in Turnbull's Prime Ministership, and have narrowed to be neck and neck.
Of course disappointment in Malcolm Turnbull over issues like climate change – which he had so starkly criticised Tony Abbott and the far-right of the Liberal Party on before – are closely linked to this winnowing popularity.
When he became Prime Minister, Turnbull promised an honest, respectful, and intelligent dialogue with the electorate. One without the three word slogans. But the current season of Liberal Party attack ads about the 'Greening of Labor from within', and the return of the carbon tax scare campaign, seem eerily familiar.
Yesterday's demonstration was symptomatic of an electorate left wondering how far Turnbull's Liberals are from those of 2009, which he said then were controlled by "people whose conviction on climate change is that it is 'crap' and you don't need to do anything about it".
HOUSE AD – NEW MATILDA NEEDS YOUR HELP. OUR LATEST FUNDRAISER ON POZIBLE IS HERE. HELP US PAY OUR HUGE LEGAL BILLS AND KEEP INDEPENDENT MEDIA ALIVE!

Donate To New Matilda
New Matilda is a small, independent media outlet. We survive through reader contributions, and never losing a lawsuit. If you got something from this article, giving something back helps us to continue speaking truth to power. Every little bit counts.